Tonight on THE ROSENBERG REPORT: The inside story of how Israel found and destroyed Syria's illegal nuclear program
With Iran threat rising, former Prime Minister Ehud Olmert goes on the record for the first time on American TV to tell the story, share the lessons
Joel C. Rosenberg and former Israeli Prime Minister Ehud Olmert (Photo: ALL ISRAEL NEWS)
JERUSALEM, ISRAEL – With 500,000 Israelis turning out in the streets to protest the legislation proposed by the Netanyahu government, and Israeli President Isaac Herzog openly warning the country that it could erupt into "civil war" over the issue, one might think that the battle over judicial reform is the only hot topic here.
But another increasingly urgent issue is the Iranian nuclear threat.
The bitter truth is that the Iranian regime is getting closer and closer to being able to build fully operational nuclear weapons.
As ALL ISRAEL NEWS recently reported, the terror masters in Tehran are now enriching uranium to 84% purity, just shy of the 90% to 93% purity needed to build The Bomb.
Yet U.S. President Joe Biden is doing nothing serious to stop Tehran.
That means Israeli Prime Minister Benjamin Netanyahu may soon have to make a fateful decision.
Will he be forced to order Israel's military into battle to bomb the illegal Iranian nuclear program out of existence, possibly sparking a massive new regional war?
Netanyahu ran for re-election last fall vowing that his top priority is stopping Iran once and for all.
With the "zero hour" steadily approaching, I secured an exclusive interview this week with former Israeli Prime Minister Ehud Olmert.
Why?
Because Olmert is one of only two leaders in Israel's history to have actually ordered the Israel Defense Forces to destroy an illegal and existentially dangerous foreign nuclear program.
The first prime minister to do so was Menachem Begin, who ordered the IDF to destroy the Iraqi nuclear program at Osirik in 1982.
It was a highly controversial move, that triggered a wave of international criticism, including from then-U.S. President Ronald Reagan and his top advisors.
Olmert was the second, having ordered the military to bomb Syria's illegal nuclear reactor in September 2007.
Given that Olmert is the only living Israeli leader ever to have made such a decision, I invited him to come onto THE ROSENBERG REPORT to tell me exactly what happened.
It took several months to make it happen, but tonight – for the first time on any American television network – Olmert reveals the inside story of how Israel's fabled intelligence service, the Mossad, first discovered the illegal and hitherto completely secret Syrian nuclear program in the spring of 2007.
That alone is a fascinating story, worthy of a major motion picture.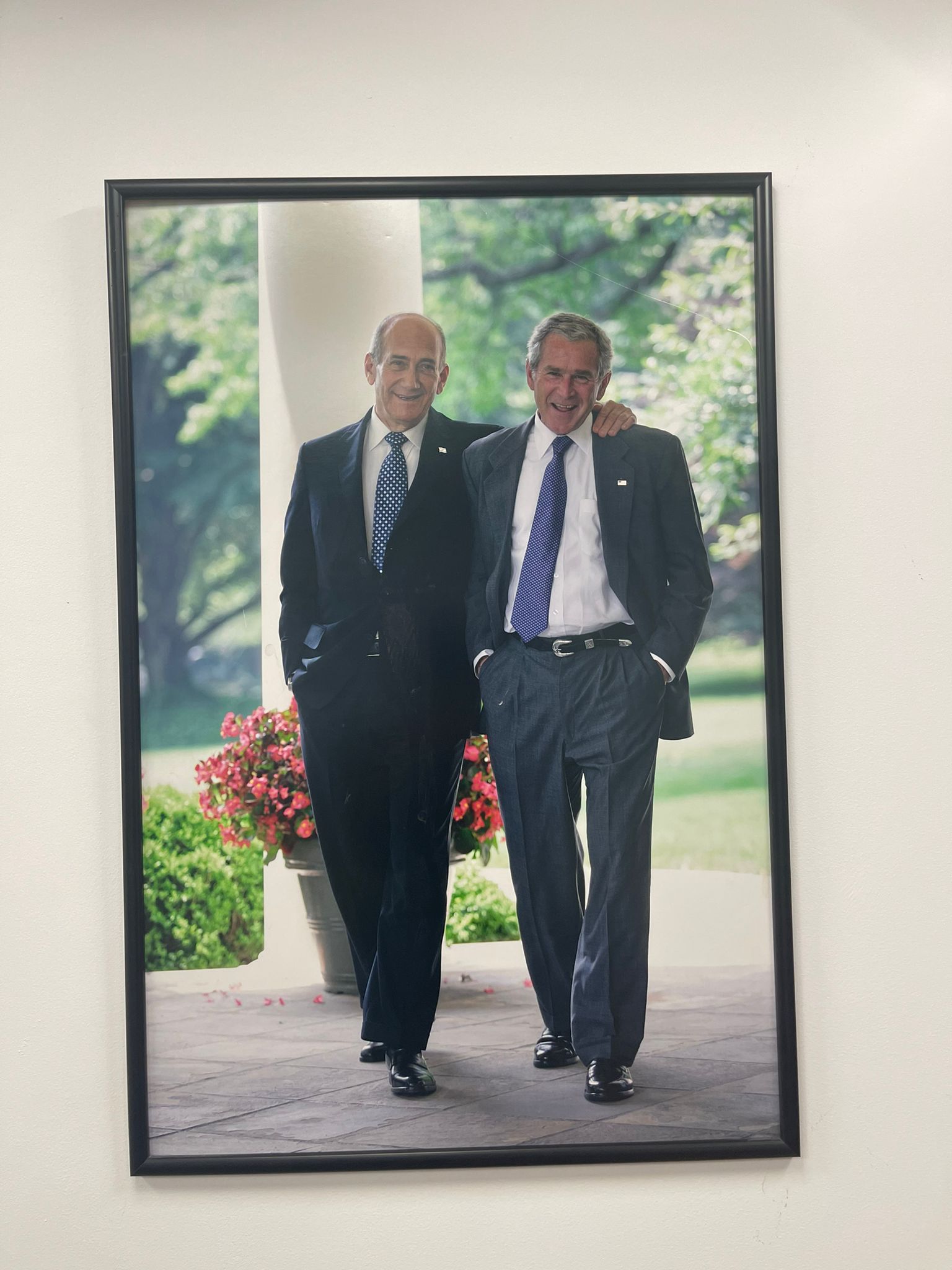 A picture of former Israeli Prime Minister Ehud Olmert and former U.S. President George Bush in Ehud Olmert's office (Photo: ALL ISRAEL NEWS)
Then, Olmert explains he how he urged then-U.S. President George W. Bush to order the American military to destroy the reactor.
And why Bush refused, under tremendous pressure from his advisors, foremost among them U.S. Defense Secretary Robert Gates.
What's more, Olmert explains that the White House was dead set against Israel taking military action, but urging a diplomatic approach at the United Nations instead.
Why, then – in the face of intense American pressure not to send Israeli fighter jets into Syria to wipe the reactor off the map – did Olmert make the decision to do so anyway, even at the risk of jeopardizing the U.S.-Israeli alliance?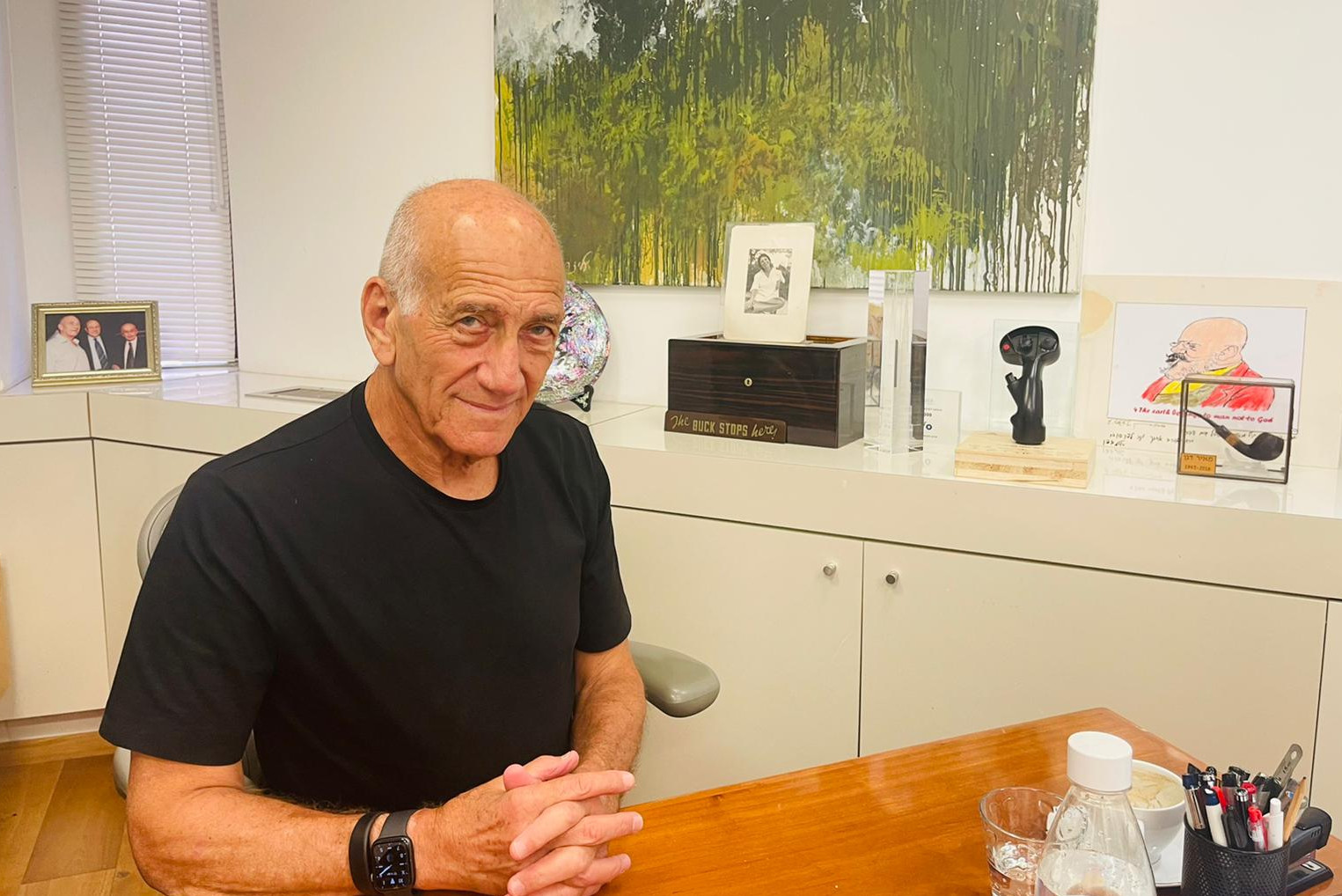 Former Prime Minister Ehud Olmert in his Tel Aviv office on June 17, 2021 (Photo: All Israel News)
I asked him talk about this on the record, and the result is a riveting story, and one with real-time implications and lessons for Netanyahu and his senior advisors today.
Don't miss tonight's episode of THE ROSENBERG REPORT.
It airs on the TBN television network at 9 p.m. EST.
You can also watch it on the TBN app.
You can also watch the full episode tomorrow, after we post it to our website, http://www.RosenbergReport.TV.

Joel C. Rosenberg is the editor-in-chief of ALL ISRAEL NEWS and ALL ARAB NEWS and the President and CEO of Near East Media. A New York Times best-selling author, Middle East analyst, and Evangelical leader, he lives in Jerusalem with his wife and sons.
Popular Articles
A message from All Israel News
Help us educate Christians on a daily basis about what is happening in Israel & the Middle East and why it matters.
For as little as $5, you can support ALL ISRAEL NEWS, a non-profit media organization that is supported by readers like you.
Donate to ALL ISRAEL NEWS
Latest Stories