As Iran enriches to 84%, Netanyahu huddles with former Secretary of State Pompeo, Senate Minority Leader McConnell, other U.S. leaders to discuss next steps to neutralize Tehran
Netanyahu addressed the national security forum in Tel Aviv last night; it was off-the-record but we have extended quotes of what he said
Israeli Prime Minister Benjamin Netanyahu attends the Hartog National Security Conference, with former U.S. Secretary of State Mike Pompeo and former US Ambassador to Israel David Friedman, Feb. 21, 2023. (Photo: Amos Ben-Gershom/GPO)
JERUSALEM, ISRAEL – With Congress out of session in Washington this week, a group of high-powered American political players have just arrived in Israel.
They include:
Mike Pompeo, former U.S. secretary of state and CIA director

Senate Minority Leader Mitch McConnell

Senator James Risch, the new head of the Senate Foreign Relations Committee

Senator Tom Cotton, who serves on both the Senate Armed Services Committee and the Senate Intelligence Committee

David Friedman, the former U.S. ambassador to Israel during the Trump-Pence administration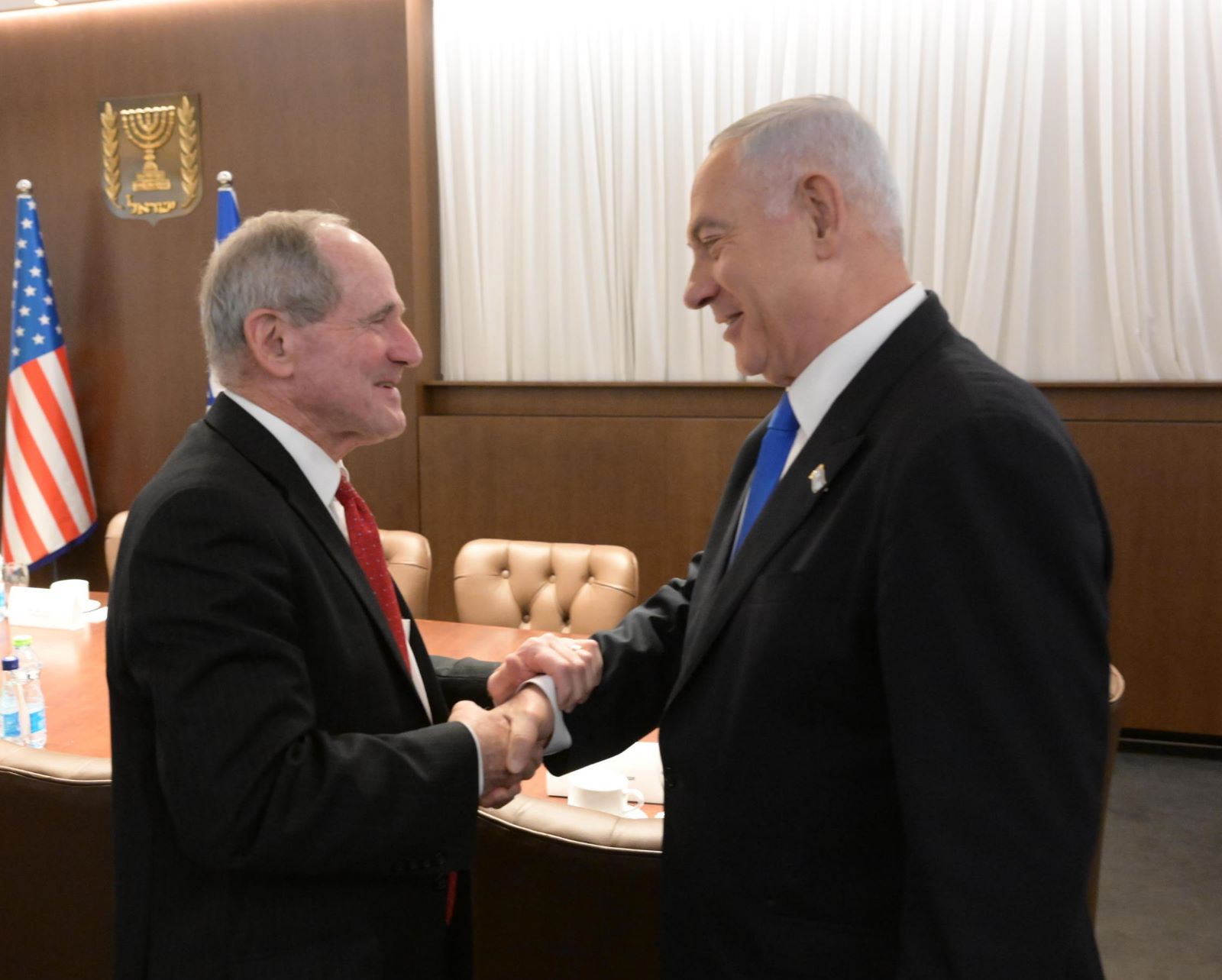 Israeli Prime Minister Benjamin Netanyahu with US Senator James Risch (Photo: Amos Ben-Gershom/GPO)
For the next few days, the leaders are participating in an off-the-record forum called the "Hartog National Security Conference," which is being held at the Setai Hotel in Tel Aviv.
Top on the agenda: Iran.
With the Iranian regime reportedly now enriching uranium to 84% – and thus dangerously close to the ability to start building fully operational nuclear bombs and warheads – the central question is this: How should the U.S. and Israel respond?
The Biden administration has not found a diplomatic solution to the growing Iran nuclear threat, despite pleading with Tehran to return to the Joint Comprehensive Plan of Action (JCPOA).
U.S. President Joe Biden shows little interest in dramatically ratcheting up economic sanctions – much less returning to the Trump-era "maximum pressure campaign" – that could bring the regime in Tehran to its knees and possibly force them to abandon their nuclear program.
Nor has Biden put a credible military option on the table.
Indeed, almost no one here in Israel believes Biden would order military strikes against the Iranian nuclear program.
So, now what?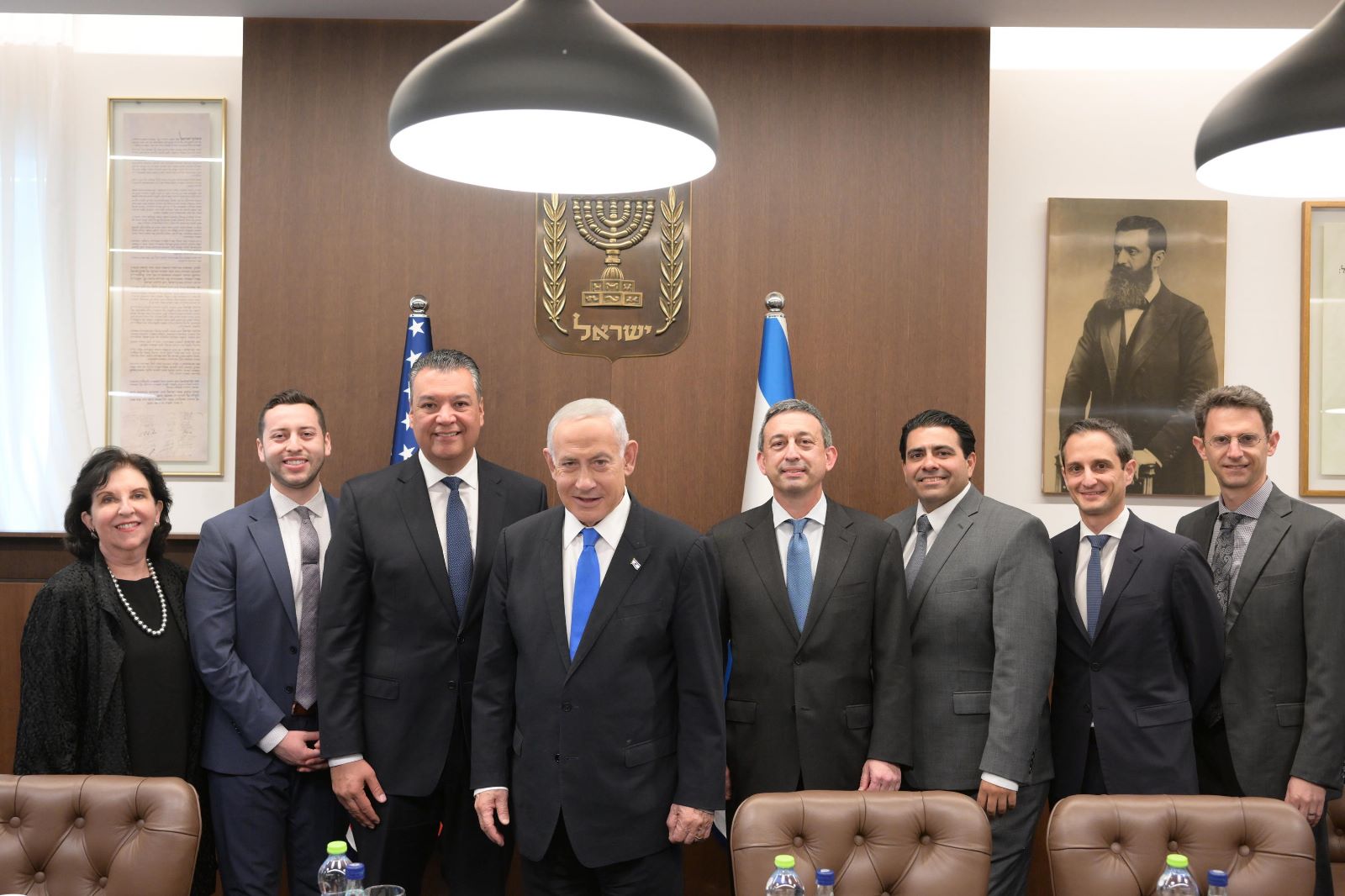 Israeli Prime Minister Benjamin Netanyahu meets with a delegation of US senators, Feb. 21, 2023 (Photo: Amos Ben-Gershom/GPO)
NETANYAHU MEETS PRIVATELY WITH HEAVILY GUARDED POMPEO
If Prime Minister Benjamin Netanyahu believes he has no other choice but to order a full-scale military attack on Iran's nuclear program – possibly this year – will the United States fully back Israel?
This is the context for the national security forum, though there are other issues to discuss, as well.
Among them:
the growing Russian alliance with Iran

the 150,000 missiles that Hezbollah has pointed at Israel in southern Lebanon

the one-year anniversary of Russia's invasion of Ukraine and where that ghastly conflict is going next, and

the Chinese threat to Taiwan, to name just a few.
On Tuesday evening, Netanyahu was interviewed by Walter Russell Mead, a professor and historian and contributor to the Wall Street Journal editorial page.
After the event, Netanyahu met for more than an hour with Pompeo.
The two became very close friends during Pompeo's tenure at Langley and State, particularly since Pompeo was the driving force behind – and chief spokesperson for – the "maximum pressure campaign."
The regime in Tehran was so damaged by this campaign that it has vowed to assassinate Pompeo, who continues to have a 24/7 protective detail made up of agents from the Diplomatic Security Service (DSS), a division of the State Department, and may very well need that protection for the remainder of his life.
Pompeo invited me to meet with him following his meeting with Netanyahu at another location.
He could not, of course, convey what he and the prime minister had discussed.
But I can tell you that the security guarding him was incredibly tight.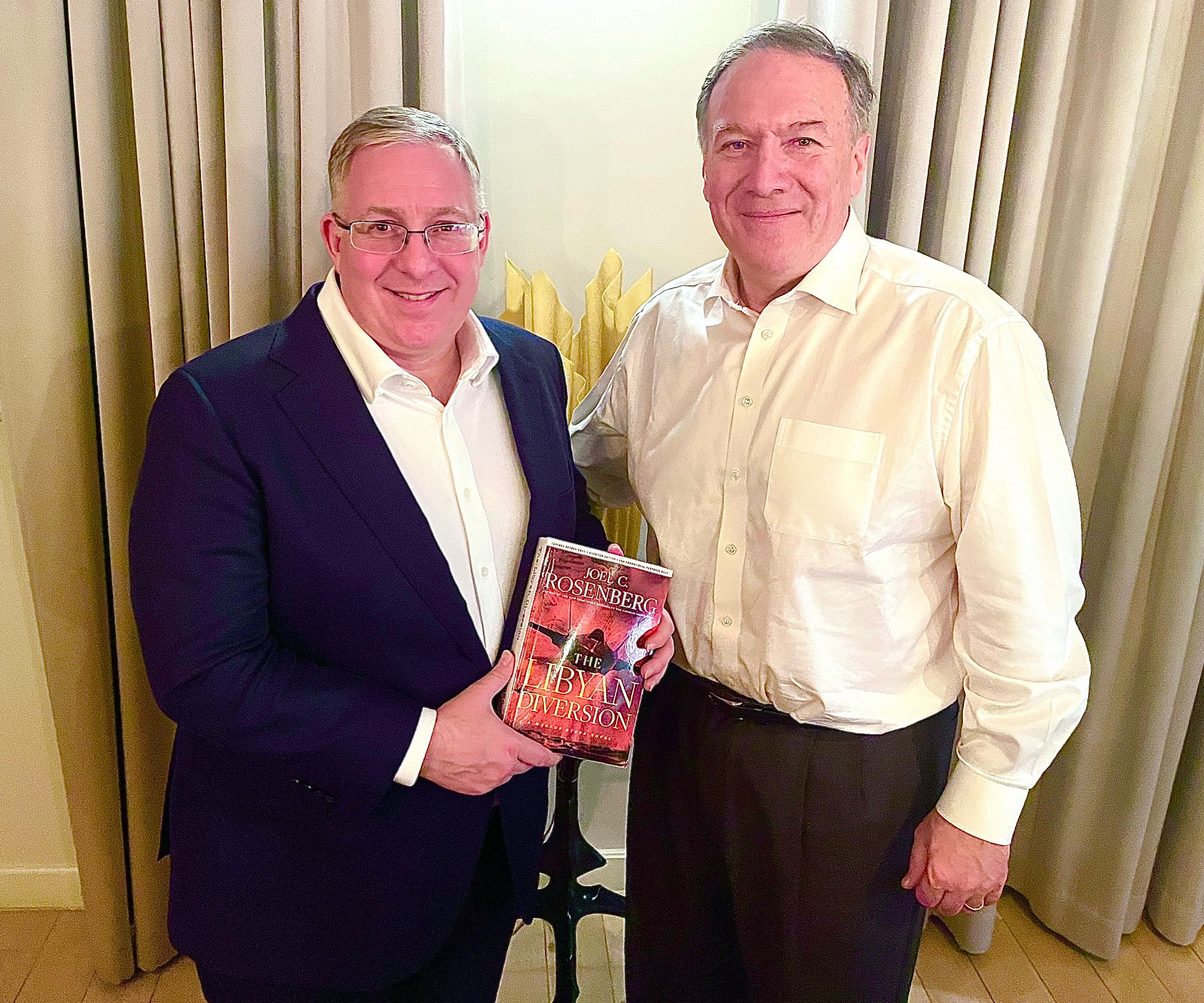 Joel C. Rosenberg presents Mike Pompeo an advanced copy of his new novel (Photo: ALL ISRAEL NEWS)
NETANYAHU WARNS TIME IS SHORT TO STOP IRAN
Though the conference is off-the-record, the Prime Minister's Office this morning released excerpts of the conversation to reporters.
"What would the policy be on Iran, on the assumption that the U.S. administration claims that the nuclear agreement is completely finished?" Prof. Mead asked Netanyahu.
"How do you stop a rogue nation from acquiring nuclear weapons?" Netanyahu replied. "Let's see. I mean, there have been some examples, so we can maybe deduce a rule."
"You had one that's called Saddam Hussein's Iraq," he continued. "It was stopped by military force – ours. You had a second one that is called Syria that tried to develop nuclear weapons. And it was stopped by a military action – ours. There was a third country, Muammar Gaddafi's Libya. It wanted to pursue nuclear weapons and it gave it up by the threat of a military action – yours [the United States]."
"There's a fourth country, North Korea, that sought to develop nuclear weapons, and it wasn't challenged," Netanyahu warned. "And by the way, a signatory to the NPTs and all. It doesn't mean anything. They weren't stopped, because there was no threat of military action. And so they developed this capacity."
"Now we have Iran. Iran seeks to develop it. It was actually stopped for a year in their program, in 2003, when they thought – right after the Gulf War – when they thought that you, America, would take action against them. So they stopped, then converted it into a secret program, disguised by various civilian so-called research organizations. But they continued. And they've been stopped, or rather slowed down by various actions that we took and some sanctions that were applied. The sanctions came about because the Americans were saying, 'This crazy guy in Jerusalem is going to bomb them unless we do something.' So, that's how Iran came to the table, but then they left the cash on the table, and did a lousy agreement."
"The only thing that has credibly stopped rogue nations from developing nuclear weapons is a credible military threat or a credible military action," Netanyahu insisted. "You can couple that with crippling economic sanctions, but that's not a sufficient condition. A necessary condition, and an often sufficient condition, is credible military action."
"The longer you wait, the harder that becomes," Netanyahu said, adding ominously, "We've waited very long."
"I can tell you that I will do everything in my power to prevent Iran from acquiring nuclear weapons. That is not merely an Israeli interest; it's an American interest; it's in the interest of the entire world."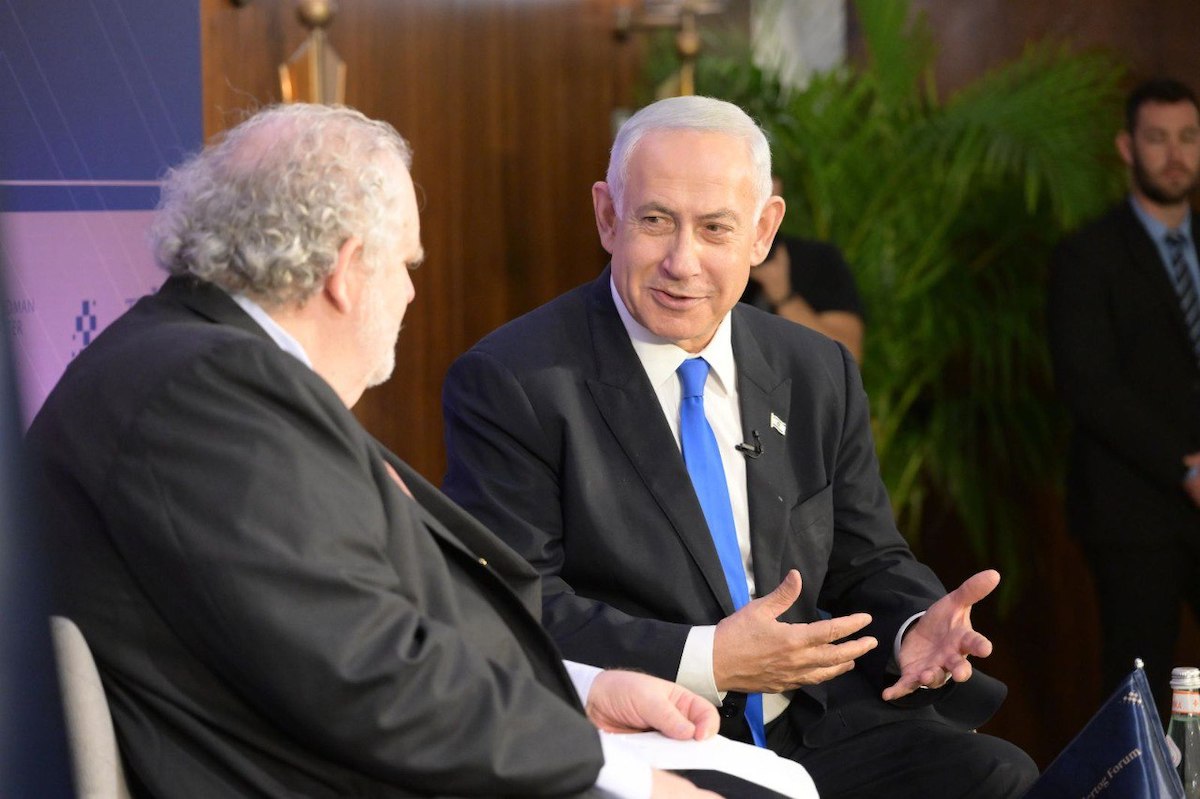 Israeli Prime Minister Benjamin Netanyahu attends the Hartog National Security Conference, Feb. 21, 2023 (Photo: Amos Ben-Gershom/GPO)
CAN ISRAEL REALLY MAKE PEACE WITH SAUDI ARABIA?
Netanyahu was also asked about the prospects of making peace with Saudi Arabia.
"If we expand the circle of peace to Saudi Arabia, then I think we effectively end the Arab-Israeli conflict, which means we work our way not inside out, solve the Palestinian problem," he replied.
"I believe that pursuing a peace that is based on common interests, of using Israeli power – military, intelligence, technological and economic – to buttress local, that is, peace agreements and normalization agreements with our neighbors can help achieve two things. One, it can expand the circle of peace. Second, it can serve as a bulwark against Iran. I think we've, we can have a quantum leap if the Saudi leadership decides that it wants to be formally part of this. Informally, they're part of this."
Also attending the conference were Knesset Member Simcha Rothman, Tikvah Fund Chairman of the Board Elliott Abrams and a variety of U.S. business leaders and academics from the economic and security fields, according to the Prime Minister's Office.

Joel C. Rosenberg is the editor-in-chief of ALL ISRAEL NEWS and ALL ARAB NEWS and the President and CEO of Near East Media. A New York Times best-selling author, Middle East analyst, and Evangelical leader, he lives in Jerusalem with his wife and sons.
Popular Articles
A message from All Israel News
Help us educate Christians on a daily basis about what is happening in Israel & the Middle East and why it matters.
For as little as $5, you can support ALL ISRAEL NEWS, a non-profit media organization that is supported by readers like you.
Donate to ALL ISRAEL NEWS
Latest Stories
Comments