Exclusive interview on THE ROSENBERG REPORT with Israeli reporter who wrote fantastic new book on Trump, Bibi, Biden and peace
Don't miss the inside story of how Trump brokered the Abraham Accords, then turned on Netanyahu and said, 'F---' Bibi
Barak Ravid with Joel C. Rosenberg (Photo: TBN)
JERUSALEM, ISRAEL – In November 2018, I met Barak Ravid for the first time.
Ravid is one of Israel's top political and diplomatic reporters.
And widely-known as a "scoop machine" because he literally breaks more stories here than any other reporter in the country.
And he smelled a story.
For starters, he wanted to know how in the world I – a dual U.S.-Israeli citizen without any wealth or political power, without any diplomatic status, and an Evangelical from a Jewish heritage, no less – could have possibly been invited to the royal palace in Riyadh, Saudi Arabia, for a private meeting with Crown Prince Mohammed bin Salman (MBS) and his senior advisors?
It didn't make any sense to him.
Especially since I was now the first Israeli citizen in history to have ever publicly meet with the top leaders of the Forbidden Kingdom.
What's more, he wanted to know what the Crown Prince had said to me and my colleagues, since I had just led the first-ever Delegation of Evangelical Christian leaders to the Kingdom.
Until then, Ravid and I had only followed each other on Twitter.
But we had never even had a phone call, much less a meeting.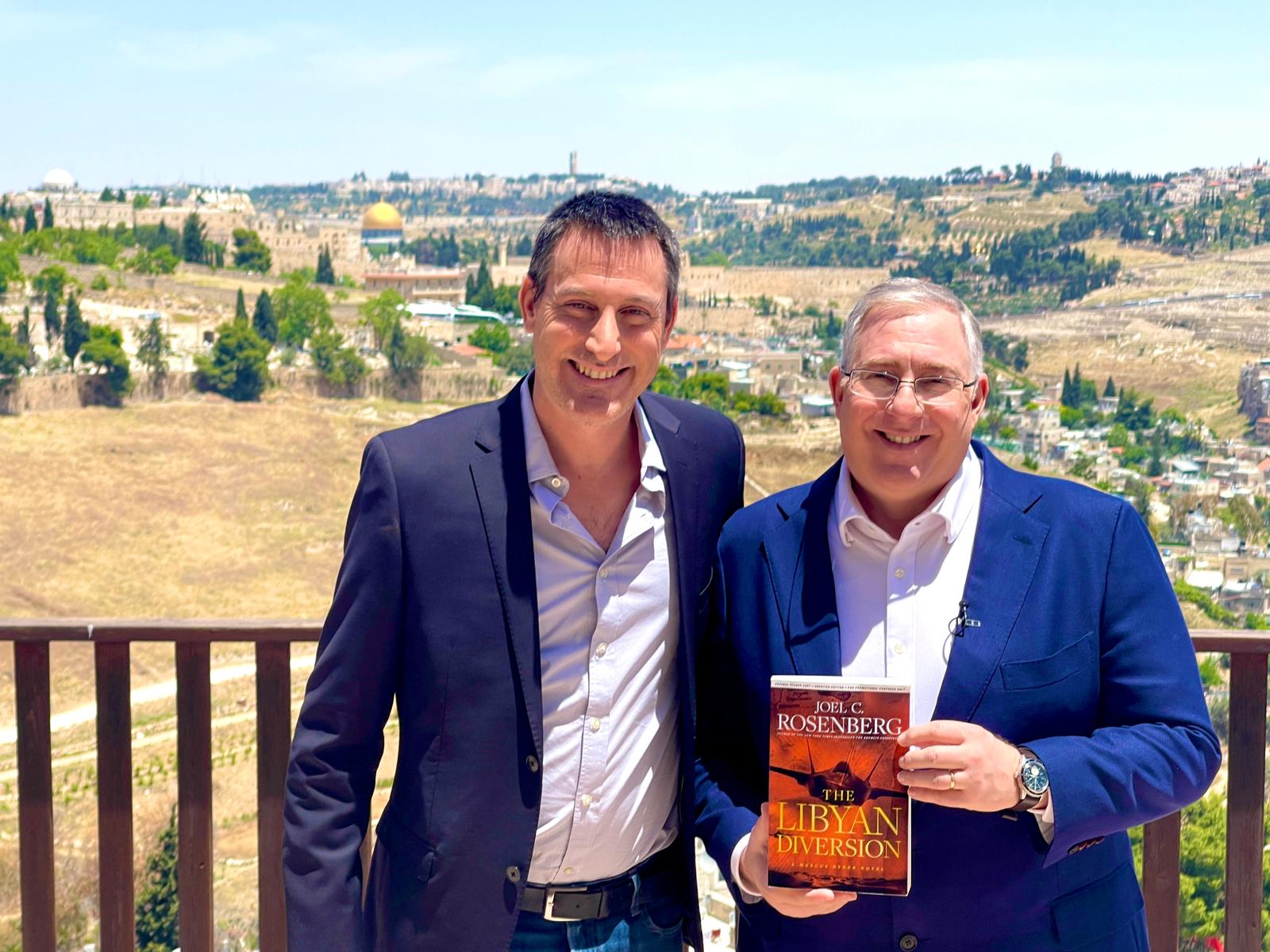 Barak Ravid with Joel C. Rosenberg presenting his latest book (Photo: TBN)
INSIDE THE FORBIDDEN KINGDOM
Now, as returned to Israel from Riyadh, he wanted to interview me for a story published by Axios headlined, "Inside the Saudi crown prince's meeting with U.S. evangelicals."
Then, he interviewed me on-camera for a special report, "Israeli In Saudi," which was broadcast on Israel's Channel 10 news.
"You can watch the report by clicking here (the story is in Hebrew but my interview is in English)."
We spoke again after I went back to Saudi Arabia to bring a second Evangelical Delegation to meet with MBS in September 2019, this time in Jeddah, the kingdom's summer capital.
In these and other conversations, I shared with him my impressions of the Crown Prince, why I believed he would rise to be the king of Saudi Arabia, and most likely rule for the next 50 years.
We also talked about my conversations with a range of other Arab leaders, from the United Arab Emirates' Crown Prince Mohamed bin Zayed, to Egyptian President Abdel Fattah el-Sisi, to Jordan's King Abdullah II, to the senior leadership of Bahrain.
I told him I believed these countries were increasingly prepared to make peace with Israel – but to get there, Israeli and American leaders were going to have to build trust and avoid making unforced errors (like unilaterally annexing large swaths of Judea and Samaria) that would drive moderate Arab leaders away from Israel.
When the Abraham Accords were dramatically announced in 2020, Ravid was providing some the best coverage in Israel.
In 2021, he was invited to join the first direct flight from Israel to the United Arab Emirates – riding with several of President Trump's most senior Middle East advisors, Jared Kushner and Avi Berkowitz – and I enjoyed interviewing him about that trip for ALL ISRAEL NEWS.
BARAK RAVID'S FASCINATING NEW BOOK IS FINALLY OUT IN ENGLISH
Then, in December 2021, Barak Ravid delivered another huge scoop.
He released his first book, TRUMP'S PEACE: The Abraham Accords and the Reshaping of the Middle East – and though it was only published at the time in Hebrew, the book made international headlines.
Why?
Because Ravid had conducted two exclusive interviews with former President Donald J. Trump about his approach towards Israel and Middle East peace.
In that interview, Trump shared his intense and surprising anger towards Israeli Prime Minister Benjamin Netanyahu.
In a stunning development that caught Ravid – and everyone in Israel and the United States – off guard – Trump went on the record with Ravid to say, "F---" Bibi.
Why had Trump become so angry at Netanyahu?
Hadn't they been the closest of political allies?
Hadn't Trump been the most pro-Israel American president in history?
Finally, Ravid has released his book in English – in paperback and in e-book format.
Trump fans are not going to be happy with the cover.
Biden fans are not going to be happy with the enormous credit Ravid gives Trump for pulling off what no other American president ever had.
Nevertheless, you still should read TRUMP'S PEACE – it's a fantastic insider account that captures much more of the behind-the-scenes drama than most other accounts have thus far provided.
It even has a new chapter on whether President Joe Biden can strengthen – or even expand – the circle of Arab-Israeli peace.
Might Biden even be able to broker the mother-of-all Middle East peace deals, one between Israel and Saudi Arabia?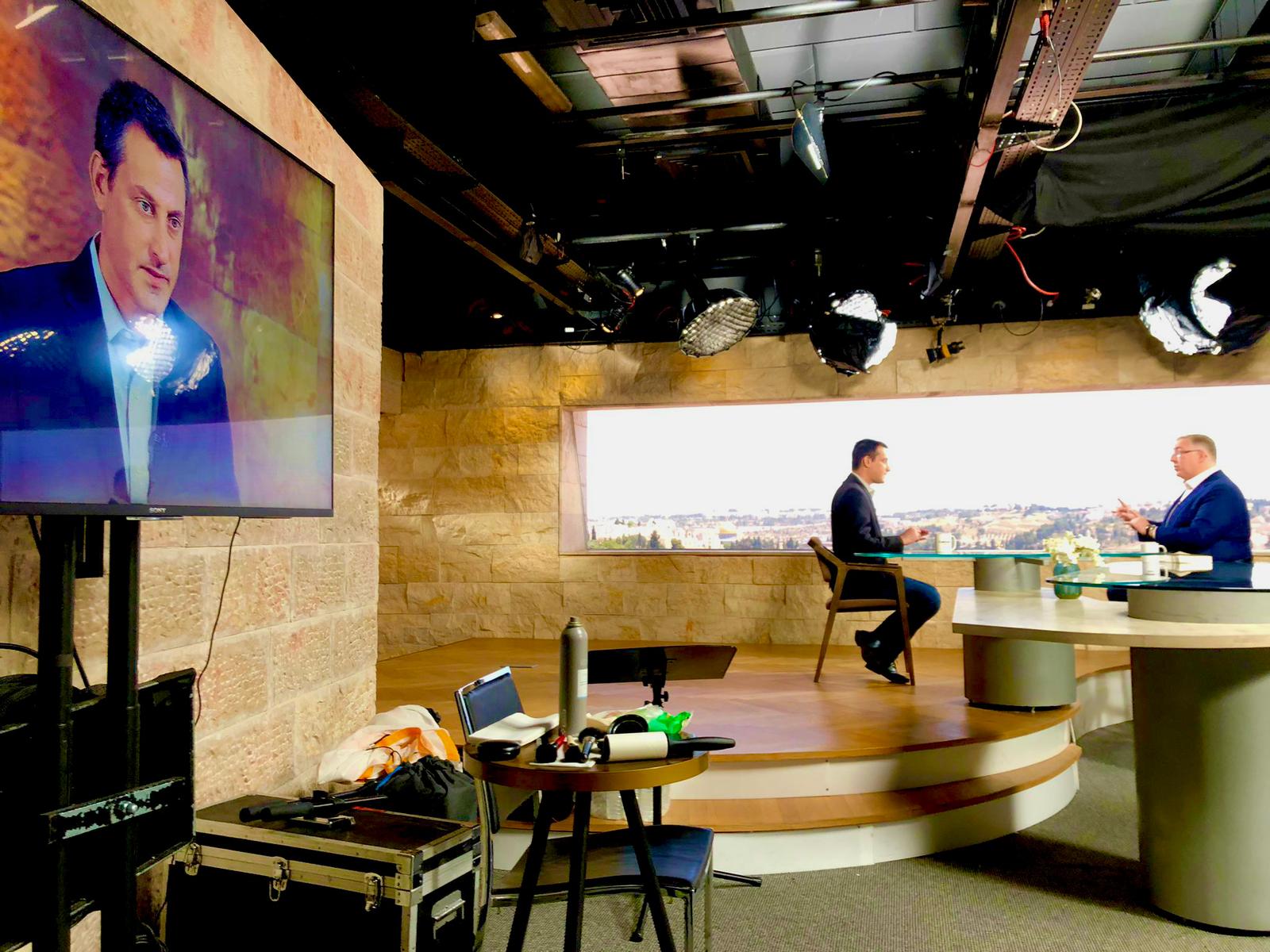 Joel C. Rosenberg interviewing Barak Ravid in TBN's studio in Jerusalem (Photo: TBN)
Don't miss tonight's episode of THE ROSENBERG REPORT as I sit down with Barak Ravid for his first exclusive interview on American TV about his book and ask him these and other questions.
The program airs at 9 p.m. EST on TBN, the most watched Christian TV network in America. 
You can also watch it on the TBN App. 
And by going to www.RosenbergReport.TV.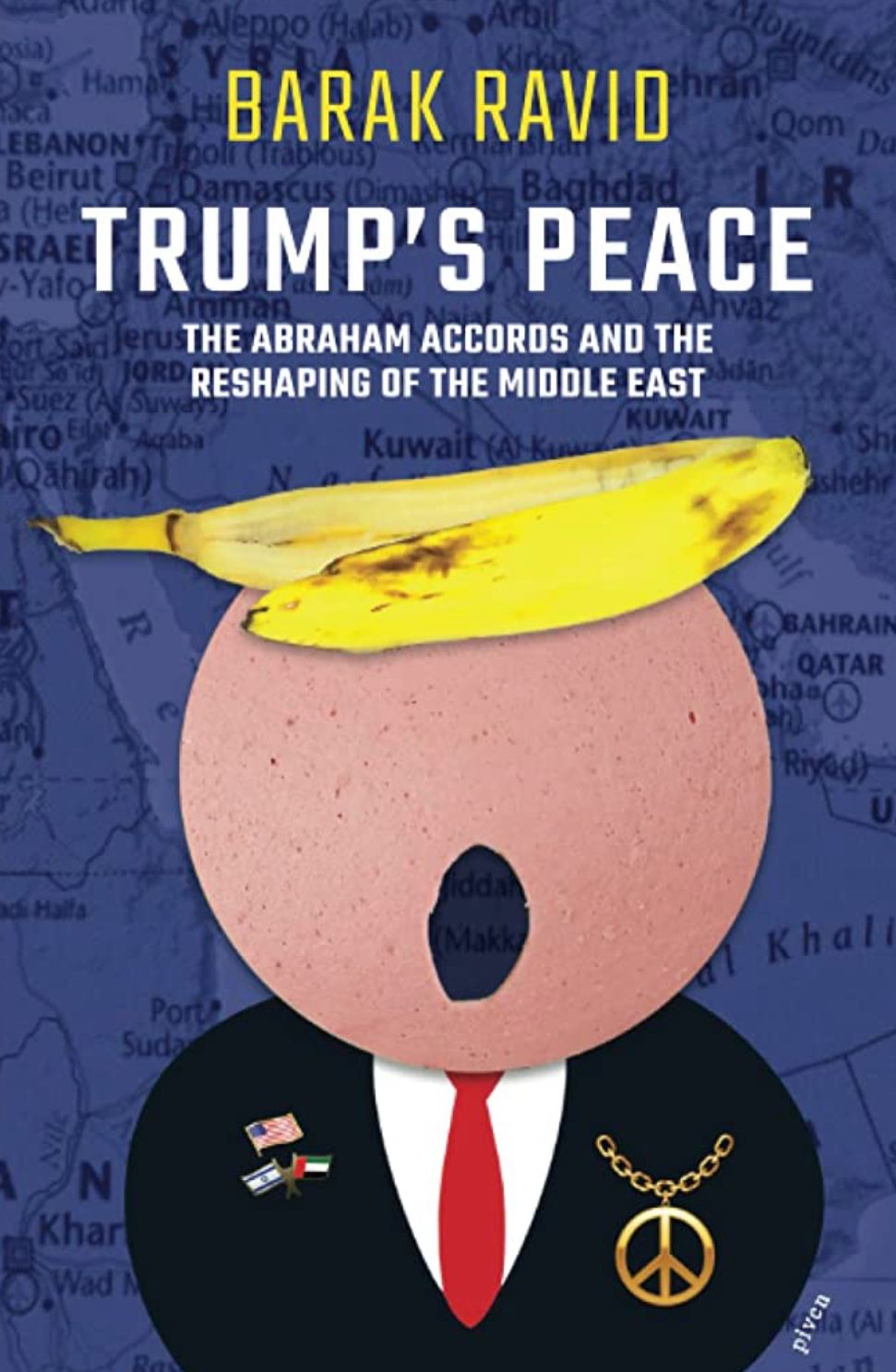 Joel C. Rosenberg is the editor-in-chief of ALL ISRAEL NEWS and ALL ARAB NEWS and the President and CEO of Near East Media. A New York Times best-selling author, Middle East analyst, and Evangelical leader, he lives in Jerusalem with his wife and sons.
Popular Articles
A message from All Israel News
Help us educate Christians on a daily basis about what is happening in Israel & the Middle East and why it matters.
For as little as $5, you can support ALL ISRAEL NEWS, a non-profit media organization that is supported by readers like you.
Donate to ALL ISRAEL NEWS
Latest Stories
Comments