The Abraham Accords and President Biden's visit to the Middle East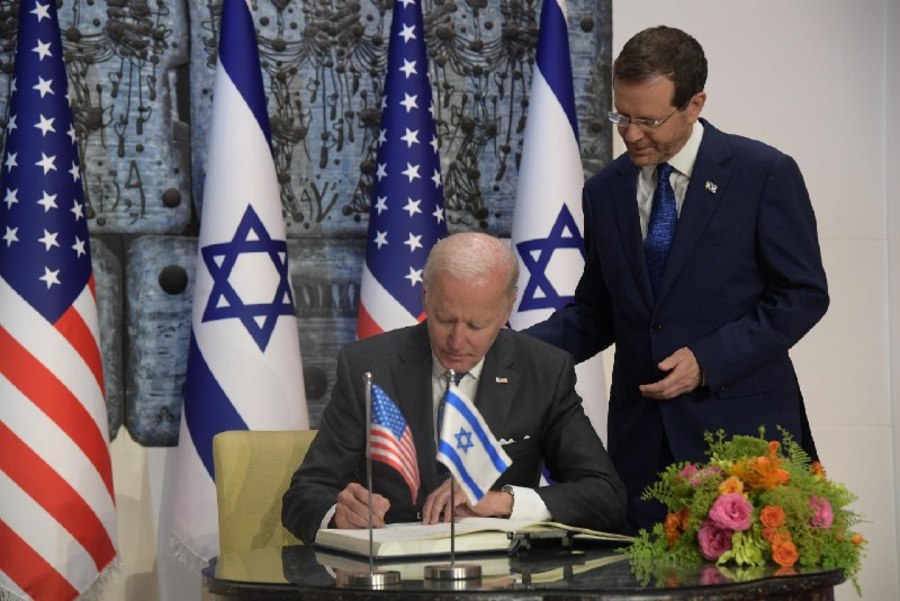 U.S. President Joe Biden signs the guest book at the Israeli president's residency (Photo: Haim Zach/GPO)
When former U.S. President Donald J. Trump officially launched the Abraham Accords from the White House lawn, it marked the beginning of unprecedented transformative relationships in the Middle East.
Since then, the benefits have soared as high as the Burj Khalifa, the world's tallest tower, in United Arab Emirates (UAE). The original four signers—United States, Israel, UAE, and Bahrain—have since been joined by Morocco and Sudan. 
The Abraham Accords Peace Institute's June 2022 newsletter discloses numerous reasons for jubilation from Trump's important legacy. Israel's Central Bureau of Statistics reports that trade between Israel and UAE has increased 130 percent and reveals a 94 percent increase with Morocco, which is also opening an embassy in Jerusalem. 
Other positive initiatives include UAE's Emirates Airlines offering direct flights daily between Dubai and Tel Aviv. For sports lovers, Moroccan and Israeli women's basketball teams signed on to play matches and tournaments. In June, Bahrain hosted a meeting of six countries' foreign ministers who are slated to meet yearly to discuss and cooperate on a range of issues including security, food, and water. Egypt and Jordan, which have historic peace agreements with Israel—in 1979 and 1993, respectively—are expanding their participation. 
Clearly, the Abraham Accords have fostered considerable benefits. However, one of the biggest reasons, if not the biggest, for the Abraham Accords' formation is to curb the Iranian menace. Israel is not alone in its security troubles; the entire region views Iran as an enemy. With apocalyptic imams directing their elite Islamic Revolutionary Guard Corps—which helps train and fund terrorists in Yemen, Syria, Lebanon, and Gaza—danger is always afoot. Iranian warships now ply waters near the Red Sea, and their small gunboats harass U.S. ships in the Straits of Hormuz on the Persian Gulf. Forty percent of the world's oil tankers navigate in and out of the Straits to resupply. Iran itself, directly north of the Straits, has a 90-nautical-mile coastline. 
U.S. President Joe Biden arrived in Israel last week and also traveled to Saudi Arabia. Biden's visit has the real potential to build on the Abraham Accords established by the Trump administration. One significant goal of the trip, according to the president, is "to deepen Israel's integration in the region." He also stated that Israeli leaders came out "strongly for my going to Saudi."
However, the president's visit raises fundamental questions about the U.S. commitment to Israel, considering the Biden administration's plans to revive the failed 2015 Iran deal. The currently stalled meetings suggest that they again suffer from America's naive negotiations—which first rewarded Iran for nothing. In addition, if Israel is forced to defend itself from an Iranian nuclear breakout, former Israeli Ambassador to the U.S. Michael Oren is unsure of U.S. support: "What's America going to do? We often rely on the United States during these battles both for ammunition and for diplomatic support, what I call the diplomatic Iron Dome."
Biden also visited East Jerusalem, which Palestinians view as their future capital. He is the first U.S. president to make such a visit, in a move that is an affront to Israel's sovereignty. It clearly indicates his overzealous attempts to persuade Palestinian leaders to make peace. With Mahmoud Abbas, Palestinian Authority president, refusing to enter direct negotiations with Israel, Biden's visit to East Jerusalem is not likely to yield any constructive outcomes. Abbas has rejected direct negotiations since 2009. 
Another flash point for many Israelis: Israel's President Isaac Herzog awarded Biden the Medal of Honor given to true friends of Israel. This may be understandable from a diplomatic viewpoint, but Biden's pursuit of another Iran deal and his promise to open a Palestinian consulate in the Israeli capital do not engender hope. 
Nonetheless, signifying high hopes, the U.S. Congress established an Abraham Accords Caucus earlier this year. They recently introduced timely legislation to strengthen the agreements between the Israel and Arab states. The Deterring Enemy Forces and Enabling National Defenses (DEFEND) Act compels the U.S. to integrate air defense systems with Israel, Egypt, Jordan, UAE, Saudi Arabia, and Bahrain. The eight U.S. Senate and House lawmakers included in the caucus are evenly divided between Democrats and Republicans. Their bipartisan cooperation deserves praise amid congressional gridlock on a number of other issues.
Israel's Abraham Accords Caucus is also active in the Knesset. Defense Minister Benny Gantz recently announced that Israel was building a Middle East Air Defense Alliance that would cooperate with the U.S. to halt Iranian air aggression. Both Israel and the U.S. are continuing to make historic strides toward building unprecedented partnerships in the Middle East. 
However, Biden's visit, along with the recent decisions announced by both the U.S. and Israel's Abraham Accords caucuses, have prompted worn-out claims of innocence from Iran. Nasser Kanani, Iran's foreign ministry spokesman, described the U.S. and Israel's air defense initiative as a "provocative move." The Islamic Republic News Agency went on to falsely claim that the U.S. and the "Zionist regime" are pushing division and spreading "Iranophobia."
When the U.S. caucus launched, Sen. James Langford (R-OK) relied on Scripture in saying, "We will seek peace through expanding and encouraging the Accords and set the example for other nations who desire peace. Matthew 5:9 importantly reminds us that 'Blessed are the peacemakers, for they will be called children of God.'"
For Christians who rely on the biblical accounts about God's chosen people and His endless promises to them, we are called to pray for peace and surely need peacemakers. Nevertheless, we know that it is only the Prince of Peace who will offer the world perfect peace.  
This article was originally published here.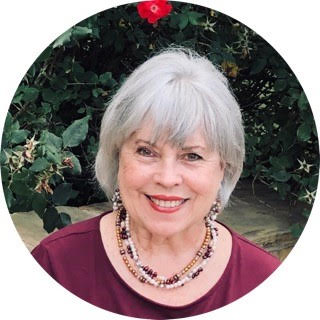 Arlene Bridges Samuels pioneered Christian outreach for the American Israel Public Affairs Committee (AIPAC). After nine years she retired and later worked part-time with International Christian Embassy Jerusalem USA. Arlene is now an author at The Blogs-Times of Israel and writes a weekly column at CBN ISRAEL. She has often traveled to Israel, including being invited three times by Israel's Government Press Office to their annual Christian Media Summit. Read more of her articles on her CBN Israel blog.
A message from All Israel News
Help us educate Christians on a daily basis about what is happening in Israel & the Middle East and why it matters.
For as little as $5, you can support ALL ISRAEL NEWS, a non-profit media organization that is supported by readers like you.
Donate to ALL ISRAEL NEWS
Current Top Stories
Comments