Scouting the Promised Land: After an exclusive business trip to Israel, travel agent tells ALL ISRAEL NEWS which new sites are a must for tourists
Despite uncertainty over the restart of tourism here, German travel agent visits Israel before the gates reopen to tourists for a fact-finding mission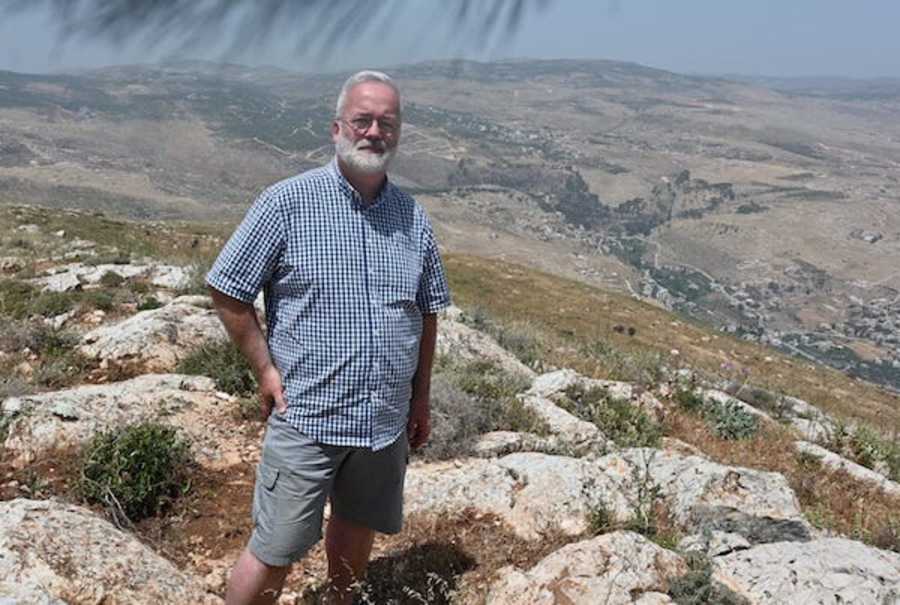 Werner Hartstock, CEO of Israel Travel, an agency based in Germany, visits Israel in May. (Photo: courtesy)
A German travel agent who received special permission to take a business trip to the Holy Land touched down at Ben-Gurion International Airport earlier this month for a scouting mission to find out what is new and improved for tourists when the gates of Israel finally reopen.
Now, Werner Hartstock is back in Germany where he is waiting for the call to return with a group.
"The last visit is still 'burning' in me. Now we are waiting for permission to come with our first small group on June 6. We really pray that it will happen," said Hartstock, CEO of Israel Travel – an agency based in Reichenbach im Vogtland, a town in eastern Germany.
ALL ISRAEL NEWS spoke with Hartstock shortly after he returned to Germany. During his four extraordinary days in Israel he was whisked from site to site to scout out the land for future visits.
This was before violence erupted on the Temple Mount on May 7 and rockets started flying in from Gaza, shutting down the airport yet again. Hartstock actually led a solidarity tour to Israel during the 2014 war between Israel and Hamas in Gaza when 4,500 rockets were launched at Israel over a 50-day period. He managed to scramble together 50 tourists from Nigeria, Brazil and Germany who made a solidarity mission to Israel at a time when most people were canceling their trips.
This time, however, entry to the country has been barred to foreigners since March 2020. An official reopening was supposed to take place on May 23, due to last-minute efforts by the Ministry of Tourism, but we are unsure if that transpired.
With the help of Keshet Journeys, an Israeli travel company, Hartstock obtained a work-permit to get into Israel in early May for a business trip. Keshet's Moshe Gabai was Hartstock's host and tour guide for the four days.
His quick jaunt to Israel in May was more than a business trip for Hartstock.
"It has been very hard to stay in Germany. The last time I was in Israel was 17 February of 2020. I was waiting and waiting," he said. "I felt like a sprinter in the start block and I was waiting for the shot."
Hartstock's work over the past 15 months has netted zero income and yet has been busy: "In the short term I cancel, in the long term I plan."
Just like everyone else in the travel industry, Hartstock cannot move forward. Without approval from the Ministry of Tourism to bring a group, Hartstock has no dates to advertise, cannot book flights or hotels which means he cannot set a price and that means he can't even advertise.
Hartstock's business is also his calling: to bring German Christians to Israel for a deeper understanding of the country and of Judaism. Sometimes he brings mixed tours of Jews and Gentiles together to Israel. Pre-COVID he led 30 groups a year with up to 40 tourists on each trip.
Most of his customers are Christian and many are debating whether to get the COVID shot just to make the trip – which is currently required by Israel. Meanwhile, many are hoping that Israel will drop the vaccine requirement soon.
WHAT WAS THE PROCESS GETTING INTO ISRAEL?

Hartstock described what was necessary to get into Israel:
Proof of vaccination (which needs to be accepted by the Israeli authorities)

A negative PCR test before boarding plane to Israel

Another COVID test taken upon arrival at Ben-Gurion Airport

A serological test to prove you have COVID antibodies

A place to quarantine until the results from all of the above are accepted
Fortunately, Hartstock was with Gabai who was able to navigate the permissions needed from the Health Ministry to get released from quarantine and begin his tour a day after he arrived.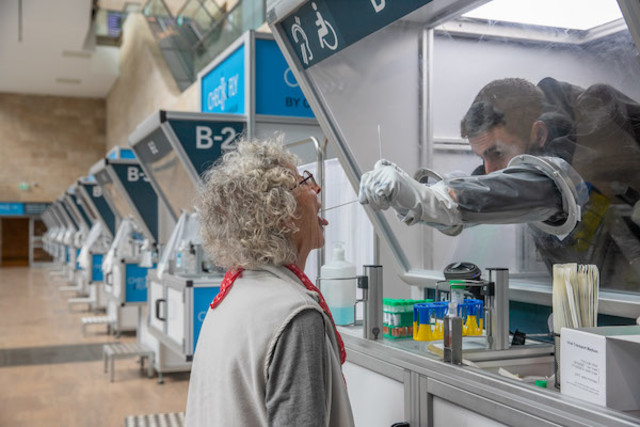 A technician collects nasal swab samples for COVID-19 at Ben-Gurion International Airport on Feb. 28, 2021. (Photo: Yossi Aloni/Flash90)
WHAT SHOULD TOURISTS SEE IN ISRAEL?
Based on his own fact-finding mission, Hartstock recommended three sites that are off the beaten path and were new to him when he came on his scouting mission:
1. Gilgal in the Jordan Valley where the Israelites entered the Promised Land with Joshua and a structure from the Iron Age which looks like an enormous foot was imprinted on the ground.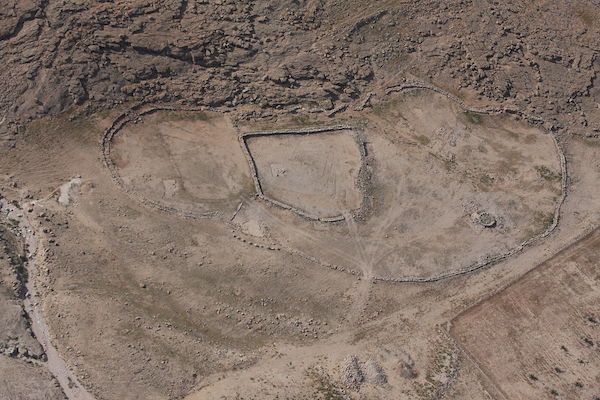 Gilgal in Jordan Valley (Photo: Adam Zartal/Wikimedia Commons)
2. Susia, an archaeological site of an ancient Jewish town from the Second Temple period, uncovered in the southern hills of Hebron.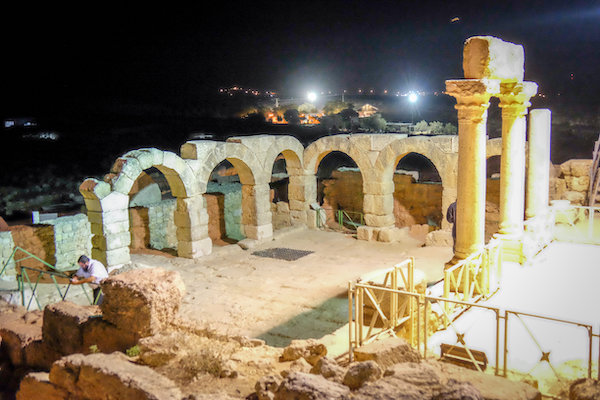 The ancient synagogue, from 1500 years ago, in Susia, at night time. (Photo: Gershon Elinson/Flash90)
3. Arugot Farms, where Jeremy Gimpel and Ari Abramovitz – two Jewish Israelis who immigrated from America – built a "house of prayer for all nations" and a retreat center for Jews and Christians to connect.
Hartstock hopes his short trip will whet the appetite of tourists longing to come – and that the day will come soon that they can return.
"It is very good for me to give people hope to come back," he said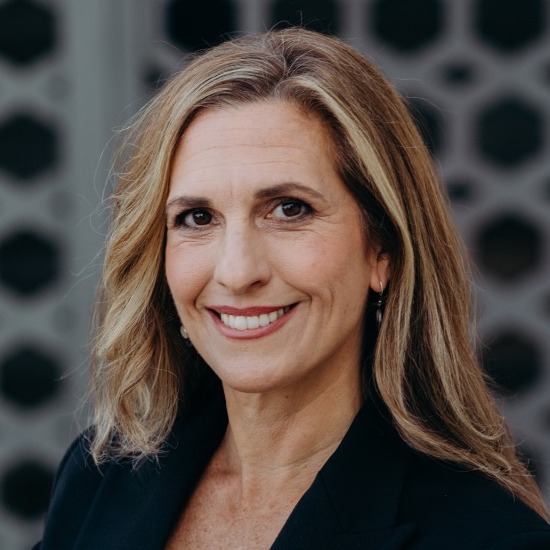 Nicole Jansezian is the news editor for both ALL ISRAEL NEWS and ALL ARAB NEWS and senior correspondent for ALL ISRAEL NEWS
A message from All Israel News
Help us educate Christians on a daily basis about what is happening in Israel & the Middle East and why it matters.
For as little as $5, you can support ALL ISRAEL NEWS, a non-profit media organization that is supported by readers like you.
Donate to ALL ISRAEL NEWS
Current Top Stories
Comments