Racial slurs, rocks, soaring tensions as Jerusalem Day draws 70,000 to city and a record 2,600 Jews to Temple Mount
Violence continues throughout the evening but the day passed without major incidents – or rockets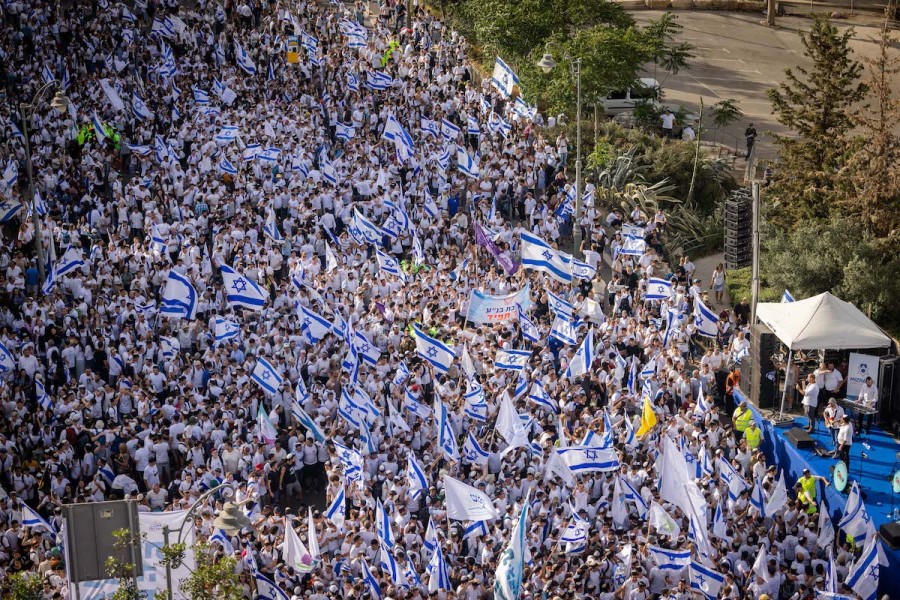 Thousands march and wave the Israeli flag as they celebrate Jerusalem Day in downtown Jerusalem, May 29, 2022. (Photo: Yonatan Sindel/Flash90)
JERUSALEM—The city was awash in white and blue as an estimated 70,000 marchers waving Israeli flags converged for the Flag Parade through Damascus Gate to the Western Wall amid raucous celebrations – but also heightened tensions, a heavy police presence and threats from Hamas to launch rockets if Israel crossed a "red line."
Though Jerusalem Day passed without any serious incidents, it was marred by violent altercations between Jews and Arabs during the charged march through the Old City with racial slurs shouted by both sides.
On Salahadin Street in East Jerusalem, rioters – held back from the Old City behind police barriers – threw rocks and set fire to dumpsters while waving Palestinian flags.
As thousands of marchers funneled into Damascus Gate, they gathered to wave their flags, dance and sing. At some point, marchers tossed water bottles and other objects at journalists who were lined up at the top of the steps near the gate.
Earlier in the day, 2,600 Jews ascended to the Temple Mount – known to Muslims as Al-Haram al-Sharif. Some prostrated themselves on the stones. Meanwhile, Muslims locked themselves into al-Aqsa Mosque and also detained a fellow Arab who they accused of being a spy, according to an interview with the man on Channel 12 news.
One of the Jewish Israelis who ascended to the Temple Mount was Knesset Member Itamar Ben Gvir. The far-right lawmaker and head of the Jewish Power party shouted, "Am Yisrael chai" (the people of Israel live) while Palestinian chanted "Allah akbar" (Allah is great).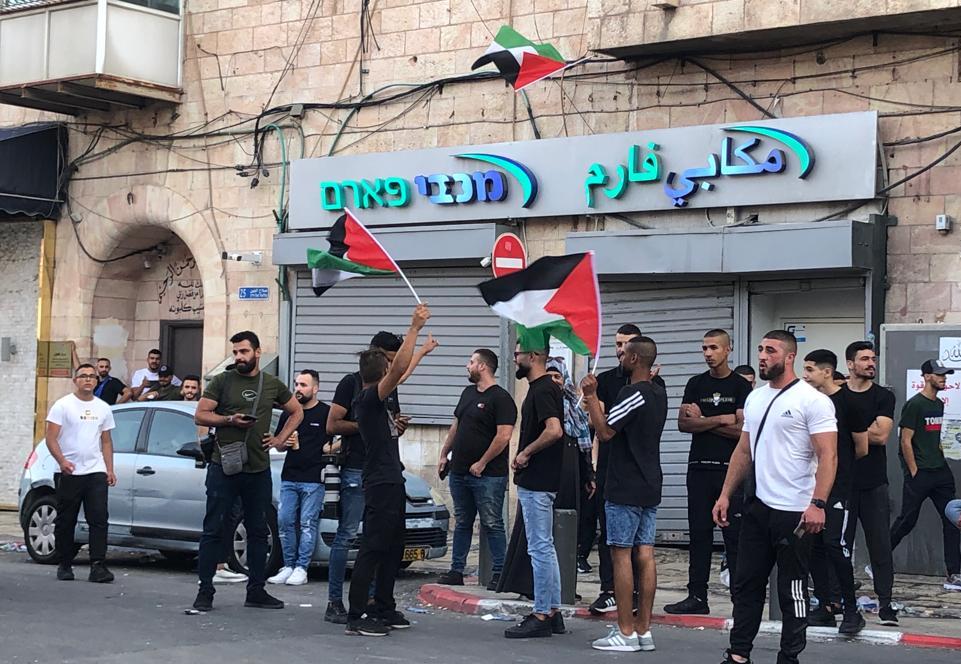 Arabs waving Palestinian flags as the Jerusalem Flag March passes, May 29, 2022 (Photo: ALL ISRAEL NEWS)
Both the Palestinian Authority and Jordan condemned Israel for allowing the incendiary political figure up to the site.
Israeli Public Security Minister Omer Barlev approved the march route through the Old City's Damascus Gate and Muslim Quarter to the Western Wall – something that the previous government avoided last year as Jerusalem Day fell during the Muslim fasting month of Ramadan, following weeks of clashes between Muslims and Israeli police.
This year, Prime Minister Naftali Bennett and his government had insisted on keeping the site open to Jews and the parade route to its original plan despite threats of violence by Palestinians. It was a dangerous balancing act for his coalition, comprised of left-wing and Muslim parties on one side and right-wing parties including Bennett's own, Yamina, on the other.
"Fifty-five years ago IDF (Israel Defense Forces) soldiers liberated the Old City and unified Jerusalem. This was an event that also united the entire nation," Bennett said. "Flying the Israeli flag in the capital of Israel is self-evident; therefore, we have been crystal clear on the subject from the outset."
The holiday carries both a political and religious significance for Israelis as it commemorates the day in 1967 that Israel gained control over all of Jerusalem during the Six-Day War giving Jews access for the first time since 1948 to the Western Wall.
However, in recent years the day has been marked by tensions and provocations from both sides. The day has been co-opted by fringe groups on the Israeli side such as the Hilltop Youth, elements of the Religious Zionism movement and followers of the late Rabbi Meir Kahane, whose political party, Kach, was banned in Israel because it "incited racism." The same party was declared a terrorist organization by the United States.
Indeed, many of the marchers were wearing stickers that declared "Kahane was right," while some waved their middle fingers at nearby Arabs and chanted "death to Arabs."' Another young Israeli wearing a flag calling for the building of the third temple danced in front of a group of Arab youth in the Old City while police stood cautiously by.
Bennett told police to "show zero tolerance for violence or provocations by extremist elements," specifically naming La Familia – an ultra-nationalist fan club of an Israeli soccer team.
"The vast majority of participants came to celebrate, but, unfortunately, there is a minority who have come to ignite the area, take advantage of the government's strong position against Hamas threats, and try to force a fire," Bennett's office said. "Therefore, any case of violence will be dealt with in full severity, including prosecution."
Violence continued in East Jerusalem well after the parade ended. Palestinians threw rocks at Israeli buses resulting in injuries.
Hostilities have been running high for several weeks now in the country. Since March, terrorists have killed 20 people in Israel in a recent wave of terror.
Nevertheless, many Israelis from all spectrums joined in the festivities as a celebration of the Jewish state, distancing themselves and their support of Israel from those shouting racial slurs.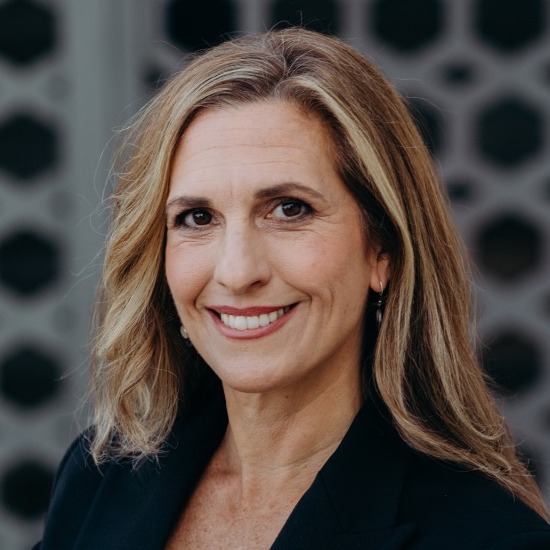 Nicole Jansezian is the news editor for both ALL ISRAEL NEWS and ALL ARAB NEWS and senior correspondent for ALL ISRAEL NEWS
A message from All Israel News
Help us educate Christians on a daily basis about what is happening in Israel & the Middle East and why it matters.
For as little as $5, you can support ALL ISRAEL NEWS, a non-profit media organization that is supported by readers like you.
Donate to ALL ISRAEL NEWS
Current Top Stories
Comments