Pelosi moves to impeach after Pence refuses to invoke 25th Amendment to remove Trump
Israelis watching crisis closely as growing number of House Republicans – including Rep. Liz Cheney, 3rd highest ranking member – say they'll vote for impeachment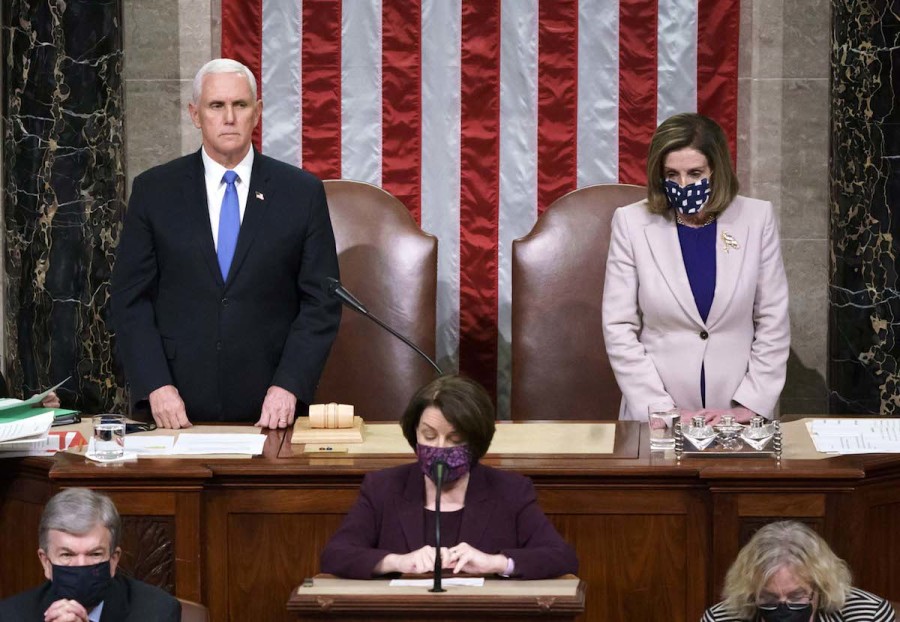 U.S. Vice President Mike Pence and Speaker of the U.S. House of Representatives Nancy Pelosi stand after reading the final certification of Electoral College votes cast in November's presidential election during a joint session of Congress after working through the night, at the U.S. Capitol on Jan 7, 2021 (Photo: J. Scott Applewhite/CNP/InStar/Cover Images)
The crisis in the capital of the world's biggest democracy and sole superpower has already gone from bad to worse in the past week – but it is now intensifying even further.
Israelis and many others throughout the Middle East are watching closely to see how events will unfold.
ALL ISRAEL NEWS will continue to provide accurate, fair, nonpartisan coverage and analysis to help our readers understand what is happening and why it matters.
The two key headlines in the past 24 hours are these:
U.S. Vice President Mike Pence says invoking the 25th Amendment to remove President Donald Trump from office would set a "terrible precedent," and rejected a call from the House of Representatives demanding that he do so. The House passed (223-205) a non-binding measure late Tuesday telling the vice president to declare Trump unfit for office. 

With Pence refusing, Speaker of the House Nancy Pelosi (D-Calif.) is now moving – and moving rapidly – to impeach Trump instead. 
THE CASE DEMOCRATS ARE MAKING
The House will vote on a single article of impeachment.
It argues that Trump violated his oath to faithfully uphold the U.S. Constitution and committed "high crimes and misdemeanors" by trying to illegally overturn the results of the elections and that he incited a violent mob to prevent Congress from doing its constitutional duty to certify the election results.
Excerpts:
"Shortly before the Joint Session commenced, President Trump, addressed a crowd at the Ellipse in Washington, D.C. There, he reiterated false claims that 'we won this election, and we won it by a landslide.'"

"He also willfully made statements that, in context, encouraged — and foreseeably resulted in — lawless action at the Capitol, such as: 'if you don't fight like hell you're not going to have a country anymore.'" 

"Thus incited by President Trump, members of the crowd he had addressed, in an attempt to, among other objectives, interfere with the Joint Session's solemn constitutional duty to certify the results of the 2020 Presidential election, unlawfully breached and vandalized the Capitol, injured and killed law enforcement personnel, menaced Members of Congress, the Vice President, and Congressional personnel, and engaged in other violent, deadly, destructive and seditious acts…."

"President Trump's conduct on January 6, 2021, followed his prior efforts to subvert and obstruct the certification of the results of the 2020 Presidential election. Those prior efforts included a phone call on January 2, 2021, during which President Trump urged the secretary of state of Georgia, Brad Raffensperger, to 'find' enough votes to overturn the Georgia Presidential election results and threatened Secretary Raffensperger if he failed to do so."
To read the formal article of impeachment in full, click here.
THE PROCESS
An impeachment in the American system is effectively an indictment – it can only be generated from the House. 
The Senate would then be required to hold a trial and then vote to convict or acquit the president. 
The only remedy the Constitution provides in a conviction is for a president to be removed from office. If convicted, Congress could then vote to ban the president from ever holding federal elected office again.
Few political analysts believe there is enough time to hold a full and fair trial before Trump leaves office anyway on Jan. 20. 
Still, Trump could soon be the only American President ever to be impeached twice.
REPUBLICAN REACTION
Most Republicans are furious by the steps Pelosi and her team are taking.
However, Rep. Liz Cheney, the third-highest ranking Republican in the House, says she will vote for impeachment.
"The President could have immediately and forcefully intervened to stop the violence," Cheney said in a statement. "He did not. There has never been a greater betrayal by a President of the United States to his office and his oath to the Constitution."
"I will vote to impeach the President," she said.
Several others House Republicans have also said they will vote for impeachment. Others say they would only vote to censure – not impeach – Trump for his actions.
Most of members of the House Republican conference, however, believe that the best thing for the country is for Trump to leave office quietly and peacefully on Jan. 20 but not impeach. They argue that Congress instead needs to work together to fight COVID-19, care for Americans who are suffering economically, and get back to the broader business of the country.
A new poll cited by Paul Bedard, columnist for the Washington Examiner, finds that 60% of Americans believe impeachment is a mistake.
Bedard cited the following poll results:
60% of all voters said it is "another waste of time and money."

23% want to impeach President Trump.

77% said Congress should work on the coronavirus response instead.

74% said impeachment is "politically motivated to prevent the president from running again."

65% said Biden and Pelosi are "keeping the country divided."
THE CASE PENCE IS MAKING
Pence responded to the House's vote in a letter urging Congress "to avoid actions that would further divide and inflame the passions of the moment."
"Work with us to lower the temperature and unite our country as we prepare to inaugurate President-elect Joe Biden as the next President of the United States," he wrote on Jan. 12.
"With just eight days left in the President's term, you and the Democratic Caucus are demanding that the Cabinet and I invoke the 25th Amendment," Pence wrote in a letter to Speaker Pelosi. "I do not believe that such a course of action is in the best interest of our Nation or consistent with our Constitution." 
"Last week, I did not yield to pressure to exert power beyond my constitutional authority to determine the outcome of the election, and I will not now yield to efforts in the House of Representatives to play political games at a time so serious in the life of our Nation."
Pence has been under pressure to invoke the 25th Amendment. 
Instead, he invoked Scripture.
"The Bible says 'for everything there is a season, and a time for every purpose under heaven…a time to heal… a time to build up.' That time is now," Pence wrote, citing Ecclesiastes 3. 
"As you know full well, the 25th Amendment was designed to address Presidential incapacity or disability," Pence noted. "Under our Constitution, the 25th Amendment is not a means of punishment or usurpation. Invoking the 25th Amendment in such a manner would set a terrible precedent."
Events in Washington have been happening at a lightning fast pace since a mob of rioters stormed the U.S. Capitol Building on Jan. 6, following a speech by Trump in which he called on them to "never concede," as he alleged that the election was stolen. 
The president that day challenged Pence to "do the right thing" and take unilateral action as the VP to overturn the results of the election. 
Pence refused to do so.
Instead, he sent a two-page letter to members of Congress explaining while he shares the deep concerns of "millions of Americans" that the November elections involved "significant allegations of voting irregularities and numerous instances of officials setting aside state election law," that he was not legally empowered as vice president to unilaterally overturn the election, or fail to certify the votes of the Electoral College. 
Since then there have been reports of tremendous tension between Pence and Trump.
The two did not talk for five days, only meeting on Monday evening for the first time since the crisis erupted.
A close friend of the VP who spoke to him at length told a reporter that he has never seen Pence so angry as he was after Trump's personal attack on his courage and integrity and the actions Trump has taken this past week.

Joel C. Rosenberg is the editor-in-chief of ALL ISRAEL NEWS and ALL ARAB NEWS and the President and CEO of Near East Media. A New York Times best-selling author, Middle East analyst, and Evangelical leader, he lives in Jerusalem with his wife and sons.
A message from All Israel News
Help us educate Christians on a daily basis about what is happening in Israel & the Middle East and why it matters.
For as little as $5, you can support ALL ISRAEL NEWS, a non-profit media organization that is supported by readers like you.
Donate to ALL ISRAEL NEWS
Current Top Stories
Comments