Growing list of Trump officials are resigning – senior GOP leaders are calling for Trump to resign – as Democrats move towards impeachment
Israel's most important ally in throes of a constitutional crisis, and Israelis are watching in stunned amazement
A view of the White House at night. (Photo: Yegor Aleyev/TASS via Reuters)
Israelis are watching in stunned amazement as the government of their closest and most trusted ally has erupted in the most serious constitutional crisis of the modern era. 
"I have no doubt that American democracy will prevail – it always has," said Prime Minister Benjamin Netanyahu, trying to reassure a shaken populace who watched the trauma on Capitol Hill play out on live and riveting television.
"For generations, American democracy has inspired millions around the world and Israel," Netanyahu added. "American democracy has always inspired me. Lawlessness and violence are the opposite of the values we know Americans and Israelis cherish." 
Yet the American president to whom Netanyahu has been closest is now under siege, and the fallout over the deadly breach of the U.S. Capitol Building by a mob of enraged Americans is spreading rapidly.
Here's the latest.
RESIGNATIONS AND RAGE
At least 23 White House staff and administration officials – including two Cabinet members – have resigned over the past five days to protest the way they believe President Donald Trump conducted himself leading up to, during and following the attack on the Capitol.
[See the full current list below.]
A growing number of senior Republican officials are saying Trump's actions have been "impeachable" and are calling on him to step down immediately.
Perhaps the highest profile Trump administration official to resign – and to do so immediately on Wednesday night – was Mick Mulvaney, who up until then had been one of Trump's most faithful and loyal supporters. But the president's conduct stunned and angered him. 
Mulvaney expects more administration officials to resign, as well.
"We didn't sign up for what you saw last night," Mulvaney said during an interview on CNBC on Thursday. "We signed up for making America great again, we signed up for lower taxes and less regulation. The president has a long list of successes that we can be proud of. But all of that went away yesterday, and I think you're right to ask the question as to 'how did it happen?'"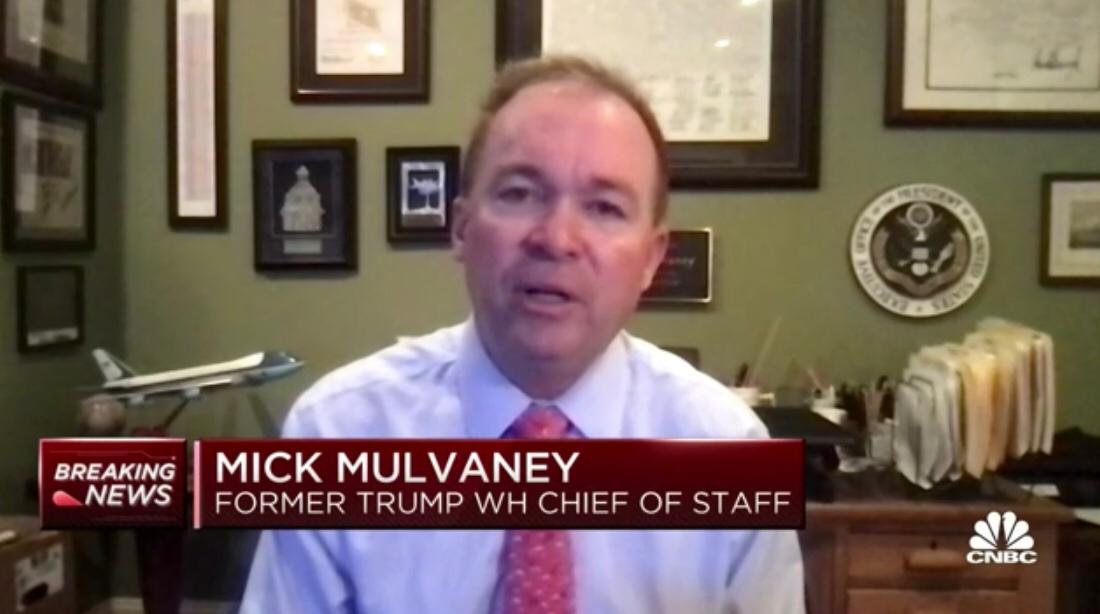 (Photo: Screenshot CNBC)
Mulvaney told CNBC that Trump was "not the same as he was eight months ago." 
"The folks who spent time away from our families, put our careers on the line to go work for Donald Trump, and we did have those successes to look back at, but now it will always be, 'Oh yeah, you work for the guy who tried to overtake the government,'" Mulvaney said.
"That legacy is gone as of yesterday and that's extraordinarily disappointing to those of us who work for him," he added. 
Staunch defenders of Trump will have a hard time discrediting Mulvaney. 
He served as Trump's White House chief of staff and director of the Office of Management and Budget, before being appointed by Trump as his special envoy to Northern Ireland. Previously, Mulvaney had been a conservative Republican congressman from South Carolina, a founder of the House Freedom Caucus and a Tea Party veteran. 
FIRINGS, INVESTIGATIONS
Three officials responsible for security on Capitol Hill are being forced to resign. 
These include Capitol Police Chief Steven Sund, Senate Sargeant-at-Arms Michael Stenger and House Sergeant-at-Arms Paul Irving. 
An investigation into why the police failed so badly is underway.
The assault led to the deaths of at least 5 people, including 2 Capitol police officers, 14 wounded police officers, and many more wounded. 
More resignations – even firings – may be coming. 
IMPEACHMENT IMMINENT
Speaker of the House Nancy Pelosi and her fellow Democrats in the House are moving rapidly toward a second impeachment of the President. 
However, at least one prominent liberal Constitutional scholar – Alan Dershowitz – said in an interview with an Israeli news network that there simply is no time to hold a trial before Trump leaves office on Jan. 20 and that Congress is not legally allowed to impeach a private American citizen. 
GROWING NUMBER OF GOP LEADERS CALLING ON TRUMP TO RESIGN
At the same time, a fierce debate is raging among senior Republican officials, conservative leaders, and commentators over Trump's future.
Some are still staunchly defending Trump, and focusing on the massive overreaching of Facebook and Twitter and other Big Tech platforms who have banned Trump from their platforms not for a few days or weeks but permanently. 
But a growing number of senior GOP officials say Trump must step down. 
Sen. Pat Toomey, the Pennsylvania Republican, said he has been "horrified" by Trump's actions over the past week and that Trump should resign immediately.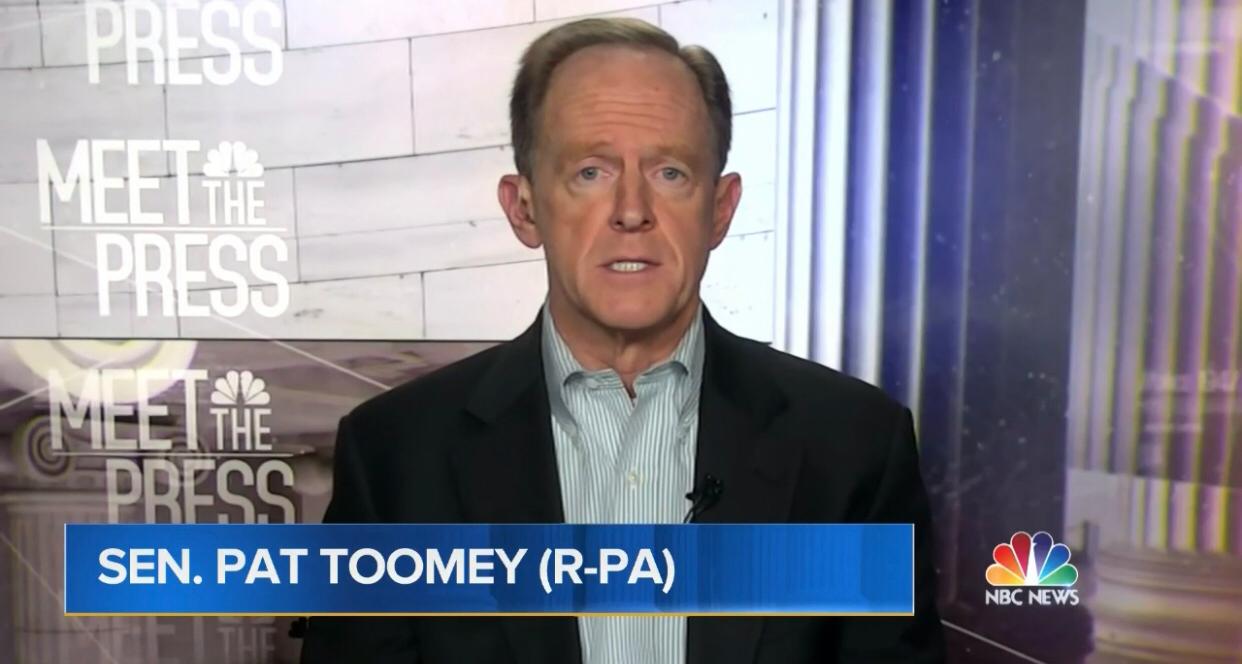 (Photo: Screenshot NBC "Meet The Press")
"I do think the president committed impeachable offenses," Toomey said on Fox News, though he doubted it was "possible or practical" to go through a full impeachment process.
"I don't think there's any doubt at all, there's none in my mind, that the president's behavior after the election was wildly different than his behavior before," Sen. Toomey then said on CNN. "He descended into a level of madness and engaged in activity that was absolutely unthinkable and unforgivable."
"For four years, he often put out offensive and objectionable tweets, actually sometimes dozens a day," Toomey said. "I never felt, and I still don't think, my job was to be the editor of his Twitter feed, although I was very often critical. But this raises the question of why did 75 million people vote for this man whose character flaws were always very apparent? Seventy-five million Americans are not stupid. They're not evil."
Toomey said that voters "looked at a choice that we had: Between an ever-more radicalized left wing Democratic Party and a man who is very, very flawed, but with whom we actually have very substantive success in the early parts of his administration," including a strong economy and peace agreements in the Middle East, Politico reported.
Sen. Ben Sasse, the Nebraska Republican, also believes Trump should resign immediately.
"I believe the president has disregarded his oath of office," Sasse told CBS News. "He swore an oath to the American people to preserve, protect and defend the Constitution. He acted against that….What he did was wicked. That said, the question of what the House does now and how the Senate responds to it over the next 12 days is a critically important question, but the most important question is the prudential one is how we bring the country back together."
Sasse indicated that he was willing to consider articles of impeachment.
"The House, if they come together and have a process, I will definitely consider whatever articles they might move," Sasse said.
Chris Christie, the former New Jersey governor, a former federal prosecutor, and one of Trump's key allies over the past four years, said over the weekend he, too, believes Trump's actions were an "impeachable offense."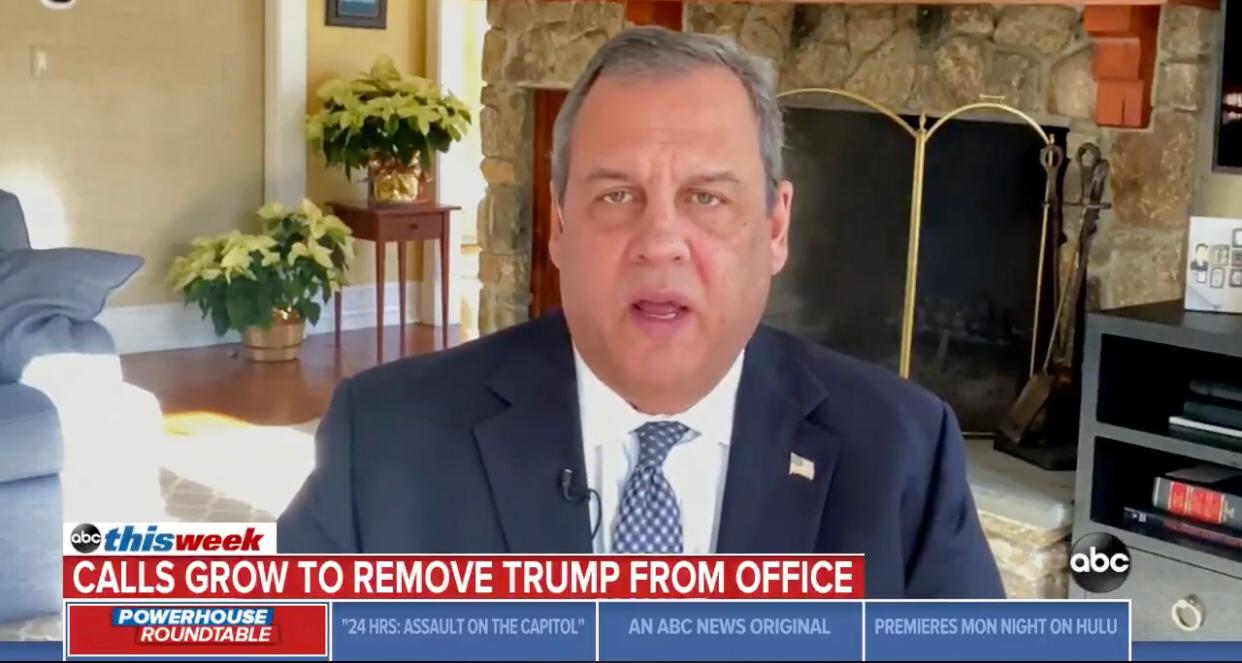 (Photo: Screenshot ABC News)
"What we had was an incitement to riot at the United States Capitol – we had people killed, and to me there's not a whole lot of question here," Christie told George Stephanopolous on ABC's "This Week" on Sunday.
Asked point blank if he would vote to impeach Trump if he were in the U.S. Senate, Christie said he would. 
"I think if inciting to insurrection isn't [an impeachable offense], I don't really know what it is," he said. 
Sen. Lisa Murkowski, from Alaska, also called on Trump to resign and even questioned her future as a Republican if the party would continue to support him.
"I want him to resign. I want him out. He has caused enough damage," the moderate leaning senator said.
CONSERVATIVE EDITORIAL WRITERS CALL ON TRUMP TO RESIGN
The editors of the Wall Street Journal – who have been strong supporters of Trump's policies and personnel, while also critical of his occasional incendiary and provocative tweets and public statements – published an editorial stating that Trump committed "impeachable" offenses, but stated that as a practical matter the best thing for the country was not an impeachment trial but for Trump to resign immediately.
"[O]n Wednesday the leader of the executive branch incited a crowd to march on the legislative branch," the editorial noted. "The express goal was to demand that Congress and Vice President Mike Pence reject electors from enough states to deny Mr. Biden an Electoral College victory. When some in the crowd turned violent and occupied the Capitol, the President caviled and declined for far too long to call them off. When he did speak, he hedged his plea with election complaint. This was an assault on the constitutional process of transferring power after an election. It was also an assault on the legislature from an executive sworn to uphold the laws of the United States. This goes beyond merely refusing to concede defeat. In our view it crosses a constitutional line that Mr. Trump hasn't previously crossed. It is impeachable." 
The Journal added, "If Mr. Trump wants to avoid a second impeachment, his best path would be to take personal responsibility and resign. This would be the cleanest solution since it would immediately turn presidential duties over to Mr. Pence. And it would give Mr. Trump agency, a la Richard Nixon, over his own fate." 
"We know an act of grace by Mr. Trump isn't likely," the Journal concluded. "In any case this week has probably finished him as a serious political figure. He has cost Republicans the House, the White House, and now the Senate. Worse, he has betrayed his loyal supporters by lying to them about the election and the ability of Congress and Mr. Pence to overturn it. He has refused to accept the basic bargain of democracy, which is to accept the result, win or lose. It is best for everyone, himself included, if he goes away quietly." 
Andrew McCarthy, the former U.S. federal prosecutor who is now a conservative columnist for National Review, wrote: "I do think the president has committed an impeachable offense, making a reckless speech that incited a throng on the mall, which foreseeably included an insurrectionist mob. These rioters ended up overwhelming security forces and storming the Capitol. They shut down a solemn constitutional proceeding, endangering the lives of the vice president and the people's representatives. They ripped through the facility, causing not only significant property damage but grave injuries. On Thursday night, the Capitol Police announced that Officer Brian D. Sicknick had tragically died — as this is written, it is unclear from press reports whether this was due to being struck by a fire extinguisher wielded by a rioter, to being exposed to a chemical agent during the melee, or to some combination of those things. Officer Sicknick became the fifth fatality in the attack; one apparent insurrectionist was shot to death by police and three others suffered such 'medical emergencies' as stroke and heart attack. This is a heinous offense on the president's part, at least in terms of the Constitution's impeachment standard." 
That said, McCarthy made an important distinction in his National Review column.
"The president was utterly irresponsible in his demagoguery. He plainly intended for thousands of supporters to march on the Capitol to create political pressure on Vice President Pence and congressional Republicans — i.e., to induce them to take what would have been lawless procedural steps to invalidate electoral votes that states had cast for President-elect Biden. There is no evidence, though, much less proof beyond a reasonable doubt, that Trump intended to instigate the Battle of Capitol Hill. He did not want anyone to be physically injured, let alone killed. Yet the issue in impeachment is not criminal liability. As we extensively covered a year ago, impeachment concerns what Hamilton described as political offenses that call into question fitness for high public office. On that standard, the president's incitement is indefensible, both for the undermining of our constitutional system that it promoted and the carnage it caused — however unintentionally."
THE PEACEFUL PROTESTORS VS. THE RIOTERS
Overall, Republicans and conservatives of every variety are being careful to distinguish between the hundreds of thousands of Americans who participated peacefully in the "Save America" march on the Ellipse, and the much smaller subset that stormed the Capitol, beat police officers, trashed the House and Senate and even threatened to "Hang Mike Pence." 
Among conservatives and Republicans more broadly, there is no disagreement that the vast majority of protestors on Wed, Jan. 6 were exercising their Constitutional right to freedom of speech and freedom of assembly as they protested what they viewed as suspicious election results, and that their protest was legal and peaceable. 
Nor is there significant disagreement that every single members of the mob who broke into the Capitol should be investigated, arrested and tried, and that those who are found guilty by courts of law should be sentenced to significant jail and/or prison sentences. 
CURRENT LIST OF TRUMP OFFICIALS WHO HAVE RESIGNED
Here is a list of Cabinet officials and administration officials who have resigned in recent days: 
Elaine Chao, transportation secretary (and wife of Senate Majority Leader Mitch McConnell)

Betsy DeVos, education secretary

Matthew Pottinger, deputy national security advisor

John Costello, deputy assistant secretary, Commerce Department

Tyler Goodspeed, acting chairman of the White House Council of Economic Advisors

Stephanie Grisham, chief of staff to the first lady (and former White House press secretary)

Rickie Niceta, social secretary to the first lady

Hope Hicks, senior advisor to the president

Sarah Matthews, deputy White House press secretary

Elinore F. McCance-Katz, assistant secretary for mental health and substance abuse

Mick Mulvaney, special envoy to Northern Ireland (and former White House chief of staff)

Eric S. Dreiband, assistant attorney general

Chris Ford, assistant secretary of state for arms control

Rob Greenway, senior director for Middle Eastern and North African affairs, National Security Council

Anthony Ruggiero, senior director for weapons of mass destruction and biodefense, National Security Council

Ryan Tully, senior director for European and Russian affairs, National Security Council

Mark Vandroff, senior director for defense policy, National Security Council

Erin Walsh, senior director for African affairs, National Security Council

Arjun Garg, chief counsel and current acting deputy Administrator at the Federal Aviation Administration (FAA)

Brianna Manzelli, assistant FAA administrator for communications

Kirk Shaffer, assistant FAA administrator for airports

Bailey Edwards, assistant FAA administrator for policy, international affairs and environment

Andrew Giacini, acting FAA administrator for legislative affairs
As one example of the sentiment being expressed by many of these officials, Education Secretary Betsy Devos laid a significant degree of blame for the violence at the Capitol at the feet of the president.
"We should be highlighting and celebrating your administration's many accomplishments on behalf of the American people," Devos stated in her resignation letter to Trump. "Instead, we are left to clean up the mess caused by violent protesters overrunning the U.S. Capitol in an attempt to undermine the people's business. That behavior was unconscionable for our country….There is no mistaking the impact your rhetoric had on the situation, and it is the inflection point for me. Impressionable children are watching all of this, and they are learning from us."

Joel C. Rosenberg is the editor-in-chief of ALL ISRAEL NEWS and ALL ARAB NEWS and the President and CEO of Near East Media. A New York Times best-selling author, Middle East analyst, and Evangelical leader, he lives in Jerusalem with his wife and sons.
A message from All Israel News
Help us educate Christians on a daily basis about what is happening in Israel & the Middle East and why it matters.
For as little as $5, you can support ALL ISRAEL NEWS, a non-profit media organization that is supported by readers like you.
Donate to ALL ISRAEL NEWS
Current Top Stories
Comments