New chapter? Israel's President Herzog welcomed by Turkey's President Erdoğan in Ankara
Israel's national anthem plays at Erdoğan's palace for the first visit by an Israeli leader since 2008; Herzog: "The two countries are choosing to begin a journey of trust and respect"
Turkish President Recep Erdoğan and Israeli President Isaac Herzog at a press conference in Ankara, Mar. 9, 2022 (Photo: Office of the Turkish Presidency)
Israeli President Isaac Herzog landed in Ankara on Wednesday for a high stakes visit, at the invitation of Turkey's President Recep Tayyip Erdoğan.
It is the first official visit by an Israeli leader to Turkey since 2008 after more than a decade full of tensions between the two countries. 
Erdoğan expressed hopes that Herzog's visit will turn a new page in the relationship between Jerusalem and Ankara and open the door for "new opportunities for bilateral regional cooperation" in the coming period.  
"Our shared goal is to accelerate and revive the political dialogue between the two countries, based on shared interest and respect to mutual delicacies," the Turkish president said. "Strengthening and developing the ties between Turkey and Israel is highly valuable to our country and to peace in the region." 
The two leaders delivered remarks to the press at the end of their first meeting. 
"Unfortunately, relations between our countries have gone through a period of some drought in recent years," Herzog told Erdoğan. "I believe that relations between the countries will be examined in actions that reflect a spirit of mutual respect, and will allow us to better deal with regional and global challenges that we all share. Israel and Turkey can and should cooperate in many areas." 
"Past sentiments are not annulled, but we, the two people, the two countries are choosing to begin a journey of trust and respect that will include an in-depth conversation in all areas. I thank you for our shared conversation. We choose to look forward together," Herzog added.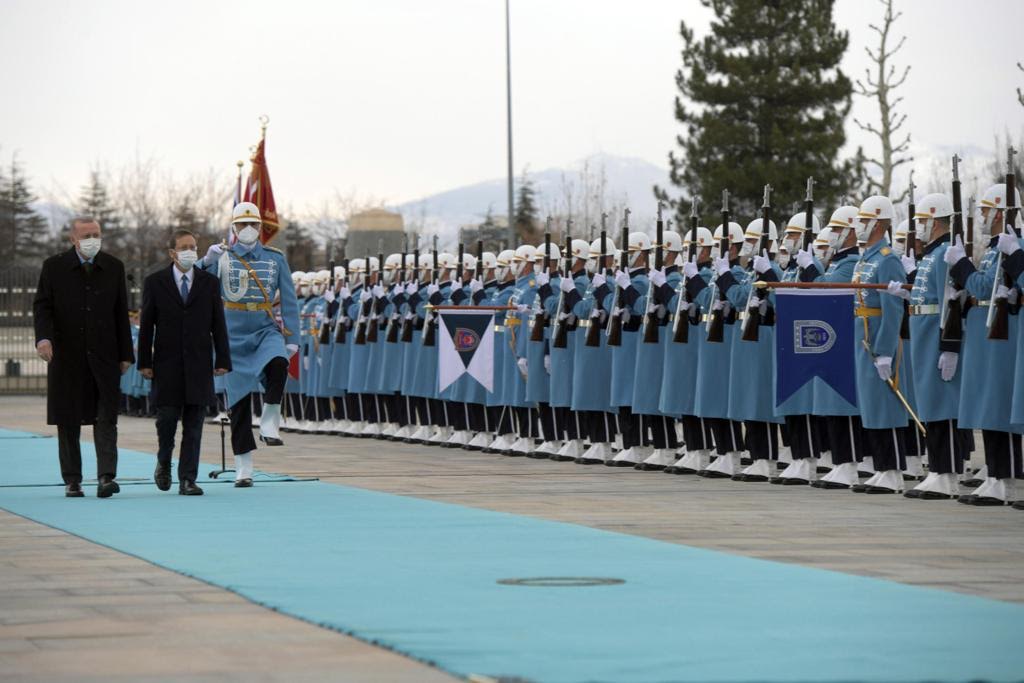 Turkish President Recep Tayyip Erdoğan and Israeli President Isaac Herzog in Ankara, Mar. 9, 2022 (Photo: Haim Zach/GPO)
Erdoğan and Herzog reportedly discussed a mechanism to avoid repeating patterns during past points of contention.
Turkey's foreign minister, Mevlüt Çavuşoğlu, is expected to visit Israel next month and meet with Foreign Minister Yair Lapid. The two countries will form special teams that will hold talks between them to strengthen ties.
Herzog combined a few words in Turkish in his remarks. He highlighted Israeli Prime Minister Naftali Bennett's efforts to mediate between Russia and Ukraine and thanked Erdoğan for his own involvement to bring the crisis to an end.
Turkey is set to host the foreign ministers of Russia and Ukraine on Thursday in the southern city of Antalya, on the sidelines of an international diplomatic forum.  
Herzog was welcomed during a ceremony at Erdoğan's palace that was decorated with Israeli and Turkish flags. He was greeted by Erdoğan and the military honor guard, while Israel's national anthem "Hatikvah" played in the background. 
(Photo: Haim Zach/GPO)
"Grateful to President @RTErdogan for this warm welcome at the Presidential Complex. I am a firm believer that all peoples, faiths, and states in our region can and should live in peace, and that partnerships will bring blessings and prosperity for us all," the Israeli president wrote on Twitter. 
During the day, Herzog visited the Anıtkabir in Ankara, the mausoleum of Mustafa Kemal Atatürk, the founding father of modern Turkey, and laid a wreath. The Israeli president and his wife, Michal Herzog, also toured the Anıtkabir Atatürk Museum.
Herzog and Erdoğan will hold a series of meetings during the 24-hour visit. On Wednesday evening, the Turkish president will host Herzog and the Israeli entourage for a state dinner. On Thursday, Herzog is set to meet with Jewish community leaders in Istanbul and return to Israel at night. 
Upon his departure to Turkey, Herzog told Israeli reporters: "I am embarking on a state visit to Turkey at the invitation of President Erdoğan, with whom I have been in dialogue since I entered the Presidency. Israel-Turkey relations are important for Israel, important for Turkey, and important for the whole region. And for the first time in many years, there will be a visit to Turkey."
President Isaac Herzog visits the Mausoleum of Mustafa Kemal Ataturk, Mar. 9, 2022 (Photo: Haim Zach/GPO)
Herzog highlighted the importance of having good partnerships and stability, at a time when the international order is being shaken. 
He added: "We will not agree on everything, and the relationship between Israel and Turkey has certainly known ups and downs and not-so-simple moments in recent years, but we shall try to restart our relations and build them in a measured and cautious manner, and with mutual respect between our states."
"I always emphasize that my vision is that Jews, Muslims and Christians will live in peace in our region in a manner that will bring them prosperity and perfect lives.
"I hope that in the wake of my visit, a serious process will begin with Turkey, an in-depth dialogue at various levels, and that ultimately, we will see - so I hope - progress in our relations and positive results."
Prior to the visit, a Turkish delegation visited Israel to prepare the groundwork for improving bilateral ties. The delegation also met with Palestinian President Mahmoud Abbas in Ramallah. 
ALL ISRAEL NEWS spoke with Turkey expert, Hay Eytan Cohen Yanarocak, ahead of the landmark visit to analyze the timing of Turkish overtures towards Israel, what stands behind them and what Israel can expect from Herzog's visit.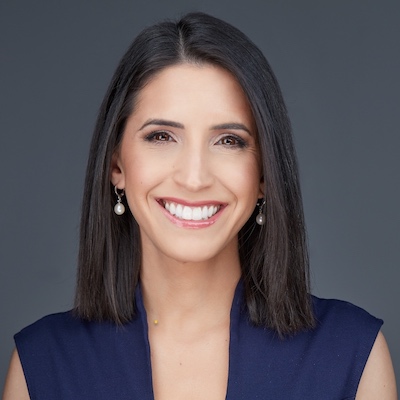 Tal Heinrich is a senior correspondent for both ALL ISRAEL NEWS and ALL ARAB NEWS. She is currently based in New York City. Tal also provides reports and analysis for Israeli Hebrew media Channel 14 News.
Popular Articles
A message from All Israel News
Help us educate Christians on a daily basis about what is happening in Israel & the Middle East and why it matters.
For as little as $5, you can support ALL ISRAEL NEWS, a non-profit media organization that is supported by readers like you.
Donate to ALL ISRAEL NEWS
Latest Stories
Comments