EXCLUSIVE INTERVIEW – Part 2
Netanyahu facing the political fight of his life – after defusing threats from the left, Bibi now faces a rebellion on the right
Gov. Mike Huckabee, friend of Israel's embattled prime minister, speaks with ALL ISRAEL NEWS about Netanyahu, Trump & the upcoming elections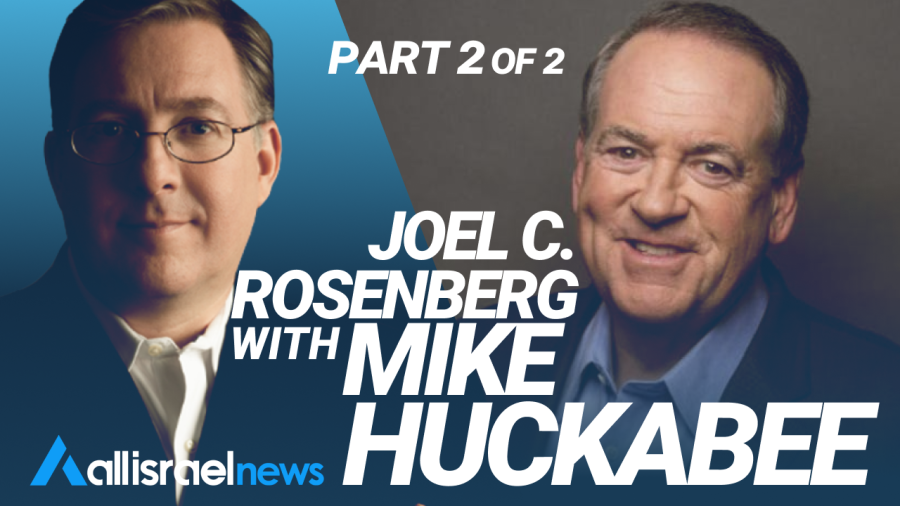 JERUSALEM – As Israel heads to its fourth election in two years, Prime Minister Benjamin "Bibi" Netanyahu is in for the fight of his life. 
The COVID pandemic has driven up his negative ratings and is wreaking havoc with his political strategy.

He's on trial in three different corruption and bribery cases.
Protestors are demanding he step down.

Members of his own Likud party – including Gideon Sa'ar, one of the most popular members of Likud – have defected and formed a political party to replace him.

Indeed, the list of Netanyahu's former chiefs of staff and close political allies who have left him in recent years – and are now dead-set against him, saying they will never serve with him again – is growing longer.
To be sure, after 15 years in power – including 12 straight years in a row – Bibi is the most talented and successful operator on the Israeli political scene.
He may still prove all of his critics and naysayers wrong.
But there is no question that the embattled prime minister is facing his toughest race since 1999, the only time he ever lost reelection.
Will his fate be the same as that of his good friend and ally, former U.S. President Donald Trump?
It's a question I asked Gov. Mike Huckabee, a long-time friend of Netanyahu, in part 2 of our interview.
Stating that he loves Netanyahu, Huckabee told me that "it is not a comparable situation between President Trump and Prime Minister Netanyahu because they're very different personalities completely."
"On the other hand, the one similarity is that they have managed to alienate not just their enemies, but their friends – and that's always a tough thing."
"It has been increasingly hard for him [Netanyahu], in part because he's had so many things thrown against him," Huckabee added. "He's faced, as did President Trump, nothing but headwinds."
"The press has never been fair to him. They've always misinterpreted everything that he did, and the institutions of government have often been against – that makes it tough."
But while Netanyahu has had to "take tough and uncompromising stands for the security of the nation," and has put Israel in a strong economic, diplomatic, and military position, he had made many enemies politically here at home, Huckabee conceded.
How, then, does Huckabee see the upcoming March 23 elections in Israel shaping up?
In part 1, I spoke with Huckabee about the last days of Trump's presidency, his impending impeachment trial, and the "wild ride" that America is in for under President Joe Biden.
Here in part 2, we turned back toward Israel, a country that Huckabee loves and has visited dozens of times, and got his take on the volatile political climate.

Joel C. Rosenberg is the editor-in-chief of ALL ISRAEL NEWS and ALL ARAB NEWS and the President and CEO of Near East Media. A New York Times best-selling author, Middle East analyst, and Evangelical leader, he lives in Jerusalem with his wife and sons.
A message from All Israel News
Help us educate Christians on a daily basis about what is happening in Israel & the Middle East and why it matters.
For as little as $5, you can support ALL ISRAEL NEWS, a non-profit media organization that is supported by readers like you.
Donate to ALL ISRAEL NEWS
Current Top Stories
Comments