POLITICAL EARTHQUAKE: Defection of Gideon Sa'ar from Netanyahu camp is shaking rightwing as Israel prepares for possible new elections
Imagine if Vice President Pence broke away from Trump and GOP to start a new political party because he couldn't bear Trump any longer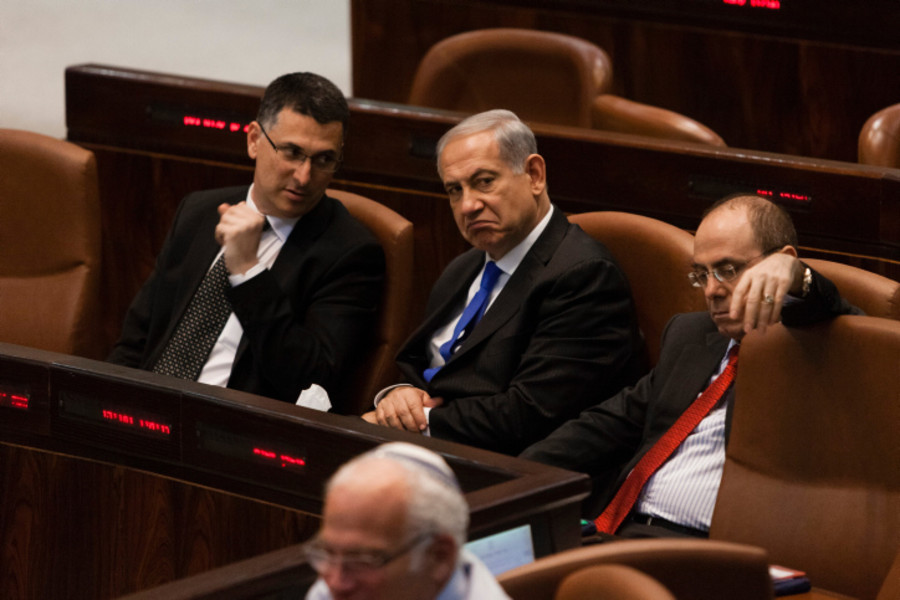 Gideon Sa'ar (L) with Prime Minister Benjamin Netanyahu at the Knesset on July 9, 2013. (Photo: Flash90)
DUBAI – At a dinner party here in Dubai this week, a woman turned to me and said, "Yeah, yeah, the Abraham Accords are fascinating, it's all interesting, but I have a completely different question for you. Who is Gideon Sa'ar, and how big a deal is it that he is leaving the Likud party and running against Netanyahu?"
Wow – of all the topics I expected to discuss here in the United Arab Emirates this week with Arabs and with expatriates living and working in the Gulf, the nuances of internal Israeli politics was not one of them.
So, even as I've been covering fast-moving geopolitical trends here in the Gulf region this week, I've had to track the fast-moving political trends back in Israel.
Most people outside of Israel have never heard of Gideon Sa'ar.
Thus, they do not appreciate the significance of his announcement on Tuesday to leave the Likud Party, form his own center-right party, and run to defeat Benjamin Netanyahu and become the next prime minister of Israel.
But believe me: this is big.
How big?
As I explained to my dinner party friend, "Imagine if Vice President Mike Pence decided in early 2020, to leave President Donald Trump's side, challenge Trump in the Republican primaries, and have a reasonably good shot at unseating Trump – and not because of major differences of vision or policy but because Pence could no longer stand Trump's management style or political antics."
That's essentially what we are seeing at play in Israel right now.
A bit of context: the Likud party is the reigning, governing, right-wing party in Israel.
It was the political home of Menachem Begin, Yitzhak Shamir and Ariel Sharon – three of the most consequential prime ministers in the modern history of Israel, whether you loved them or hated them.
Likud has also been the home and political base of Benjamin "Bibi" Netanyahu for three decades.
You don't know who Gideon Sa'ar is because Netanyahu makes sure the spotlight is always fixed on himself.
But Sa'ar is no back bencher.
He is one of the most popular politicians in Likud.
For many years, Sa'ar has been #2 in the Likud primaries, coming in second only to Netanyahu.
Just last year, The Jerusalem Post called Sa'ar the "heir apparent to the Likud throne."
Sa'ar was a trusted deputy of Netanyahu, not just a political ally but a counselor and strategist.
On policy, the two see eye to eye on almost everything.
But like so many of Netanyahu's allies over the years, Sa'ar has been exhausted and exasperated by Netanyahu's management style, which he finds domineering, demeaning and increasingly unworkable and counter-productive.
Netanyahu associates are already accusing Sa'ar of sour grapes, chafing in the shadows and impatient because he never gets his turn in the spotlight.
It's true that Sa'ar is as ambitious as the next Israeli politician.
It's also true that Sa'ar directly challenged Netanyahu in the Likud primaries last year. He did not win by any means, but he did attract 26% of the Likud grassroots activists.
That suggests fully one-quarter of the Likud base is unhappy enough with Netanyahu to look elsewhere.
That spells trouble for Bibi.
Expect a full-on assault on Sa'ar in the months ahead by Netanyahu allies.
But Sa'ar is no political neophyte, and he is ready for the attacks.
He was first elected to the Knesset – Israel's 120-member parliament – in 2003.
He has served ably as Israel's interior minister and as education minister.
While Netanyahu has achieved a huge diplomatic triumph with the Abraham Accords, he is under siege from an Israeli public furious with what they regard as his terrible handling of the COVID-19 crisis and massive unemployment.
Many are also uncomfortable with the fact that Netanyahu is on trial on three separate corruption charges.
These conditions make a rebellion on the right against Netanyahu more possible than ever before.
I first met Sa'ar back in 2006, when the Likud Party was at its lowest point, with only 12 seats in the Knesset.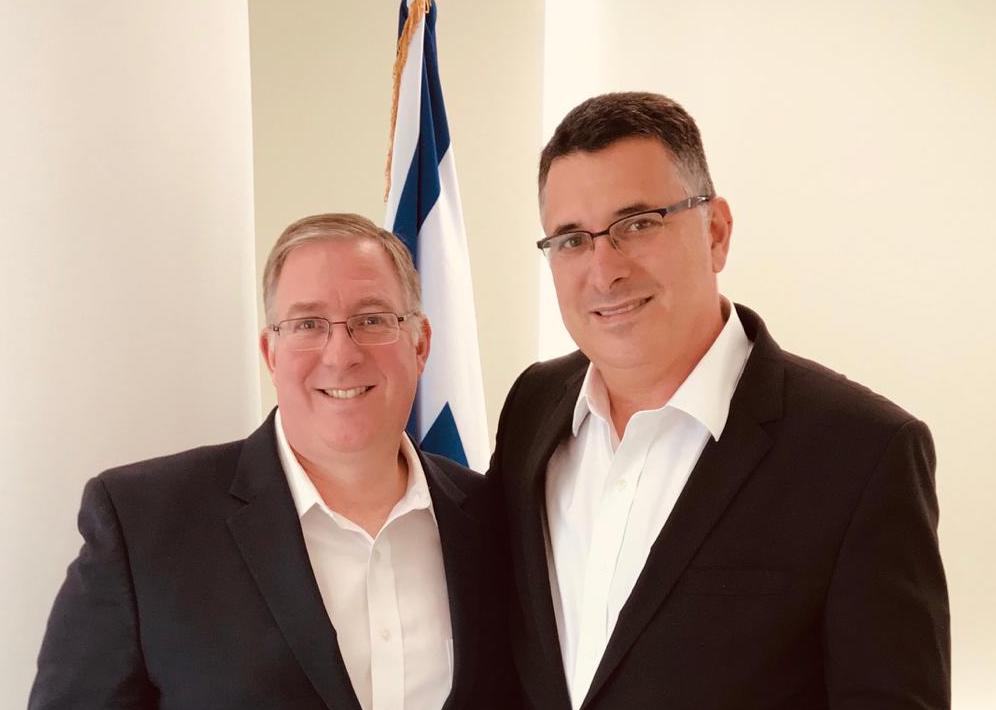 Today, in no small part due to Sa'ar's efforts, Likud has 36 seats. 
Again, this tells you how serious is the break Sa'ar is making from Netanyahu to leave the Likud party and start another.
And polls this week show a new party led by Sa'ar could win as many as 15 to 17 seats in the next Israeli elections.
If Sa'ar were able to successfully recruit former IDF Chief of Staff Gadi Eisenkot onto his team, polls suggest they could win upwards of 22 seats.
Hours after announcing his new party, Sa'ar won the support of Yoaz Hendel and Zvi Hauser, two Knesset Members who used to serve in Likud but are now going to join Sa'ar.
This presents a very serious threat to the Netanyahu legacy, something I will explore in more detail in future columns. 
For now, though, one more key point is worth making.
Look carefully at the leaders of almost all the center-right political parties. Most of them are run by people who used to be close Netanyahu allies:
Naftali Bennett once served as Bibi's chief of staff, but left Bibi and Likud and now runs the Yamina party (which is also surging in the polls) because he could not stand Netanyahu's leadership style any longer. 

Avigdor "Yvette" Liberman once served as Bibi's chief of staff, but left Bibi and Likud and now runs Yisrael Beitenu (Israel Our Home), vowing never again to serve with Netanyahu because he can no longer stand Bibi's leadership style.

Moshe "Bogie" Ya'alon once served as IDF chief of staff and was recruited into Likud by Netanyahu after he left army service, but eventually left Bibi and Likud and now runs the Telem party because he cannot stand Netanyahu's leadership style any longer. 

Ayelet Shaked once served as a senior advisor and bureau chief for Netanyahu, then became a Likud Knesset member, but eventually had such a bad falling out with Netanyahu that she left Bibi and Likud and set up her own party, Jewish Home, then formed the Yamina party with Naftali Bennett.

Moshe Kahlon joined Likud in 2003 and served as Netanyahu's communications minister and later as finance minister, but became so frustrated by Netanyahu that he left Likud and formed his own Kulanu (All of Us) party. Two years ago, Netanyahu pulled him back onto the Likud team because Kulanu's political fortunes were flagging, but Kahlon finally decided in 2020 that he had had enough. He has retired politics and set up an investment company to collaborate between Israeli and Gulf Arab businesses.
Bottom line: Netanyahu is not a disciple-maker. He has great strategic strengths, but also very serious weaknesses.
He is a world leader, a statesman who commands respect on the global stage. But his political position at home is becoming weaker by the month.
The defection of Gideon Sa'ar is, therefore, a big deal. There will be many twists and turns ahead. And Bibi is a master politician, a crafty cat who has more than nine lives. So, don't count him out.
But keep your eye on Sa'ar.
He's smart, accomplished and shrewd. And he is coming for Bibi head on.
Israeli politics is already interesting. It is about to become even more so.

Joel C. Rosenberg is the editor-in-chief of ALL ISRAEL NEWS and ALL ARAB NEWS and the President and CEO of Near East Media. A New York Times best-selling author, Middle East analyst, and Evangelical leader, he lives in Jerusalem with his wife and sons.
A message from All Israel News
Help us educate Christians on a daily basis about what is happening in Israel & the Middle East and why it matters.
For as little as $5, you can support ALL ISRAEL NEWS, a non-profit media organization that is supported by readers like you.
Donate to ALL ISRAEL NEWS
Current Top Stories
Comments