Netanyahu criticizes Trump decision to meet with two anti-Semites as 'wrong and misplaced'
Bibi's rare rebuke comes amidst sharp criticism by long-time Trump advisors Mike Pence, David Friedman, Jason Greenblatt and others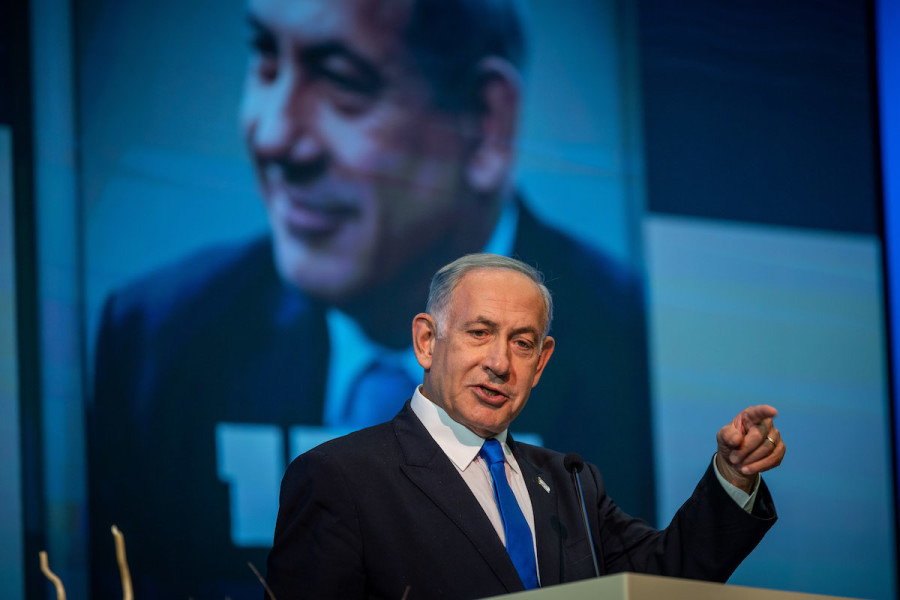 Likud party chairman MK Benjamin Netanyahu during his new book launch event in Jerusalem, Nov. 14, 2022. (Photo: Yonatan Sindel/Flash90)
JERUSALEM—Incoming Israeli Prime Minister Benjamin "Bibi" Netanyahu issued a rare rebuke this week of his one-time closest geopolitical allies in the world.
During an hour-long podcast with Bari Weiss, a former editorial writer for the New York Times, Netanyahu criticized former U.S. President Donald J. Trump for meeting with two prominent and provocative figures who espouse bitter hatred against Jewish people.
Sounding both disappointed and surprised, Netanyahu called Trump's judgment on the matter "wrong and misplaced."
Calling the move a "mistake," he noted how much Trump had done for Israel and the Jewish people during his four years in the White House.
During their wide-ranging conversation, Weiss remarked that "last week, Donald Trump had dinner at Mar-a-Lago, his home in Florida, with Kanye West and a Holocaust denier named Nick Fuentes."
"Now, Trump has claimed he doesn't know who Nick Fuentes is, but he certainly knows who Kanye is, who has spent the past many weeks on an anti-Semitic tear," Weiss continued. "What do you think of Trump's decision to have dinner with Kanye and Fuentes?"
"Well, first, I condemned Kanye West's anti-Semitic statements," Netanyahu replied. "Straight away, I thought that was just wrong and misplaced."
Interestingly, Netanyahu kept the focus on the African American rapper long-known as Kanye West but now going by the name, "Ye."
"I think that that's what I would say about President Trump's decision to dine with this person, I think is wrong and misplaced. I think it's a mistake. He shouldn't do that."
Netanyahu did not specifically comment on Fuentes.
Sounding disappointed and surprised, Netanyahu went on to remark that Trump "has been a tremendous supporter of Israel, and I'm unabashedly appreciative of what he did for Israel. He did great things for Israel in recognizing Jerusalem as Israel's capital, long overdue, given that it happened 3,000 years ago under King David. He moved the American embassy there. He recognized our sovereignty on the Golan Heights, from which we were attacked for years by Syria. He got out of this dangerous Iran deal, and I appreciate all that – it doesn't take away from. Also, you know, he's been very supportive of the Jewish people."
"So I think he made a mistake," Netanyahu concluded. "I hope it's not repeated. That's all I can tell you."
The presumptive Israeli premier's criticism of Trump comes amidst a growing list of criticism not just by Trump's political enemies, but by his long-time friends and political allies and advisors, both Jewish and Christian.
As I noted in my Nov. 29 column – and will discuss further tonight on THE ROSENBERG REPORT on TBN (seen at 9 p.m. EST in the U.S.), David Friedman, one of Trump's long-serving Orthodox Jewish business lawyers and then ambassador to Israel, sent out two unusually critical tweets last week about his former boss.
"To my friend Donald Trump, you are better than this," Friedman wrote in his first tweet. "Even a social visit from an antisemite like Kanye West and human scum like Nick Fuentes is unacceptable. I urge you to throw those bums out, disavow them and relegate them to the dustbin of history where they belong."
In his second tweet, Friedman wrote, "I condemned Barack Obama associating with Louis Farrakhan and Jeremiah Wright. This is no different. Antisemites deserve no quarter among American leaders, right or left."
Jason Greenblatt, another Orthodox Jewish lawyer who worked for Trump for decades prior to serving as Trump's chief Middle East negotiator, also criticized his former boss.
In an op-ed for CNN, Greenblatt said the dinner "should not have happened – period," noting that "antisemitism continues to grow and fester in the United States and elsewhere around the world, like a metastasizing, pernicious cancer."
"I hope President Trump condemns Fuentes, West and their ilk for what they are – haters of Jews and haters of the foundations of the United States of America," Greenblatt added. "People like Fuentes are dangerous to the United States. The President Trump that I know would recognize that and issue this condemnation. Regardless of how or why the dinner happened, haters such as Fuentes and West should not be given a platform or seat at the table by anyone."
Elan Carr – Trump's point man for monitoring and combating anti-Semitism during his administration – also went public with his criticism.
"No responsible American, and certainly no former president, should be cavorting with the likes of Nick Fuentes and Kanye West," Carr tweeted, adding, "To placate anti-Semitism is to promote antisemitism. President Trump must condemn these dangerous men and their disgusting and un-American views." 
While few other Evangelical leaders have yet spoken out, former U.S. Vice President Mike Pence did.
"President Trump was wrong to give a White nationalist, an anti-Semite and Holocaust denier a seat at the table, and I think he should apologize for it," Pence told NewsNation on Monday. "And he should denounce those individuals and their hateful rhetoric without qualification."
Trump "demonstrated profoundly poor judgment in giving those individuals a seat at the table," Pence added.
Still, Pence said that he does not believe Trump himself is an anti-Semite, saying that he would not have served Trump as vice president if he was.

Joel C. Rosenberg is the editor-in-chief of ALL ISRAEL NEWS and ALL ARAB NEWS and the President and CEO of Near East Media. A New York Times best-selling author, Middle East analyst, and Evangelical leader, he lives in Jerusalem with his wife and sons.
A message from All Israel News
Help us educate Christians on a daily basis about what is happening in Israel & the Middle East and why it matters.
For as little as $5, you can support ALL ISRAEL NEWS, a non-profit media organization that is supported by readers like you.
Donate to ALL ISRAEL NEWS
Current Top Stories
Comments