Israelis proud of local boys drafted by NBA
Two Israelis picked in Wednesday's draft as local sensation Deny Avdija gets snagged ninth by Washington Wizards
Deni Avdija (left) attempts a three-pointer in a EuroLeague game, Nov. 2019 (Photo Ciamillo-Castoria/ Claudio Degaspari via Wikimedia Commons)
Israelis received some exciting news on Wednesday after two of its own were drafted into the National Basketball Association, with prodigy Deni Avdija being picked in the first round —  9th overall — by the Washington Wizards.
Yam Madar went to the Boston Celtics as the 47th pick overall.
Avdija and Madar are the third and fourth Israelis, respectively, to play in the NBA. Omri Casspi was drafted by the Sacramento Kings in 2009 and played for several other teams before returning to Israel in 2019 while Gal Mekel played for the Dallas Mavericks and the New Orleans Pelicans in the 2013 and 2014 seasons.
Both Avdija and Madar are expected to have great success in the NBA, especially Avdija.
Born on Kibbutz Beit Zera on the shores of the Sea of Galilee in northern Israel, Avdija is the son of Zufer Avdija, who played on the Yugoslavian national team in the 1980s before playing for several Israeli clubs in the 1990s. It was during his time playing professional basketball in Israel that Zufer met Sharon Artzi, a prominent Israeli amateur track and field athlete who also played basketball. The two married and settled on Kibbutz Beit Zera, where Artzi had grown up. A few years later, in 2001, Deni was born "with a basketball in his hands" according to kibbutz legend.
Whether or not this legend is true, Deni Avdija began playing competitive basketball in the fourth grade and by the time he was 12, he was playing in the youth league farm teams for Euroleague powerhouse Maccabi Tel Aviv. A few months before his 17th birthday, he became the youngest player ever to enter the senior echelon of Macabbi Tel Aviv's professional club. He also played for Israel's junior (under 16) and senior national teams, winning gold medals at the 2018 and 2019 FIBA U20 championship tournaments, the latter of which was played in Tel Aviv.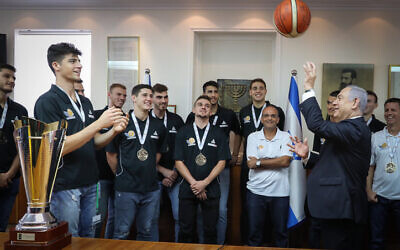 Prime Minister Benjamin Netanyahu and Deni Avdija seen during a meeting with Israel's youth basketball team after their victory at the FIBA European Championships, at the Prime Minister's Office on July 24, 2019. (Photo: Marc Israel Sellem/POOL)
Following that season, many of Avdija's teammates were drafted into the IDF for their mandatory military service, but he was given a deferment due to his commitment to play for Maccabi Tel Aviv. These sorts of deferments for athletes of exceptional ability are rarely given, and when the COVID-19 pandemic interrupted the 2020 basketball season, Avdija voluntarily reported for duty at the IDF induction center in Tel HaShomer in April.
"I am happy and proud to join the IDF just like every other citizen of my age," he told journalists who were on hand to cover his induction. "I will do whatever is asked of me just like I do on the basketball court."
As he was expected to be drafted into the NBA in a few months, the IDF assigned Avdija to a special program which designates him as a sort of ambassador for the Jewish State for the duration of his enlistment, allowing him to play in the NBA. Other high-profile Israeli athletes, such as tennis player Julia Glushko, were assigned to similar duties during their mandatory IDF service.
Speaking with the Israeli media shortly after the Wizards announced that they were drafting him, Avdija modestly shared his feelings and hopes for the future.
"You're waiting for every pick and butterflies are going around in your stomach," he said. "I had no expectations and I was ready for any situation. Being the ninth pick and in the top 10 is amazing for our country and I'm super excited to get going. I had a short conversation with the Wizards and everyone so far has shown me that it's a great club. The entire staff cheered for me when I was selected and they all wanted me to feel at home. It's a great city, the capital of the United States and there's the White House."
"I'm not thinking about how many minutes I'll get and how much I'll be on the court. But rather I'm looking at what I can do to help the team win games. I will do everything I can to win games. This is going to be a great journey.
"My parents and my country have shown so much pride, they are all part of me and will be with me for my entire career going forward. My message to the children of Israel is that I've shown them that if you work hard and you do the maximum, then you will get far in life."
"Am Yisrael [the nation of Israel] is the best, and I'm looking forward to representing our country. I'll work hard to make everyone proud."
The Wizards were reportedly very happy to get Avdija, and are planning on giving him lots of playing time in the upcoming season.
"I love his toughness. I love his IQ... He steps on his court and competes," said Wizards head coach Scott Brooks.
Mador also spoke with the Israeli media after being drafted by the Celtics, a storied franchise with several NBA championships from past seasons.
A teammate of Avdija on the U20 squad which won the 2019 European Championship. Mador will not be playing in the upcoming NBA season, scheduled to start on Dec. 22, but will continue playing with Hapoel Tel Aviv for now as the Celtics want him to develop further before joining their top line up.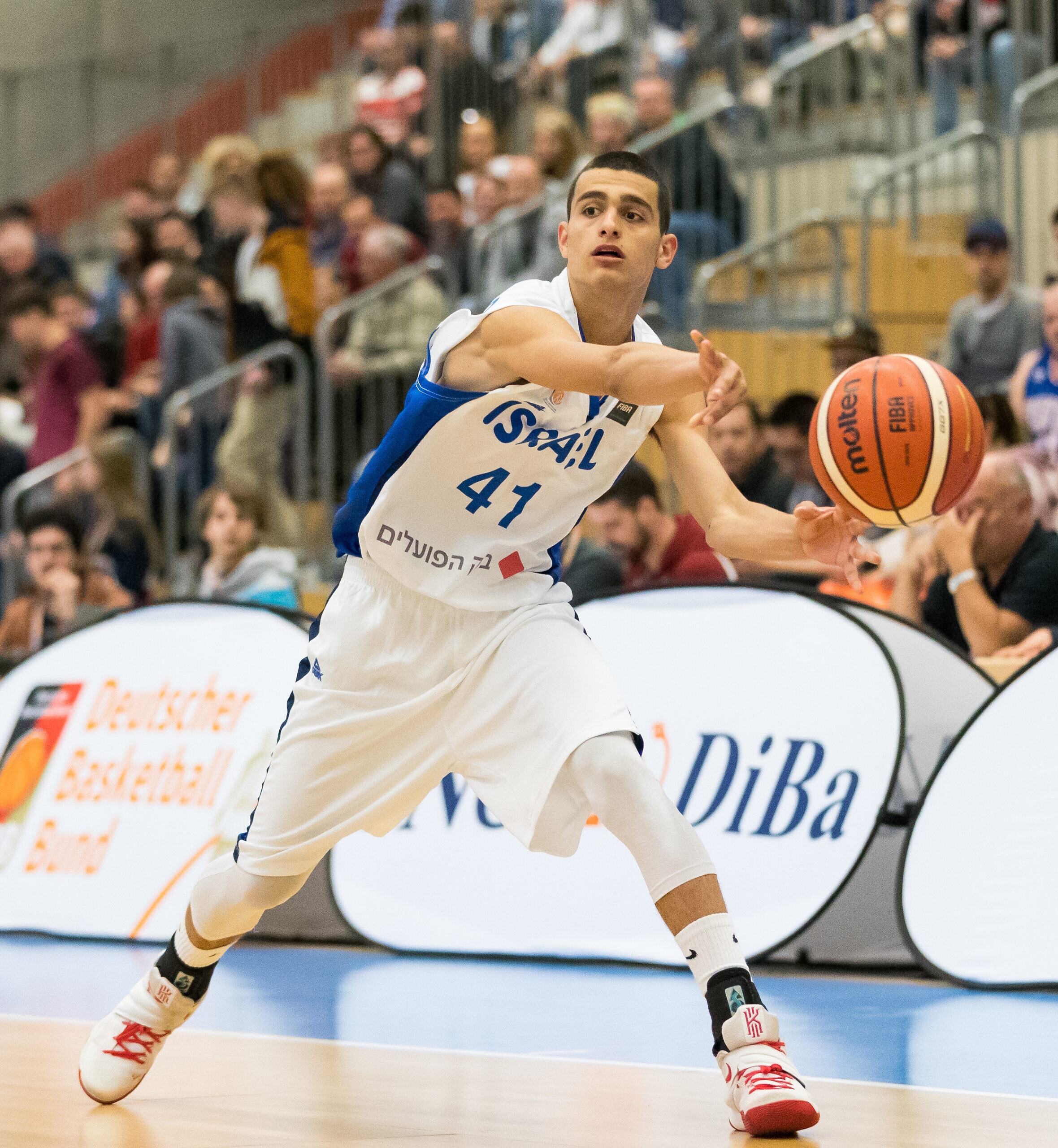 Yam Madar (Photo: Sven Mandel via Wikimedia Commons)
"It's a great honor to be part of this organization," said Mador, who was born in the Tel Aviv suburb of Beit Dagan and came up through the Israeli basketball youth leagues before joining the national team. "I don't know where everything will go, but it's very exciting being with my family at this time. It has been a dream since I was a kid. It's a dream come true and I'm very happy."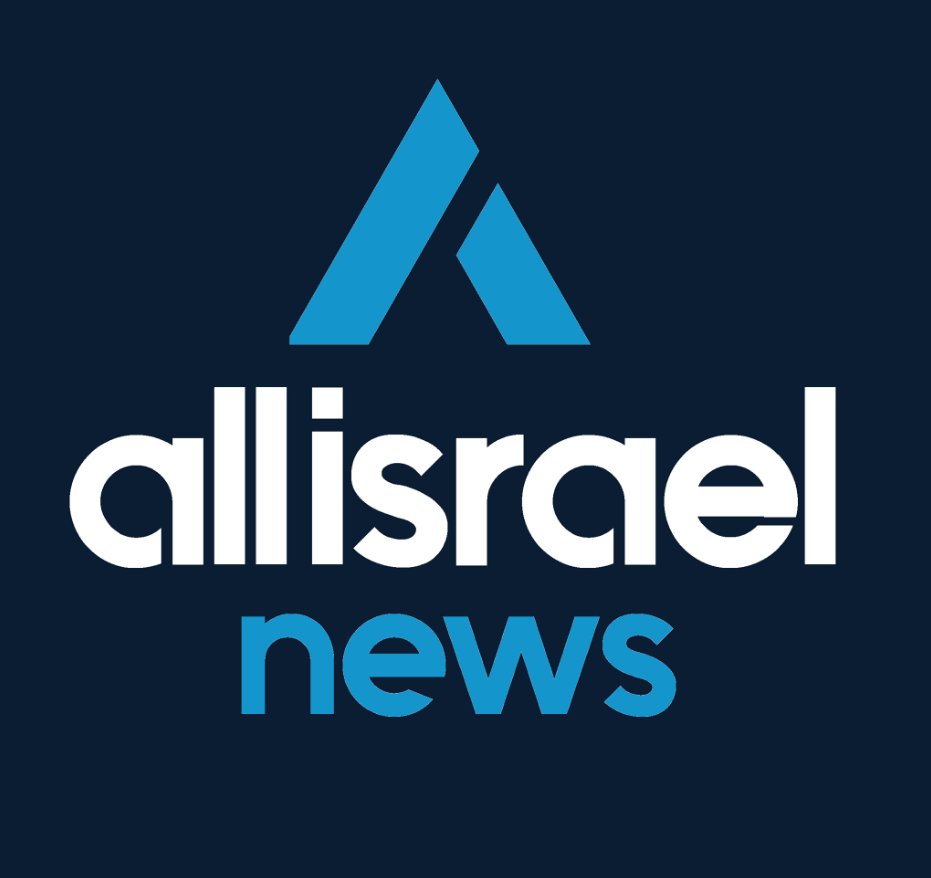 The All Israel News Staff is a team of journalists in Israel.
Popular Articles
A message from All Israel News
Help us educate Christians on a daily basis about what is happening in Israel & the Middle East and why it matters.
For as little as $5, you can support ALL ISRAEL NEWS, a non-profit media organization that is supported by readers like you.
Donate to ALL ISRAEL NEWS
Latest Stories
Comments