Iran is the new home for Al Qaeda terror network – poses 'grave threat' to US, Israel, Arab allies – Pompeo reveals
In major address, Pompeo warns Biden to take Iran threat seriously. Speech comes week after Iran announced dramatic, dangerous escalation of uranium enrichment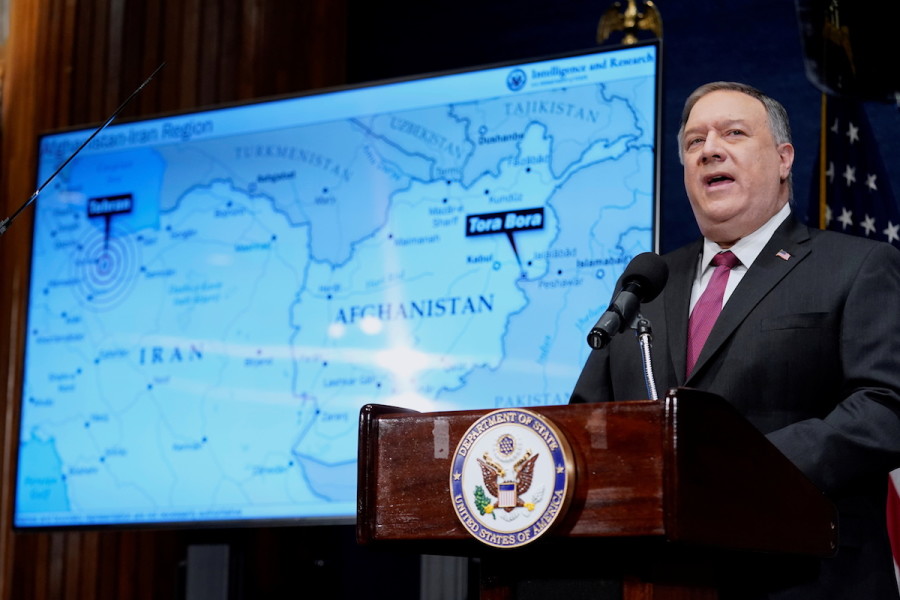 Secretary of State Mike Pompeo speaks at the National Press Club in Washington, DC, U.S., January 12, 2021. (Photo: Andrew Harnik/Pool via REUTERS)
JERUSALEM – The regime in Tehran is not simply allowing al-Qaeda terrorists to crisscross its territory.
The leaders of the Islamic Republic have intentionally made Iran the headquarters for al-Qaeda, the global terrorist organization that attacked the U.S. on Sept. 11, 2001 and has continued to attack and kill American citizens and allies in the two decades since.
"Al-Qaeda has a new home base: it is the Islamic Republic of Iran," said U.S. Secretary of State Mike Pompeo on Tuesday in a major address at the National Press Club in Washington, D.C.
Combined with Iran's aggressive nuclear program, "this axis poses a grave threat to the security of nations and to the American homeland itself," he added.
The secretary's remarks came one week after Tehran announced it is resuming its work to enrich uranium to 20% purity, a move that puts Iran dramatically closer to enriching uranium all the way to military grade purity in order to build nuclear warheads.
This is a direct violation of the Joint Comprehensive Plan of Action (JCPOA), more commonly known as the Iran nuclear deal, that former President Barack Obama and then-Vice President Joe Biden negotiated with Tehran in 2015.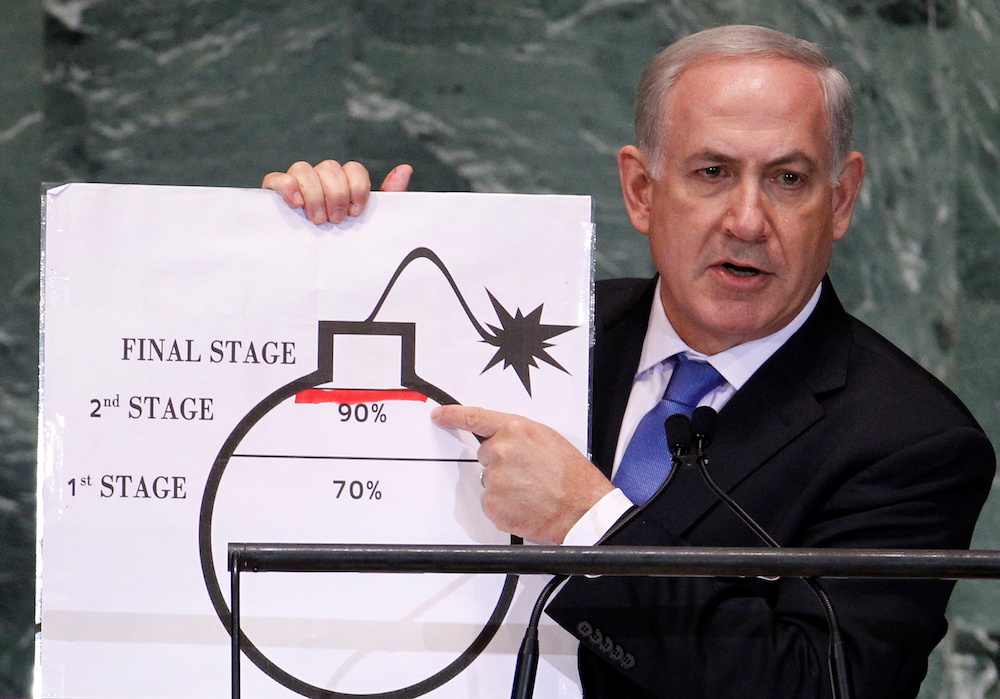 Israel's Prime Minister Benjamin Netanyahu points to a red line he drew on the graphic of a bomb used to represent Iran's nuclear program as he addresses the 67th United Nations General Assembly at the U.N. Headquarters in New York, Sept. 27, 2012. (Photo: REUTERS/Lucas Jackson)
In September 2012, Israeli Prime Minister Benjamin Netanyahu famously declared in a speech to the United Nations General Assembly that Israel would use military force if necessary to stop Iran from entering the "third stage" of uranium enrichment, which he called a "red line."
U.S. and Israeli experts believe that Iran moving to 20% enrichment would put the regime teetering right on the edge of that "red line."
President-elect Biden has said he is willing to reenter the JCPOA – from which President Trump withdrew the U.S. in 2018 – if Iran reverses course and reenters full compliance with the JCPOA.
Israeli and Sunni Arab leaders are increasingly worried that Biden and his team may make dangerous generous concessions, rather than fully pressure Tehran into giving up its nuclear weapons ambitions.
Pompeo's speech is being widely interpreted by Middle East analysts in Washington and throughout the region as a warning to the Biden team that Iran's nuclear threat is not the only threat. Iran's close ties to a major anti-American terrorist organization is also a serious threat, a must be factored into the Biden strategic equations.
The secretary also argued that the Iranian-al-Qaeda axis poses a direct threat to Israel and the Arab countries that have joined the Abraham Accords, and those Arab nations that are considering making peace and normalizing relations with the Jewish State.
Pompeo specifically noted the threat to Saudi Arabia.
"The Iran-al-Qaida axis threatens the progress of the Abraham Accords as well," said Pompeo. "If al-Qaeda can use terror attacks in the region to blackmail nations from joining the warm peace with Israel, then we risk grinding generational momentum for peace in the Middle East to a halt. We risk limiting the growing number of Mideast nations who will all recognize the threat from Iran."
"Many of you here may recognize the name Abu Muhammad al-Masri, also known as Abdullah Ahmed Abdullah," Pompeo said at the outset of his remarks. "He was al-Qaeda's worldwide number two, and on the FBI's Most Wanted List for slaughtering members of our State Department family in the Kenya and Tanzania bombings of 1998.  More than 200 people, including 12 Americans, lost their lives in those attacks. The New York Times reported in November that al-Masri was shot to death on the streets of Tehran."
"Today, I can confirm, for the first time, his death on August 7th of last year," Pompeo said. "The Times wrote, quote, 'That he had been living in Iran was surprising, given that Iran and al-Qaeda are bitter enemies,' end of quote. It could not be more wrong. It wasn't 'surprising' at all. And more importantly, they're not enemies. Al-Masri's presence inside Iran points to the reason that we're here today. It's what I want to talk about in these remarks."
"Al-Qaeda has a new home base: it is the Islamic Republic of Iran. As a result, bin Laden's wicked creation is poised to gain strength and capabilities. We ignore this Iran-al-Qaida nexus at our own peril."
The secretary explained that "al-Qaeda has, in fact, carried on a relationship with Tehran for nearly three decades, as the 9/11 Commission clearly established."
"While there's no evidence Iran helped plan or had foreknowledge of the 9/11 attacks, at least eight of the 9/11 hijackers traveled through Iran between October of 2000 and February of 2001," he noted. Indeed, in 2011, a federal judge in New York ruled that Iran had provided support for the 9/11 attacks, based on the role it played in furthering al-Qaeda operatives' plans.
Pompeo said that "after 9/11, hundreds of al-Qaeda terrorists and their families fleeing America's righteous vengeance took refuge there inside of Iran."
He cited a letter from Osama bin Laden, found by the Navy SEALS during the Abbottabad raid, which explained the relationship between the terrorist state and the terrorist organization since 9/11.
Bin Laden wrote: "Iran is our main artery for funds, personnel, and communication…There is no need to fight with Iran unless you are forced to."
Pompeo said that the Iranian Ministry of Intelligence and Security and the IRGC have provided safe havens and logistical support, including travel documents, ID cards and passports.
"As a result of this assistance, al-Qaeda has centralized its leadership inside of Tehran," he said. "Ayman al-Zawahiri's deputies are there today. And, frankly, they're living a normal al-Qaeda life."
"You don't have to be a former CIA director to see the Iran-al-Qaida axis is a massive force for evil all across the world," Pompeo said, calling on the incoming Biden administration and all U.S. allies in the Middle East and around the world to work together to counter this real and growing threat.
"The time is now for America and all free nations to crush the Iran-al-Qaida axis," he argued. "The Trump administration has actually made progress. Let's not tolerate Iran giving al-Qaeda a second wind. Let's not downplay the danger of Sunni-Shia cooperation in terror. Let's not lie to the American people about Iranian moderation and pretend appeasement will work. Thirty years of cooperation shows that Iran and al-Qaeda's divergent theology is no match for its convergent hatred. That's the reality."

Joel C. Rosenberg is the editor-in-chief of ALL ISRAEL NEWS and ALL ARAB NEWS and the President and CEO of Near East Media. A New York Times best-selling author, Middle East analyst, and Evangelical leader, he lives in Jerusalem with his wife and sons.
A message from All Israel News
Help us educate Christians on a daily basis about what is happening in Israel & the Middle East and why it matters.
For as little as $5, you can support ALL ISRAEL NEWS, a non-profit media organization that is supported by readers like you.
Donate to ALL ISRAEL NEWS
Current Top Stories
Comments