Far-right Knesset member assures Christian journalists he cares about 'the citizens of this land – all of them'
Itamar Ben Gvir gives first foreign press briefing, says 'we are fighting a common enemy'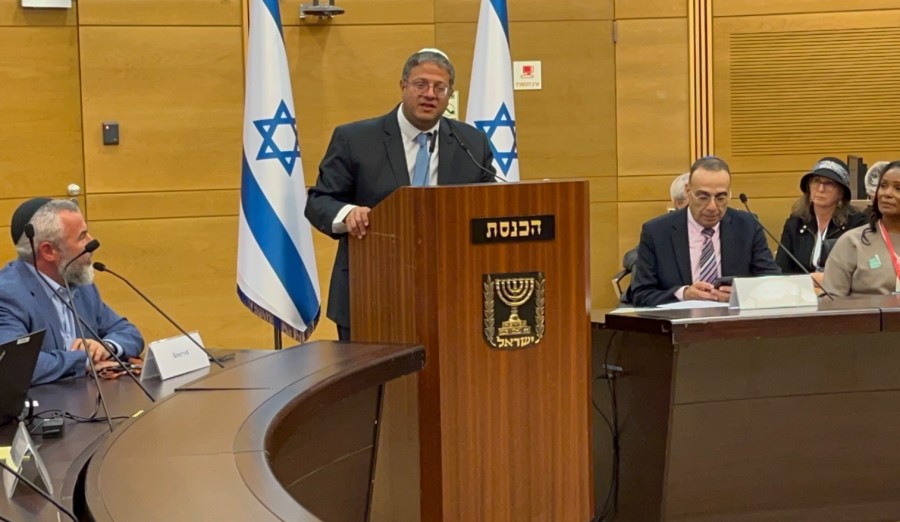 Itamar Ben Gvir speaking to a group of Christian journalists at the Knesset, Dec. 14, 2022 (Photo: ALL ISRAEL NEWS)
JERUSALEM—Itamar Ben Gvir – the firebrand Knesset member who heads the Jewish Power party – told a group of Christian journalists that he is not the same person he was when he was 17 years old and has since moderated his beliefs, which included expelling all Arabs from the country.
In his first briefing ever with the foreign media, the rising political star – who managed to galvanize large swaths of voters from across the spectrum in the last Israeli election – said that his checkered past is behind him.
"When I was a young man I believed that we should kick out all the Arabs from this land. I thought they all were the same and that we have to get them out of here," he said in Hebrew through a translator. "I was 17. Today I am 46, I have six children, I learned law, opened a law office and I became a Knesset member."
"What do I really care about (now)? I care that the citizens of this land – all of them – should walk around in safety," said the parliamentarian who is on track to become minister of internal security in the upcoming government.
The briefing took place at the Knesset on Wednesday as part of the Christian Media Summit, an event sponsored by Israel's Government Press Office which is hosting journalists from 30 nations for three days of briefings and tours.
This meeting with the highly controversial lawmaker came on the same day he was lobbying to pass a bill in the Knesset that will broadly expand the powers of the internal security minister.
While Ben Gvir enjoys wide notoriety around the Jewish state, he is only recently known to the rest of the world after his party's slate surged in November to become the third largest in the Knesset.
A passionate supporter of the State and land of Israel, some of Ben Gvir's ideologies line up with many Christians and other Zionists. But the politician – who carries a gun and frequently shows up at flashpoint sites – and his cohorts have raised concerns in Israel among indigenous Christians and other religious and ethnic minority groups in Israel.
The Israeli daily, Haaretz, wrote that Ben Gvir's "client list reads like a 'Who's Who' of suspects in Jewish terror cases and hate crimes in Israel." As a lawyer, Ben Gvir defended suspects in Jewish terror cases and other hate crimes including two Jewish teens accused in the arson attack that killed three members of a Palestinian family and the man convicted of setting fire to the Church of the Loaves and Fishes in 2015. Ben Gvir is also a close associate of Bentzi Gopstein, director of the radical anti-assimilation group Lehava, who has led violent protests at both Messianic Jewish and Christian events and once said Israel should expel all Christians.
Little known, his five fellow party members and their advisors span the gamut from activists and radicals, some of who have been arrested in connection with crimes against Palestinians.
Even the right-wing politician and former Prime Minister Naftali Bennett refused to add Ben Gvir to his slate because the Jewish Power leader kept in his living room a photograph of Baruch Goldstein who murdered 29 Muslim worshippers in Hebron in 1994.
At Sunday's opening session of the Christian Media Summit, International Christian Embassy Jerusalem (ICEJ) President Juergen Buehler issued a word of caution.
"We also are a little bit concerned about some of the coalition partners that are coming into the government which didn't say such nice things about Christians in the past years," Buehler said. "We hope that Mr. (Benjamin) Netanyahu is using his full influence so that this coming legislative period will not be about building new contentions or building new walls, but a time where Jewish-Christian partnerships and relationships will grow from strength to strength."
At the briefing on Wednesday, ICEJ Vice President David Parsons pressed the politician on what Christians and other minority groups can expect as far as religious freedom under the new government.
"Let's put things in order," Ben Gvir responded, admitting that while he held radical views as a youth, he does not believe in burning churches. He took the Loaves and Fishes case, he said, because he felt the defendant was innocent.
"I came here to tell you what I am fighting for: We have a common enemy – its the jihad. It's those who want to turn the world into a caliphate, who think that whoever isn't Muslim has no right to live here; those who blew up the Twin Towers; those who fight humanity and civilization," he said. "Those that want to hurt us also want to hurt you. It might be they want to start with us, the Jewish people, but – God forbid – you are next and all those who don't agree with them."
Ben Gvir said he is on a mission to restore strength to the State of Israel, which is frequently pressured to surrender or retreat.
"Our long history proves that with terror, the answer is not to surrender. You fight terror, you defeat terror," he said.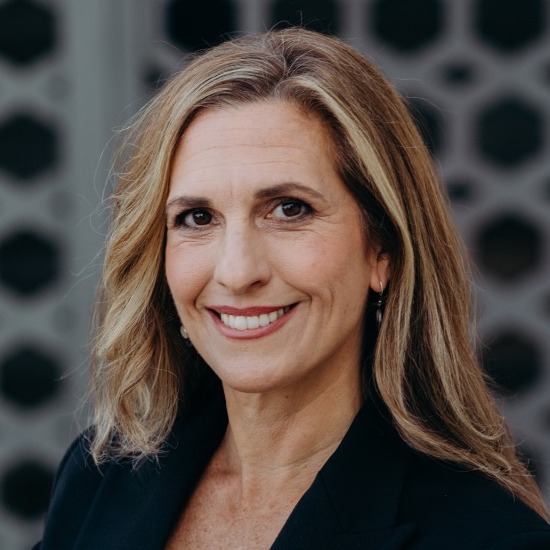 Nicole Jansezian is the news editor for both ALL ISRAEL NEWS and ALL ARAB NEWS and senior correspondent for ALL ISRAEL NEWS
A message from All Israel News
Help us educate Christians on a daily basis about what is happening in Israel & the Middle East and why it matters.
For as little as $5, you can support ALL ISRAEL NEWS, a non-profit media organization that is supported by readers like you.
Donate to ALL ISRAEL NEWS
Current Top Stories
Comments