My conversations with senior Arab officials in Washington regarding "annexation"
The White House is signaling that President Trump is set to make a "big announcement" today regarding the Middle East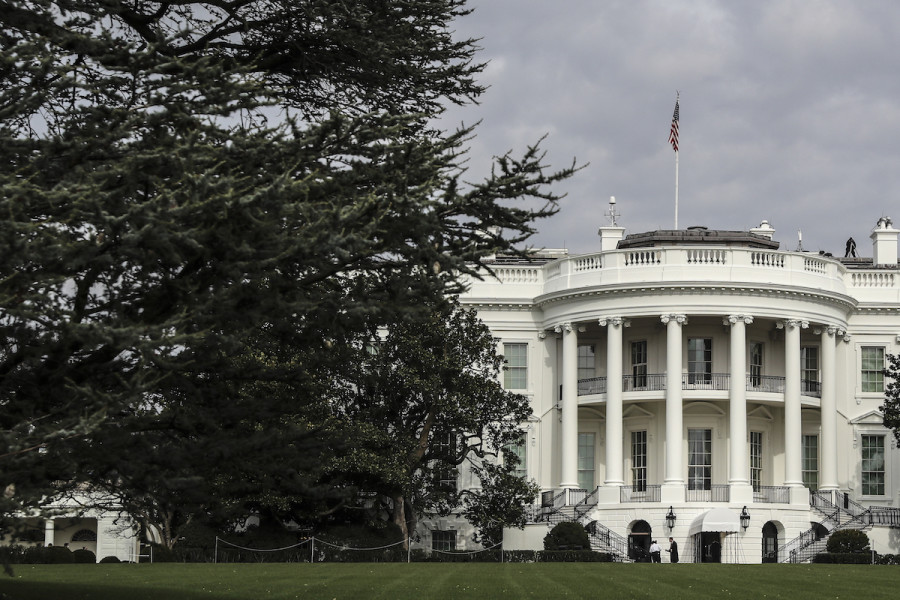 The South Lawn of the White House in Washington, DC. (Photo: Oliver Contreras/SIPA USA)
(Washington, D.C.) — The White House is signaling that President Trump is set to make a "big announcement" today regarding the Middle East.
The big question: Will Mr. Trump decide to back the Israeli government's desire to incorporate large sections of the West Bank (Judea and Samaria) into sovereign Israeli territory, or ask Israel to refrain from "annexing" such territory for the time being, in order to keep trying to advance the Arab-Israeli peace process?
Last week, I met in Jerusalem with senior advisors to Israeli Prime Minister Netanyahu, and separately with a senior advisor to Defense Minister Benny Gantz to better understand their positions. I also spoke with Palestinian Muslims and Christians to hear their views. With each of them, we discussed at length how American Evangelicals are likely to see the issue (for more on that, here is the column I wrote last week for The Jerusalem Post.)
Since arriving in Washington several days ago, I have had extensive meetings with Ambassadors and senior diplomats from Jordan, Egypt, Bahrain, the United Arab Emirates, Saudi Arabia and Azerbaijan to hear their views and discuss the wide range of viewpoints in the American Evangelical community over how best to advance peace.
This what I'm hearing:
The Arab leaders believe the Trump administration is preparing to give the green light to "limited annexation" — not the full 30% of the West Bank as Netanyahu wants, and not the Jordan Valley, but perhaps about 5% of the West Bank. (They cautioned me, however, that they are still not entirely sure of the President's final decision, that things are fluid, that Mr. Trump may not be 100% settled on his course of action, and their governments still hope to persuade Mr. Trump that for the sake of peace this is the wrong move at the wrong time.)
Every senior Arab and Muslim official that I spoke with are unified in total opposition to Israeli annexation of any amount — they do not see "limited annexation" as an acceptable compromise — they are very unified, operating in close coordination with each other, and fully backing Jordan's King Abdullah. No daylight.
One told me that Israel's pending move would be "catastrophic" for the steadily warming relations between Israel and the Gulf Arab states which has never been better in history, and keep getting better month by month. "This will set Arab-Israeli relations back by years."
None of the Arab officials can comprehend the urgency — why is Israel doing this now? Why this summer? Why would Netanyahu, the architect of Israel's successful regional strategy to build closer relations with the Arab states, choose to damage these relations so badly? Does he realize just how much damage this will do, or does he think this will all blow over like the Jerusalem decision? They were admant that this is very different than the Jerusalem Embassy move. That was an American decision. This is a provocative, unilateral Israeli move that will force the Arab states to publicly and strongly condemn Israel and force them to back away from closer ties with Israel.
Another Arab official told me, "This is going to give a win not to the Arab states who have made peace with Israel, or those who are steadily moving towards peace with Israel. It's going to give a win to Iran, Turkey, Qatar, the Muslim Brotherhood, Al Jazeera, and all the forces of extremism in the region. What's the point? Why give them the win?"
All are particularly worried about an explosion in the Kingdom of Jordan — that the streets will erupt in intense protests against Israel, that the King will need to take dramatic measures to pull back from close working relations with Israel. I didn't press any of them regarding exactly what steps Jordan may take, but many options are on the table and being actively contemplated.
What struck me as particularly interesting was that the tone of the leaders I spoke to was not so much bitter anger at Netanyahu and the Israeli government but astonishment, bewilderment and serious frustration that after so much progress in recent years that Israel would be willing to throw that all away for land that Israel already effectively controls and that no one is threatening to take away.
There is also bewilderment at why Israel would make such a highly controversial move — and risk incurring condemnation from the European Union, Asian countries, the Arab world, etc — before knowing whether or not President Trump will be reelected and there to stand beside Israel in such a decision over the next four years. Vice President Biden and his team has already made it clear that they are strongly opposed to Israeli "annexation." Most Democrats in Congress are opposed as well. This will severely damage bipartisan support for Israel in Congress. What if the White House, the House of Representatives and possibly the majority of the Senate is in Democrat hands come January?
Now would be a good time to be praying for the peace of Jerusalem and the region, and praying that Israeli and American leaders will have true wisdom at this critical moment. Please pray for the Palestinian people who are feeling increasingly hopeless and left out of the process and seeing the U.S. and Israel make decisions without them. And pray, too, for the leaders and peoples of the moderate Arab states who are increasingly in favor of peace with Israel and see extraordinary opportunity for enhanced prosperity for all sides if treaties can be signed and trade relationships opened.
Strange times in the Epicenter these days.

Joel C. Rosenberg is the editor-in-chief of ALL ISRAEL NEWS and ALL ARAB NEWS and the President and CEO of Near East Media. A New York Times best-selling author, Middle East analyst, and Evangelical leader, he lives in Jerusalem with his wife and sons.
A message from All Israel News
Help us educate Christians on a daily basis about what is happening in Israel & the Middle East and why it matters.
For as little as $5, you can support ALL ISRAEL NEWS, a non-profit media organization that is supported by readers like you.
Donate to ALL ISRAEL NEWS
Current Top Stories
Comments