HOW DO EVANGELICALS VIEW ISRAEL? – PART 1
New poll finds that Evangelicals love Netanyahu, but they worry his departure as PM harms Israel's ties with Christians
This is a warning light on the dashboard for Naftali Bennett and Yair Lapid – the two should launch an aggressive strategy to build strategic ties, trust with Evangelicals immediately
Former Israeli Prime Minister Benjamin Netanyahu (C) hosts CUFI President John Hagee and former U.S. Ambassador to the UN Nikki Haley at the Prime Minister's Residence in Jerusalem, June 14, 2021. (Photo: Nikki Haley/Twitter)
WASHINGTON, D.C.—I love my friends who write for and run The Jerusalem Post.
But they got this one completely wrong.
On Saturday evening, the Post published an article with this headline: "Evangelicals were lukewarm on Netanyahu – poll."
The article described the results of a new survey that "is the first to analyze how American Evangelicals feel about the end of [Israeli Prime Minister Benjamin] Netanyahu's 12-year era, specifically asking whether the former prime minister improved Israel's relationship with American Christians and whether his departure will hurt the relationship between Israel and Evangelicals."
Somehow, the Post concluded that survey found "lukewarm" support for Netanyahu among Evangelicals.
In fact, the results found the exact opposite. 
Evangelical Christians in the United States love Benjamin Netanyahu.
They deeply appreciate the leadership Bibi provided as Israel's longest-serving prime minister.
What's more, they are concerned that Netanyahu's departure from office will harm U.S.-Israel relations, and Israel's relations with Christians.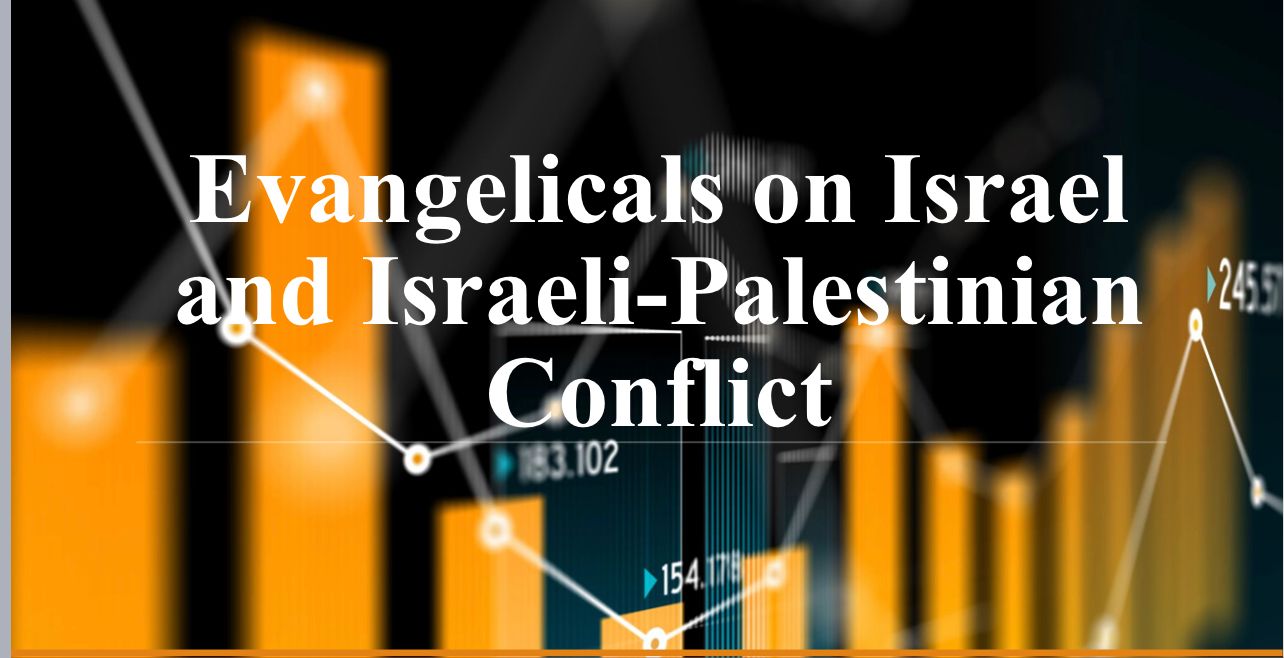 WHAT DO THE POLL NUMBERS TELL US?
The survey was designed and conducted by Dr. Kirill Bumin and Dr. Motti Inbari, both of whom are professors at the University of North Carolina at Pembroke (UNCP).
It was commissioned by the Alliance for the Peace of Jerusalem, a coalition of Evangelical scholars, seminary professors, ministry leaders and authors that I was a part of helping to found in 2017.  
It was fielded by the Barna Group in July, after Netanyahu left office (but before the very serious tensions between Bibi and former President Donald Trump became known). 
Together, the professors and Barna surveyed 1,000 Evangelical or born-again Christians.
Over the coming week, ALL ISRAEL NEWS will examine the results of the poll, section by section.
But first, let's see what the actual numbers tell us about how Evangelicals see Netanyahu.
Nearly 6-in-10 American Evangelicals – 58.4% of the sample – view Netanyahu favorably, as indicated by a rank of 7 or above on a scale of one through 10.
Nearly 1-in-4 Evangelicals – 22.4% – said they view Netanyahu "extremely favorably," giving him a perfect 10. 
Nearly half – 45.8% – said they believe Netanyahu improved the relationship between Evangelicals and Israel. Only 15.6% said he didn't.
Nearly half of Evangelicals – some 46% – expressed concern that Netanyahu's departure as premier "will hurt the relationship between Israel and American Evangelicals."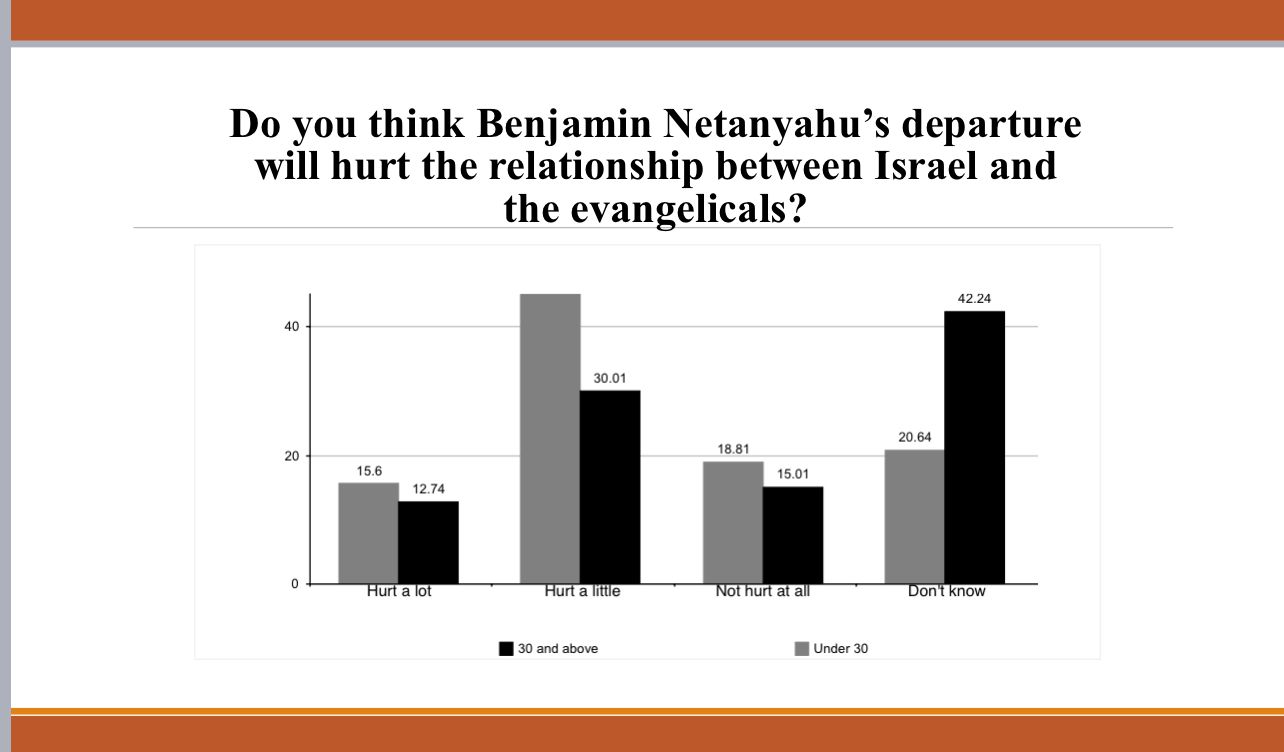 The partisan breakout reveals even further how well-liked and appreciated Netanyahu is among Evangelical Christians.
Three-out-of-four Evangelicals who identify with the Republican Party – 74.9% – view Netanyahu favorably.
Yet more than half of Evangelicals who identify with the Democratic Party – 51.5% – also view Netanyahu favorably. This is significant, proving Netanyahu's bipartisan appeal among Evangelical Christians.
What's more, 46.9% of Evangelicals who consider themselves Independents – unaffiliated with a political party – hold a favorable opinion of Netanyahu. 
"It is noteworthy that the largest share of both Democrats (50.7%) and Republicans (47.3%) consider his [Netanyahu's] departure detrimental to the future of U.S.-Israeli relations," the researchers said. "Independents are slightly less likely to express such concerns, with 42.9% of them worrying about that possibility."
A WARNING LIGHT FOR NAFTALI BENNETT
While the new survey results are very encouraging news for Netanyahu and his team, they represent a warning light on the dashboard for current Israeli Prime Minister Naftali Bennett and his inner circle.
Nearly six months into Bennett's time in office, he has done very little to reach out to Evangelical leaders or to the rank-and-file which comprises some 60 million people.
He should be developing and executing a comprehensive strategy to build ties to – and trust with – Evangelical leaders.
This should include:
Reopening Israel to Christians for the Christmas holidays

Doing interviews with Christian TV networks before Christmas 

Planning a monthly series of conference calls and Zoom calls with Evangelical leaders in 2022
WHAT'S THE BOTTOM LINE?
The new survey reveals that a significant percentage of Evangelicals are concerned that Christian ties with Israel could be harmed if the leader they know, love and trust – Netanyahu – is no longer in office. 
The only remedy is for Bennett to court and cultivate Evangelicals – and not only those in the U.S. but those around the world. 
For that matter, Foreign Minister Yair Lapid should accelerate his efforts to build ties with Evangelicals as he prepares to become prime minister in 2023. 
As I've reported, Lapid has done more than Bennett in this regard.
But as the survey says, much more is needed.
NOTE: Drs. Inbari and Bumin are scholars from the University of North Carolina at Pembroke. The study was sponsored by Chosen People Ministries and fielded by the Barna Group July 8-22, 2021. A demographically balanced online panel was used. Maximum quotas and slight weights were used for gender, region, age, ethnicity and education to more accurately reflect the Evangelical population in the United States (as defined by Pew Religious Landscape Survey). The sample provides 95% confidence that the sampling error does not exceed ±2.9%.

Joel C. Rosenberg is the editor-in-chief of ALL ISRAEL NEWS and ALL ARAB NEWS and the President and CEO of Near East Media. A New York Times best-selling author, Middle East analyst, and Evangelical leader, he lives in Jerusalem with his wife and sons.
Popular Articles
A message from All Israel News
Help us educate Christians on a daily basis about what is happening in Israel & the Middle East and why it matters.
For as little as $5, you can support ALL ISRAEL NEWS, a non-profit media organization that is supported by readers like you.
Donate to ALL ISRAEL NEWS
Latest Stories
Comments