HOW DO EVANGELICALS VIEW ISRAEL? — PART 5
Despite sobering new poll data, here are 6 reasons to be hopeful that the Church can equip young Evangelicals with a deep love for Israel and the Jewish people
Organizations like The Joshua Fund, the Alliance for the Peace of Jerusalem, Passages, Keshet and ALL ISRAEL NEWS are making a difference — but much more is needed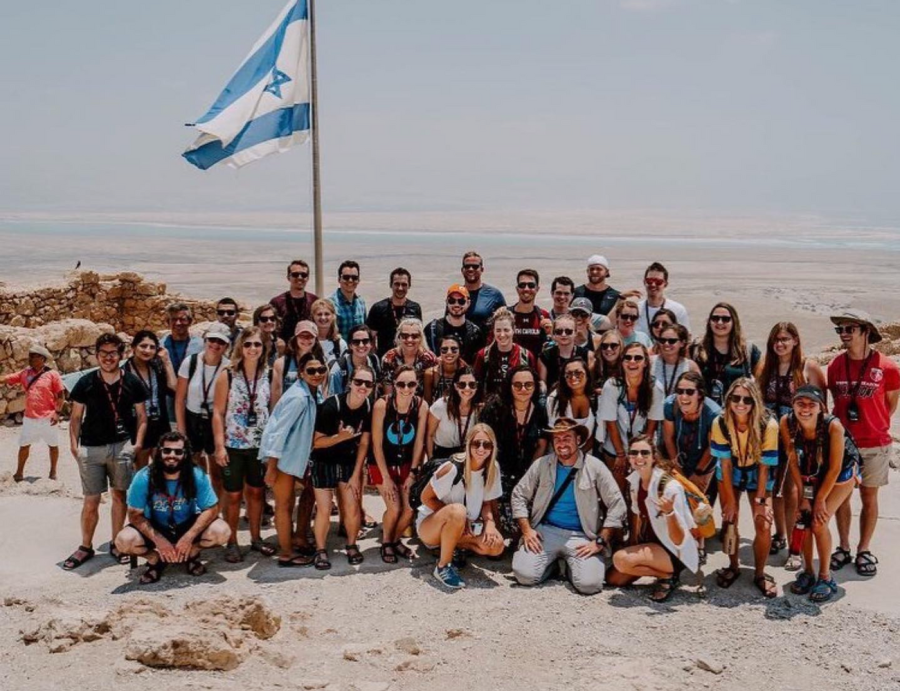 A group of Christian young adults on a trip to Israel organized by Passages (Photo: Instagram/passagesisrael)
WASHINGTON, D.C.—Yesterday, I looked at "five painful reasons why young Evangelicals are drifting – even turning – away from Israel."
Today is my last in a series of five columns. 
Let's conclude by looking at five reasons to be hopeful.
Reason for Hope #1: The Bible commands us to be hopeful, and we can trust the God of Israel to help us train the next generation. 
The Apostle Paul commands believers to be "joyful in hope, patient in affliction, and faithful in prayer." (Romans 12:12)
What's more, Paul makes it clear in Philippians 1:6 that for all our shortcomings as parents, grandparents, pastors and Christian educators, it is the Lord Himself who is shepherding our children and bringing them to full godliness and spiritual maturity over time.
"For I am confident of this very thing," Paul writes, "that He who began a good work in you will perfect it until the day of Christ Jesus."
This does not absolve us of our responsibilities in passing along the Christian faith, including a proper understanding of God's love and plan for Israel and all the people of the Middle East.
But it's not all on our shoulders.
God loves Israel. God is sovereign. And God will both raise His children and protect His chosen people.
The scriptures are clear that:
Remember, too: Israel was not prophetically reborn as a sovereign nation state on May 14, 1948 because all Christians understood what was happening and helped make it happen. 
Nor is Israel currently being kept safe because all Christians get it and are standing with Israel.
One thing is certain: as Job wrote in ancient times, we can say of God's plan for Israel today: "I know that You can do all things, and that no purpose of Yours can be thwarted." (Job 42:2)
Reason for Hope #2: The Alliance for the Peace of Jerusalem was created to help Evangelical leaders identify and understand the problem, and to mobilize pastors, teachers, Christian authors, Bible college and seminary professors and administrators to focus more on Evangelical young people. 
I'm honored to have been a founding member of this coalition in 2017 – and you can learn more about the founding members by going to our website.

What's more, I'm deeply encouraged by the research, polling, conferences and videos that the Alliance has produced over the last several years.
Here is a link to some of our most important resources:
Reason for Hope #3: Ministries like The Joshua Fund have been created to help educate Evangelical leaders and young people about God's love and plan for Israel and her neighbors. 
In 2006, my wife, Lynn, and I founded The Joshua Fund (TJF), a non-profit organization dedicated to educating and mobilizing Christians to bless Israel and her neighbors in the name of Jesus, according to the Abrahamic Covenant as recorded in Genesis 12:1-3.
Over the past 15 years, by God's grace, TJF has invested more than $80 million in strengthening the Church in Israel and the Arab world; providing humanitarian relief to the poor and needy, and to widows and orphans; and to educating Evangelicals about God's heart of compassion for Israel and her neighbors.
To help educate and equip Christian leaders and lay people, we have hosted "Epicenter Conferences" in Jerusalem, San Diego, Philadelphia, Albuquerque, the Philippines, and Germany. And we have made most of the messages available to watch online.
In early 2021 – since COVID made it impossible to host such conferences for the time being – we launched a podcast called, "Inside the Epicenter" that people can watch on YouTube or listen to on their phones from their favorite podcast system.
So far, we have produced 32 episodes and have seen a huge response, with more than 2.5 million views and downloads so far.
I'll write more about the podcast soon, but let me just say here that one of things I'm most encouraged about is that young people are listening.
In fact, more than 30% of our podcast audience is under the age of 35.
What's more, nearly half of our audience is under the age of 45.  
At the same time, with the encouragement of The Joshua Fund board, I've been making it a priority to speak at Christian colleges and seminaries when possible. 
In 2014, for example, I addressed some 10,000 students at Liberty University. 
Last week, I met with senior administrators on the Liberty campus in Lynchburg, Virginia, and they have asked me to come back and speak to the 15,000 students who now attend. I'm very much looking forward to doing that. 
Earlier this year, I addressed several hundred Reformed pastors, ministry leaders and theologians (via video) as part of a global conference organized by Dr. John MacArthur and The Master's Seminary.
Two years ago, I spoke at Bethlehem Bible College & Seminary, founded by Dr. John Piper.
The Lord has also opened the doors for me to speak at Dallas Theological Seminary, The Moody Bible Institute, Biola University, Talbot Seminary, Colorado Christian University and Southwestern Baptist Theological Seminary, among others.
This is good, and I'm grateful, but there is so much more to do. 
That's why I'm so encouraged that The Joshua Fund board and staff are passionate about dramatically expanding our work to educate Evangelical young people. More of that soon. 
To make a generous, year-end, tax deductible donation to The Joshua Fund, please click here. 
Reason for Hope #4: New digital media organizations like ALL ISRAEL NEWS and ALL ARAB NEWS are joining long-established Christian TV and radio networks, magazines and websites to help provide trustworthy news and analysis regarding Israel and the broader Middle East.
I won't go into more detail here today.
But let me just say that one of the reasons that my colleagues and I launched ALL ISRAEL NEWS is to educate both Evangelical leaders and well as young people who increasingly get their news through their phones, and increasingly distrust so-called "mainstream" corporate media organizations who either don't cover Israel much at all, or engage in extreme and repulsive media bias against both Israel and against Christianity. 
To make a generous, year-end, tax deductible donation to NEAR EAST MEDIA — the non-profit organization that runs ALL ISRAEL NEWS and ALL ARAB NEWS, please click here. 
Reason for Hope #5: There is an amazing program called "Passages" that takes young Evangelicals to Israel, tours them through the land, and helps train and equip them to truly understand why Israel is so central and important in the Scriptures.
Since its founding in 2015, Passages has taken some 8,000 Christian young people on such educational tours and seen encouraging results. 
So many of those who have gone on these trips say they came home with a deeper and richer understanding of the Bible, their faith, and God's heart for both Jews and Arabs.
The key to the impact that Passages is making is the thought and care their leaders have put into designing their programs. 
Let me end this column, therefore, by quoting from Passages' website.
Phase 1: The Beginning, An Introduction Course
The first phase of Passages introduces the core goals of the program: strengthened Christian faith, introduction to modern Israel, and leadership development. The course includes modules on the roots of Christianity, the biblical redemptive narrative, Jewish-Christian relations, and the history of modern Israel. 
Phase 2: The Israel Trip
Our itinerary is designed to accomplish the goals of Passages: to point trip participants to the roots of their Biblical faith and to introduce them to the complex landscape of modern Israel. Participants visit sites including Capernaum, the Mount of Beatitudes, the Church of the Holy Sepulcher, and the Garden of Gethsemane. They hear from a diverse range of local speakers who help them understand Israeli culture, government and economy, the Israeli-Palestinian conflict, and geopolitical and security issues surrounding Israel.
Phase 3: Passages Capstone
After returning from Israel, participants begin the Passages Capstone by enrolling in the Leaders Course. Leaders Course expands upon the educational themes from the trip to Israel, and includes case studies of biblical and modern leaders. Participants apply these lessons by completing two Capstone Project electives. As participants complete those projects, they are welcomed into the Passages Leaders Network as alumni.
Phase 4: Passages Leaders Network, An Ongoing Alumni Network
The Passages Leaders Network (PLN) creates value for our alumni through intentional connections. PLN offers further engagement by providing additional educational content related to faith and Israel, facilitating a mentorship program, and promoting job listings, industry-specific networking groups, and community events. The ongoing impact of the Passages program is the result of the quality of Passages' vast network of alumni leaders.
Reason for Hope #6: Keshet's Israel Tour Leader Online Study Platform which provide leaders – such as pastors and ministry directors from overseas – with supplemental knowledge and relevant spiritual messages to share with their groups for various sites while on a tour in Israel.
Keshet Journeys has created an extensive online-streaming and study platform featuring lectures and 360-degree virtual touring of biblical sites in the Holy Land for those interested in leading tours to Israel or, simply, acquiring a comprehensive education of the country.
"Hearing the right spiritual message at the right location is the most crucial element of a tour to the Holy Land," Moshe Gabay, host and moderator of the tour leaders' course by Keshet Journeys, told ALL ISRAEL NEWS. "If we can help to improve this for any group touring the land, we can facilitate peoples' lives being changed. This is the reason we created this course."
Keshet's Israel Tour Leader Online Study Platform provides both biblical and historical knowledge of the land and important logistical pointers for getting into and around the Holy Land.
"This is a great opportunity for leaders and people to develop and learn more about the Holy Land in a deeper way. We see the impact of our tours on people's lives and how much it strengthens them in their walk of faith," Gabay said.
If you are interested in the Israel Tour Leader, enjoy a 20% discount when you use the exclusive ALL ISRAEL NEWS code: ITL20-AllIsraelNews. To learn more about the course, see the Israel Tour Leader website.

Joel C. Rosenberg is the editor-in-chief of ALL ISRAEL NEWS and ALL ARAB NEWS and the President and CEO of Near East Media. A New York Times best-selling author, Middle East analyst, and Evangelical leader, he lives in Jerusalem with his wife and sons.
A message from All Israel News
Help us educate Christians on a daily basis about what is happening in Israel & the Middle East and why it matters.
For as little as $5, you can support ALL ISRAEL NEWS, a non-profit media organization that is supported by readers like you.
Donate to ALL ISRAEL NEWS
Current Top Stories
Comments