Bennett makes strong overtures to US, pledges to patch partisan divisions over Israel
Speaking at an Independence Day gathering at the U.S. Embassy, Israeli PM also extols similar Jewish, Christian values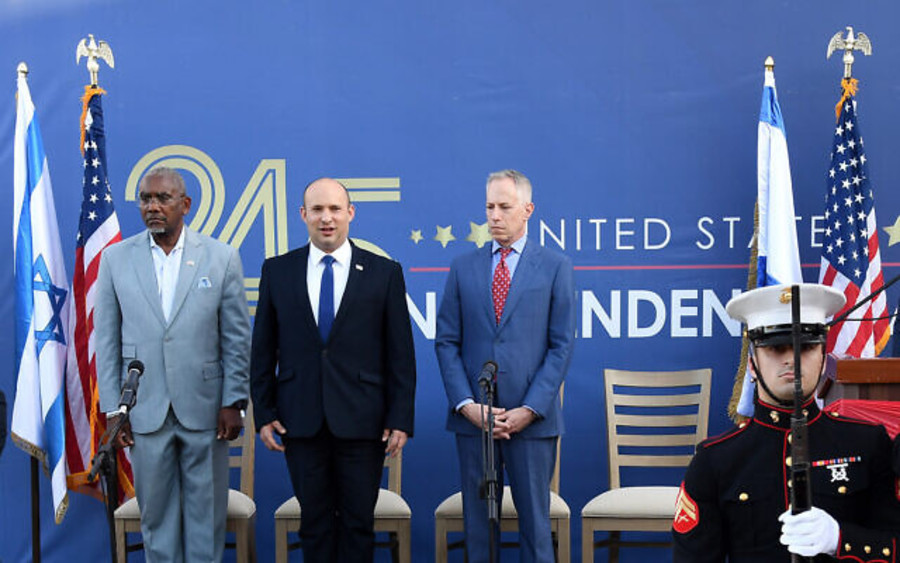 U.S. House Foreign Affairs Committee chairman Gregory Meeks, Israeli Prime Minister Naftali Bennett and U.S. Embassy in Israel Charge D'affaires Michael Ratney at the U.S. Embassy's Independence Day celebration on July 5, 2021. (Photo: Ziv Sokolov/US Embassy in Jerusalem)
During an event celebrating Independence Day at America's embassy in Jerusalem, Prime Minister Naftali Bennett promised to repair a partisan breach over Israel that has been widening in American politics in recent years.
The recently sworn-in Israeli prime minister pledged that under his watch, U.S.-Israel relations will transcend bipartisanship – a jab at former Prime Pinister Benjamin Netanyahu who fostered strong ties with the former Republican president, Donald Trump.
Many in the Israeli government criticized Netanyahu's friendly approach toward the Trump administration as neglecting the sensitivities of Democrats, most of whom are staunch and loyal supporters of Israel.
"I will challenge any attempt to make America a partisan political issue in Israel and any attempt to make Israel a partisan political issue in the U.S.," Bennett said. "The friendship between our two democracies will always transcend party politics."
Last week, Foreign Minister (and alternate-Prime Minister) Yair Lapid told U.S. Secretary of State Tony Blinken that "mistakes were made" in the conducting of relations between the two nations.
"Israel's bipartisan standing was hurt. We will fix those mistakes together," he said.
This message emanating from the new Israeli government comes as acrimony toward Israel has risen in the Democrat party in the past four years. Freshmen progressives in the House and a growing number of Democrats in the Senate have bashed Israel and Israeli policies while also making statements that have, at times, crossed into anti-Semitism.
This reflects a trend among millennials who largely vote Democrat and have drifted from the traditionally strong relationship between the U.S. and the Jewish state.
Bennett – despite being a tad more ideologically right wing than his predecessor – has been working to ensure that Israel maintains its ally even with a Democrat in the Oval Office. According to reports, the U.S. and Israel are trying to coordinate a meeting between Bennett and U.S. President Joe Biden in Washington later this month.
"Biden has always proven not only his commitment to the American-Israeli alliance but his true love to the Jewish people, you can't miss it and we appreciate it," Bennett said. "We are going to work with the new administration to upgrade our friendship and partnership."
At the Jerusalem event, U.S. Rep and Chairman of the House Foreign Affairs Committee Gregory Meeks (D-NY) – in Israel this week leading a bipartisan congressional delegation – offered assurances of American support for the Jewish state against Iran and Hamas and he called for the expansion of the Abraham Accords.
"Those who call for Israel's demise will see that it is justice and values and democracy that will long survive them and we will make sure that they are no longer in the way of a strong Jewish state," he said.
He also credited the support of Jewish Americans who stood with Martin Luther King for civil rights.
"If it wasn't for my Jewish brothers and sisters with thoughts and ideas and the values that they have, I would not be standing here today as a member of the House of Representatives. I owe a deep debt of gratitude and thanks to my Jewish friends here in Israel and all around the world," he said. "For people of color and people of the Jewish faith, we know what it feels like to have the world against you at times. We know what it feels like to be oppressed and so, who better to come together."
During his speech, Bennett also drew parallels between both countries' foundations of faith.
"Anyone who reads American history knows that the revolutionary ideas expressed by America's founding fathers sprung from their faith in and deep understanding of the Hebrew Bible, the Tanach," he said.
"They founded America on the very principles of the Bible. They saw the Bible's insights into human nature, civic virtue, social order and political authority as essential to the establishment of this new great nation America," Bennett continued.
Bennett, who speaks English and lived in the States as a child, also played up his American roots at the Embassy gathering.
"My dad's family reached America from Europe in the 50s, in 1850s. In fact, they reached San Francisco because my ancestors were on the Gold Rush. It didn't really work out well," he joked.
It did work out well later in his own life, however – Bennett lived in New York during his adult years and sold, not one, but two high-tech companies for millions of dollars.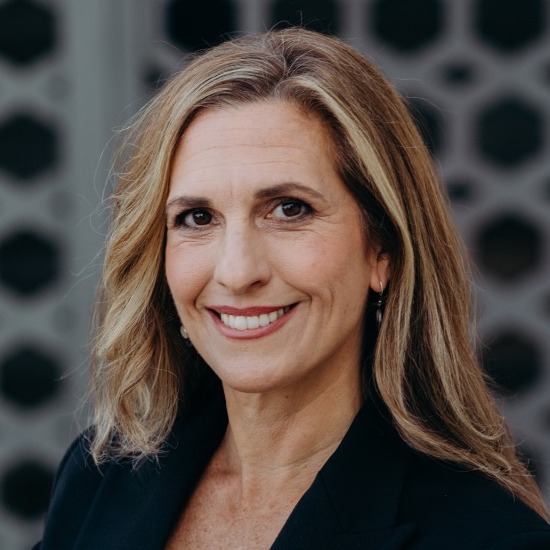 Nicole Jansezian is the news editor for both ALL ISRAEL NEWS and ALL ARAB NEWS and senior correspondent for ALL ISRAEL NEWS
A message from All Israel News
Help us educate Christians on a daily basis about what is happening in Israel & the Middle East and why it matters.
For as little as $5, you can support ALL ISRAEL NEWS, a non-profit media organization that is supported by readers like you.
Donate to ALL ISRAEL NEWS
Current Top Stories
Comments