Asbury revival enters Day 13 with no sign of stopping – 20,000 flood small Kentucky town to worship, pray, confess and repent
Christians from all over America, Israel and the world are arriving to see what God is doing – so is the national media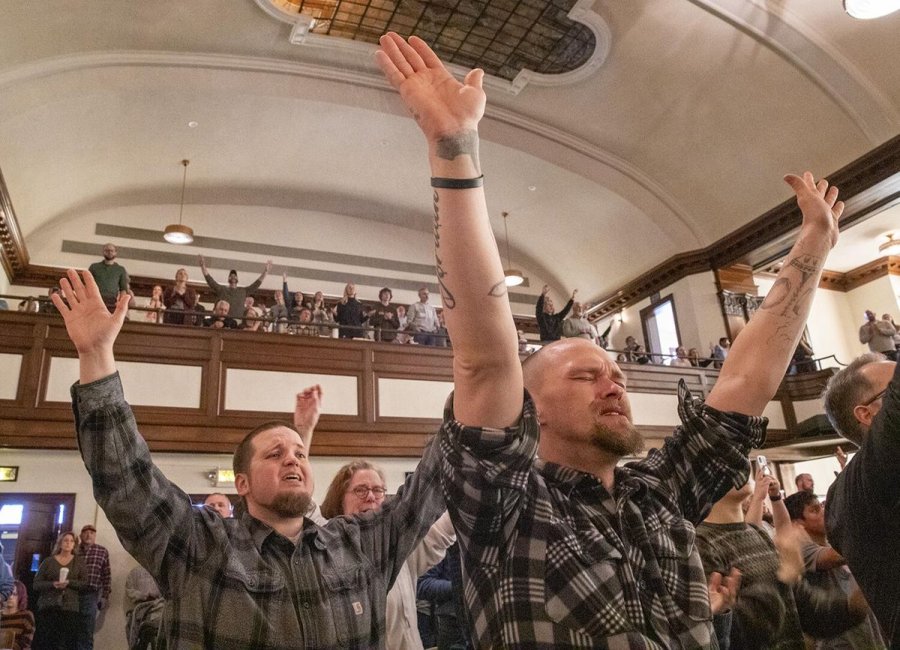 Revival at Asbury University (Photo: Greg Gordon/Twitter)
JERUSALEM, ISRAEL – God is on the move on the campus of a small Christian college in rural Kentucky.
He's pouring out the Holy Spirit in a most extraordinary way.
Students, faculty, staff and parents are worshipping Jesus Christ, on their knees in confession and repentance, huddling with others to intercede for their families and friends and nation and world, and sitting in silence as God heals their hearts and refreshes their souls.
And as word has spread on social media, Christians from all over the U.S., Israel and other countries have flocked to Asbury University to see what God is doing and join Him.
Wayne Hilsden, a long-time friend and the founding pastor of King of Kings Community church in Jerusalem, is one of them.
He's at Asbury right now and is sharing videos on social media of what he's seeing and experiencing.
"I'm so blessed to experience more than eight hours straight of what some call an outpouring or awakening or renewal or revival at Asbury University," he tweeted this morning. "It's spreading fast and far and wide. Yeshua is beginning to answer our cries."
Amen!
I'm so blessed to experience more than 8 hours straight of what some call an outpouring or awakening or renewal or revival at Asbury University. It's spreading fast far and wide. Yeshua is beginning to answer our cries. #asburyrevival pic.twitter.com/OliPM31wRd

— Wayne Hilsden (@WayneHilsden) February 20, 2023
THIS WASN'T ENGINEERED BY MAN
The small community of Wilmore, Kentucky, has only 6,000 residents, yet more than 20,000 have arrived, and more are coming every day.
Having preached in Hughes Chapel on that campus, and having a number of friends on campus and in the town, I'm tracking events there very closely.
Wonderful revivals of God have happened there before – in 1905, in 1950, and most dramatically in 1970, at the dawn of the "Jesus Revolution."
But I'm especially excited about what I see happening there now.
Because it wasn't planned.
Because it wasn't engineered by man.
It's a genuine move of the Holy Spirit.
You can't tell students to engage in 24/7 non-stop prayer and worship for two weeks straight.
I mean, you can, but it won't actually happen unless God is doing a supernatural work.
Like many Evangelicals, I've been praying for decades for God to unleash another Great Awakening in our time.
In my non-fiction book in 2012, IMPLOSION: Can America Recover From Its Economic and Spiritual Challenges In Time, I wrote about how much danger America is in and how desperately we need revival.
And I spent several chapters describing the First Great Awakening in the U.S. in the mid-1700s, and the Second Great Awakening in the early- and mid-1800s, and then the "Jesus Revolution" in the 1970s when my parents and I all came to faith in Jesus Christ, as did tens of millions of others.
So, it's happened before – multiple times – and each time it saved America from certain ruin.
Can it happen again? Is the #AsburyRevival just the beginning?
Let's hope so.
Scenes from Asbury revivals 1970 & 2023. Methodists know how to revive! pic.twitter.com/j6Jus8Z8me

— Leah Payne (@drleahpayne) February 11, 2023
HOW DID THIS ALL GET STARTED?
If you're new to what's happening, let me dial the clock back and bring you up to speed.
It all began as a simple chapel service on the Asbury campus, in the Hughes chapel.
Students were studying the scriptures and worshipping God as they always do.
But this time, they didn't stop.
As we reported on ALL ISRAEL NEWS, no one wanted to go back to class.
They stayed all night, continuing to sing and pray and repent of their sins – and when morning came, they still wouldn't go back to their dorms.
Soon, parents, faculty and staff were joining the non-stop worship service.
Then, students from Christian colleges all over the country arrived.
And it's not just students – people of all ages have come.
Now, Wilmore has more than tripled in size.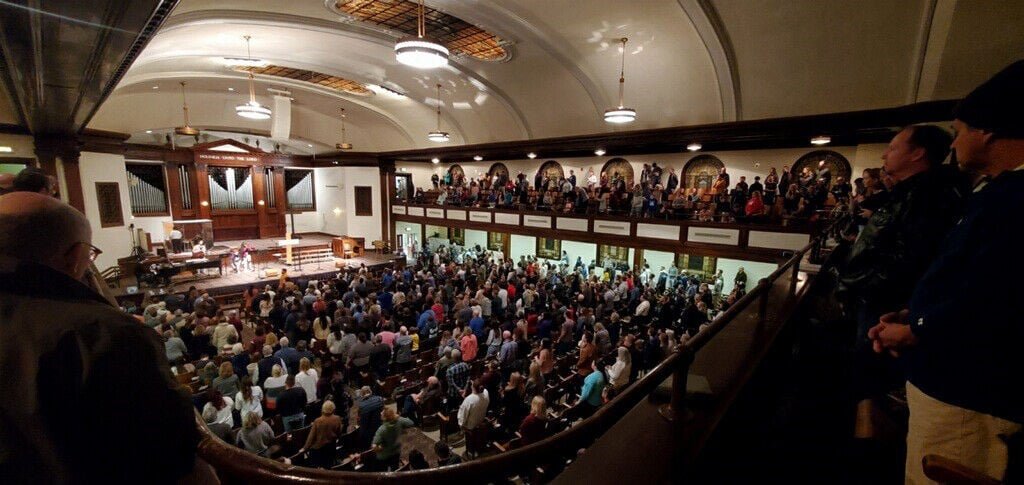 Revival at Asbury University (Photo: Greg Gordon/Twitter)
It's creating logistical challenges. There aren't enough toilets. Or parking. Or places to stay. Yet people keep coming.
School administrators are now moving the worship meetings off campus to larger facilities.
And the revival is making national headlines. 
The best on-site coverage I've seen has been by CBN NEWS correspondent Wendy Griffith.
An ALL ISRAEL NEWS guest column I loved put the revival in context with other intriguing events going on all over the U.S. right now.
Published on Feb. 15, the column was headlined, "Is A Revival Coming? From Super Bowl ads about Jesus to a major Hollywood movie about the 'Jesus Movement' to signs of revival in Kentucky, something exciting is stirring."
Kim Moeller, the San Diego director of the National Christian Foundation, wrote that Americans are both preaching Jesus and seeking Jesus in new and remarkable ways.
One example she cited: the $100 million campaign to run ads about Jesus during NFL games and the Super Bowl. The "He Gets Us" ads, she notes, have already racked up 6.5 billion impressions and are sparking conversations all over the country about who Jesus really is and what He really came to do.
Another example: A major new Hollywood movie released this weekend called, JESUS REVOLUTION, which just happens to tell the miraculous and deeply moving story of the most sweeping spiritual awakening in America in modern times.
Lynn and I got to watch a sneak preview here in Israel a few weeks ago and were blown away.
We absolutely loved the film and highly encourage you to go see it and take family and friends with you.
Another guest column ALL ISRAEL NEWS published on Feb. 16 is one that I also commend to your attention.
Written by my friend, Yale Kim, who is active in prayer ministries across the U.S., it was headlined, "EYEWITNESS REPORT: A spiritual revival is breaking out at Asbury University in Kentucky – could it spread across the country and the world?"
The details in his report were fascinating and encouraging, including the context he gave on past revivals at Asbury, and I commend it to your attention.
WHAT DOES BIBLE PROPHECY TELL US ABOUT SPIRITUAL REVIVALS?
So, where's all this leading?
The Bible tells us to expect the Holy Spirit to move mightily in the "last days."
In my favorite book of the Bible – the Book of Joel – God says, "Blow a trumpet in Zion, and sound an alarm on My holy mountain! Let all the inhabitants of the land tremble, for the day of the Lord is coming; surely it is near….'Yet even now,' declares the Lord, 'return to Me with all your heart, and with fasting, weeping and mourning; and rend your heart and not your garments.' Now return to the Lord your God, for He is gracious and compassionate, slow to anger, abounding in lovingkindness and relenting of evil….'It will come about after this that I will pour out My Spirit on all mankind; and your sons and daughters will prophesy, your old men will dream dreams, your young men will see visions. Even on the male and female servants I will pour out My Spirit in those days." (Joel 2:1, 12-13, 28-29)
Great Awakenings are already underway in Iran and Communist China.
Why not in America and Israel, as well?

Joel C. Rosenberg is the editor-in-chief of ALL ISRAEL NEWS and ALL ARAB NEWS and the President and CEO of Near East Media. A New York Times best-selling author, Middle East analyst, and Evangelical leader, he lives in Jerusalem with his wife and sons.
A message from All Israel News
Help us educate Christians on a daily basis about what is happening in Israel & the Middle East and why it matters.
For as little as $5, you can support ALL ISRAEL NEWS, a non-profit media organization that is supported by readers like you.
Donate to ALL ISRAEL NEWS
Current Top Stories
Comments