EYEWITNESS REPORT: A spiritual revival is breaking out at Asbury University in Kentucky – could it spread across the country and world?
Here is what I've been seeing in recent days and what I think it might mean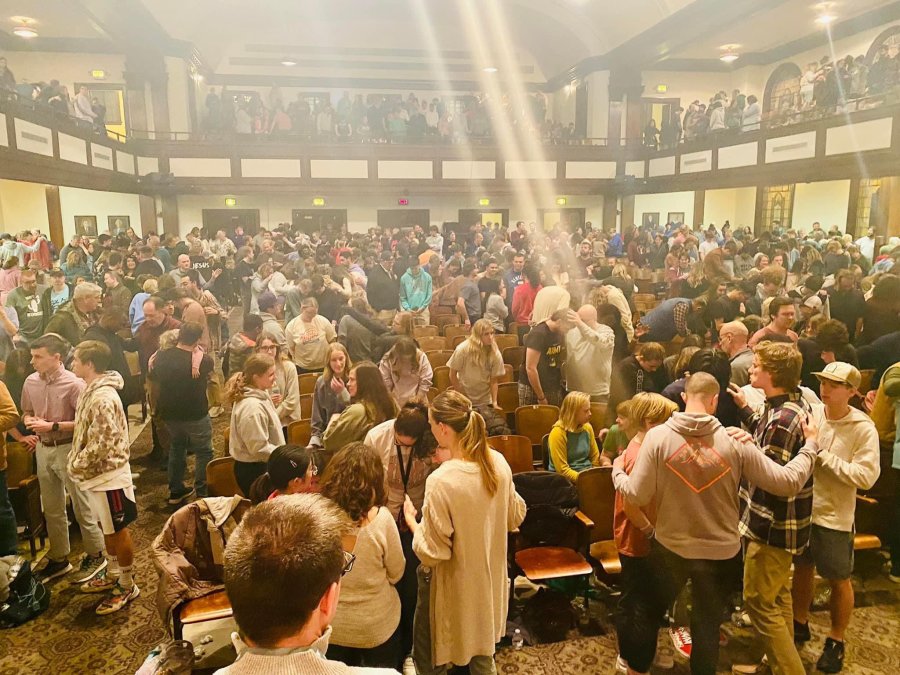 Revival at Asbury University (Photo: Leah Payne/Twitter)
WILMINGTON, KENTUCKY – Last week, on Wednesday, Feb. 8, the usual end to student chapel on the campus of Asbury University, a Christian school, didn't happen. 
Rather, the students refused to leave.
The prayer and worship meeting just kept going – and it's still going.
As Greg Haselhoff, the Associate Dean of Student Life and University Pastor texted me on Wednesday evening, "We closed the chapel at 11 this morning, and dozens of students stayed in the room, with a very palpable, manifest presence of God. An hour later they are still there."  
They kept praying and worshipping throughout the night.
In the wee hours of Thursday morning, they took a brief break at 3:30 AM and then returned to the chapel to keep communing with Christ.
Five days later, they were still going.  
On Sunday evening, a former student of Asbury University from West Virginia, Sarah Marshall posted this message on social media.  
"This was an invitation to experience Him and I accepted," she wrote. "I felt a relaxation and calmness like I have never experienced before. A stillness went throughout the chapel, and I couldn't help but be fully present and attuned to God's presence. There is holy ground alive at Asbury and God's spirit is there!! I have no words to describe the worship. Indescribable worship. He was there."
No one has dared to try to take over the meeting.  
There is a sense of the Divine and humility in the room.  
The beginning hours of this revival started with worship, repentance and prayer.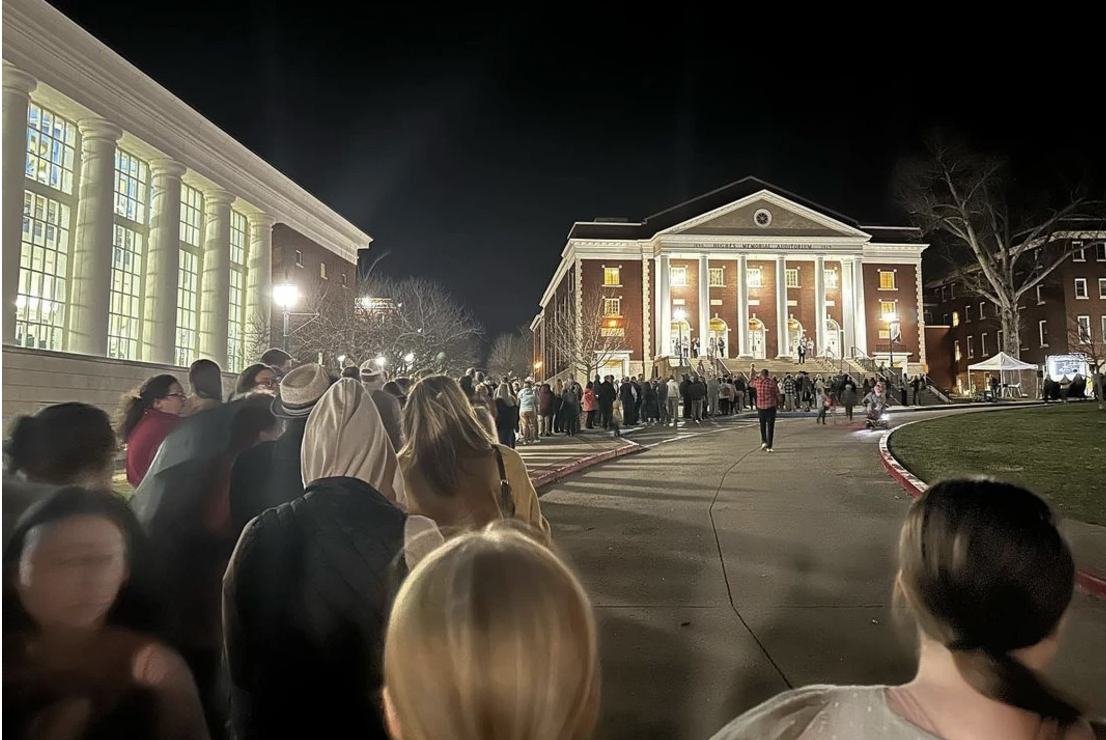 "Students are hungry for Jesus," Nick Hall writes on Instagram
STANDING ROOM ONLY
Hughes Auditorium has been packed, standing room only, and there is a sense of holiness in the room.  
Interestingly enough, the Auditorium has had on the wall above the stage the words "Holiness Unto the Lord."  
Zach Meerkrieb, a coach of one of the student teams, said, "Radical humility and the breaking of religious performance has created kindling for the fire to fall down and the students are experiencing the Love of God and the filling of the Spirit."
In attendance were Methodists, Presbyterians, Baptists, Anglicans, Pentecostals, Charismatics and non-denominational Christ followers.  
Mostly students filled the room, but sprinkled among them were faculty, staff and others of varying ages.  
Some said the presence of God is so present they do not want to leave. 
Students and professors alike continue to sit in Hughes Auditorium.  
Others have driven in from nearby states, attended the meetings and slept in their cars.  
Many students from other campuses are driving from distances to come to Hughes Auditorium.  
They are having to reserve areas for students, as an older demographic (non-students) are showing up.  
For months, years, even decades, this has been in the making.  
TWO PAST REVIVALS IN KENTUCKY BEGAN IN FEBRUARY
What's remarkable is that the last two great Asbury revivals started in the month of February.
And once again we see the beginning of another "wave of revival" on the campus of Asbury University, just as happened in 1950 and 1970.  
The truth is that many in the area who remember the 1970 revival are there because they have been praying for another "Divine Moment" like they have seen or heard.  
Scenes from Asbury revivals 1970 & 2023. Methodists know how to revive! pic.twitter.com/j6Jus8Z8me

— Leah Payne (@drleahpayne) February 11, 2023
According to Kyle Bixler, on Day Four those attending had grown so much that they were utilizing Hughes Auditorium (1,500), meanwhile Asbury Seminary across the street had opened both their Estes Chapel (650) and McKenna Chapel (350) which have all been full or near to capacity.
What's more, 250 people gathered on the lawn in front of Hughes Auditorium waiting to get in.  
Local churches may be asked to open up and consider serving as overflow facilities. 
"All because a few college kids decided to skip class and worship Jesus," says Bixler. 
Much like the 1970 revival – and the great prayer revival of 1857, where it spread throughout the settled United States of America and an estimated one million souls accepted Jesus – similar patterns are beginning today.  
CHRISTIAN STUDENTS ARE STREAMING IN FROM ALL OVER THE COUNTRY TO JOIN THE PRAYER MOVEMENT
According to Wellspring Prayer Center, a prayer ministry in nearby Lexington, on Day Four of the revival student groups from multiple campuses have attended.
These include students from Anderson University, Bethel University (Mishawaka), Campbellsville University, Eastern Kentucky University, Georgetown University, God's Bible School (Cincinnati), Indiana Wesleyan University, Kentucky Mountain Bible College, Lee University, Midway University, Mt. Vernon University, The Ohio Christian University, Olivet University, Oral Roberts University, Purdue, University, Southern Wesleyan University, Spring Arbor University, Taylor University, Trevecca Nazarene University, University of Kentucky, United (OH), and University of Cumberlands.
There are already reports that chapels at various Christian Colleges such as Lee University are being impacted.   
COULD THE REVIVAL SPREAD NATIONALLY, GLOBALLY?
The question is what will the impact of these gatherings be?
Daniel Lewis, a philanthropist at a for-profit company that invests profits into kingdom endeavors locally and globally states, "As an ordained, Anglican priest to the marketplace, and to the university, I'm seeing a perfect convergence of God's plans for renewal of hearts, clarity of calling, and encouragement to the next generation, to take the good news that we are stewards of into the entire world."
Lewis adds: "As a missiologist and a lifelong student of emerging leadership in each generation [I'm watching] Generation Z, who are now students in college. They have been ravaged by fear, distraction, virtual reality – institutional, societal, normative, traditional Biblical deconstruction – anxiety, apathy, entitlement."
"It is no surprise to me that God would infuse empowerment in a supernatural experience to encourage their hearts and emboldened their faith to take it to the marketplace, their neighborhoods, and their families," Lewis continues. "I am seeing a clear convergence of the business community, the faith community and the academy, working in unity to join God in this revival moment. God is inaugurating something new, perhaps a new wineskin to hold the Living Water of Jesus Christ and make it available to all those who are going to bed tonight without the hope of heaven, because they don't yet know Jesus."
Dr. Robert E. Coleman, author of The Master Plan of Evangelism – which since 1963 has sold over 3.5 million copies and been translated to 100 languages – admonished those in attendance to bring the good news of Jesus Christ into a lost and broken world.
A KEY INFLECTION POINT IS COMING UP
Coleman had been impacted by the 1950 revival at Asbury that interestingly enough began on February 23rd of that year.  
That will be the same date this year in which Hughes Auditorium at Asbury University will be the site of the 200-year anniversary of the Collegiate Day of Prayer (CDOP).
The CDOP prayer meeting – which will be simulcast on their website (www.collegiatedayofprayer.org) – started as a multi-denominational prayer movement that in 1823 was present in some form on every campus in America.  
Thai Lam of the Luke 18 Project and the CDOP says, "I am so undone as I hear all that God is doing in this moment at Asbury. And I am rejoicing over the thousands of students and visitors that are being forever marked by encounters with Jesus at Asbury over the past five days. But I am jealous for so much MORE….As I consider the 20 million students on 4,300 college campuses, my faith is stirred for more than a season of revival — I am yearning for a movement of spiritual awakening that would spread across our nation and beyond."
I am so excited to get to be at Asbury for Collegiate Day of Prayer.
But for all those that can't make it out to Wilmore, Kentucky, what then? 
What if believers across America – and around the world – upon hearing the testimonies of what's happening at Asbury were ignited with faith to fast and pray for that kind of spiritual breakthrough on their campuses and in their cities?
I believe that what we are witnessing at Asbury is just the beginning and that our Father has so much more in store!
The team planning the simulcast of the Collegiate Day of Prayer gathering at Asbury is slated to be in Hughes Auditorium.
At a meeting of the organizers (Thai Lam, Bob Bakke, Jay Anderson, Andrew Abel, and myself), we recognized the holiness of what is going on.  
The question remains about how to setup video and lighting equipment during this revival.  
The Asbury CDOP event organizers state, "we do not want to touch 'The Ark' incorrectly." 
David Smithers, the group's "In-House Revival Historian" has been encouraging the team by saying, "The problems come in when we begin to think and talk about revival as an 'it' rather than Him….We're no longer merely talking about a program or an event to be managed or handled. We're talking about how to properly respond to a visitation of Jesus. We must walk softly and not assume we know what to do about something we're not personally experiencing yet?" 
LESSONS FROM PAST REVIVALS
It is often said in the revival historian circles that it all starts with prayer.  
This is evidenced by details in the book by Wayne Atcheson, "The Asbury Revival: When God Used Students To Wake A Nation."
Atcheson is the Historian and Regional Director of the Billy Graham Library.
As he writes in his book, the key leader for the 1970 Asbury Revival was Jeannine Brabon, a daughter of missionaries from Colombia, South America.  
When she arrived at Asbury, "God just put it on my heart to pray for revival on this campus."  
The students used a prayer list of the entire student body, prayer cards, and an all-night prayer service.
Then, on Feb. 3, 1970, God's "Divine Moment" arrived that Tuesday morning.  
Students exhibited a hunger for God that caused them to pray and worship and abide in God's presence and they did not want to leave.  
The results of the 1970's revival at Asbury, were notable.  
Some 2,000 witness teams from Wilmore Kentucky went to at least 130 college campuses in the nation.  
Only God could count how many souls were swept into the Kingdom as a result.  
The effects of the 1970 revival are still felt presently.  
For the last two years, I've been meeting with those who were there or had heard of the 1970's revival and have been praying.  
Some are alumni, professors, students, but others were people in the marketplace, and they have been praying for this.  
It seems that God may be answering those prayers.  
I'm struck by something Wayne Atcheson told me.
"This Asbury Revival comes as no surprise because Asbury alums and even those who experienced the 1970 Revival have been praying for another divine intervention for years. This time, the social media has and will continue to spread this amazing movement of God, whereas students in 1970 got in long lines at telephone booths to spread the news to their parents and hometowns. Jesus has walked into Hughes Auditorium once again and tears of joy blesses our souls."
ALL ISRAEL NEWS is committed to fair and balanced coverage and analysis, and honored to publish a wide-range of opinions. That said, views expressed by guest columnists do not necessarily reflect the views of our management or staff.
Yale Kim is a laborer for Unity in the Church and Revival. He serves as the Chairman of The Prayer Council, on the Strategy Team of the Collegiate Day of Prayer, and serves as an advisor for various ministries including the upcoming Global Prayer for Ukraine gathering to be held on the Song Festival Grounds in Tallinn, Estonia on May 27, 2023.
A message from All Israel News
Help us educate Christians on a daily basis about what is happening in Israel & the Middle East and why it matters.
For as little as $5, you can support ALL ISRAEL NEWS, a non-profit media organization that is supported by readers like you.
Donate to ALL ISRAEL NEWS
Current Top Stories
Comments