Courting Arabs for the upcoming elections, Netanyahu met with protesters
Hundreds of demonstrators rally, accuse Netanyahu of trying to divide Arabs
Israeli police push protestors during a demonstration against Israeli Prime Minister Benjamin Netanyahu as he visits Nazareth, an Israeli-Arab city, on Jan. 13, 2021. (Photo: REUTERS/Ammar Awad)
As we dive into Israel's latest election season, Prime Minister Benjamin Netanyahu is pursuing two major strategies that he hopes will give him an edge: the rapid distribution of vaccines and the votes of Israeli Arabs.
But when he combined the two with a visit to a healthcare clinic to oversee vaccine distribution in Nazareth on Wednesday, he found it be an explosive cocktail.
The prime minister's visit was preempted by hundreds of demonstrators, including several Arab Knesset members, who gathered outside the clinic beforehand to protest the visit many with Palestinian flags. The protests turned violent and several people were arrested — including three Knesset members who are supposed to have immunity from arrest. Several protestors and police were injured.
Sondos Saleh, a Knesset member in the Joint List who was taken to the hospital during the violent outbreak,  said "Arab voters will not be the rescue vehicle of Netanyahu."
"We are protesting today against the entrance of Netanyahu, of right-wing parties, into Arab neighborhoods," Saleh said. "This (protest) is a joint voice that is loud and clear against Netanyahu's failed attempt to gather more votes in the upcoming elections."
Ahmad Tibi, head of the Ta'al party, called Netanyahu's visit "an attempt to make (Israeli Arabs) into useful idiots."
Many Arabs accuse Netanyahu of trying to buy their votes with the vaccine and, more sinister, of attempting to put a rift between the various Arab parties and mitigate their power. This is at least the second time in recent weeks that Netanyahu has visited a healthcare clinic in an Arab Israeli city during the vaccine rollout. He was present for the nation's millionth vaccine that was administered to an Arab man in Umm el-Fahm.
Ramy Sayegh, a political commentator on Arab affairs told i24 News, that Netanyahu's presence at vaccine clinics in these towns is pure propaganda and said he doesn't believe his tactics will work: Arabs know "we cannot split anymore."
"He is trying to take a few votes from here and from there, but you can't say he is going to win at this point because most of the Palestinian Israelis are aware at this point of Netanyahu's attempt and are aware that the Joint List is the only party that can be the first list and the last list that can manage their own issues," he said.
Joint List Knesset member, Aida Touma-Sliman, who was at the protest and got arrested share similar sentiments.
"Netanyahu, the greatest of inciters against the Arab community, the man who failed to manage the coronavirus crisis, has now shown up to Nazareth to gather Arab votes," she wrote on Twitter.
But merely stripping Arab votes from their existing parties could help him by weakening their ability to make deals in the next government that could make or break a coalition. 
Netanyahu is "the lead inciter against the Arab population. The words out of his mouth have led to hate and spilled blood," Joint List member Ofer Kasif — who is Jewish — said in a tweet. "The goal of today's visit in Nazareth wasn't to gather votes, it was to create a chasm in the Arab society, thereby weakening its political power."
To be sure, Netanyahu may be gaining Arab support. A few prominent Arab Israeli politicians have been cooperating with Likud, including Knesset Member Mansour Abbas, head of the Ra'am party, and Ali Salam, mayor of Nazareth, whom the prime minister is courting for the Likud party.
Abbas acknowledged that he was aware of Netanyahu's advances when he said: "It might be true that Netanyahu tries to exploit me, but I am also trying to exploit him. It's mutual." 
Abbas is walking a fine line of aligning himself with a more powerful political player while also risking alienating Arabs who view any cooperation with Jewish parties, especially right-wing ones, as a betrayal of their principals.
This tactic is also seemingly an about-face for Netanyahu who in 2015 used the fact that more Arabs were voting as a means to urge Likud voters to go to the polls and counteract the Arab vote. He said yesterday in his Nazareth appearance that his words from 2015 were misunderstood.
"They twisted my words," said Netanyahu. "My intention was not to protest against the fact of Arab citizens voting in elections," but rather "to protest against their voting for the Joint List party."
On March 17, 2015, in a video he released, Netanyahu said: "The rule of the right is in danger. Arab voters are moving in droves to the polling stations. Left-wing organizations are busing them in."
He struck a different tone on Wednesday, promoting the Pfizer vaccine for Arab citizens. 
"We are meeting here in Nazareth for the continuation of the 'Back to Life' vaccines operation. We are indeed getting back to life," Netanyahu said of his own 'warp speed campaign' of inoculation rollout. "We look at this operation as a global wonder and it is being done thanks to our medical teams."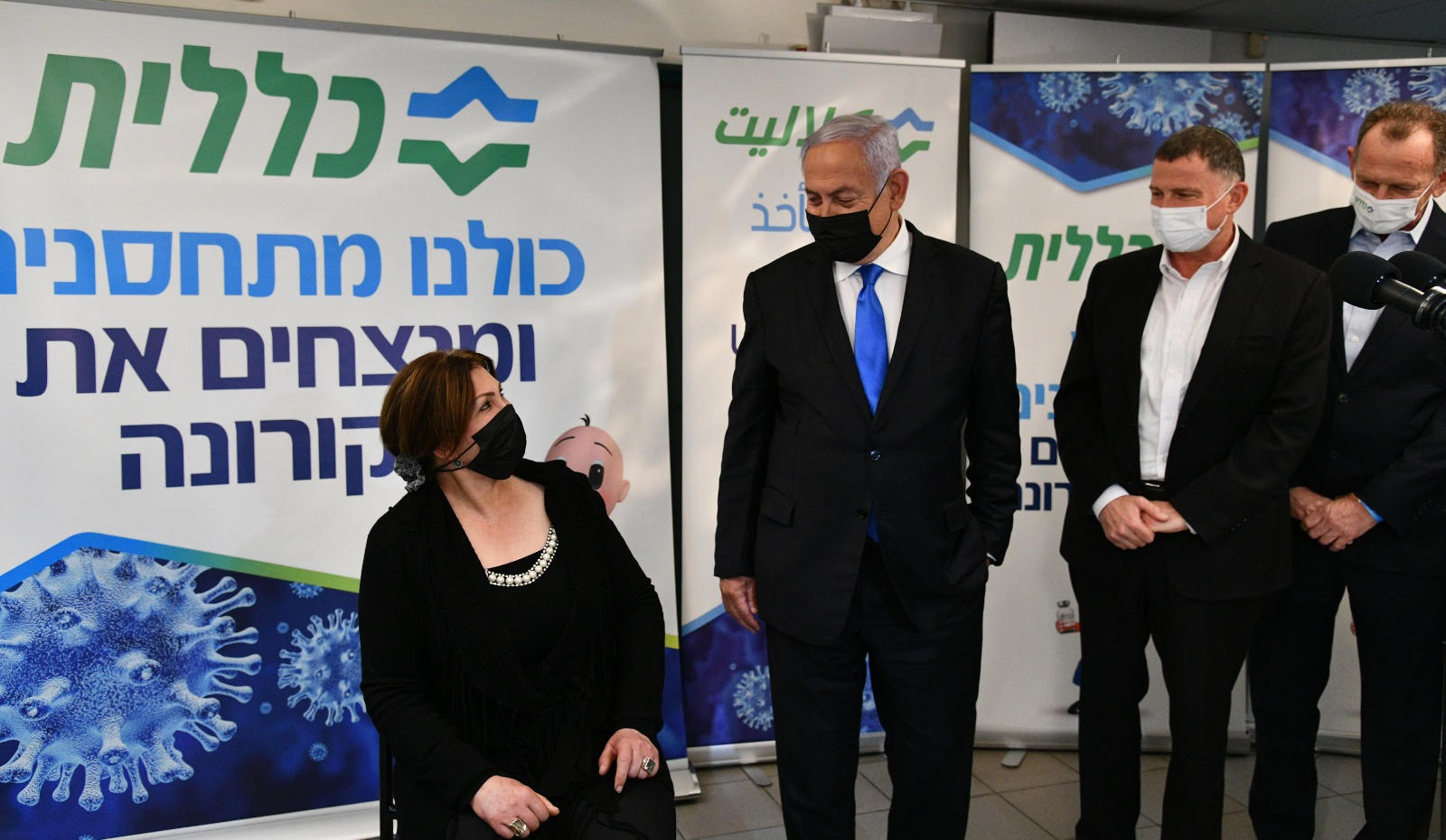 Prime Minister Benjamin Netanyahu and Health Minister Yuli Edelstein visit a healthcare clinic administering vaccines in Nazareth, an Arab Israeli city in the North on Jan. 13, 2021. (Photo: GPO)
He also declared a "new era" for Jewish and Arab relations in Israel, and promised to combat violence in Arab communities "very soon."
"If Jews and Arabs can dance together in the streets of Dubai, they can dance together here in Israel. A new era begins today, of prosperity, integration and security," he said.
His vaccine push may not win over the Arab population, which remains wary of the shot and is not turning up at clinics despite the nationwide push.
"I will not be vaccinated because I don't know what is in there. No one explained it to me," said Marouf Alyino of East Jerusalem. "Everyone is looking at Facebook and social media, where we hear about someone dying (after getting vaccinated)."
In fact, Israeli Jews were going to clinics in Arab towns for a vaccination since the lines were shorter.
But even if Netanyahu doesn't win any points on these matters, polls do point to trouble for the Joint List. In the last Knesset, the party received an unprecedented 15 seats putting them ahead of the ultra-Orthodox parties, Shas and United Torah Judaism and several secular parties. 
In the coming Knesset, however, they may lost as many as five seats according to recent polls. And the other parties in the Joint List are considering removing Abbas's party — a move that would net them even fewer seats. 
"I work regularly with a government and government institutions that — what can we say, it's rightwing. But there's a deep difference between demands without giving up your principles and between cooperating in exchange for selling your principles," Balad Knesset member Heba Yazbek told the Israeli newspaper Haaretz. "It's painful to see how after the enormous success we had in March, we're dropping to 10 seats. It's heartbreaking. I saw the way people went in large numbers to vote, with hope."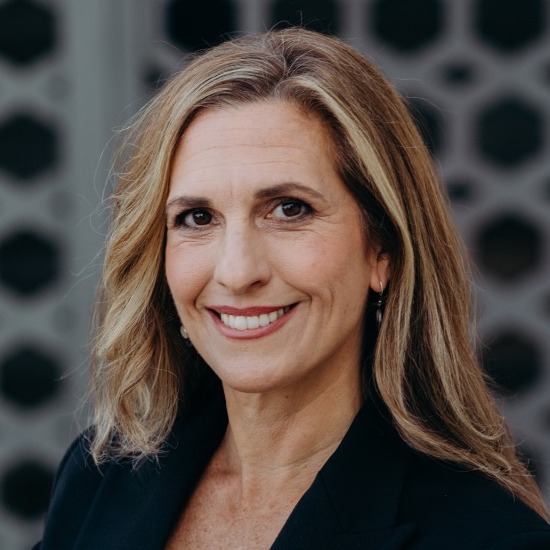 Nicole Jansezian is the news editor for both ALL ISRAEL NEWS and ALL ARAB NEWS and senior correspondent for ALL ISRAEL NEWS
A message from All Israel News
Help us educate Christians on a daily basis about what is happening in Israel & the Middle East and why it matters.
For as little as $5, you can support ALL ISRAEL NEWS, a non-profit media organization that is supported by readers like you.
Donate to ALL ISRAEL NEWS
Current Top Stories
Comments