1,200 Rockets in 48 hours – and counting – as cities around Israel teeter on the brink of civil war
Rocket attacks continue Wednesday night as do lynch attempts, violence, injuries in Arab-Jewish clashes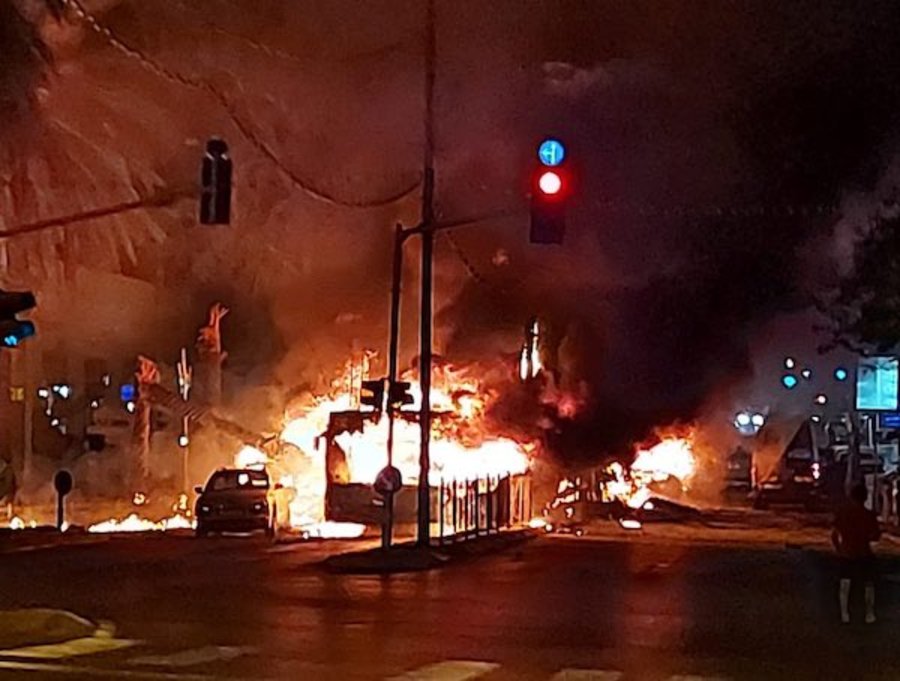 A bus on fire in central Israel after being hit by a rocket from Gaza, May 11, 2021 (Photo: IDF Twitter feed)
Hamas has launched 1,200 rockets in 48 hours from the Gaza Strip and shows little sign of letting up as we enter the third night of Israel under fire.
This as cities across Israel were burning from violent clashes between Jews and Arabs on Wednesday night creating a sense of anarchy with barely enough police protection to go around. A Jewish man in Akko was rushed to the hospital in critical condition after he was hit in the head with a rock. And an Arab driver in Bat Yam was pulled from his car and beaten by a Jewish mob chanting "death to Arabs." The man is in critical condition.
Meanwhile, Hamas and Islamic Jihad in Gaza renewed rocket attacks on southern Israel this evening. Three more people – including a 6-year-old in critical condition – were injured in a direct impact to a building in Sderot. The family was in their bomb shelter in their apartment building, but in a rare occurrence, shrapnel from the rocket pierced the wall of the room and injured the family, according to a report on Channel 12.
So far, six Israelis have been killed and Palestinians say that more than 40 Palestinian have been killed in Gaza and nearly 300 injured in a massive Israeli bombing campaign.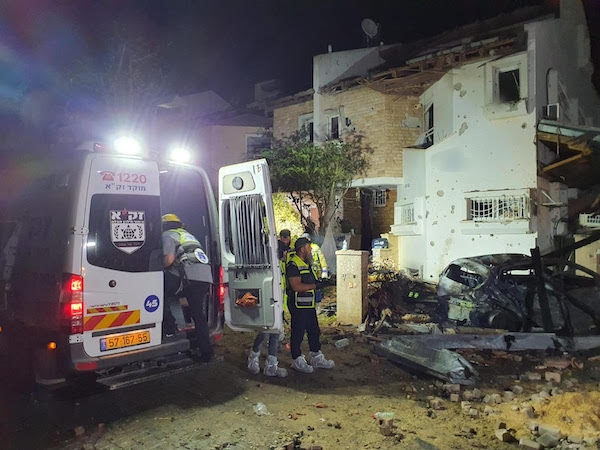 Scene of fatal missile hit in Rishon Letzion, May 11, 2021. (Photo: ZAKA)
Israel launched what it has termed Operation Guardian of the Walls, and Defense Minister Benny Gantz said today that all options are on the table – including a ground invasion. The operation could last at least a week.
"Israel is not preparing for a ceasefire. There is currently no end date for the operation. Only when we achieve complete quiet can we talk about calm," Gantz said while touring Ashkelon. "We will not listen to moral preaching from any organization or institution regarding our right and duty to protect the citizens of Israel."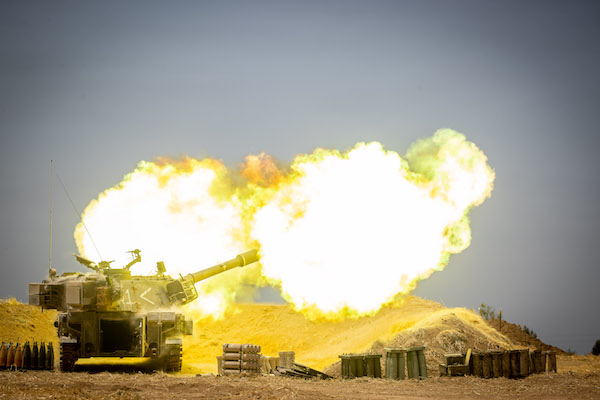 IDF Artillery Corps seen firing into Gaza, near the Israeli border with Gaza on May 12, 2021, following heavy rocket and missile barrage fired into Israel by militants in Gaza. (Photo: Yonatan Sindel/Flash90)
Throughout the day, the Israel Defense Forces carried out several "significant attacks," taking out senior Hamas commanders and infrastructure, Gantz said.
Prime Minister Benjamin Netanyahu spoke with U.S. Secretary of State Antony Blinken who reiterated Israel's right to defend itself, according to the Prime Minister's Media Advisor. The U.S. dispatched the deputy assistant secretary for Israeli-Palestinian affairs Hady Amr to the region to help deescalate tensions.
Yesterday four Israelis were killed including an Arab-Israeli girl, 16-year-old Nadine Awad, and her father Khalil, whose car was hit directly by a rocket near Lod. Nadine's mother was wounded. In Rishon Letzion, Leah Yom Tov was killed in her home from a rocket attack. Unclear was who died in a direct hit on an Ashkelon apartment where a woman and her aide, a foreign worker, were at the time.
This morning, an anti-tank missile launched from northern Gaza hit an Israeli army vehicle, killing one of the occupants, Staff Sgt. Omer Tabib, 21.
Meanwhile, Israel was also dealing with unrest in several Arab and mixed Jewish-Arab neighborhoods. After two days of Arab rioting and please for Arab leaders to call for calm, Wednesday saw Jewish residents instigating much of the fighting. Reports tonight were coming in that rioting in Bat Yam was led by Jews – far-right extremists belonging to a group called La Familia – who made their way to the city and vandalized Arab-owned stores.
This follows two days of rioting and violent clashes in Lod where Arab residents began protesting in support of Palestinians at al-Aqsa Mosque and then the rocket campaign instigated by Hamas in Gaza.
Netanyahu declared a state of emergency in Lod, which is near Tel Aviv, and sent in armed border guards to keep the peace. Two synagogues were burned to the ground and Jewish homes came under attack. The city is now under a curfew and police were quelling protests with stun grenades at press time.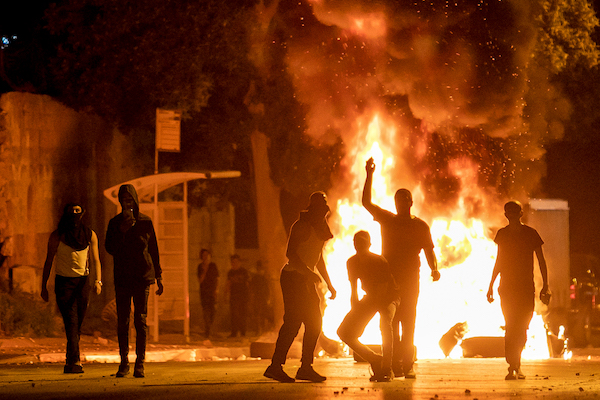 Police officers clash with protesters in Ramla during a protest over tensions in Jerusalem, May 10, 2021. (Photo: Yossi Aloni/Flash90)
"The sight of the pogrom in Lod and the disturbances across the country by an incited and bloodthirsty Arab mob, injuring people, damaging property and even attacking sacred Jewish spaces is unforgivable," President Reuven Rivlin said. "Tearing down the Israeli flag by Arab rioters and replacing it with the Palestinian flag is a brutal assault on shared existence in the State of Israel. This country belongs to us all, and more than anything we must be loyal to it and its laws."
The IDF reported this evening that Hamas accepted offers to begin ceasefire negotiations and Egyptian mediators were heading to both Israel and Gaza. United Arab Emirates Crown Prince Bin Zayed was also involved.
Tensions, since the beginning of Ramadan on April 13, have been ebbing and growing throughout the month with skirmishes outside Damascus Gate and a disputed property in Sheikh Jarrah in Jerusalem, all of which eventually boiled over in violent clashes on the Temple Mount, known to Muslims as Haram al-Sharif.
After three days of ongoing fighting in Jerusalem, the battlefront shifted to Gaza when the rocket fire began Monday night.
It has now spread to cities throughout the country with protests and fighting between Arab and Jewish citizens.
This is the last day of Ramadan, the Muslim holy month where observers fast from sunrise till sunset. A feast to break the fast, Eid il-Fitr, begins this evening and lasts several days.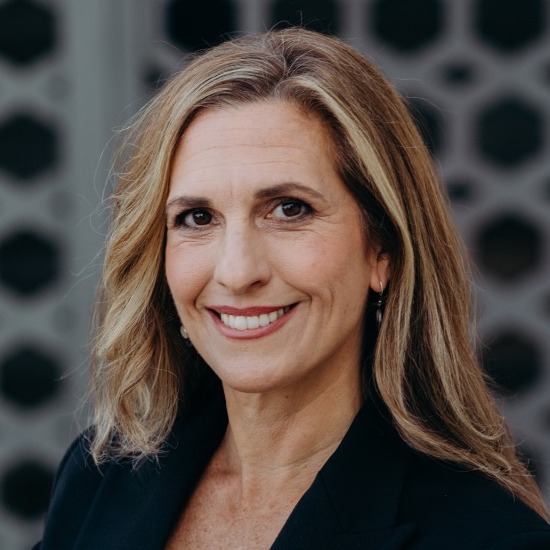 Nicole Jansezian was the news editor and senior correspondent for ALL ISRAEL NEWS.
A message from All Israel News
Help us educate Christians on a daily basis about what is happening in Israel & the Middle East and why it matters.
For as little as $5, you can support ALL ISRAEL NEWS, a non-profit media organization that is supported by readers like you.
Donate to ALL ISRAEL NEWS
Current Top Stories
Comments