With Israel's borders still closed, ICEJ 40th-anniversary Feast of Tabernacles goes online
The annual event normally brings some 4,500 Christians from overseas, $15 million to the economy - and a boost to Israeli morale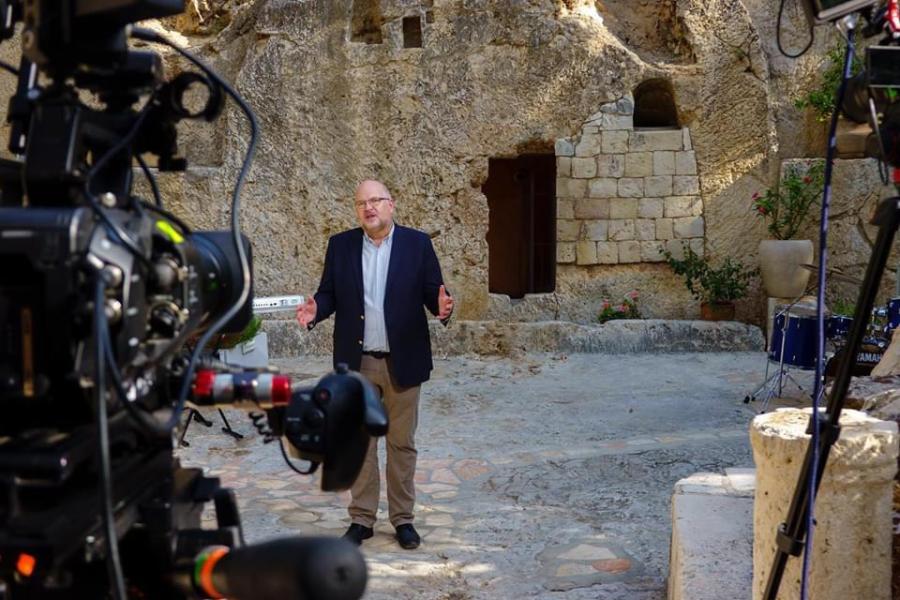 ICEJ President Jurgen Buhler films a session at the Garden Tomb for the upcoming Feast of Tabernacles which had to move online this year due to COVID closures in Israel. (Photo: ICEJ)
JERUSALEM — With Israel's borders closed to foreigners due to the COVID-19 epidemic since March, the International Christian Embassy Jerusalem (ICEJ) will be unable to host the Feast of Tabernacles conference live in Jerusalem for the first time in its 40-year history and will take it online instead.
This is significant for several reasons, but perhaps the most poignant being the palpable absence of thousands of pro-Israel internationals who pour into Jerusalem each year at this time. 
"The Feast of Tabernacles is very unique in that it's hard to find another global gathering of the Body of Christ year after year in such numbers over the past four decades," ICEJ Vice President and Senior International Spokesman David Parsons said. "It has been the call of scriptures that has brought the people up to Jerusalem, but it's quite a remarkable record to have people come each year."
Few could imagine that coronavirus closures would continue in Israel through the fall holidays and that the ICEJ would have to turn their annual event into an online format. 
"Our people are very faithful and they would've come if Israel would've let them in," Parsons told All Israel News. "There are people who are disappointed and they understand the situation. We are all facing this together."
Though numbers were nowhere near a final tally, the ICEJ was expecting "a record crowd," according to ICEJ President Jürgen Bühler, who is also on the advisory board of All Israel News. Germany, for example, already in May had more feast pilgrims registered than ever had before.
"But since people cannot come to celebrate Sukkot with us, we are bringing the Feast from Jerusalem right into their living rooms and churches," Bühler explained.
The "Global Feast package" — with both live and recorded sessions — will feature more content than ever before, Bühler said, and has the potential to reach participants who otherwise would not have been able to travel.
All Israel News Editor-in-Chief Joel Rosenberg will be one of the speakers along with Angus Buchan, Ann Graham Lotz, Bill Wilson, Enoch Adeboye, Rene Terra Nova, Young Hoon Lee and several other teachers and worship leaders from around the world and Israel.
The Feast of Tabernacles, or Sukkot ("booths" in Hebrew), is one of the three pilgrimage feasts in the Bible where God commands the children of Israel to break from their usual work and to worship in Jerusalem. They were also to live in booths during this seven-day festival. (Deut. 16:13-17)
Christians with the ICEJ Feast join the Jerusalem March in 2002, at the height of the armed Palestinian intifada, even though a suicide bomber had infiltrated the city to target the holiday parade at Sukkot. (Photo credit: ICEJ)
Since the first ICEJ Feast of Tabernacles celebration in 1980 — with an astonishing 1,000 guests — the annual event has grown to about 4,500 to 5,000 Christians who come from overseas ever year, joined by about 1,000 local believers. The arrival of these tourists has become almost as expected in Israel as the biblical feast of Sukkot itself and represents a tremendous boost to the Jewish state, both financially and emotionally. 
Parsons estimated the ICEJ Feast celebration pumps about $15 million into the Israeli economy between the hundreds of tour groups that need hotels, bus drivers and tour guides plus the arena for the actual event and all that this entails. 
No less important is the energy that the presence of these Christians delegations infuse into the country and the color they bring to the annual Jerusalem March, where national groups have always comprised a vast majority. The ICEJ's national delegations adamantly defied police warnings and carried on with the march one year despite credible threats that a suicide bomber had infiltrated the city and was targeting the event. 
"It was the most positive coverage we ever received from the mainstream media," Parsons said.
The solidarity of ICEJ attendees was put to the test already in its second year with the Lebanon War (Operation Peace for Galilee) which lasted through the summer of 1982. The ICEJ had only 50 to 100 registrations a month before the Feast. 
"Then, once they saw it was safe to come, we had over 5,000 christians from 100 nations," Parsons said. "(Then Prime Minister) Menachem Begin attended the Feast and was really buoyed. It was the first public embrace by Israeli officials of Christian Zionists in modern times."
"It was a big encouragement to Israel because they were being vilified by the media," Parsons continued. "This proved (Christian Zionists) were not fair weather friends, but that they would stand with Israel." 
During the Gulf War in 1991 and the first and second intifadas (Palestinian uprisings in the late 1980s and early 2000s) that saw spates of suicide bombings around the country, tourism flatlined. But attendance at the Feast continued to far outpace the general rate of tourism.
"This has happened over and over that people came anyway despite the dangers," Parsons said.
Recent Jewish immigrants arriving in Israel on an ICEJ-sponsored flight. (Photo credit: ICEJ)
Though this year has presented different challenges with COVID-19, the ICEJ rolled with them and is as busy as ever feeding hundreds through its support of soup kitchens, bringing aid to those confined to their homes and assisting in immigration efforts as well. 
"We have now funded aliyah flights for 1,475 Jewish immigrants since coronavirus travel bans began in February," Parsons said. "Including connecting flights, it means we have placed olim (immigrants) on some 100 flights this year. We have helped another 600 newcomers with pre- and post-flight assistance, including paying for two-week quarantines for about 350."
When the ICEJ was founded, theology surrounding Israel barely appeared on the radars of Evangelical Christianity.
"For the past 40 years, we have been witnessing up close God's faithfulness in gathering and restoring Israel, and in blessing and expanding our ministry as the ICEJ has stood steadfast with the Jewish state and people," Bühler said. "Today, the relationship between Evangelical believers and Israel has radically changed compared to when we were founded in September 1980, and we are humbled and thankful to God for using us to further this transformation."
The ICEJ was birthed out of its first public celebration of Sukkot in 1980 with a mandate to comfort Israel with support and friendship. With a main office in Jerusalem, the ICEJ now has established branch offices in more than 90 nations.
Click here for more information and to see the ICEJ Feast of Tabernacles packages.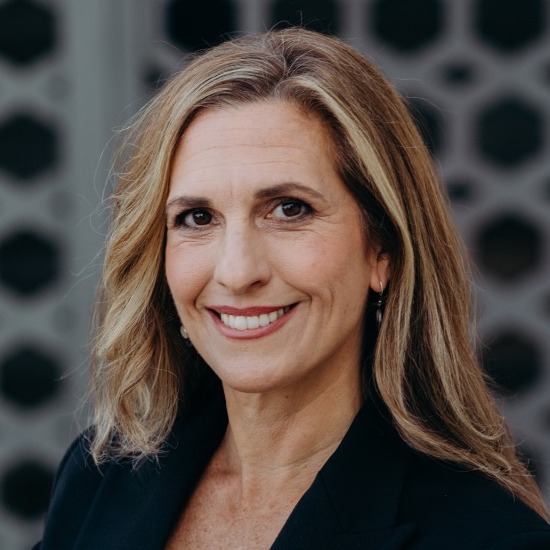 Nicole Jansezian was the news editor and senior correspondent for ALL ISRAEL NEWS.
A message from All Israel News
Help us educate Christians on a daily basis about what is happening in Israel & the Middle East and why it matters.
For as little as $5, you can support ALL ISRAEL NEWS, a non-profit media organization that is supported by readers like you.
Donate to ALL ISRAEL NEWS
Current Top Stories
Comments