With Israelis flocking to Dubai, ALL ISRAEL NEWS is here, too 
An exotic break from COVID, Israelis are excited to visit an Arab country — here's exactly how they are doing it
Israeli passengers checking in for the flight to Dubai at Ben Gurion International Airport (Photo: All Israel News Staff)
DUBAI — Greetings from the United Arab Emirates!
With so many Israelis flocking to the first Arab country to sign a peace deal with Israel in more than a quarter of a century, ALL ISRAEL NEWS decided to visit, too.
I arrived in Dubai, the commercial capital of the United Arab Emirates, this evening.
My flight was full, and Israelis told me they were excited to take a break from the COVID lockdowns to journey to an "exotic" and "previously forbidden" locale, even if only for a few days.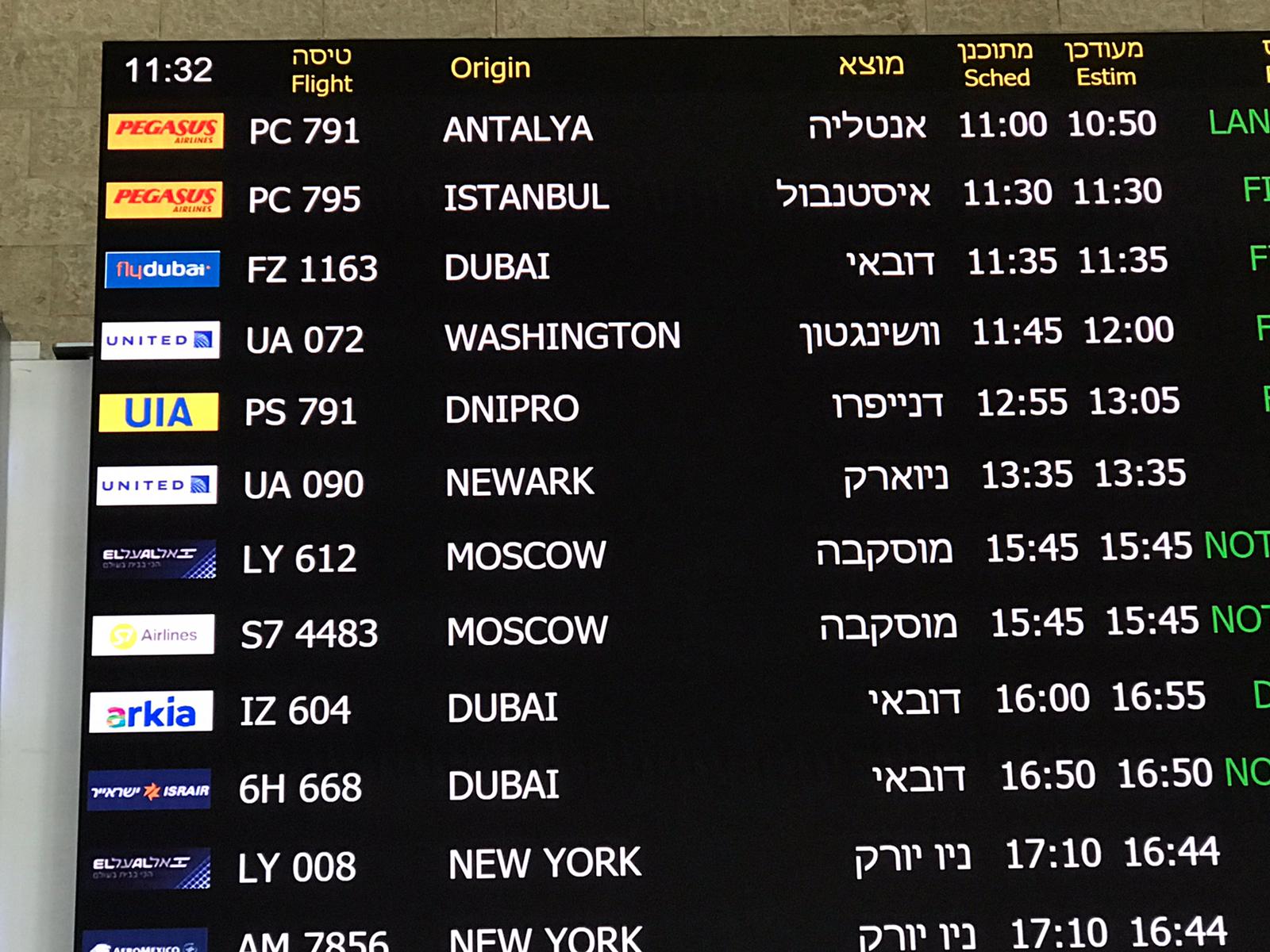 Over the course of the next few days, I'll provide our readers with lots of stories and snapshots of what life here is like. 
But let's start with the basics. If you're an Israeli eager to visit the UAE, what exactly should you do? How does it work?
Let me walk you through the process. 
First: Book your flight online or through a travel agent. 
Round trip fares can run between $350 and $550, depending on the carrier, dates and flying times. 

The first Emirati plane filled with Israeli tourists took off from Tel Aviv for Dubai on Nov. 26.

Now, FlyDubai, an Emirati airline, is running 14 flights a week between Dubai and Tel Aviv.

"The flights are all full," a FlyDubai employee told me. 

On Dec. 1, the first Israeli plane full of 170 Israeli tourists took off for Dubai. It also is running two flights a day. Israir is also running two flights a day.

Arkia, another Israeli carrier, began flights to Dubai on Dec. 3.

El Al, Israel's national airline, will being flights to Dubai on Dec. 9.

Second: Book your hotel in Dubai.
Right now, due to COVID restrictions, no one can visit Abu Dhabi, the UAE government capital, without special permission. 

Don't worry — there is plenty to see and do in Dubai.

Many hotels have special deals and reasonably priced packages to attract Israeli tourists. 

What's more, all Emirati hotels are now required to provide kosher menus for their guests.

Third: Schedule a COVID test — but not more than 72 hours before you fly. 
Various hospitals and clinics provide the test for a fee. 

I took mine at Ben-Gurion Airport, through a service called Check2Fly. You can schedule your test though an online app. 

Be sure to read all the requirements carefully.

Bring to the test the QR code connected with your appointment, your passport, your teudat zehut (national ID) and a printout of your itinerary and boarding pass.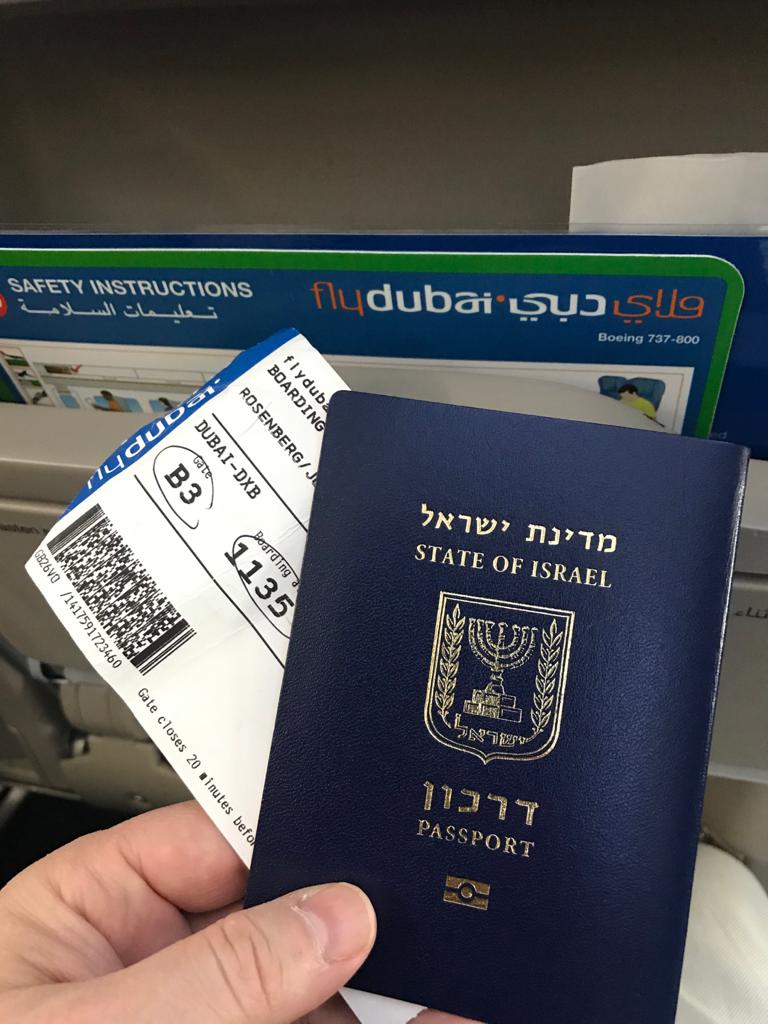 Fourth: Get your COVID test.
The test is easy and painless.

The whole process from arriving at the airport to departure was no more than 30 minutes for me. But for those who haven't scheduled an appointment, the wait may be longer. 

I was required to tilt my head back and open my mouth. A technician swabbed my throat. She also swabbed both of my nostrils. And that was it.

Fifth: Receive your COVID results.
You will get your results via email (also available online) in just a few hours. (Hopefully, you are "negative"!) 

Print this out. You'll need to show it at the airport.
Sixth: Check in.
On the day of your flight, go to Terminal One at Ben-Gurion Airport. 

Fill out a health declaration form online (using a QR code) then go to the check-in counter. That's where you will show your COVID test results. 

Proceed though security, then you'll take a shuttle back to Terminal Three where you will wait for your flight to board.
Seventh: Arrive in Dubai.
You will have filled out an arrival/health declaration form on the plane. Once you disembark, you take a shuttle bus to the terminal where you will hand in the document to an official who reviews it and your passport and then gives you a plastic bag with a vial and swab.

You take the bag to another station and a nurse swabs the inside of both nostrils.

Once that's done, you head to passport control. There's a special section for Israelis. You hand over your passport and they enter your information into the computer. The visa is free.

When that is done you can go to baggage claim and then leave the airport for your hotel.

Once you get to your hotel, you must stay there until you receive your COVID results by text message the following day.
Eighth: Have fun!
After you receive your (negative) COVID results, you are free to leave your hotel, go sightseeing and explore the city.

Joel C. Rosenberg is the editor-in-chief of ALL ISRAEL NEWS and ALL ARAB NEWS and the President and CEO of Near East Media. A New York Times best-selling author, Middle East analyst, and Evangelical leader, he lives in Jerusalem with his wife and sons.
Popular Articles
A message from All Israel News
Help us educate Christians on a daily basis about what is happening in Israel & the Middle East and why it matters.
For as little as $5, you can support ALL ISRAEL NEWS, a non-profit media organization that is supported by readers like you.
Donate to ALL ISRAEL NEWS
Latest Stories
Comments