With 5,000 tragic COVID deaths, it's time for Israeli leaders to call a National Day of Prayer based on 2 Chronicles 7:14
While US Evangelicals embrace this verse for America, it's really a promise to Israel in days of plague, famine and war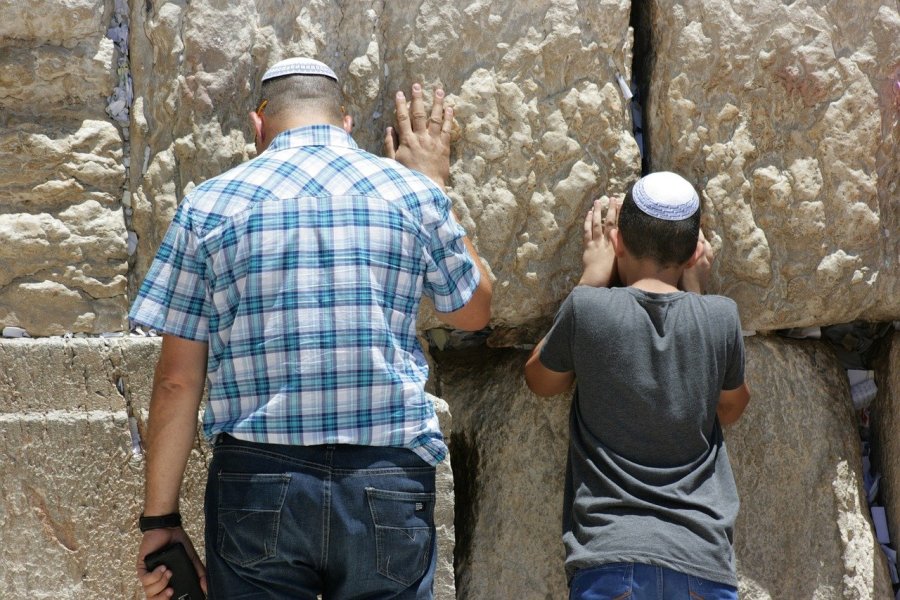 Prayer at the Western Wall in the Old City of Jerusalem
JERUSALEM – The nation of Israel is marking a terrible milestone this week.
More than 5,000 Israeli citizens have died in the past year due to the coronavirus.
Let us weep with those who are weeping, and pray for the Lord to comfort all those who have lost loved ones – and for the quick and full recovery of all Israelis who are still battling COVID-19.
Yet let us do more than mourn.
I humbly ask Israeli Prime Minister Benjamin Netanyahu, President Reuven Rivlin and the entire Knesset to publicly call for a National Day of Prayer, based on the promise of 2 Chronicles 7:14.
In this hopeful passage in the Tanakh (Hebrew scriptures), the Lord promises King Solomon and the nation of Israel that in times of war, famine, drought, deadly diseases and other national disasters, they can turn to Him in humble prayer and He will heal them physically and spiritually 
"If My people, who are called by My name, will humble themselves and pray and seek my face and turn from their wicked ways, then I will hear from heaven, and I will forgive their sin and will heal their land," says the Lord.
Is this promise not exactly what Israel needs today?
Remarkably, it is the Lord's response to a specific prayer of Solomon, found in the previous chapter.
The king of Israel was dedicating the newly-built first Holy Temple in Jerusalem, and doing so with prayer, worship, and many sacrifices.
The text tells us that Solomon was full of joy that the people of Israel are with him in worshipping the Lord. 
Yet he was also concerned that one day the people would drift from their love of the Lord and their obedience to the Word of God, and that the Lord would then send disasters upon the people to shake them and remind them to turn back to Him and the Holy Scriptures.
In 2 Chronicles chapter six – beginning in verse 24 – we read that Solomon knelt down and prayed:
"If Your people Israel are defeated before an enemy because they have sinned against You, and they return to You and praise Your name, and pray and plead before You in this house, then hear from heaven and forgive the sin of Your people Israel, and bring them back to the land which You have given to them and to their fathers."
Solomon continued: 
"When the heavens are shut up and there is no rain because they have sinned against You, and they pray toward this place and praise Your name, and turn from their sin when You afflict them, then hear in heaven and forgive the sin of Your servants and Your people Israel; indeed, teach them the good way in which they are to walk. And provide rain on Your land, which You have given to Your people as an inheritance. If there is a famine in the land, if there is a plague, if there is blight or mildew, if there is locust or grasshopper, if their enemies besiege them in the land of their cities, whatever plague or whatever sickness there is, whatever prayer or plea is made by anyone or by all Your people Israel, each knowing his own affliction and his own pain, and spreading his hands toward this house, then hear from heaven, Your dwelling place, and forgive, and render to each according to all his ways, whose heart You know—for You alone know the hearts of the sons of mankind—so that they may fear You, to walk in Your ways as long as they live in the land which You have given to our fathers."
In the beginning of chapter seven (verses 1 to 3), the Lord dramatically responds to the nation.
Now when Solomon had finished praying, fire came down from heaven and consumed the burnt offering and the sacrifices, and the glory of the Lord filled the house. And the priests could not enter the house of the Lord because the glory of the Lord filled the Lord's house. All the sons of Israel, seeing the fire come down and the glory of the Lord upon the house, bowed down on the pavement with their faces to the ground, and they worshiped and gave praise to the Lord, saying, "Certainly He is good, certainly His faithfulness is everlasting."
In verses 12 to 14, the Lord quietly, famously and mercifully speaks to the king in the night.
Then the Lord appeared to Solomon at night and said to him, "I have heard your prayer and have chosen this place for Myself as a house of sacrifice. If I shut up the heavens so that there is no rain, or if I command the locust to devour the land, or if I send a plague among My people, and My people who are called by My name humble themselves, and pray and seek My face, and turn from their wicked ways, then I will hear from heaven, and I will forgive their sin and will heal their land."
Millions of American Evangelicals turn to these Scriptures as they seek the Lord to send national revival and a Great Awakening to their country.
Yet to be clear: this verse is not a promise to America. 
It's actually a promise to Israel.  
True, 2 Chronicles 7:14 is based on a principle that stated in Jeremiah 18:8 for all nations. 
"If at any time I announce that a nation or kingdom is to be uprooted, torn down and destroyed, and if that nation I warned repents of its evil, then I will relent and not inflict on it the disaster I had planned," said the Lord. 
So, it is not wrong for Evangelicals to pray these verses for their own country.
That said, is it not time for Israeli leaders to call the nation of Israel to read these verses in the Hebrew scriptures and hold a National Day of Prayer?
Lockdowns haven't saved us.
The Lord of heaven and earth can.

Joel C. Rosenberg is the editor-in-chief of ALL ISRAEL NEWS and ALL ARAB NEWS and the President and CEO of Near East Media. A New York Times best-selling author, Middle East analyst, and Evangelical leader, he lives in Jerusalem with his wife and sons.
A message from All Israel News
Help us educate Christians on a daily basis about what is happening in Israel & the Middle East and why it matters.
For as little as $5, you can support ALL ISRAEL NEWS, a non-profit media organization that is supported by readers like you.
Donate to ALL ISRAEL NEWS
Current Top Stories
Comments