Why? What for? Thoughts from the funeral of two young women killed in a terror attack
Lucy Dee and her daughters Maya and Rina, who were all killed in a terror attack on Apr. 7, 2023 (Photo: Social Media)
Throughout the streets of Efrat, the Judean mountain town of about 12,000 in which I live, on Sunday afternoon, thousands of people stood silently in reverence and grief. To provide comfort. Praying. 
We had been asked to line the streets as the Dee family drove from their home in my neighborhood to the cemetery just a few miles away, to bury Maya (20) and Rina (15) who had been murdered in a terrorist attack two days earlier. Entire families stood silently, even with children too young to know why they were standing there.  
Among the thousands of people, there were handprinted signs showing love and support, along with numerous Israeli flags of all sizes. When tragedy strikes a family and community like this, particularly an incident as unspeakable and horrific as this, we all bleed blue and white and are united in solidarity. 
To get to the funeral a few miles from our home, we had to park the car a 30-minute walk from the cemetery. It's estimated that 10,000 people showed up to pay their last respects. Along the way, people in the neighborhood closest to the cemetery set tables with cups and cold water for thousands of complete strangers. Tragedy unites us. Sadly this was not the first time.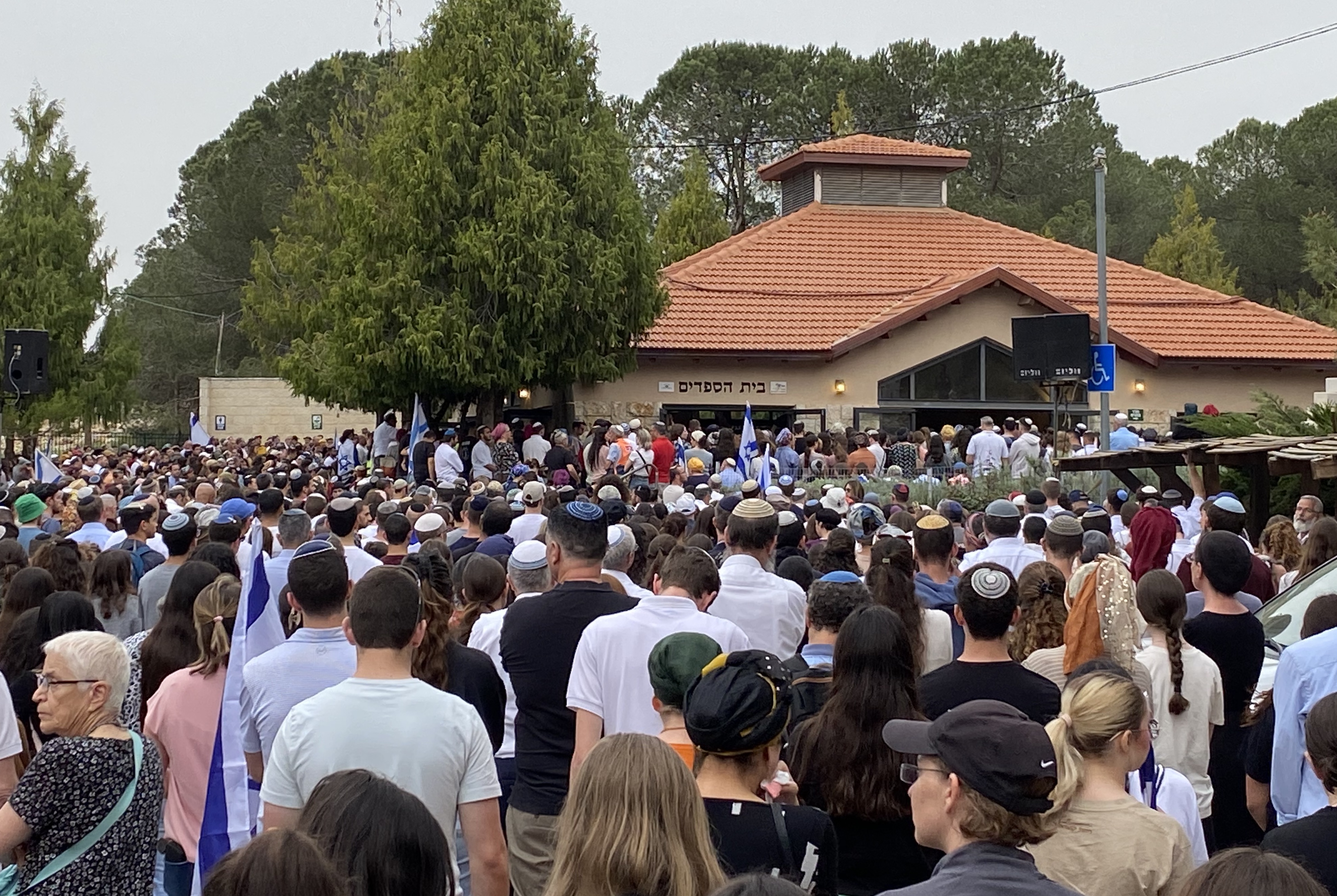 The funeral of Maya and Rina Dee (Photo: Jonathan Feldstein)
The funeral was like nothing I had ever experienced. Other families have been attacked and murdered. In 2011, five members of the Fogel family were butchered in their home: A mother, father and three children including an infant.  
This year, two sets of brothers were also murdered in two separate terrorist attacks.  
The funeral home in our community is made for one burial at a time. There's a stone slab on which the deceased's shroud-covered body is placed before burial. Our cemetery has never seen a double funeral of siblings, executed together, and then buried together. As their sisters' bodies were brought into the packed hall, a makeshift platform held one of the girls' bodies as their sisters embraced them and wept uncontrollably, one last time. 
I stood outside with my wife and children. Thousands of people surrounded the building itself, like a big hug of family, friends, loved ones and complete strangers. Speakers were set up to broadcast the prayers and eulogies in the parking lot.
Passover is a holiday to spend time with family at the Seder meal and during the week with outings together. It was at the outset of such a family outing that the Dee family was attacked. Passover for them will forever be marked by loss and grief. It was surreal that our family's outing for the day was the funeral of two young women from our neighborhood. If not but for the grace of God, it could have been us. 
Amid uncontrollable sobbing and wailing, the girls' father, Rabbi Leo Dee, found strength to speak meaningfully, trying to find in his daughters' murder a way for uniting all Israel.  His three surviving children also spoke lovingly, but gut wrenchingly.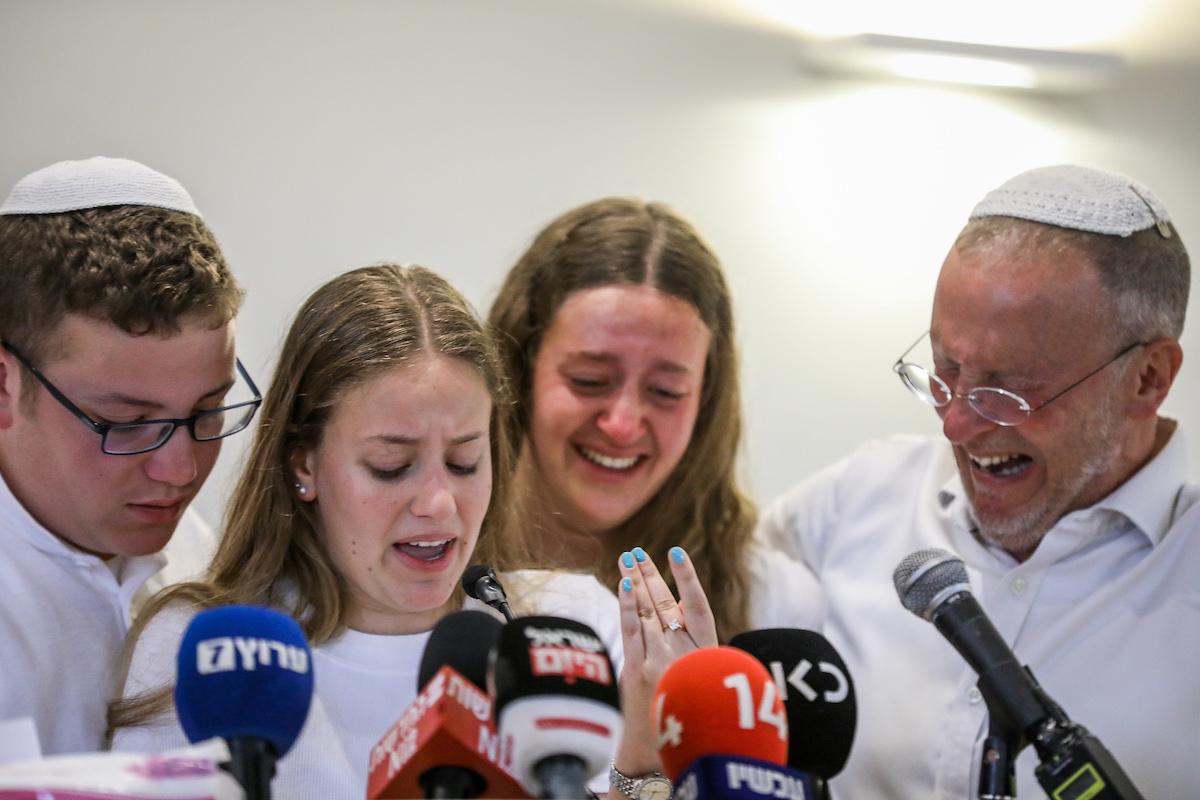 Family at the funeral of Maya and Rina Dee at the Gush Etzion Regional Cemetery in Kfar Etzion, Apr. 9, 2023. (Photo: Noam Revkin Fenton/Flash90)
One of the sisters wept as she said that their "sisters" WhatsApp group would now just be a private chat between the surviving two. Two of the siblings apologized that they were not able to protect their sisters, even wishing aloud that they would have taken the bullets for them. 
As much as it was all unthinkable, Rabbi Leo Dee asked how he would tell his wife Lucy that their two daughters were gone when she would wake up from her coma. Lucy was in critical condition, but they had faith she would survive. Sadly, less than 24 hours after her daughters were buried, Lucy succumbed to the wounds inflicted by the terrorists' execution, despite doctors doing everything possible to save her.  Now, it's unimaginable that the family will have another funeral. 
In Hebrew, the word "why" is "lama." That was the word on everyone's mind. Why?  One of the family members noted that "lama" is similar to "le ma," in English "What for?" The Dees and all of Israel are not just asking "Why?" but "What for?" as in 'What can come out of their murder,?' to find some comfort. It's superhuman even to think that, much less articulate it, and to do so as they were burying their loved ones. 
Some mistakenly confuse murders like this, by terrorists, as being political. They are not political; they are just evil. They are a product of a theology and ideology that sees Jewish presence in the Land of Israel as being illegitimate, hateful and something to destroy, whether in Jerusalem, Efrat, the Jordan Valley, Tel Aviv, or anywhere else. 
The day after Maya and Rina Dee were murdered, another Arab terrorist ran down pedestrians on Tel Aviv's beachfront promenade. The terrorist didn't care that he murdered an Italian tourist and injured several other tourists.  
I was interviewed by a Swedish media outlet after the funeral, during which I noted that we are attacked and murdered just for being Jews in the Land of Israel. I was asked if I was hopeful. I thought of the words of Israel's former Prime Minister Golda Meir, who famously said that we will only have peace when the Arabs love their children more than they hate ours. It's still the truth. Their children are raised and brainwashed to believe Jews are a foreign occupier with no legitimacy here. They are raised to celebrate our being murdered, and to honor the murderers. Evil. 
On the way home from the funeral, we drove past the sites where four other terror attacks took place, leaving eight murdered. In my own neighborhood, before driving past the Dee's house, I drove by the home of a friend whose son was murdered in a terror attack 15 years ago, around the corner from where a man lived who was murdered four years ago, and past a park in memory of a soldier from our community who died in service.  
We also gave a ride home to a neighbor who was the aunt of one of the three boys who were kidnapped and murdered in 2014, less than a mile from the cemetery we had just left. 
It's all very close to home. Too close. 
As the Dee family grieves, and extended circles of mourners including friends, classmates, neighbors, the community and Israel, in general, all struggle to understand "Why?" and "What for?" the Genesis 123 Foundation is offering the opportunity for people around the world to send messages of love, support and condolences to the Dee family, and to donate to a fund that will provide grief counseling for the extended community.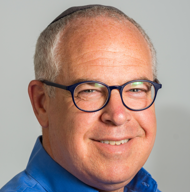 Jonathan Feldstein was born and educated in the U.S. and immigrated to Israel in 2004. He is married and the father of six. Throughout his life and career, he has become a respected bridge between Jews and Christians and serves as president of the Genesis 123 Foundation. He writes regularly on major Christian websites about Israel and shares experiences of living as an Orthodox Jew in Israel. He is host of the popular Inspiration from Zion podcast. He can be reached at firstpersonisrael@gmail.com.
A message from All Israel News
Help us educate Christians on a daily basis about what is happening in Israel & the Middle East and why it matters.
For as little as $5, you can support ALL ISRAEL NEWS, a non-profit media organization that is supported by readers like you.
Donate to ALL ISRAEL NEWS
Current Top Stories
Comments