JERUSALEM PRAYER BREAKFAST
Why is Ghana's president pro-Israel, running world's hottest economy and building a $350-million Bible Museum – a first in Africa?
Ghana's Finance Minister tells ALL ISRAEL NEWS the inside story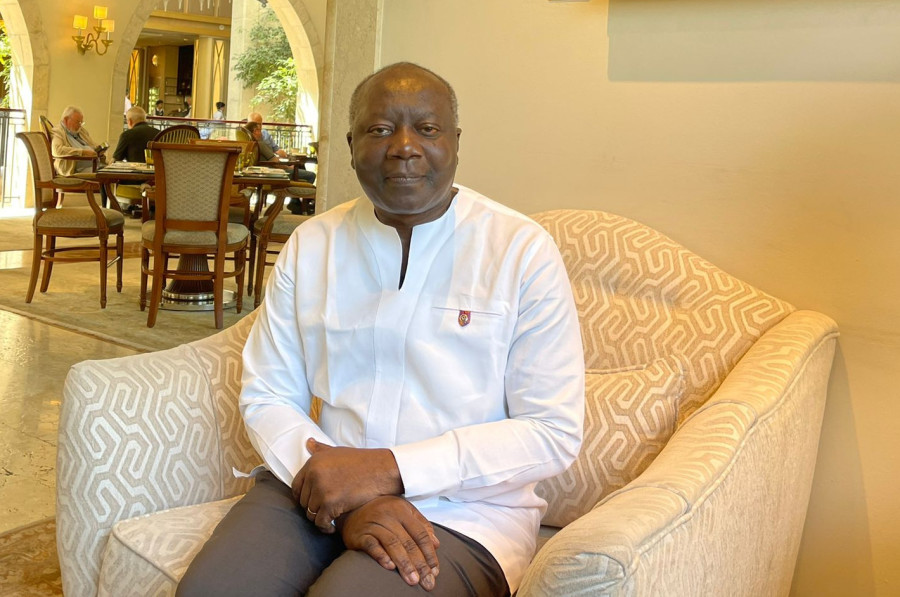 Ghana's Minister of Finance Ken Ofori-Atta in Jerusalem, June 2, 2022 (Photo: ALL ISRAEL NEWS)
JERUSALEM—Before COVID, Ghana had the world's fastest growing economy. Even during COVID, Ghana kept growing – modestly – while most global economies went into recession.
In the last two quarters of 2021, Ghana came roaring back, growing at upwards of 7%.
Why?
Yes, the country has oil and gold and is politically stable and democratic.
But Ghana's Minister of Finance Ken Ofori-Atta – an Evangelical Christian – sat down with me at the Jerusalem Prayer Breakfast last week and told ALL ISRAEL NEWS the real reasons for his country's extraordinary success.
WHY IS GHANA THE WORLD'S HOTTEST ECONOMY?
There are three reasons, he says.
The first is that Ghana's President Nana Addo Dankwa Akufo-Addo is an Evangelical Christian who loves Jesus and the Bible, and is committed to strengthening and expanding his people's God-given right to freedom, a good education and true economic opportunity.
The second reason, he says, is that more than 70% of the people of Ghana are Christians – they love Jesus, love the Bible, are people of prayer and are seeking God's favor on their nation.
The third reason, the minister told me, is that the government of Ghana is pro-Israel.
Theirs was the first country in Africa to recognize the State of Israel in 1958.
President Akufo-Addo, who came to power in 2017, wants to deepen his country's friendship and ties to Israel and the Jewish people.
He held the first-ever Jerusalem Prayer Breakfast in Accra – Ghana's capital – several years ago.
And he sent his finance minister to participate in last week's prayer breakfast in Jerusalem. 
BLESSING ISRAEL, GIVING GLORY TO GOD
What's more, the president and finance minister are hard at work building the country's first-ever national cathedral to give glory to God for blessing their nation and to inspire future generations to put God first in all that they do.
They are also building Africa's first-ever Museum of the Bible, a gorgeous facility connected to the cathedral, to inspire current and future generations to understand and embrace the power of God's Word to bless individuals, families and nations.
The project will cost some $350 million, all of which is being raised from private donors.
It's a fascinating vision, and one I want to learn more about and share with our readers.
The minister invited me to come to Ghana to meet the president and learn more about this extraordinary African leader and nation.
I can't wait to go.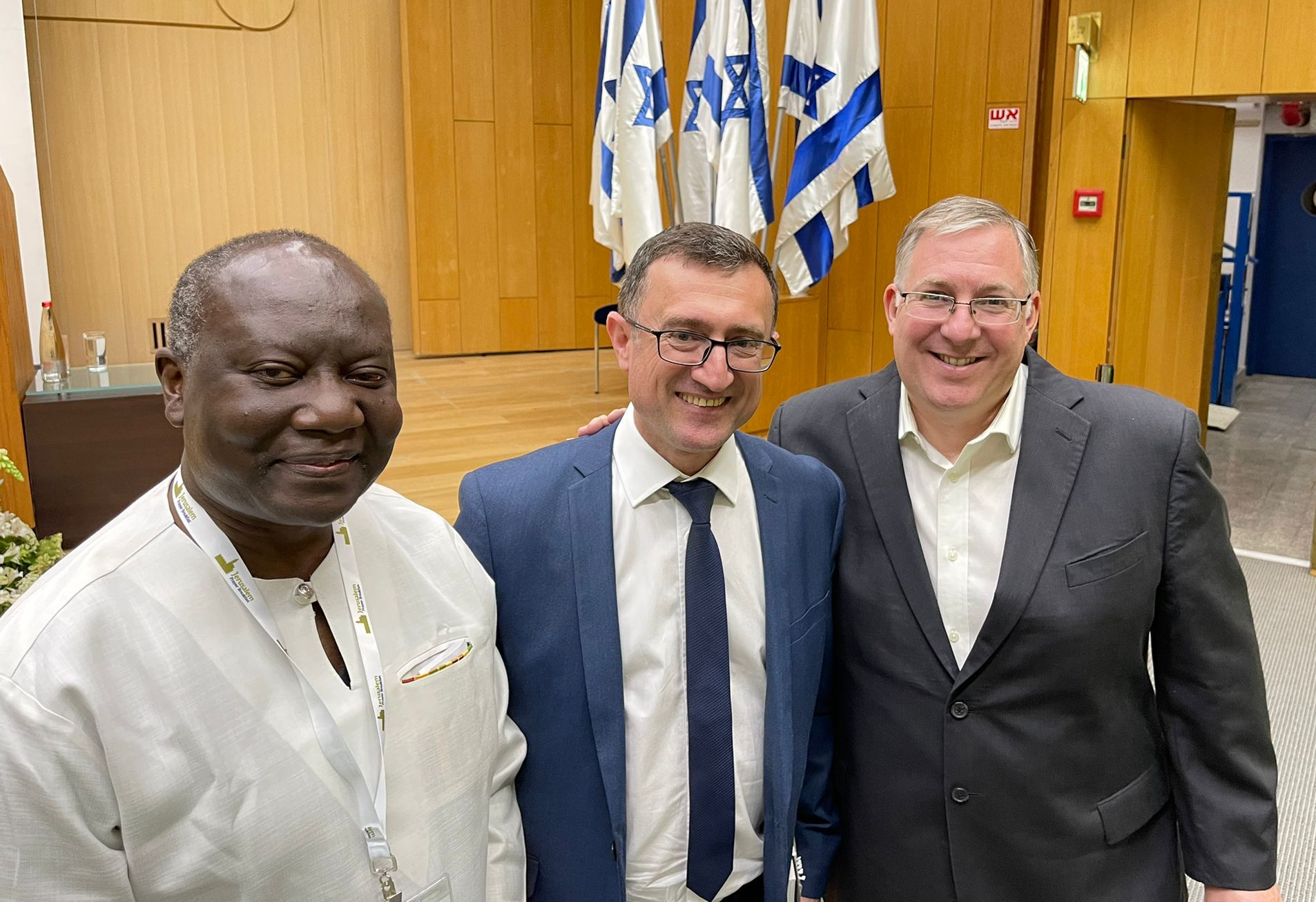 Ghana's Minister of Finance Ken Ofori-Atta attending the Jerusalem Prayer Breakfast with Joel C. Rosenberg, June 2, 2022 (Photo: ALL ISRAEL NEWS)
Here is part of the transcript of my conversation with the finance minister, lightly edited for clarity. 
JOEL ROSENBERG: Minister, what a joy to meet you. Let me ask you first, why did you come to the Jerusalem Prayer Breakfast – personally, as a Christian, and also as Ghana's Finance minister? And also, what is the relationship between Ghana and Israel historically?
FINANCE MINISTER OFORI-ATTA: Thank you very much for this opportunity. It's really great to be in this Holy City. I think what people need to know is that Ghana was the first country in Africa to recognize Israel – that happened in 1958. So, that has been the historical relationship.
ROSENBERG: And why did Ghana do that before any other African nation? Because that was a big move.
OFORI-ATTA: That was a big move for President [Kwame] Nkrumah, who, as you know, was one of the founding fathers of Ghana. 
Ghana has had a Christian population of 70% or 75% for a long time. It has been a real stronghold for Christianity in the West Africa zone. So, it was a natural disposition for us to want ties to Israel, the birthplace of Judaism and Christianity.
Ghana is a leader in many areas. 
Ghana triggered the whole political independence movement of the African continent.
Once we secured our independence in 1957 as a first free black African nation, then, you know, by 1962, about 28 other countries had also become independent.
ROSENBERG: Yes, I'd like to talk more about Ghana as a leader – and as a major Christian nation in Africa, which has a rapidly growing Christian population – because all this fascinates me. But let me ask you first – have you been to Israel before?
OFORI-ATTA: I have, several times. And we in Ghana also hosted the first Jerusalem Prayer Breakfast in Africa in 2018.
ROSENBERG: Yes – most people don't know that, but that is important.
OFORI-ATTA: So, yes, I have been here and when I look at where Ghana is going – and for me, personally, as Finance Minister, how I'm seeing our economic growth and development – I can't divorce our economic progress from the issue of manifest destiny and Ghana's embrace of Christianity.
I feel very strongly that Ghana is an ordained and anointed country leading to liberation, both on the political front, and the spiritual front. 
And that's where I bring in what I call the "Eternal Rate of Return."
So, it's exciting for me personally to be here in Israel, and I'm just looking forward to enhancing that bond between Ghana and Israel.
ROSENBERG: Why did you specifically want to host the Jerusalem Prayer Breakfast several years ago, the first in Africa?
OFORI-ATTA: It came from a deep conviction about the whole ethos of Christianity and salvation, the feeling strongly that our true transformation as a nation is to realize and follow the will of God. I believe that part of that is for our political leadership to stand with and link to Israel. 
As we look at [the Gospel According To] Matthew, you know, we need to seek first the kingdom of God and His righteousness, and all other things will be added to us.
We in Ghana began by seeking political emancipation as the cure for all our challenges. But to be able to sustain our liberation as an independent African country and continue to be blessed, we need to be connected to Israel. 
ROSENBERG: Do you believe that Ghana has been blessed in some specific way or series of ways because of its recognition of Israel and its close ties to Israel and the Jewish people?
OFORI-ATTA: Certainly. I think the link with Israel in 1958 was important as a seed that was sown. But we have then kind of moved away because of all the politics of it, and I think we have to reinstate it, to have closer ties with Israel now. 
But Ghana has truly been blessed because of our blessing to Israel. If you look at the past 60 years, we have avoided most of the wars, most of the diseases, that other countries in Africa have faced. We keep wondering, "What is it that makes this country different in the region?" You know, we haven't struggled with Ebola. We managed COVID better than anybody else. The sense of democracy is more enduring in Ghana than other places.
ROSENBERG: Right – aside from the COVID moment, which froze everything, your economy was roaring, especially when compared to other countries in Africa.
OFORI-ATTA: Everybody in the world contracted by, you know, 3% to 5% during COVID. We actually eked out a 0.4% growth in 2020. 
Then, in the last two quarters of last year, we had a 6.6% and 7% growth. 
[NOTE: Overall, Ghana's GDP grew in 2021 by 5.4%, well ahead of projections.]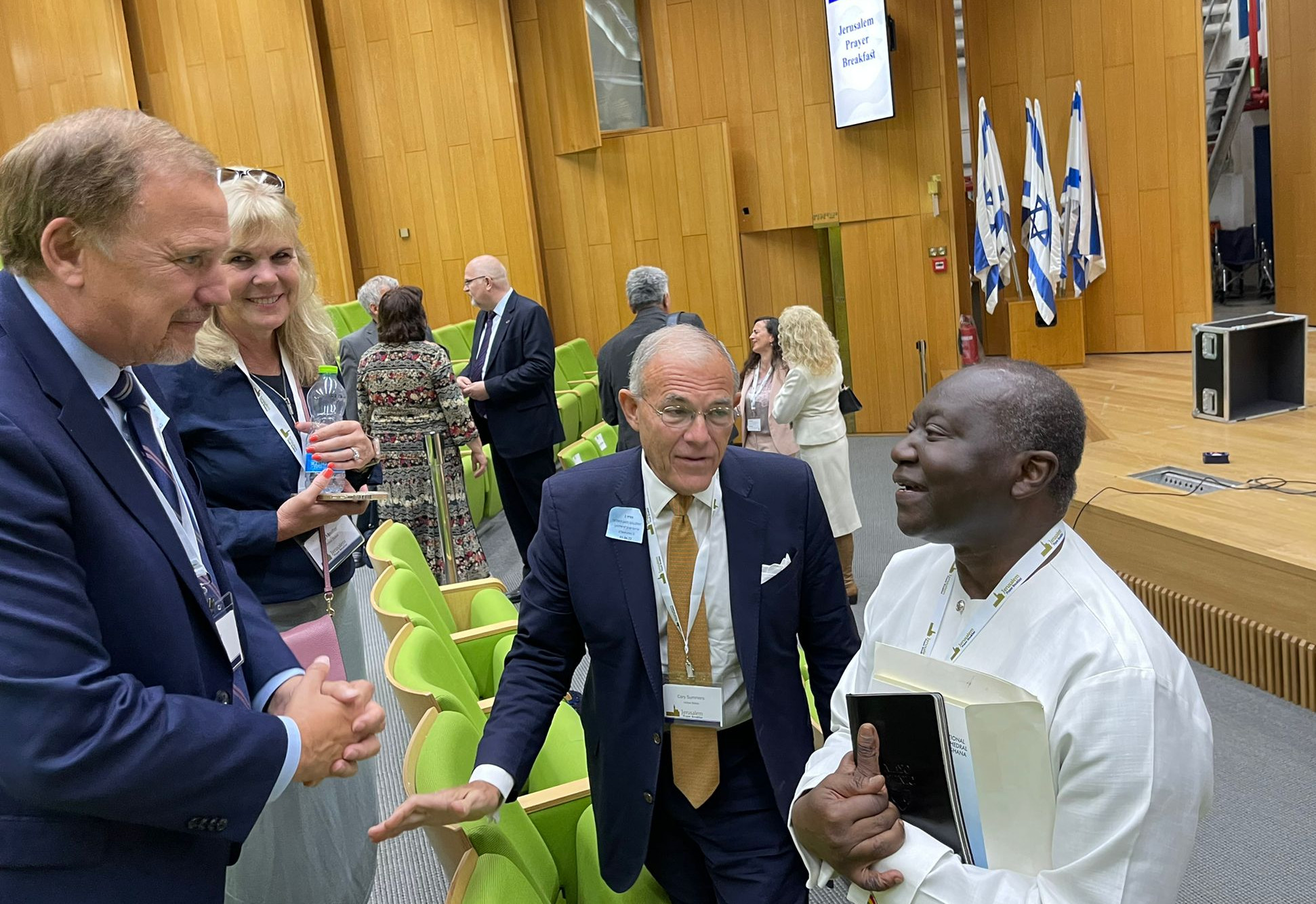 Ghana's Minister of Finance Ken Ofori-Atta attending the Jerusalem Prayer Breakfast with Evangelical leaders, June 2, 2022 (Photo: ALL ISRAEL NEWS)
ROSENBERG: Remarkable. 
Talk to me about your President [Nana Addo Dankwa Akufo-Addo] – his faith, his vision. And then I'd love for you to tell me specifically about this fascinating project, which I'm learning more about, this national cathedral that the president is building, along with the first Museum of the Bible on the African continent. 
This is intriguing. 
OFORI-ATTA: Well, the president comes from a very political family. Three of the founding fathers of our country come from his family. And he ran for president three times and on the third time, that's when he finally won [in December 2016]. 
It was very clear from the beginning that he wanted to strengthen the human capital of our people. Therefore, upon taking office [in 2017] he implemented the Free Senior High School initiative.
[NOTE: "In September 2017, the Ministry achieved a major milestone with the implementation of the Free Senior High School program," noted Ghana's Ministry of Education. "That year, there was an 11% increase in enrollment, breaking records from previous years. In the 2017/18 academic year, a new record was set with the highest enrollment ever seen in the country: over 470,000 students enrolled in senior high school."
He wants to make sure that social mobility is enhanced and people can discover their potential. He believes that enhancement of the human capital will continue to help our economic transformation. And I think we did very well, because we increased our annual GDP growth from 3.5% on average of 7%. 
But then he said, you know, the whole issue of spirituality and Christianity must be central to our nation.
If this growth and progress is going to be robust and sustainable – because we've gone through so many cycles over the years – then we have to acknowledge all that God has done for this country to bring us where we are. 
He strongly believes that we should have a memorial to God and therefore we conceived of a national cathedral and a Bible museum to really memorialize what God has done. 
And the president deeply believes that is what will anchor the country and make us an example for all the nations.
ROSENBERG: Will the Bible museum in Ghana have direct links to the Bible Museum in Washington, as well as to the Israeli Antiquities Authority? Will you all be working together. 
OFORI-ATTA: Yes. Absolutely. And Mr. Cary Summers, who built the Museum of the Bible in Washington is the consultant who is helping us to build our museum and turn it into reality. Three weeks ago, the President actually went to Washington and to meet with Steve Green, the founder of the Museum of the Bible in the U.S., and he gave a lecture and is creating that bond, that relationship.
It's really important to understand that there are more than 650 million Christians in Africa.
The number of Christians in Africa has really grown dramatically over the 200 years or so, beginning with the effort of Christian missionaries from Europe, that came in the 1800s.
African Christians may not be able to afford to come to Jerusalem immediately. 
But how do we create a center [cathedral/museum] that still supports the Christian ethos, that helps them link them more effectively with Israel and the Bible. 
I think it is that type of center that the president is envisioning – a place that tells the story of Bible translations, that really tells the history of Christianity and how Christianity provided hope for the slaves that went out from Africa, that captures this whole Christian ecosystem, and that helps people understand Africa's role in evangelism and the growth of the Church. 
ROSENBERG: That's so fascinating, especially because a good deal of activity in the Bible took place on the African continent. 
OFORI-ATTA: Africa actually is a player in the Bible – you know, Jesus going to Egypt, and Moses and the exodus, the Ethiopians, and all of that. 
ROSENBERG: Right, and the Ethiopian finance minister got saved in this country, Israel, when Philip the evangelist met with him on the road to Gaza and explained the Bible prophecies to him. So, we're all for African finance ministers coming to visit here and discovering the Bible, right? Yes.
OFORI-ATTA: Yes! I should put that quotation in my office. Yes, so it's really exciting – I think this trip here to Israel has been really affirming. Three weeks ago, as I mentioned, we were in Washington to promote the cathedral and museum. And now I'm here in Jerusalem because I truly believe that to anchor our transformation and growth we need to strengthen the link to Israel and our Christian heritage. 
ROSENBERG: Last questions – what is the time frame for the building and the grand opening of this cathedral, and how much will it cost?
OFORI-ATTA: We are targeting March 6, 2024, which is our Independence Day.
ROSENBERG: That's coming up fast.
OFORI-ATTA: Yes, and we have a lot of fundraising to do. We are in the process of raising $350 million. That's a lot. But, as the Bible says, "the Lord owns the cattle on a thousand hills."
ROSENBERG: Well, it's an exciting vision. I've been honored to spend time with you these last couple of days, Minister. And I really appreciate you doing an interview for ALL ISRAEL NEWS. Thank you.
OFORI-ATTA: We look forward to having you visit us in Ghana.
ROSENBERG: I would love that. Thank you.

Joel C. Rosenberg is the editor-in-chief of ALL ISRAEL NEWS and ALL ARAB NEWS and the President and CEO of Near East Media. A New York Times best-selling author, Middle East analyst, and Evangelical leader, he lives in Jerusalem with his wife and sons.
A message from All Israel News
Help us educate Christians on a daily basis about what is happening in Israel & the Middle East and why it matters.
For as little as $5, you can support ALL ISRAEL NEWS, a non-profit media organization that is supported by readers like you.
Donate to ALL ISRAEL NEWS
Current Top Stories
Comments