Why government officials are not being welcomed at remembrance events for Israeli fallen soldiers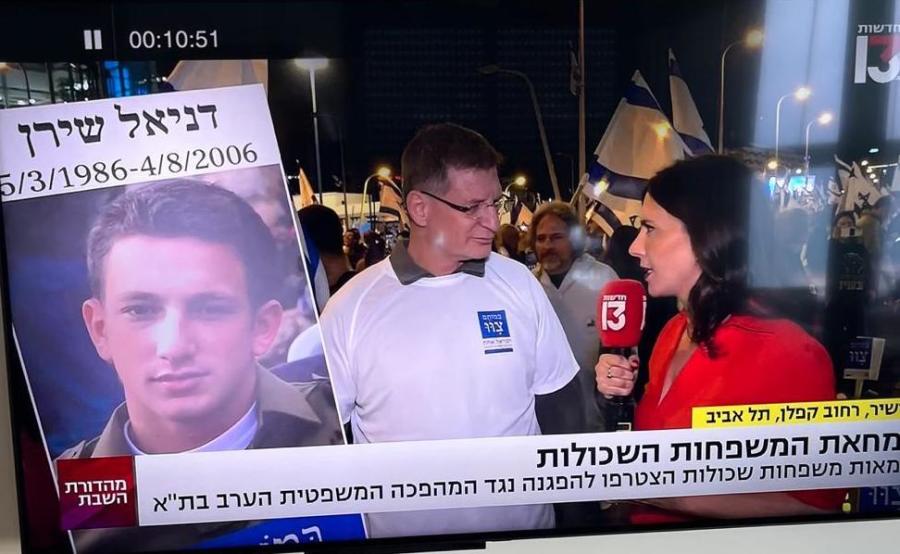 Dr. Avinoam Shiran in an interview with Israeli Channel 13 news, Apr. 22, 2023 (Photo: Screenshot)
It was one of the most heartbreaking stories I have ever heard. Just last night on the evening news, Dr. Avinoam Shiran, one of at least 150,000 protestors who gathered in Tel Aviv and elsewhere, was interviewed by a reporter. What made his account so sadly different was connected to the large picture he was carrying.  
As he held up a large poster of his soldier son, Daniel, who was killed in the line of duty in 2006, Dr. Shiran explained how, especially now, just days before the annual ceremony dedicated to the memory of the fallen soldiers who gave their lives for this country, their families are still being maligned for not supporting the present government.
"We have been called traitors and anarchists. As a doctor, they even wanted to fire us. We are deeply concerned over the fact that on Yom HaZikaron (Remembrance Day) those same politicians [who called us those things] want to come and give a speech and speak about unity. We're just not okay with that," Shiran said.
So many others in similar situations like Shiran feel that this year's commemoration is stained by politics. Some families have expressed their deep regret that they will not be taking part in the ceremonies, due to the present situation. Others are disgusted and repelled by the plan to send government ministers, who have never even served in the military, to speak at different locations, feeling that this is disrespectful and does not honor the fallen. 
The Be'er Tuvia moshav community, some 20 minutes away from the port city of Ashdod, has decided to lock their gates, denying entrance to government speakers or politicians who hoped to attend their event.  
The rift is so deep that Israel Defense Forces Chief of Staff Herzi Halevi felt the need to speak these words: "Remembrance Day establishes a deep connection between each individual and the nation. This year, precisely in the shadow of tensions, we must focus on our own personal memories and wrap ourselves in their humanity. Remembrance Day obliges us to come together and focus on the things that connect us. We must respect the cemeteries and ensure they do not turn into places of dispute."
It's no wonder that tensions are so high and many citizens feel disregarded and disrespected as they are referred to as not only being disloyal, but being terrorists. Even the prime minister's own son, Yair, labeled protesters as terrorists, in a post he was later forced to take down, stating: "These are not protesters. They are not anarchists either. They are terrorists! A violent underground movement has sprung up here (with billions in funding from criminals and evil people.) We're talking about domestic terrorism."
Although that statement was made in March, he likely wasn't thinking that Remembrance Day of the Fallen Soldiers was just one short month away. He didn't consider that the families of those soldiers would look back and remember how he had described them after they'd paid the greatest price of all. Because they are the ones who lost a beloved family member. Those soldiers loved their country enough to give up their lives in order to protect its citizens.
And this is the problem. Israel has been so much more than a country. It has been one very large family – indeed, one which doesn't always see eye to eye, one in which there is a good deal of in-fighting, but one which, nonetheless, has always come together during a time of war, in order to defeat the enemy and survive, as a people, united in the dream of a Jewish homeland, spoken about by our prophets. 
Suddenly, for the first time in its 75-year existence, that dream has been fractured by political aspirations which seek to turn a deaf ear to the vast majority of Israeli citizens who are not ultra-Orthodox. Instead they are more pluralistic, tolerant and multi-opinioned when it comes to allowing for diversity and a wide range of viewpoints in their country, one that has become a mecca of cultural, technological, medical, financial and democratic hub of development, blossoming into an enviable model for other, relatively young, countries to follow.  
We were on track to fulfilling our destiny of blessing the nations in so many ways until the government stalled the plan and literally put a halt to the tremendous years of progress which had painstakingly been made.
Now, we are in a freeze frame, unable to move forward because the proposed reforms hang over the country like the sword of Damocles, threatening to fundamentally change the character of the one, true democracy in the Middle East into something unrecognizable.
It is untenable to look upon the parents, brothers, sisters and children, who lost a loved one while serving their country patriotically and, at the same time, fail to understand that those bereaved family members deserve the utmost respect and honor as they visit the gravesites of young men and women who should have had the same blessing of living a full and productive life but who now lay to rest.  
It is untenable to refer to protesting citizens as anarchists, terrorists and disloyal members of society, simply because they are unwilling to live in a country whose government is choosing to protect the weakest among us in order to assure that they, too, have rights which are not trampled just because they are not Orthodox.  
Somehow, someway, we must be able to get back to a society which sees itself as connected parts of one another, with a common ethos and a common destiny, and what better time than an event which marks the ultimate sacrifice that was made for each one of us – Remembrance Day of the Fallen Soldiers.
Don't we owe it to those very same individuals, who paid a steep price for each one of us, knowing that they gave their lives so we would be able to live in peace, unity and harmony because, as they saw it, the enemy was always to be found beyond our gates and not from within?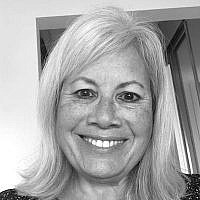 A former Jerusalem elementary and middle-school principal and the granddaughter of European Jews who arrived in the US before the Holocaust. Making Aliyah in 1993, she is retired and now lives in the center of the country with her husband.
A message from All Israel News
Help us educate Christians on a daily basis about what is happening in Israel & the Middle East and why it matters.
For as little as $5, you can support ALL ISRAEL NEWS, a non-profit media organization that is supported by readers like you.
Donate to ALL ISRAEL NEWS
Current Top Stories
Comments