Why did Biden wait a week before ordering the military to shoot down a Chinese spy balloon traversing US airspace?
Maybe The Babylon Bee had the best answer
A jet flies by a suspected Chinese spy balloon as it floats off the coast of Surfside Beach, South Carolina, Feb. 4, 2023. (Photo: REUTERS/Randall Hill)
JERUSALEM—It was a bizarre story.
A Chinese spy balloon drifts into American airspace via Canada.
Hovers over top secret U.S. nuclear missile sites in Montana.
And is allowed to traverse the entire United States for an entire week, presumably gathering intelligence every mile along the way.
Only then is it shot down by a U.S. Air Force F-22 fighter jet over the Atlantic Ocean.
Why in the world did President Joe Biden let a Chinese spy asset enter the U.S. in the first place?
Why didn't Biden order the American military to shoot it down sooner?
Doesn't Biden and his national security team understand that the weaker Biden looks, the more brazen Beijing is becoming?
No American media outlet covered the story better than the The Babylon Bee, the brilliant and often hilarious satirical website.
"Biden Says He'll Shoot Down Chinese Spy Balloon As Soon As He's Done Letting It Spy," read their Friday headline, garnering 1.3 million views.
"Americans are up in arms after a Chinese high-altitude spy balloon was seen hovering over sensitive nuclear sites in Montana," the Bee's "fake news you can trust" site reported. "Biden was quick to quell fears, vowing to shoot down the hostile balloon as soon as he's done letting it spy."
"Listen folks, that balloon came a long way to do a little spyin'," said Biden in a meeting with military leaders. "Would be a shame to shoot the poor thing down before it even gets a chance to take some pictures! I remember when me and the boys used to spy on Suzie Anne McGillicutty through her bedroom window after a long day of protesting the civil rights movement. It's all in good fun, folks!"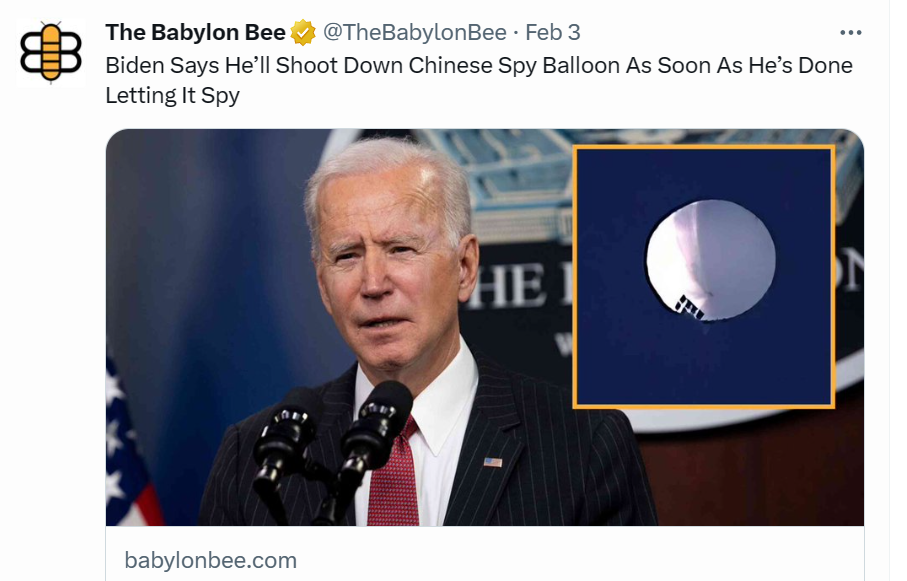 "Biden Announces U.S. Surrender To Chinese Balloon," read their headline on Saturday morning, this time garnering 2.3 million views.
"Listen, folks, it's over," said Biden as a single tear ran down his face, according to the Bee satirical story. "We're outgunned here. There's no hope that we can match the awesome power of this giant balloon."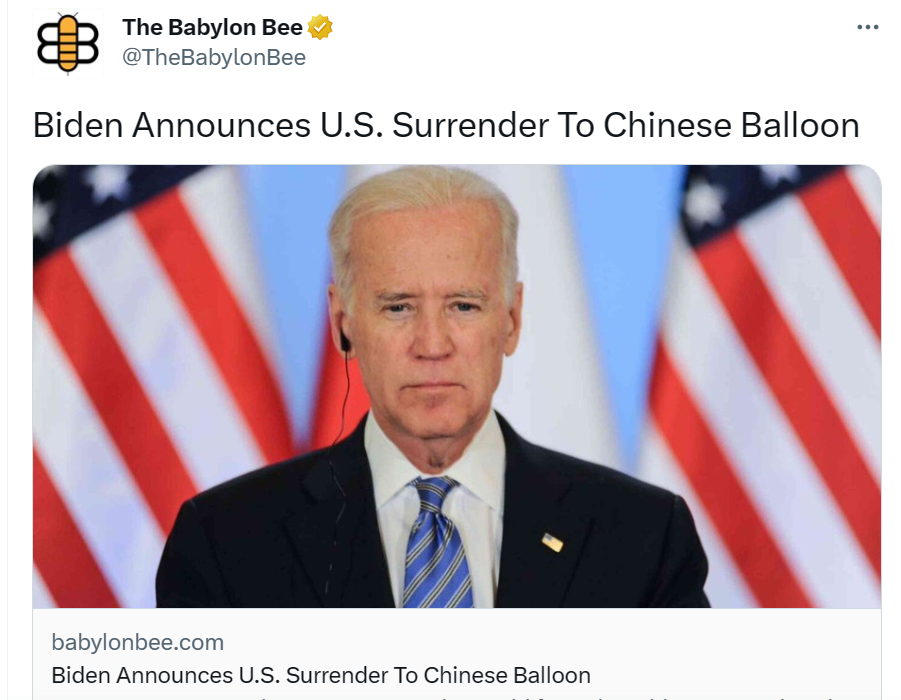 Hilarious.
But seeming all too true.
Biden better get tough on the communist Chinese regime quickly.
Or he's going to tempt Xi Jinping into thinking he can do something crazy – like invade and occupy Taiwan – and the Biden White House won't do anything to stop him.

Joel C. Rosenberg is the editor-in-chief of ALL ISRAEL NEWS and ALL ARAB NEWS and the President and CEO of Near East Media. A New York Times best-selling author, Middle East analyst, and Evangelical leader, he lives in Jerusalem with his wife and sons.
Popular Articles
A message from All Israel News
Help us educate Christians on a daily basis about what is happening in Israel & the Middle East and why it matters.
For as little as $5, you can support ALL ISRAEL NEWS, a non-profit media organization that is supported by readers like you.
Donate to ALL ISRAEL NEWS
Latest Stories
Comments