JERUSALEM PRAYER BREAKFAST 2023
WATCH VIDEO: It's time to start praying crazy, audacious prayers, according to Jeremiah 33:3
"Call to Me, and I will answer you, and show you great and mighty things you do not know"
JERUSALEM, ISRAEL – Most of us, if we're really honest, would have to admit that our prayer life is pitifully poor.
Weak. Shallow. Or simply non-existent.
Think I'm wrong?
Take a look at the biblical standard given to us by the Apostle Paul in I Thessalonians 5:16-18.
"Rejoice always, pray without ceasing, give thanks in all circumstances; for this is the will of God in Christ Jesus for you."
Now ask yourself:
Do I constantly rejoice in who God is and what He is doing in the world and in my life, even when life is really hard, painful, frustrating and discouraging?

Do I really pray without ceasing – all the time, in every situation, all day, so long as I'm awake?

Do I really give thanks in all circumstances – really, all of them?
Last week, I had the honor of giving the keynote address at a dinner of some 400 Evangelical and Jewish leaders who came to Israel from 50 countries around the world. It was held the evening before the Jerusalem Prayer Breakfast and it was a very special evening of worship, the scriptures, fellowship, and definitely time of prayer.
By definition, those who attended believe in the power of prayer.
So, I went into the event not with a belief that these folks have a weak and discouraging prayer life but that they are committed to engaging God to change the world.
That said, I challenged them to think bigger, to aim higher, to ask God to do more than they could ever hope for, dream of, or imagine.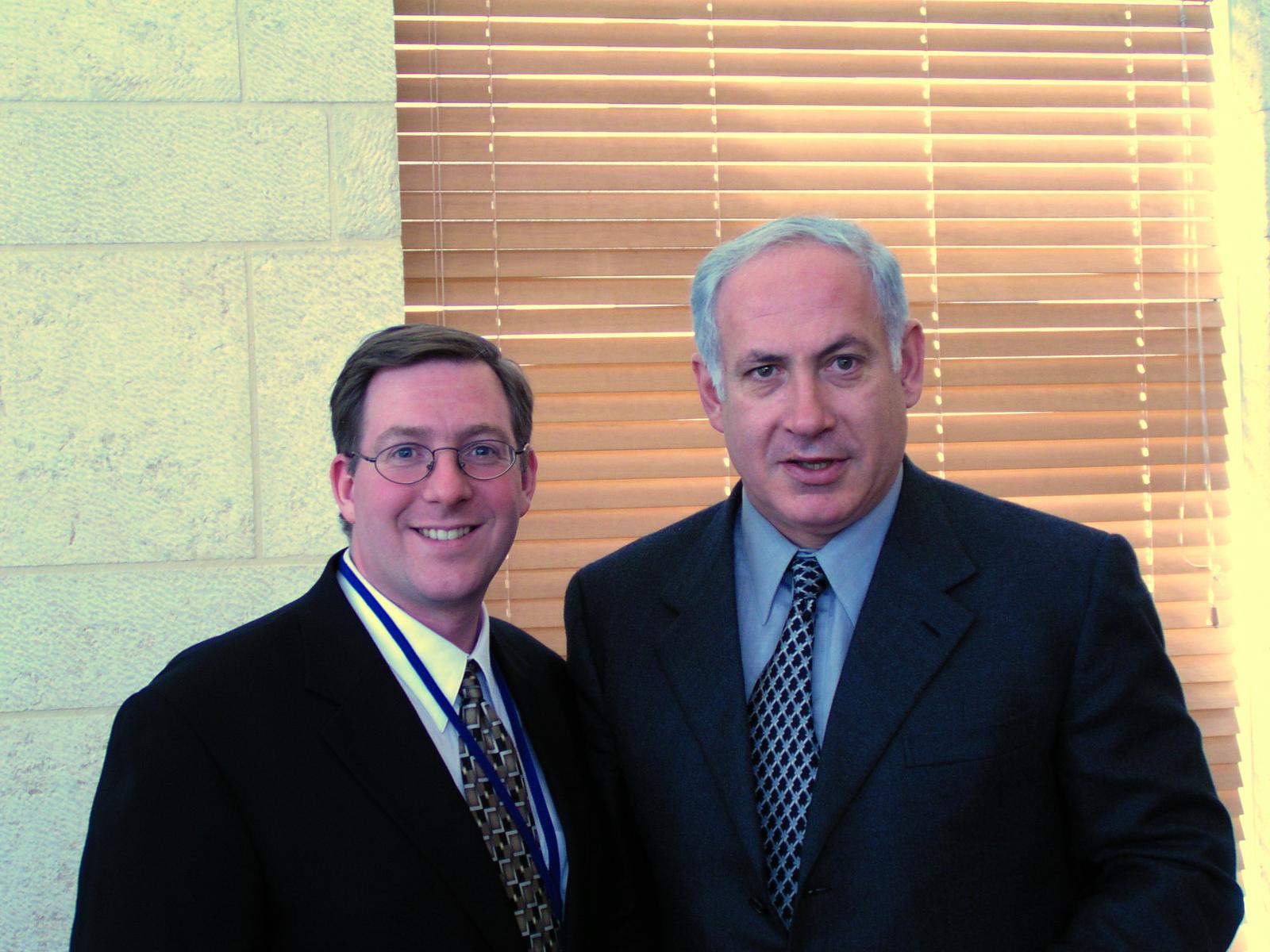 Joel C. Rosenberg with Benjamin Netanyahu
In short, I encouraged them to engage the God of Israel – the God of the universe – with "crazy, audacious prayers."
Not selfish prayers. 
Not greedy prayers.
Don't get me wrong – I wasn't preaching the "prosperity gospel." 
I wasn't exhorting people to pray for Maseratis or Lamborghinis or Lear Jets.
No, I was encouraging them to pray the way my pastor, Dr. T.E. Koshy – the godly man from India who served as the Evangelical Chaplain at Syracuse University and discipled my wife, Lynn, and me, at S.U. back in the late 1980s – taught us to pray.
He loved the verse found in Jeremiah 33:3.
"Call to Me," says the Lord, "and I will show you great and mighty things that you do not know."
Amen.
Koshy was inspired by that verse to think way outside the box.
To ask God to open his eyes to ask for far bigger doors to open for ministry that Lynn and I would have ever dared.
Koshy wasn't seeking glory for himself.
He was seeking the glory of God.
He believed that the Bible teaches us to ask God what God wants us to pray for.
Opportunities to advance the Kingdom of Jesus Christ far beyond our normal prayers.
Koshy loved to say, "Joel and Lynn, we serve a prayer-hearing and prayer-answering God – a wonder-working God."
And we absolutely saw him – and his wife – model this right in front of us.
When they prayed, crazy big things happened.
Miracles.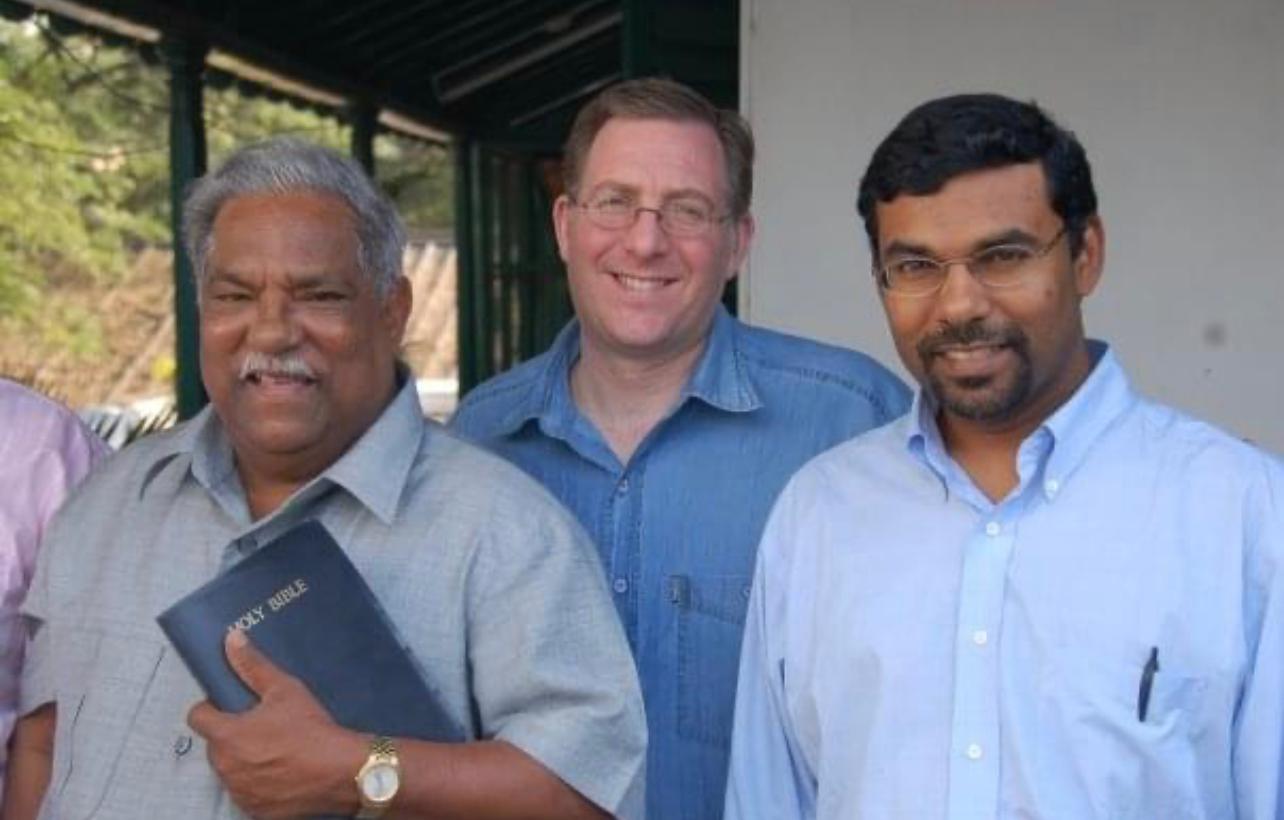 Joel Rosenberg on a preaching tour through India with his college pastor, Dr. T.E. Koshy, and Pastor Jay Koshy
Things that blew our minds.
It's not that we didn't believe in prayer – we just had a puny, pathetically small view of God.
And barely a mustard seed of faith.
But like any good shepherd, Koshy took us higher.
He showed us that God wants to do crazy big, insane, audacious things in and through our lives.
If only we will ask.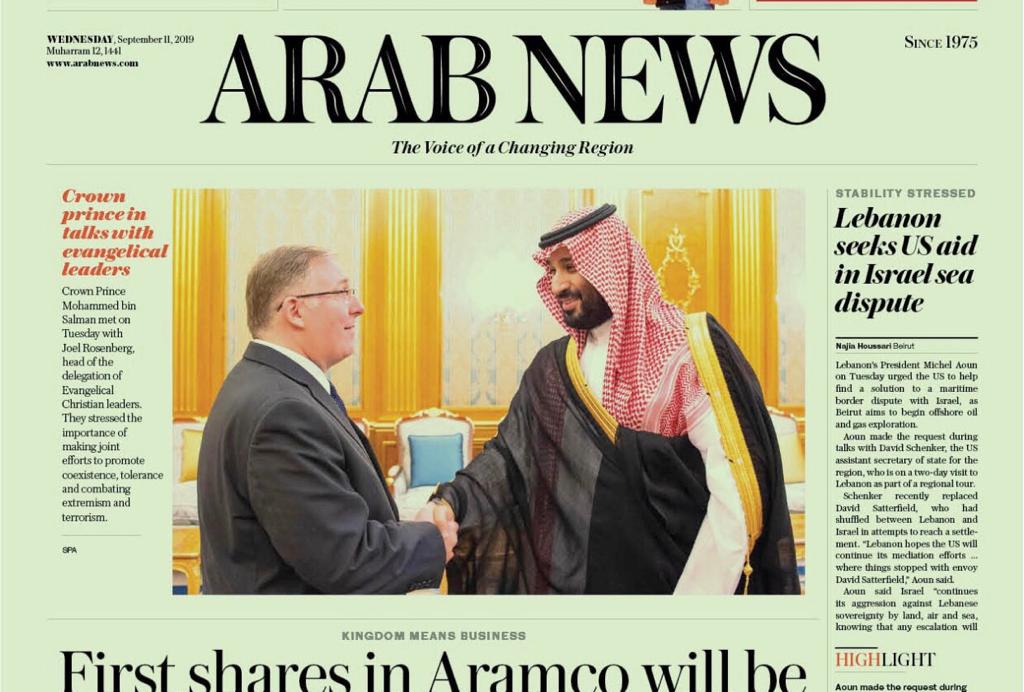 Numerous Saudi newspapers covered the 2019 Evangelical delegation on their front pages. (Photo credit: screenshot from Arab News)
Sure, God can say "no" if He wants to.
But doesn't the New Testament teach us that "you have not because you ask not, or because you ask with impure motives"?
Yes, that's exactly what we are taught in James 4:2-3.
In my remarks, I explained how I once asked God to let me invest $1 million a year – some way, somehow – to bless Israel and her neighbors in the name of Jesus.
And how 17 years later, God blew the doors off that prayer, allowing The Joshua Fund – the ministry that the Lord led Lynn and me to launch in the summer of 2006 – has now invested nearly $100 million to bless and strengthen the poor and needy – and the followers of Jesus Christ – in Israel and the Arab world.
I also shared how years ago I began asking God to do something even crazier, to open the doors to meet with the kings and crown princes, presidents and prime ministers of the Middle East.
Joel C. Rosenberg and delegation of Evangelical leaders meet with UAE Crown Prince Mohamed bin Zayed al Nahyan in Abu Dhabi in October 2018. Seated to the left of Crown Prince is Dr. Al Nuaimi, who is now on the ALL ARAB NEWS advisory board. (Photo: ALL ARAB NEWS)
Why?
To get to know them.
Befriend.
Pray for them. 
Be an ambassador for Jesus to them.
And encourage them to forge Arab-Israeli peace treaties.
Even one of my board members thought I was crazy when I asked the board and staff of The Joshua Fund to join me in these prayers.
But guess what happened?
Please watch (and share) this video and find out – and then ask the Lord how He wants you to start praying crazy, audacious prayers.
Then buckle up.
Life is going to get crazy hard – and crazy exciting.

Joel C. Rosenberg is the editor-in-chief of ALL ISRAEL NEWS and ALL ARAB NEWS and the President and CEO of Near East Media. A New York Times best-selling author, Middle East analyst, and Evangelical leader, he lives in Jerusalem with his wife and sons.
Popular Articles
A message from All Israel News
Help us educate Christians on a daily basis about what is happening in Israel & the Middle East and why it matters.
For as little as $5, you can support ALL ISRAEL NEWS, a non-profit media organization that is supported by readers like you.
Donate to ALL ISRAEL NEWS
Latest Stories
Comments