'WAKE UP NAFTALI BENNETT!' – Israelis in the tourism industry make emotional plea for international support of their desperate plight
At protest, tourism workers tell ALL ISRAEL NEWS: "They will kill tourism;" sudden closure of skies in March 2020 was like "a zombie film;" Bennett, Liberman "have hardened their hearts"
Israelis protest the government's policy in closing the country to foreign tourists, Dec. 13, 2021 (Photo: ALL ISRAEL NEWS)
TEL AVIV—Israelis who work – or worked – in the dormant tourism industry arrived at Ben-Gurion International Airport on Monday to protest a government that they say is tone deaf and out of touch with reality.
But inadvertently, they also expressed the pain and raw emotions of nearly two years deprived of work, stability, purpose and the means to put food on the table for their families.
"It's two years of hoping that its gonna get better, but it's not getting better – it's getting worse. Do you know there are under 100 people in serious condition in Israel (with COVID) – 100 people? The country is closed for 100 people?" Rena Magun said, addressing the prime minister during an emotional plea at the rally. "Wake up Naftali Bennett! Open up the skies. Let the tourists in!"
The protest Monday came in response to a government decision to extend the sudden and damaging closure in November by another 10 days – bringing us right to the Christmas holiday and snuffing out any hope of closing the year on a high note.
Holding signs that read, "You buried us," "Let us work" and – simply – "WTF?", tour guides, hotel owners, bus drivers, shop owners and others who depend on tourism to make a living shared stories of dipping into their savings, taking out loans to pay for their children's schooling, relocating and downsizing while worrying if they would be able to put food on the table next month.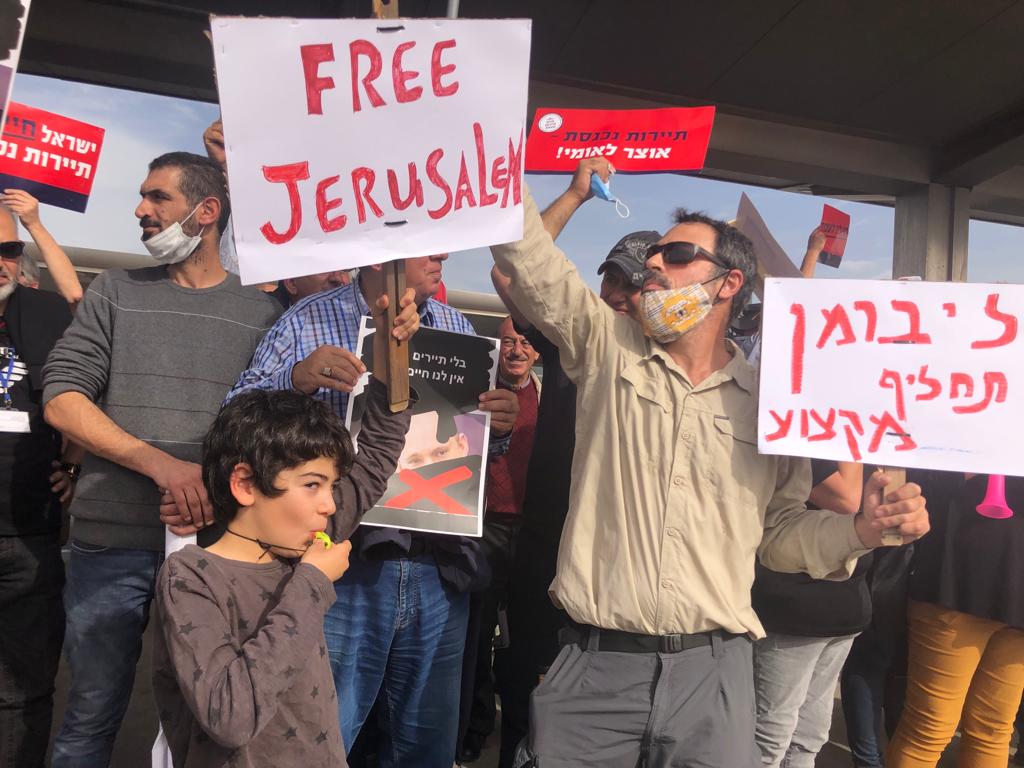 Israelis protest the government's policy in closing the country to foreign tourists, Dec. 13, 2021 (Photo: ALL ISRAEL NEWS)
The 400 demonstrators represent a quarter million people who work in the industry.
Israel strictly sealed its borders for the better part of the pandemic. At issue is not simply the lack of tourism, but also the lack of compensation. The government cut off unemployment checks to tour guides under 50 this summer and for those over 50 from October.
Finance Minister Avigdor Liberman had a suggestion for people in the industry: Get a new job.
"As for travel agents and tour guides, it should be said: Start changing professions," Liberman said on Sunday.
Some protesters held signs with a familiar message for the finance minister himself: "Change professions, Liberman."
David Frank, who is 81 and founded a travel company, laughed when asked whether he would find "new work" now. He was hoisting his own handwritten sign: "I worked hard for 50 years and brought $300 million to Israel. What did you do, Liberman?"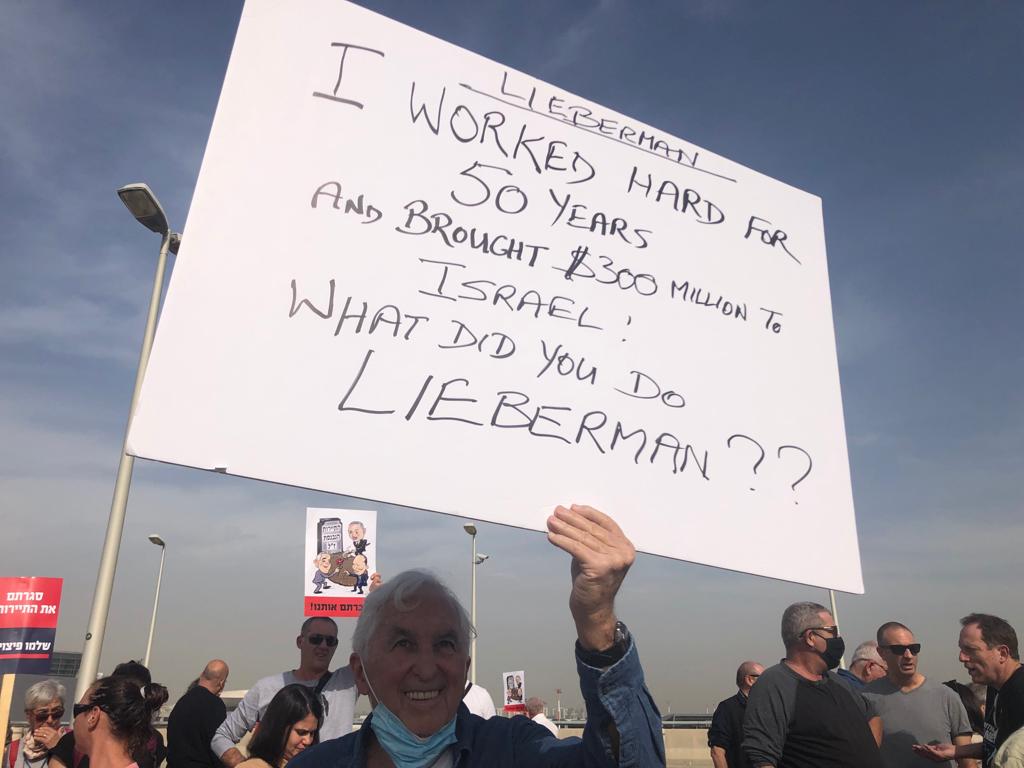 "As long as Liberman is telling us to find new jobs and is intent on destroying tourism, they won't come any more," he told ALL ISRAEL NEWS speaking of Evangelical tourists to Israel.
The government does not care, Magun – who along with her husband brings in families celebrating bar and bat mitzvahs – said bluntly.
"The government has closed the skies unjustly. It is possible to have safe tourism in Israel," she told ALL ISRAEL NEWS. "Every other country in the world has tourism. Israel – are we so different? It's ridiculous."
"Naftali Bennett and Avigdor Liberman have hardened their hearts," she said. "It is enough – we are tired of this."
David Katz, operations manager at Sar-el Tours, described the few weeks of work the company enjoyed in November as "little raindrops of hope."
"To shut us down now, just when things are opening up again, we don't understand. It doesn't make sense to us," he said. "Continue to request that we be vaccinated – we will comply. Continue to require that we have PCR tests – we will comply. But to shut us down again under these circumstances doesn't make sense."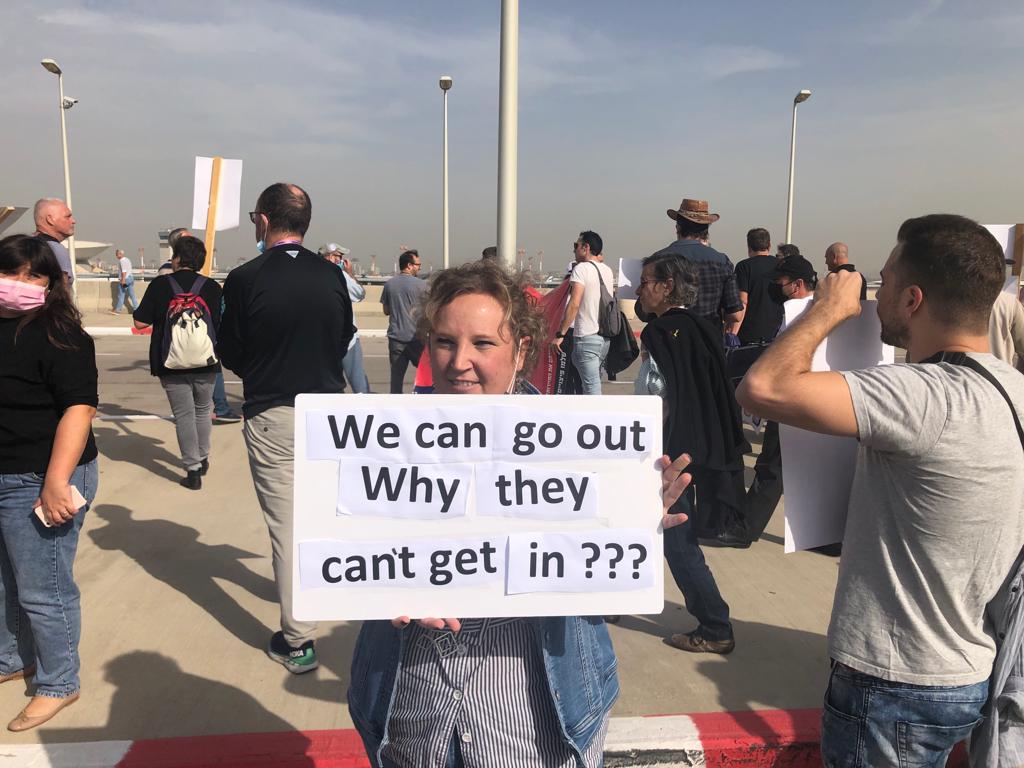 Israelis protest the government's policy in closing the country to foreign tourists, Dec. 13, 2021 (Photo: ALL ISRAEL NEWS)
While tourists are kept out, Israelis are free to travel. Some claim a half million did so during Hanukkah – including Bennett's wife and children – despite official recommendations to stay put over fears of the Omicron variant.
"If anybody brings in the variants, it is the Israelis who go and come back and do not go into quarantine," Yoni Shapira, chairperson at the Israel Incoming Tour Guides Association, told us. "Tourists are coming and are secure in groups as capsules. They are not a danger – they are the future of our industry."
"What Liberman told us yesterday is totally unacceptable. He should be fired," Shapira continued. "People here with families are getting nothing since June. Nothing. They do not even have money to pay for the shrink to take care of the emotional issues, the family issues, that are developing because of this total disaster of the government closing unilaterally the sky to tourists."
He also explained how the tourism minister has failed them.
"He says that he will look for finance to help the business. However, he's offering it to the airlines and big hotel chains – 500 million shekels to the hotels. Billions of dollars to the airlines. However, 200,000 families are all those that are supplying the experience, and those represented here are not getting a penny, not getting a shekel," he said.
The protestors on Monday represented a cross-section of populations from around the country.
"We have Palestinian guides here, we have Jewish guides, we have Christian guides, we have Armenian guides, we have Ethiopian guides," Shapira continued. "We are changing the narrative and providing a cross section of what Israel is all about. We are representing the Holy Land."
A group coordinator who handles all tour logistics, Tali Bernstein is no longer receiving compensation, but has no idea what else to do.
"I'm 53 years old in a few weeks and, at my age, I'm not going to change my work," she told us. "I love my work. I want to do my work. And until they open the airport, open the skies, they should give us some money – something to live life, to buy stuff – buy milk. I have kids at home."
Darya Short – who had only been a tour guide seven months and had back-to-back tours when tourism suddenly stopped – explained the conundrum of switching career paths. Like the other guides, she invested two years in the tour guiding course plus supplemental education at her own expense.
"I have applied for other jobs, but they want me to commit for at least a year which means that I would have to turn down my groups – if they eventuate – after tourism reopens," Short explained.
Daniella Gefen, also a tour guide, managed to find work as a teacher after being ripped from a fulfilling career leading foreigners on geopolitical tours of the Holy Land.
"It's hard to explain, it was like out of a zombie film: They just shut down the sky – and it was done," Gefen said. "From a full calendar of 2020, I just moved to sitting around at home all day, feeding my kids and getting them into their Zoom lessons for remote learning."
"If there was some freak computer virus that was somehow harming the Israeli high-tech industry… the country would be doing everything it can to either fix it or compensate them," Gefen said. "But for some reason they are throwing us under the wheels and just letting us die."
Morsi Hija, chairman of the Forum of the Arabic Guides in the North, said the leadership does not seem to understand the investment people have made to build their businesses and reputations. He pleaded with the government to come up with a strategy so they can get back to work.
"Is it vaccination? If it's vaccination, then we ask all the people to be vaccinated and to come to Israel. Is it something else? Just tell us, tell us the truth. We don't understand what the truth is," he said.
While tourists are ushered around the country in capsules having little contact with Israelis, citizens are largely unrestricted in Israel.
"Look at the soccer fields, weddings, the markets – the virus can spread there more than it can spread in a bus with 30 tourists: They are vaccinated and we can control them and they don't interact with other people," he said noting the double standard.
"There is nothing we can say to describe the situation. We are in really bad condition and if they continue like this, they will kill something called tourism."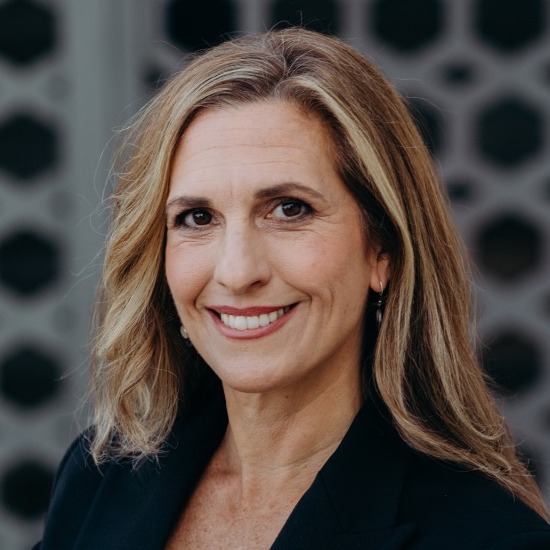 Nicole Jansezian was the news editor and senior correspondent for ALL ISRAEL NEWS.
Popular Articles
A message from All Israel News
Help us educate Christians on a daily basis about what is happening in Israel & the Middle East and why it matters.
For as little as $5, you can support ALL ISRAEL NEWS, a non-profit media organization that is supported by readers like you.
Donate to ALL ISRAEL NEWS
Latest Stories
Comments