Reports: Israel trading vaccines for diplomatic favors
Defense minister calls for Israel to immediately stop the transfer of vaccines to other countries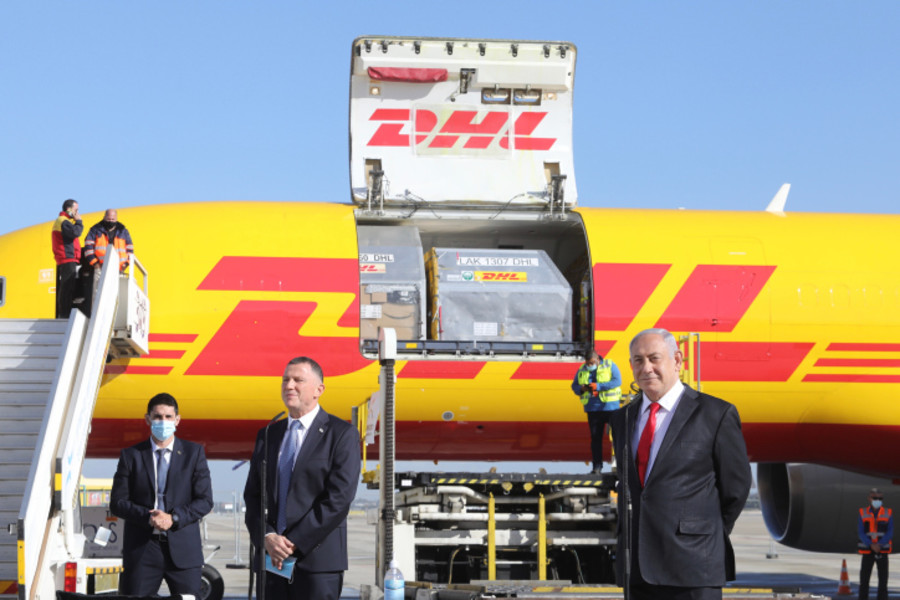 Israeli Prime Minister Benjamin Netanyahu and Health Minister Yuli Edelstein attend the arrival of the DHL freight plane transporting the first batch of Pfizer vaccines landing at Ben Gurion Airport on December 9, 2020. (Photo: Marc Israel Sellem/POOL)
Rich in a surplus of inoculations from Moderna and Pfizer after vaccinating 70% of Israel's eligible population so far, Prime Minister Benjamin Netanyahu has been pedaling surplus COVID-19 vaccines to other nations in exchange for diplomatic favors. 
Defense Minister Benny Gantz accused the prime minister of acting unilaterally on a matter that could "harm foreign relations, state security and the rule of law."
"The supply of vaccines to other countries has never been brought up for discussion in the relevant forums," Gantz said today in a fiery letter to the prime minister. "The stock of vaccines is an asset of the State of Israel and your statement that 'an amount of unused vaccines has accumulated,' while most of the population in Israel has not yet been vaccinated with the second vaccine, is false."
Gantz asked the attorney general to examine the issue and demanded it to be brought before the Cabinet.
The Jewish state pledged to donate some 100,000 surplus doses to nearly 20 countries, The Telegraph reported.
Israel's Channel 11 reported this week that Honduras and Guatemala, both of which have embassies in Jerusalem; Hungary, which opened a trade mission in the city, and the Czech Republic, which intends to open a diplomatic office, were to receive donations of the vaccine. 
Other countries mentioned in the news this week include Italy, Cyprus, Ethiopia, Kenya and Uganda which would receive donations of between 1,000 and 5,000 doses. 
"The donations are the latest example of a new expression of soft power: vaccine diplomacy, in which countries rich in vaccines seek to reward or sway those that have little access to them," wrote The New York Times, coining a new term.
Netanyahu appears to be positioning himself as one of the global dealers of vaccinations. In an interview with Channel 12 last week he announced that he was in talks with both Moderna and Pfizer to bring them permanently to Israel.
"I am negotiating with them to build two factories in Israel - making us a global center in the fight against COVID-19," he said. "The Moderna complex will be a center for filling vaccine vials, while Pfizer's will work as a research and development site for the fight against future viruses."
He has also said repeatedly that Israelis would have to take a COVID-19 vaccine every six months, even as laws stripping privacy over individual medical rights are being rewritten in Israel.
At the same time, Palestinians are angry that Israel is donating vaccines abroad when nearly their nearly 5 million population share geographic space with the Jewish state. Israel has given 2,000 vaccine doses to the Palestinian Authority and promised 3,000 more — an amount that, at maximum, would inoculate 2,500 Palestinians. 
Israel has offered to vaccinate 100,000 Palestinians that work in Israel and to establish a vaccination station on the Temple Mount to vaccinate Muslim worshipers, an offer that Palestinian President Mahmoud Abbas rejected. 
In recent days, as it outpaces the world in its per-capital vaccination rate, Israel seems to realize it can afford to give away vaccines. However, with a finite population, this begs the question of how Israel ordered more than it needed, and how it can now afford to give 100,000 doses away - even while it fully intends to see 7 million of its own citizens fully inoculated by June.
"Over the past month, a limited quantity of unused vaccines was accumulated; therefore, it has been decided to assist Palestinian Authority medical teams and several of the countries that contacted Israel with a symbolic quantity of vaccines," a statement from the Prime Minister's Office said.
Netanyahu also reportedly agreed to buy $1.2 million of the Russian coronavirus vaccines for Syria in exchange for the return of an Israeli woman who had crossed into the enemy country and was arrested.
Salem Barahmeh, executive director at the Palestine Institute for Public Diplomacy, a Ramallah-based advocacy group, maintains that Israel should be responsible for getting vaccines to all Palestinians.
"It says a lot about a regime that it is willing to send vaccines halfway across the world, potentially for a quid pro quo, and not offer the vaccine to the millions of Palestinians who live under the Israeli occupation."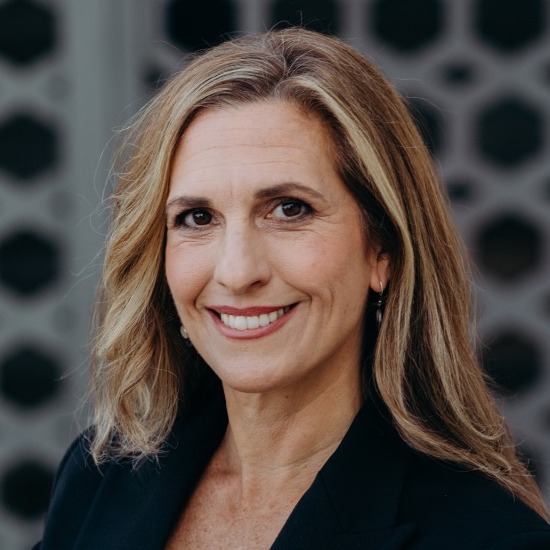 Nicole Jansezian is the news editor for both ALL ISRAEL NEWS and ALL ARAB NEWS and senior correspondent for ALL ISRAEL NEWS
A message from All Israel News
Help us educate Christians on a daily basis about what is happening in Israel & the Middle East and why it matters.
For as little as $5, you can support ALL ISRAEL NEWS, a non-profit media organization that is supported by readers like you.
Donate to ALL ISRAEL NEWS
Current Top Stories
Comments