Israeli researcher: 25% increase in cardiac arrests, related emergency calls by young adults following COVID-19 vaccine rollout
U.S., Israeli health officials debate COVID shots for toddlers, high-risk as cases rise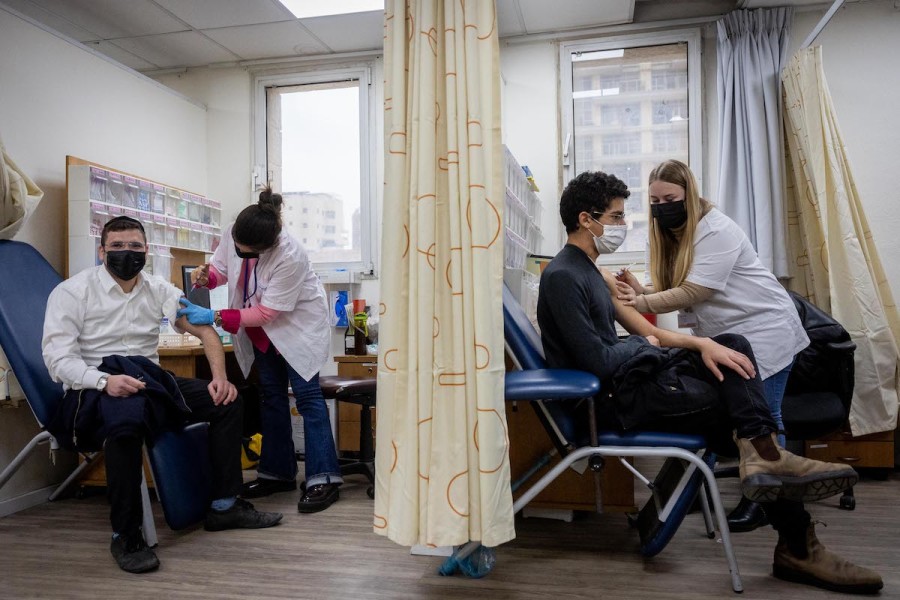 Young Israelis receive a dose of the COVID-19 vaccine at a vaccination center in Jerusalem, Jan. 4, 2022. (Photo: Yonatan Sindel/Flash90)
U.S. health experts are set to debate whether to approve COVID-19 vaccine shots for children under the age of five on Wednesday, as virus cases are once again climbing in parts of the country and in Israel as well.
If approved, the Israeli Health Ministry is expected to also recommend the vaccine for Israeli toddlers. 
Israeli health experts delayed approval of a fifth dose for the elderly and high-risk last week, opting instead to recommend indoor masking, as the reproduction number ("R") hit a three-month high and new daily cases spiked to over 7,000 on Tuesday.
The U.S. Food and Drug Administration (FDA) posted its analysis of the Pfizer shot for kids 6 months to 4 years old this week and its take on a similar vaccine developed by Moderna for children under 6 last week, ahead of the Wednesday discussion. The reports showed that the vaccines appear to be both safe and effective – although the Pfizer study was based on just 10 cases diagnosed among trial participants. 
The debate by the panel is only the first step in the approval process. The FDA would still have to make a formal decision on the matter. If the vaccines are given the green light, then the Centers for Disease Control and Prevention (CDC) would convene its own experts to determine which toddlers should get the jab. 
But even if approved, it is unclear whether parents in either country will rush to vaccinate their children against the virus. Fewer than 24% of Israeli children ages 5 to 11 have received the COVID shots.
The Health Ministry recommended Tuesday giving COVID-19 booster shots to children between the ages of five and 11, asking the health funds to prepare to administer the shots to the children.
The report also showed that both the Pfizer and the Moderna vaccines have been linked to myocarditis and pericarditis – inflammation of the heart and its surrounding tissue – especially in young men. 
The analysis released last week by the FDA indicated that there were no confirmed cases of heart inflammation in the Moderna trials for infants, children or adolescents. However, they noted that the trials were not large enough to quantify the frequency of vaccine-induced myocarditis in toddlers.
ISRAELI SCIENTIST SAYS HEART ATTACKS INCREASED AMONG THOSE UNDER 40 POST VAX
The experts debate comes shortly after a controversial report was published in Nature's Scientific Reports by an Israeli professor from MIT who found an increase of more than 25% in cardiac arrest (CA) and acute coronary symptoms (ACS) – heart attacks – emergency calls in Israel among the young adult population (16-39) following the rollout of COVID-19 vaccines.
The research team, led by Retsef Levi of MIT's Sloan School of Management, evaluated National Emergency Medical Services (EMS) data provided by Magen David Adom on CA and ACS incidents in this age group between 2019 and 2021, comparing the number of calls before and during the pandemic, and pre- and post-mass vaccination. 
"An increase of over 25% was detected in both call types during January–May 2021, compared with the years 2019–2020," the report said. "Using Negative Binomial regression models, the weekly emergency call counts were significantly associated with the rates of first and second vaccine doses administered to this age group but were not with COVID-19 infection rates. 
"While not establishing causal relationships, the findings raise concerns regarding vaccine-induced undetected severe cardiovascular side-effects and underscore the already established causal relationship between vaccines and myocarditis, a frequent cause of unexpected cardiac arrest in young individuals," the report continued. "Surveillance of potential vaccine side-effects and COVID-19 outcomes should incorporate EMS and other health data to identify public health trends and promptly investigate potential underlying causes."
Levi and his team have received strong push back to their report, he told ALL ISRAEL NEWS. An editor's note still sits on top of the online version of his paper, stating that "readers are alerted that the conclusions of this article are subject to criticisms that are being considered by the editors. A further editorial response will follow once all parties have been given an opportunity to respond in full."
But Levi contends that "there is a concerning correlation and we need to check it."
He himself received two shots of the COVID-19 vaccine and caught the virus, and told ALL ISRAEL NEWS that he believes "vaccines a priori are one of the most significant inventions of medicines." 
However, Levi said he became concerned when the rollout of such new vaccine technology happened so quickly without proper protocols in place to track side effects, in his opinion – including growing concerns over myocarditis. 
He also felt the Israeli Health Ministry did not properly distinguish between the different risks that COVID-19 poses to different people.
"The risk to someone in their 70s with comorbidities is dramatically different than to a 12-year-old," he said. 
"Myocarditis is very hard to diagnose and often has subclinical forms, meaning that a person can have myocarditis and not even know it because he has no symptoms," Levi explained. "It is known to be one of the prime reasons young individuals suddenly drop dead from cardiac arrest – even before COVID."
While Levi acknowledged that the virus itself can cause myocarditis, too – and by most reports at higher incidents than the vaccine – he said, "there is a concerning correlation and we need to check it to find out if [the increase is because of] the vaccine or for another reason. And clearly, if it is related to the vaccine or infection, then we need to tell people. Maybe we want to do some proactive testing."
He added that similar increases in cardiac-related EMS calls have been found in Scotland, the United Kingdom and Germany.
"I am about finding the truth because I care about the health of people," Levi concluded. 
A June 11 study published by the Lancet confirmed some aspects of Levi's report, finding that "in our study of large cohorts aged 18–64 years in US health plan claims databases, the occurrence of myocarditis or pericarditis after receipt of each COVID-19 mRNA vaccine was rare but increased compared with pre-COVID-19 background rates."
The Israeli Health Ministry took issue with Levi's article in a tweet saying that "no link was found between MDA EMS data among 16- to 39-year-olds and vaccine, "mainly because most of the calls were made by those who were not vaccinated at all (59%), and only 17% (total 33) were vaccinated in the 30 days prior to reading."
"Even among those vaccinated, there was definitive information about the cause of death, no one died due to a heart-related cause, but reasons such as existing chronic illness, suicide and homicide," the ministry posted on Twitter, but failed to provide any raw data as Levi requested.
It added that the use of the "cardiac arrest definition" by MDA is not based on medical diagnosis but "suspicion of the ambulance crew."
Finally, the ministry stressed that several studies have pointed to ties between the virus and heart complications, including a report that was published in Nature Medicine in February showing that "even after recovery from coronavirus, and even of those whose disease was mild and did not require hospitalization, there was an increased risk of heart disease."
A separate study conducted in the United Kingdom found that among young adults, there was a significant excess risk of mortality from cardiac causes after COVID recovery and no excess risk found after vaccination. 
OMICRON-VARIANT VACCINE COMING SOON
Meanwhile, Moderna announced last week that its updated COVID-19 booster shot is more effective against stopping Omicron infection than its original jab. 
"We are thrilled to share the preliminary data analysis on mRNA-1273.214, which is the second demonstration of superiority of our bivalent booster platform against variants of concern and represents an innovation in the fight against COVID," Moderna CEO Stéphane Bancel said in a company news release.
"Looking at these data alongside the durability we saw with our first bivalent booster candidate, mRNA-1273.211, we anticipate more durable protection against variants of concern with mRNA-1273.214, making it our lead candidate for a fall 2022 booster," Bancel continued. "We are submitting our preliminary data and analysis to regulators with the hope that the omicron-containing bivalent booster will be available in the late summer."
The company did not yet release any data from the associated clinical trial on the vaccine's effectiveness against the Omicron BA.4 and BA.5 subvariants, which are now dominant in Israel. 
Pfizer is also working on a modified vaccine. A spokesperson for Sheba Medical Center, an Israeli hospital participating in the Pfizer Omicron booster study, said that it will take at least another month before data on that shot is ready.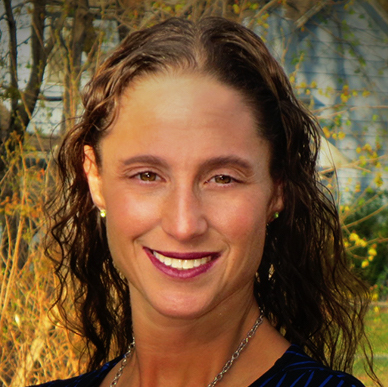 Maayan Hoffman is a veteran American-Israeli journalist and strategic communications consultant. She is the former news editor, head of strategy and senior health analyst for the Jerusalem Post, where she launched the outlet's Health & Wellness, Business & Innovation and Christian World portals.
A message from All Israel News
Help us educate Christians on a daily basis about what is happening in Israel & the Middle East and why it matters.
For as little as $5, you can support ALL ISRAEL NEWS, a non-profit media organization that is supported by readers like you.
Donate to ALL ISRAEL NEWS
Current Top Stories
Comments