Unlike his rousing addresses to parliaments abroad, Zelenskyy created no friends in Israel after likening Russian invasion to 'Final Solution'
While Zelenskyy criticized Israel for not doing enough to help, Knesset members slammed his use of Holocaust comparisons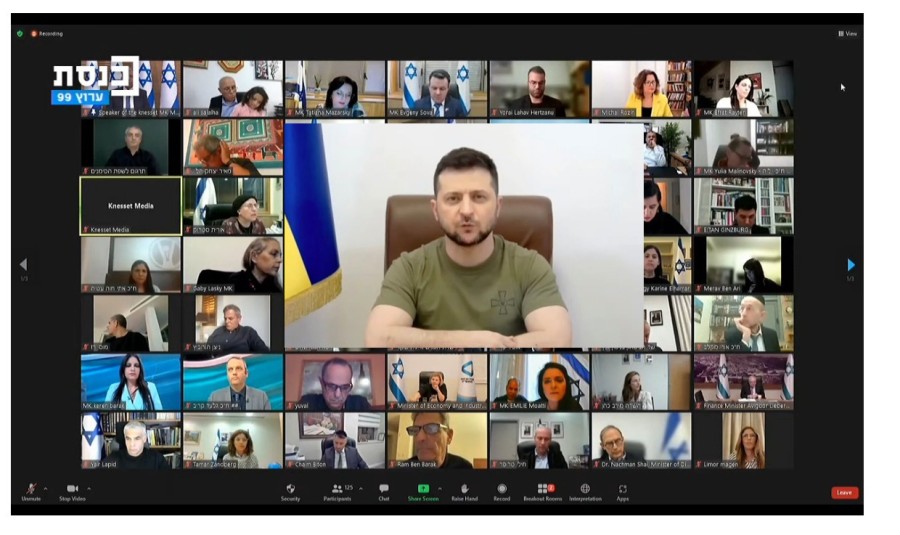 Ukrainian President Volodymyr Zelenskyy speaking on Zoom to Israeli Knesset members, March 20, 2022. (Screenshot: Channel 99 YouTube Channel)
Just as he has done in addresses before other international governments, Ukrainian President Volodymyr Zelenskyy invoked a famous quote from a legendary leader of that nation when he addressed the Israeli parliament.
For his Knesset speech, Zelenskyy chose a quote from Ukrainian-born Golda Meir, the late Israeli prime minister who led her country through the Yom Kippur War.
"We want to live alongside our neighbors, they want to see us dead, so that doesn't leave a lot of room for compromise," he quoted Meir as saying – a variation on what she told The New York Times in 1973: "To be or not to be is not a question of compromise. Either you be or you don't be."
But unlike his other speeches, Zelenskyy did not receive a standing ovation nor a warm response as he did from the U.S. Congress or British or Canadian parliaments.
First of all, Israeli government officials joined by Zoom and were not present in the plenary hall. Second, the speech took a sour turn from the outset as Zelenskyy criticized Israel for tepid support that was not backed up by weapons. Third, the very fact that Israel allowed this speech could put the Jewish state in hot water with Moscow whose military sits in Syria on the nation's northern border.
But most of all, Zelenskyy drew several comparisons of his nation's current situation to the Holocaust. And for that he may have lost support.
Many Knesset members bristled at the short and highly critical speech.
"I admire the Ukrainian president and support the Ukrainian people in heart and deed, but the terrible history of the Holocaust cannot be rewritten," Communications Minister Yoaz Hendel tweeted, but noted that the killing of Jews during the Holocaust "was also carried out in the land of Ukraine."
"The war is terrible but the comparison to the horrors of the Holocaust and the Final Solution is outrageous," he said.
Likud Knesset Member Yuval Steinitz said Zelenskyy's speech "borders on Holocaust denial."
"War is always a terrible thing… but every comparison between a regular war, as difficult as it is, and the destruction of millions of Jews in gas chambers in the framework of the Final Solution is a complete distortion of history," he said in a statement.
A number of Religious Zionism party members also criticized Zelenskyy's Holocaust comparisons, including party leader Bezalel Smotrich, who accused him of trying "to rewrite history and erase the involvement of the Ukrainian people in the destruction of Jews."
In his address, the Ukrainian leader noted that the day of the Russian invasion coincided with the date the Nazi party was founded: Feb. 24, 1920.
"Listen to the language the Kremlin uses, they use the terminology of the Nazi Party. They called it the 'Final Solution' to the Jewish question. You remember well, I'm sure, you'll never forget," Zelenskyy said.
"Now Moscow uses the words 'Final Solution' again regarding us, Ukraine. We see this on their official websites, there are quotes in the Russian media. This is what was said in Moscow. Without the war against Ukraine, they could not have secured the Final Solution to their security, just as was said 80 years ago."
"One hundred and two years after the Nazis, the order was given to begin the Russian invasion of Ukraine, which has already killed thousands of people and left millions without a home."
"Our people are now wandering in the world, searching for a place just as you once wandered. This is a total and unjustified war that is meant to destroy our nation, our cities, our culture, our children."
"The Russians use the terminology of the Nazi party, want to destroy everything. The Nazis called this 'the Final Solution to the Jewish question.'"
He said to the Israeli leaders: "You need to provide answers to these questions and live with them. Ukraine decided 80 years ago and saved Jews. The people of Israel, you also have a choice," he said.
"We are in different countries and under completely different conditions, but the threat we face is one – total destruction of the people and the state," he said.
He asked Israel why it has failed to give Ukraine weapons, take in more Ukrainian refugees and sanction Russia.
"Israel knows very well that the Iron Dome, your missile interception system, is the best. You know how to stand up and protect your interests - but also to help Ukraine," he implored.
While Zelenskyy has spoken with Israeli Prime Minister Naftali Bennett several times and even suggested Israel host peace talks, he bluntly stated: "It is possible to mediate between countries but not between good and evil."
In trying to rally Israel's empathy and support, he again invoked an attack that destroyed Babi Yar, a Holocaust memorial site in Kyiv – where a missile was later said to have hit near and not at the site itself – and on another Jewish holy site, Uman, "where tens of thousands of Israelis come each year to visit the grave of Rabbi Nachman."
"What will remain of Ukraine's cities after this war?" he asked.
"I'm sure you feel our pain, but can you explain why we're still waiting… for your help… when other countries are giving help? Why isn't Israeli help, or even entry permits, forthcoming?" he asked. "What is it? Indifference? Political calculation? Mediation without choosing sides?"
With the Russian military operating in Syria, Israel has been carefully balancing its response to the war. The Jewish state enjoys a status quo with Moscow which allows the Israeli air force to use Syrian airspace to target Iranian operations.
According to Israel's Channel 12, 112 of 120 Knesset members tuned in to the speech, which was broadcast on prime time news.
Meanwhile, hundreds of Israelis wrapped in Ukrainian flags demonstrated in Habima Square in downtown Tel Aviv, while waiting for the live streamed speech. Some of the people gathered there held signs equating Russian President Vladmir Putin to Adolf Hitler, and others calling for a no-fly zone.
BACKGROUND
London. Ottawa. Washington D.C. and now Jerusalem.
It sounds like a world tour for a rock group or a traveling museum exhibit. But this is Zelenskyy's recent schedule on his circuit of televised appeals before world governments – from England to Canada and America – broadcast from his Kyiv bunker as his nation faces a devastating invasion from Russia.
On March 8, he channeled former British Prime Minister Winston Churchill referring to his famous speech saying, "We will not surrender, we will not lose, we will go to the end." Then, last week (on March 16), before the U.S. Congress, he invoked Martin Luther King.
"I have a dream. These words are known to each of you. Today, I can say, I have a need. I need to protect our sky. I need your decision, your help, which means exactly the same. The same you feel when you hear the words, 'I have a dream,'" Zelenskyy said.
Speaking to the Canadian parliament on March 15, he called Prime Minister Trudeau by his first name, Justin, and asked, "can you imagine you and your children hearing all these severe explosions, the bombing of the airport, the bombing of the Ottawa airport?"
"Can you imagine if the famous CN Tower in Toronto was hit by Russian bombs?" he said. "This is our reality."
Outgunned and outmanned, Ukraine has held its own against the Russian invasion on Feb. 24. But this has not been without devastating consequences to certain areas, one of which is the coastal port city of Mariupol, under siege for three weeks now, and with the loss of thousands of civilian lives.
Israel has taken on a surprisingly central role in mediation between Moscow and Kyiv as Bennett found himself fielding several calls from both leaders since the invasion began. Zelenskyy even went so far as to say that peace talks between Ukraine and Russia should be held in Jerusalem.
Zelenskyy had wanted to hold a rally at Yad Vashem, the World Holocaust Remembrance Center in Jerusalem, but was turned down. He did, however, speak before AIPAC, the American Israel Public Affairs Committee – the largest Jewish lobby in the United States. The event drew a bipartisan crowd that "for a brief moment set aside their differences and applauded this leader."
He also spoke before the Conference of Presidents of Major American Jewish Organizations in which he compared Russian rhetoric to that of Joseph Goebbels, the Nazis' chief propagandist, accusing Putin of "destroying the citizens of Ukraine of different nationalities."
"This is just pure Nazi behavior. I can't even qualify this in any different manner," he said.
In a separate social media post, Zelenskyy addressed "all the Jews of the world" asking if they see what is happening.
"That is why it is very important that millions of Jews around the world do not remain silent right now. Nazism is born in silence," he said.
He also accused Bennett of being less supportive than his fellow Israelis.
"I spoke with the Israeli leadership, we have not bad relations – but these things are tested in times of crisis. I don't feel the Israeli prime minister has wrapped himself in the Ukrainian flag," he said.
An actor-turned-politician, Zelenskyy is Jewish and he has used that fact to appeal to Jews around the world – including the Jewish state – for help in his plight and to counter Putin's accusations that Ukraine is a Nazi state and that his goal is the "de-Nazification" of Ukraine.
"But just because the accusations are wild exaggerations doesn't mean they are unfounded. There are a lot of Nazis in Ukraine," writes political analyst and award-winning Israeli journalist Caroline Glick. "To be sure, Ukrainian President Volodymyr Zelenskyy is Jewish. But as Germany's Die Welt reported in 2020, Zelenskyy owes his election to the support he received from Ukraine's then-Minister of the Interior Arsen Avakov. Avakov, who served under Zelenskyy until last July, has been the most powerful patron of Ukrainian Nazis since the Maidan Revolution in 2014."
Zelenskyy has painted the Russians as the Nazis in this equation. He appealed for Jews to condemn the Russian bombing of the Holocaust memorial site, Babi Yar, allegedly hit in a Russian strike, however the attack did not happen exactly as he said, having it near the site but not damaging it.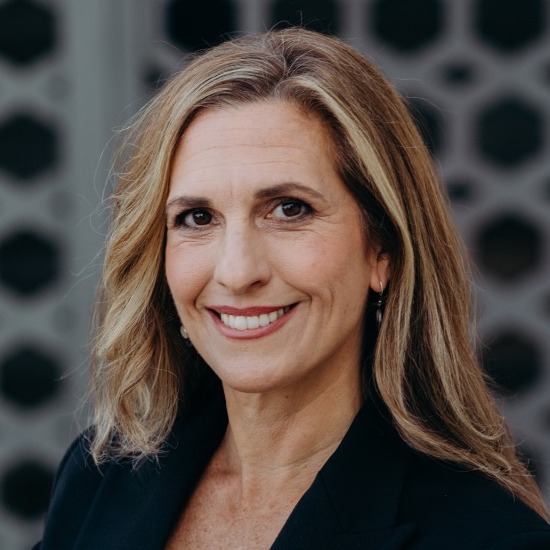 Nicole Jansezian is the news editor for both ALL ISRAEL NEWS and ALL ARAB NEWS and senior correspondent for ALL ISRAEL NEWS
A message from All Israel News
Help us educate Christians on a daily basis about what is happening in Israel & the Middle East and why it matters.
For as little as $5, you can support ALL ISRAEL NEWS, a non-profit media organization that is supported by readers like you.
Donate to ALL ISRAEL NEWS
Current Top Stories
Comments