UNACCEPTABLE: Rabbi should be ashamed for calling first-gay Knesset speaker 'infected with a disease' – take a stand for biblical marriage but don't be cruel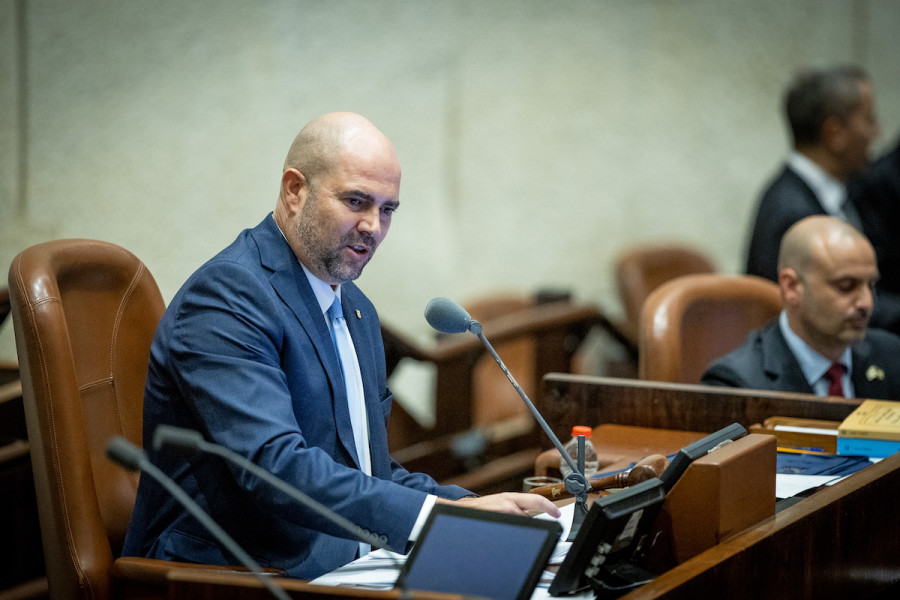 Knesset Speaker Amir Ohana at the swearing in ceremony of the new Israeli government at the Knesset in Jerusalem, Dec. 29, 2022. (Photo: Yonatan Sindel/Flash90)
JERUSALEM—It didn't take long.
The war is on.
On Friday, I wrote a column warning that warring factions within Prime Minister Benjamin "Bibi" Netanyahu's government are on a "collision course" over the issue of gay rights.
By Sunday, the fight was already underway.
On one side: Amir Ohana, a member of Knesset, who is open about his homosexuality.
On the other side: Highly-religious Orthodox and ultra-Orthodox Jews who strongly support a biblical position of marriage being only between a man and a woman, a position the entire world held for the past 5,000 years until recently.
In the middle: Netanyahu.
It was Netanyahu who urged the 120 members of the parliament to vote for Ohana to be Israel's first-openly gay speaker, and they did.
At the same time, it was Netanyahu who appointed Avi Maoz, a highly-religious member of Knesset who strongly supports biblical marriage, to serve as one of his deputy prime ministers.
That combination, I noted, is a recipe for extreme tension.
Case in point: "A senior rabbi with close ties to Israel's far-right National Security Minister Itamar Ben Gvir, ultra-Orthodox Health Minister Aryeh Deri and Minister of Communication Shlomo Karhi maligned Knesset Speaker Amir Ohana for his homosexual identity, saying he was 'infected with a disease,'" ALL ISRAEL NEWS reported yesterday.
"Rabbi Meir Mazoz [no connection to Knesset Member Avi Maoz] hinted that Ohana's sexual orientation contributed to the devastating tragedy that took place at the Mt. Meron pilgrimage site in 2021, when a crowd crush killed 45 Jewish worshippers," senior correspondent Tal Heinrich wrote. "At the time, Ohana served as Israel's public security minister."
"Two years ago, something happened on Lag B'Omer," said Mazoz, "and they say that the minister who was in charge of Meron has been infected with that disease. … So, is there even a question over what happened to us?"
"The rabbi also commented on [gay] pride parades, telling parents to explain to their children: 'This is a beast parade, there is nothing to see here. There are beasts walking on two [feet]. What will we do to them?'"
And that was just the beginning.
"Jewish Power party chairman Itamar Ben Gvir posted a picture of himself hugging Ohana on Thursday, following his confirmation as the new speaker, writing: 'Congratulations to my friend @AmirOhana on your election as the coalition candidate for Speaker of the Knesset. A great man, with a big heart and the right man for this important position,'" Tal Heinrich noted in her story.
"The picture was shared and labeled 'blasphemy' by Jewish Power party member Baruch Marzel, who a judge disqualified from running for the Knesset on the grounds of inciting racism."
This is absolutely unacceptable language.
I am grateful for rabbis, pastors, priests and other members of Israeli society who take a principled stand in favor of the biblical model of marriage and see homosexuality as the exact of opposite of God's plan and purpose for mankind.
But they need to remember Leviticus 19:34, the command to "love your neighbor as yourself."
There is no place for using disgusting, abhorrent and cruel language against people with whom you disagree – even sharply disagree.
How is such language in keeping with the teachings of the Bible?
How is such venom going to persuade anyone to listen to – much less agree with and follow – the teachings of the Lord throughout the Holy Scriptures?
It's not.
Such caustic language isn't going to bring healing and wholeness to a society steadily drifting away from God.
It's just going to pour fuel on an already raging cultural fire.
Fortunately, as Tal noted in her story, a number of Knesset members – including members of Bibi's government – spoke out against such unacceptable language.
But mark my words: This is just the beginning.
And, as I wrote on Friday, this is a major challenge facing Netanyahu as he tries to lead this new government.
It is right to love and show kindness and compassion to all people, including the LGBTQ community.
It is right to protect the physical security and civil rights of all people, especially minorities who are prone to be verbally bullied or even physically attacked.
That said, it is dangerous for any society to promote and celebrate a lifestyle choice that is 180 degrees against the teachings of the Bible. Societies that reject the Word of God – and embrace values that are in direct defiance of the God of the Bible – risk bringing upon themselves the serious personal and national consequences of which the Bible repeatedly warns.
The overwhelming majority of Israelis embrace and celebrate gay rights.
They do so because they are drifting from – at times running from – the God of Israel and His Word.
That's a problem.
But Evangelicals who love the Lord, the Bible and Israel, need to be careful.
We must not sound like the shrill and self-righteous rabbis who know the Law but don't truly practice it.
We, as followers of Yeshua, must not get weird or shrill or nasty about the rise of the LGBTQ community or its widespread embrace by most of the Israeli culture and political sphere.
That's not going to help.
Rather, we must pray faithfully and without ceasing for Israelis to rediscover the Bible, to read the Bible – both Old Testament and New – from cover to cover.
Let us also pray that all Israelis truly embrace the God of the Bible.
And let us be sure to speak the truth in love about the importance of biblical marriage between a man and a woman and the spiritual, physical and social risks that come to any society that decides to do what is right in its own eyes.

Joel C. Rosenberg is the editor-in-chief of ALL ISRAEL NEWS and ALL ARAB NEWS and the President and CEO of Near East Media. A New York Times best-selling author, Middle East analyst, and Evangelical leader, he lives in Jerusalem with his wife and sons.
A message from All Israel News
Help us educate Christians on a daily basis about what is happening in Israel & the Middle East and why it matters.
For as little as $5, you can support ALL ISRAEL NEWS, a non-profit media organization that is supported by readers like you.
Donate to ALL ISRAEL NEWS
Current Top Stories
Comments