Two-year anniversary of Abraham Accords announcement: the historic progress made and what is yet to be achieved
Middle East experts Meir Ben-Shabbat and David Aaronson of Israel's Institute for National Security Studies share their vision of what must be done to strengthen Israel's ties with its Arab allies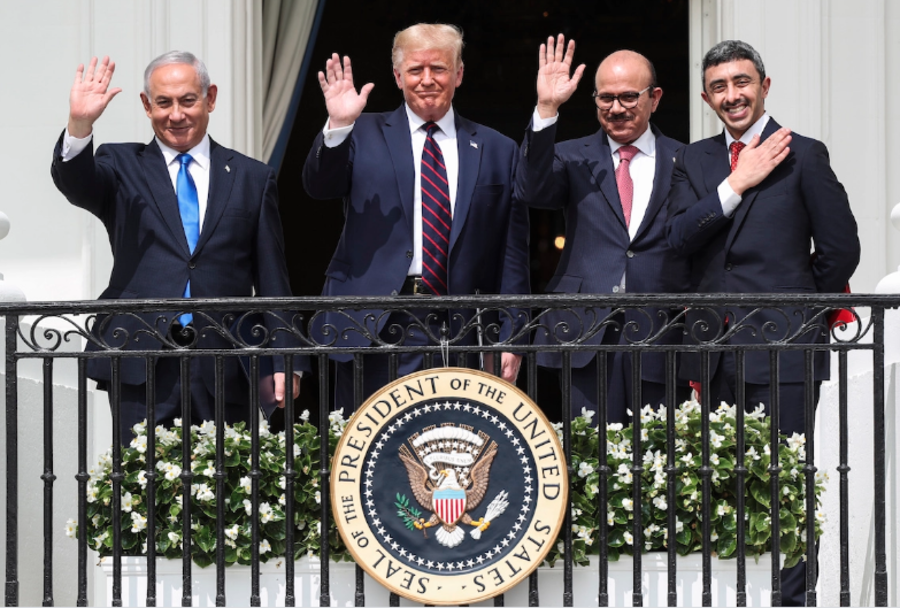 Israel's Prime Minister Benjamin Netanyahu, U.S. President Donald Trump, Bahrain's Foreign Minister Abdullatif Al Zayani and United Arab Emirates (UAE) Foreign Minister Abdullah bin Zayed wave from the White House balcony after a signing ceremony for the Abraham Accords, on the South Lawn of the White House in Washington, D.C., Sept. 15, 2020. (Photo: REUTERS/Tom Brenner)
Two years ago, on Aug. 13, 2020, former U.S. President Donald Trump made a historic announcement: Israel and the United Arab Emirates had reached an agreement to normalize ties, after long weeks (if not longer) of clandestine negotiations with American mediation.
Days later, Bahrain joined.
One month later, a festive signing ceremony took place on the White House lawn, which many in the Middle East deemed the end of the Arab-Israeli conflict. ALL ISRAEL NEWS Editor-in-Chief Joel Rosenberg was present at the event.
In the aftermath, Morocco and Sudan followed suit, establishing diplomatic ties with the Jewish state. 
"It will be known as the Abraham Accord," Trump said in his breaking news statement.
"I wanted it to be called the Donald J. Trump Accord, but I didn't think the press would understand that," he joked.
Despite regime changes in both Jerusalem and Washington since then, as well as two rounds of intense fighting between Israel and Gaza, the peace between the Accords' signatories still prevails. 
What former Secretary of State John Kerry said was "impossible" – without reaching a deal with the Palestinians first – became an undisputed reality. 
Israel has established diplomatic missions in the capitals of each of its Abraham Accords' partners. Israel's national airline, El Al, has launched direct flights from Tel Aviv to Abu Dhabi, Dubai, Manama, Casablanca and Marrakesh. Government officials and delegations have held reciprocal visits and signed follow-up agreements in the fields of trade, tourism, industry, technology, agriculture, science, technology and others.  
Even more impressive are the people-to-people ties that have ensued, whether in the business community and student-exchange programs, among NGOs or just between individuals.
On the regional-security level, cooperation is booming. This is reflected in intelligence sharing, joint training exercises, industrial collaboration and arms sales, among other initiatives meant to boost security, primarily against the Iranian threat.  
In March, Israel hosted a first-of-its-kind summit in the southern Negev desert, which was attended by U.S. Secretary of State Antony Blinken and foreign ministers from the UAE, Bahrain and Morocco.
Despite the vast progress that has been achieved, there is still much to aspire to in terms of regional cooperation, according to two Middle East experts involved in the formation of the Accords.
Israel's former National Security Advisor Meir Ben-Shabbat has been a public servant of the Jewish state for more than 37 years, holding several high-level positions, including head of Israel's National Security Council between 2017 and 2021. In December 2020, Ben-Shabbat received the U.S. Department of Defense Medal for Distinguished Public Service. 
David Aaronson serves as the deputy director for Israel at the Abraham Accords Peace Institute.
In a shared article for Tel Aviv University's Institute for National Security Studies, published on Thursday, Ben-Shabbat and Aaronson suggested a few ways to promote the partnership between Israel and its regional allies. 
OPENING AN OVERLAND TRADE ROUTE
Dozens of flights between Israel, the UAE and Bahrain have enabled the shipment of goods between the Abraham Accords partners, but to a limited extent, the two experts said: Aerial shipping is too expensive and too heavy for large cargo.  
In the past, when the Gulf nations were boycotting Israel, European countries had to ship their cargo to the Gulf through Lebanon, Turkey or the Suez Canal. The new era of peace, according to Ben-Shabbat and Aaronson, begs for a new overland trade route between Israel and the Gulf, which will be more efficient and cheaper than other available solutions. The writers noted that an overland trade route could benefit not only the Abraham Accords members, but also Europe. 
PROMOTING REGIONAL PROJECTS
Regional projects involving Egypt and the Gulf nations could help solve or alleviate some of Gaza's fundamental challenges in the areas of infrastructure and economy. Ben-Shabbat and Aaronson did not elaborate on the specifics of such projects but believe that progress is possible without increasing Israel's security risks.  
ENERGY, FOOD AND WATER
As Russia's war in Ukraine is forcing European countries to seek alternative sources for food and energy, the Israeli-Gulf partnership could provide answers. Israel is a potential source for natural-gas exports to Europe, the two INSS experts stated. New gas supply agreements that would involve the Abraham Accords partners down the road could give Europe broader energy security, they said.  
FOOD CRISIS
By harnessing Israeli knowledge and experience in the field of alternative protein, Ben-Shabbat and Aaronson noted, the food crisis could be addresses with the production of wheat alternatives in African countries, such as Sudan and Morocco.  
DESALINATION AND WATER RECYCLING
Israel is considered a world leader in water desalination and recycling technologies, as well as making water from pure air. The Jewish state could provide practical and fast solutions to water shortages and the challenges of managing water resources in the Abraham Accords countries. 
HEALTHY AND DIGITAL MEDICINE
The COVID-19 pandemic highlighted the importance of international cooperation in life-saving initiatives. As a public health powerhouse, Israel could benefit from deepening medical cooperation with Bahrain and the UAE's government healthcare systems.   
CULTURE AND EDUCATION
Ben-Shabbat and Aaronson emphasized that expanding educational initiatives is necessary, and its value cannot be overstated. Teaching and spreading the idea of co-existence, tolerance and freedom of religion is the foundation for peace between people – and not only between governments – they stated. It is significant that Abraham Accords partners will continue to work together to strengthen peace through education and culture, minimizing the influence of extreme Islamist ideas. 
PEOPLE-TO-PEOPLE RELATIONS
Governments come and go, but people stay. The Abraham Accords opened the door to a genuine warming of relations between Israelis and Arabs, and the establishment of popular-religious legitimacy for ties with the Jewish state. Ben-Shabbat and Aaronson welcomed the extensive progress made so far and mentioned that it is important to amplify this trend, especially with Morocco in the near future, given the Moroccan king's traditional accepting approach towards the Jewish community. The two experts added that Israel should make Muslim-Arabs from the Abraham Accords nations feel extra welcome when they visit Israel. 
STRENGTHENING THE CIRCLE OF PEACE
Israel's relations with Sudan and Chad should not be neglected or overlooked, the INSS experts said. It is essential that these two African countries be invited to take part in regional forums and work groups, so they can see the benefits of their decision to normalize ties with Israel. The experts warn that, otherwise, a negative momentum could develop. They added that Kosovo – a Muslim country which has already opened an embassy in Jerusalem because of recently established diplomatic relations – should also receive a warm Israeli hug. 
According to Ben-Shabbat and Aaronson, the more Abraham Accords partners enjoy the fruit of peace – the easier it will be to encourage other countries to join in.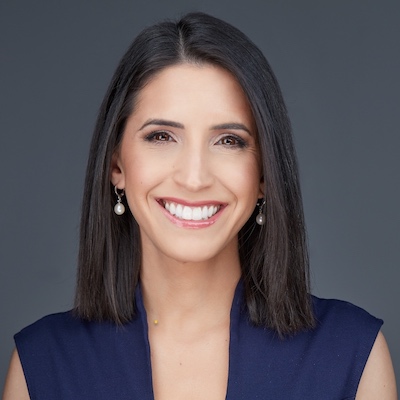 Tal Heinrich is a senior correspondent for both ALL ISRAEL NEWS and ALL ARAB NEWS. She is currently based in New York City. Tal also provides reports and analysis for Israeli Hebrew media Channel 14 News.
A message from All Israel News
Help us educate Christians on a daily basis about what is happening in Israel & the Middle East and why it matters.
For as little as $5, you can support ALL ISRAEL NEWS, a non-profit media organization that is supported by readers like you.
Donate to ALL ISRAEL NEWS
Current Top Stories
Comments