Hail or fail? Israelis conflicted about Negev Summit achievements
Some Israelis celebrate the historic gathering with foreign ministers of Bahrain, UAE, Morocco and Egypt; Others see it as an American orchestrated photo-op for the losers of the imminent Iran nuclear deal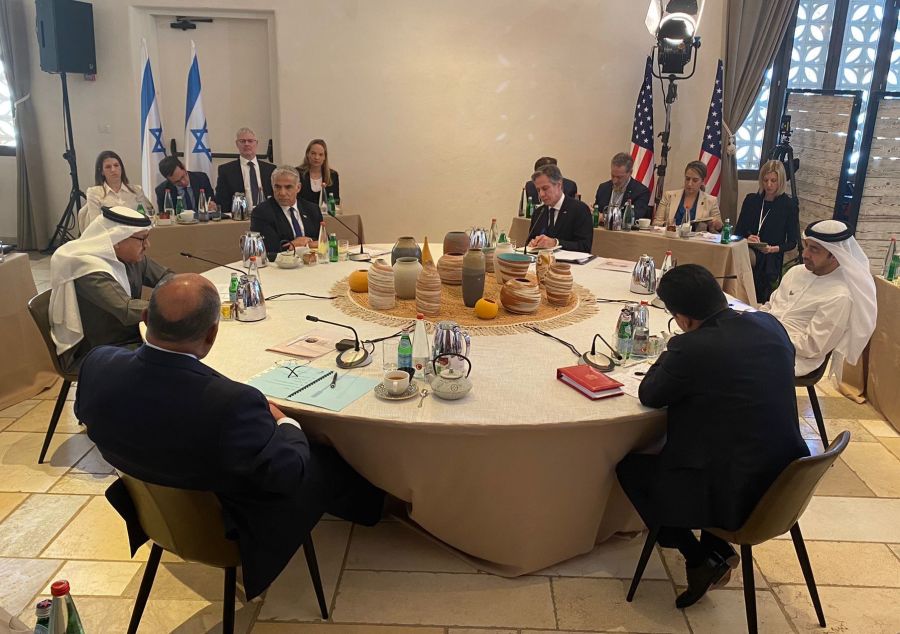 Morning discussion at the Negev Summit, Mar. 28, 2022 (Photo: Israeli Foreign Ministry)
The Israeli-hosted conference of Arab foreign ministers, known as the Negev Summit, wrapped up on Monday, stirring an ambiguous public discourse in Israel.
Whereas many Israelis highlighted the historic achievement of holding such a high-level diplomatic gathering in Israel's South, others considered it a U.S.-initiated smokescreen meant to distract attention from a pending nuclear deal with Iran. The perception gaps are significantly evident between supporters and critics of the Bennett-Lapid government. 
"Thank you, [Prime Minister Naftali] Bennett and [Foreign Minister Yair] Lapid, for organizing a 'summit' and allowing the Americans to demonstrate that you will lick their boots even when they're stepping on your faces," wrote Gadi Taub, a prominent right-wing thought leader and Haaretz op-ed columnist. 
"Israel hosts a conference that will allow the Americans to pretend that they are not treading on their allies, while racing to appease the ayatollahs. This stands directly against our interests. Bennett and Lapid's longing for diplomatic fame endangers our very existence," Taub added on Twitter.
A similar sentiment was echoed by Mohammed Alyahya, former editor-in-chief of Al Arabiya English, who wrote in a column for The Jerusalem Post: "Blinken used this occasion to paper over the rift that the nuclear deal has created by presenting an image of regional solidarity, but the region is not deceived."
The Negev Summit was the first-ever gathering of foreign ministers from Israel, Egypt, the UAE, Bahrain, Morocco and the U.S. No doubt such a historic event was made possible thanks to the Abraham Accords. Israel said it will turn this into a permanent regional forum. Even though the summit took place under Bennett's administration, many right-wing Israelis credit former Prime Minister Benjamin Netanyahu for turning the possibility of the summit into reality. 
Israelis who lean more center-left highlighted the historic achievement as a big success for Lapid. They see the summit as part of a chain of recent official visits and cooperation agreements, and as proof that regional diplomacy can live on and intensify without Netanyahu in power. 
Ynet's political journalist, Attila Somfalvi, wrote on Twitter that "ever since 2009 and Operation Cast Lead – when European leaders flocked to the prime minister's residence in Jerusalem to strengthen Israel and [former Prime Minister Ehud] Olmert – there has not been such a powerful diplomatic summit like the one that Lapid has organized with the Americans and with regional leaders." 
"This is proof that efficient diplomacy is not achieved by populist screams in pointless speeches in foreign countries," Somfalvi implied of Netanyahu, criticizing Israelis who "disparaged" the summit. 
Mordechai Kedar, a lecturer at Bar-Ilan University and a scholar in Arabic culture, told ALL ISRAEL NEWS that it is both peculiar and interesting that there was no joint statement by the six foreign ministers issued at the end of the summit. 
"Of course, they were flattering each other, but the American, Blinken, didn't talk about 'the' issue which is Iran," Kedar said. "Blinken didn't even want to talk about this, and this is the reason why there is no joint announcement. Israel and friends did not succeed to convince Blinken not to sign an agreement with Iran. They failed."
Lapid stressed that the main goal of the summit was to establish "a new regional architecture that will deter Iran."
Journalist Barak Ravid reported on Axios that Bahraini Foreign Minister Abdullatif bin Rashid Al Zayani was the only Arab minister who mentioned Iran by name. 
According to right-wing Israeli pundit and author, Caroline Glick, the summit was perhaps the "most difficult diplomatic failure" that Israel has known given the lack of focus on Iran.
"We created it with our own hands," Glick wrote on Twitter. "We invited Blinken to come and turn the strategic alliance against Iran that we have built with Arab states into an anti-Israel and pro-Palestinian Arab-American political alliance." 
In addition, the summit's focus on the Palestinian issue was not cohesive, according to Adi Schwartz, the co-author of the book "The War of Return." He pointed out the stark differences between the four Arab foreign ministers who made public remarks on Monday. 
Schwartz noted that the UAE's Foreign Minister Abdullah bin Zayed Al Nahyan did not mention the Palestinians at all. Bahrain's Al-Zayani only mentioned them once in the context of peace with Israel. Morocco's Nasser Bourita emphasized support for a two-state solution based on the 1967 borders. 
Egypt's Sameh Shoukry raised the Palestinian issue the most, including the necessity of establishing a state for the Palestinians with East Jerusalem as its capital, and called to avoid unilateral measures that can lead to an escalation – likely referring to settlement activity, said Schwartz. Shoukry also stood out as the only foreign minister who did not condemn the terrorist attack that took place in Hadera during the summit. 
Increasing regional cooperation and expanding the circle of peace were the two main topics that all the top diplomats seemed to agree on. "We are trying to change the narrative and create a better future for the region," UAE's Al Nayan said. 
It is worth mentioning who wasn't in attendance at the Negev Summit: Jordan and Saudi Arabia. Since the Saudi Kingdom has not yet established full official diplomatic ties with Israel, its absence was expected. However, Jordan's absence surely raised some eyebrows in Jerusalem, especially given that King Abdullah II arrived in Ramallah on Monday to meet Palestinian Authority President Mahmoud Abbas.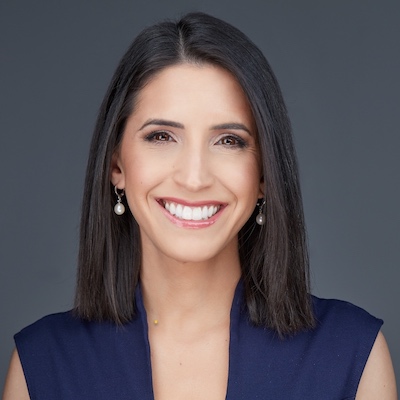 Tal Heinrich is a senior correspondent for both ALL ISRAEL NEWS and ALL ARAB NEWS. She is currently based in New York City. Tal also provides reports and analysis for Israeli Hebrew media Channel 14 News.
A message from All Israel News
Help us educate Christians on a daily basis about what is happening in Israel & the Middle East and why it matters.
For as little as $5, you can support ALL ISRAEL NEWS, a non-profit media organization that is supported by readers like you.
Donate to ALL ISRAEL NEWS
Current Top Stories
Comments