Trump acquitted in impeachment trial – is he now signaling he'll run again in 2024?
Israelis watching political mess in DC as Nikki Haley, Mitch McConnell express disappointment with former president, and Mike Pence remains silent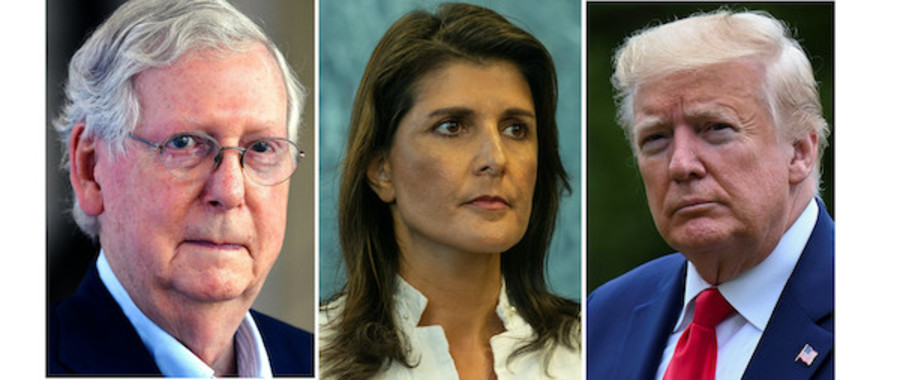 JERUSALEM – The most pro-Israeli president in American history has just gone through a second impeachment trial in two years, and been acquitted for the second time.
The trial was widely covered by Israeli news outlets.
And already, political activists and analysts in the U.S. and in Israel are trying to assess what the trial and acquittal means when it comes to the 2024 presidential race.
On Saturday, 57 U.S. senators voted night to convict Donald J. Trump of incitement to insurrection. 
Forty-three senators voted to acquit.
A conviction would have required a two-thirds majority, or 67 votes.
"This has been yet another phase of the greatest witch hunt in the history of our country," a defiant Trump said afterwards. "No president has ever gone through anything like it."
Is Trump now signaling he will run again in 2024?
"In the months ahead I have much to share with you, and I look forward to continuing our incredible journey together to achieve American greatness for all of our people," he said Saturday. "There has never been anything like it!"
A former campaign aide to Trump told a reporter that the impeachment trial "won't change his shot for 2024," arguing that "his base will be emboldened and his detractors will hate him even more."
A new poll finds that 54% of Republicans believe Trump should run again.
Yet Trump is facing a backlash of mounting criticism, and not just from classic "Never Trumpers" but from long-time close political allies, including those who served in Trump's Cabinet and ushered his legislative agenda through Congress 
Nikki Haley, the former governor of South Carolina who loyally served as Trump's ambassador to the United Nations and was close to Trump personally and politically, said this week that while she felt the Democrats' impeachment trial was a "waste of time."
She also said she was "disgusted" by Trump's actions in the final days of his presidency.
"When I tell you I'm angry, it's an understatement," Haley told a reporter for Politico. "Mike has been nothing but loyal to that man. He's been nothing but a good friend of that man. … I am so disappointed in the fact that [despite] the loyalty and friendship he had with Mike Pence, that he would do that to him. Like, I'm disgusted by it."
"I think he's going to find himself further and further isolated," Haley said. "I think his business is suffering at this point. I think he's lost any sort of political viability he was going to have. I think he's lost his social media, which meant the world to him. I mean, I think he's lost the things that really could have kept him moving."
"He's not going to run for federal office again," she said, adding, "We need to acknowledge he let us down. He went down a path he shouldn't have, and we shouldn't have followed him, and we shouldn't have listened to him. And we can't let that ever happen again."
Haley is widely viewed as a major potential presidential contender on the GOP side in 2024.
Also expressing sharp criticism – though also opposing impeachment was Senate Minority Leader Mitch McConnell, who had championed Trump's legislative agenda in the Senate and whose wife, Elaine Chao, actually served in Trump's Cabinet as secretary of Transportation.
"There is no question – none – that President Trump is practically and morally responsible for provoking the event of that day," McConnell said in a speech on the Senate floor.
"The people who stormed this building believed they were acting on the wishes and instructions of their president," he said, "and having that belief was a foreseeable consequence of the growing crescendo of false statements, conspiracy theories and reckless hyperbole which the defeated president kept shouting into the largest megaphone on planet earth."
McConnell said that Trump failed to act quickly and decisively to fulfill his role as the nation's chief law enforcement officer, saying he delayed for hours publicly calling on his supporters to stop storming the Capitol or sending in reinforcements to protect Vice President Mike Pence and the rest of the House and senators whose lives were in danger.
However, McConnell explained why he voted against conviction, stating that the only remedy the US Constitution permits for a guilty verdict would be removing a president from office.
With Trump out of office already, McConnell said there were no constitutional grounds to convict him.
Interestingly, Pence – arguably the leading contender for the GOP presidential nomination in 2024, at least if Trump does not run – has kept quiet since leaving office.
News reports suggest Pence is angry with Trump for throwing him under the bus, and not immediately sending reinforcements to protect him and 535 members of Congress.
But for now, he is officially keeping mum.
Pence is not scheduled to speak at the annual Conservative Political Action Conference (CPAC) in Orlando, Florida, scheduled for Feb. 25-28.
Nor is Haley.
The highest-profile headliner planning to address CPAC – so far, at least – will be former Secretary of State Mike Pompeo.
Pompeo is also widely believed to be considering a 2024 run for president.
In Trump's first trial, not a single Republican in the House voted to impeach him, and Mitt Romney of Utah was the only Republican in the Senate to vote to convict him.
In Trump's second trial, however, 10 Republicans in the House voted to impeach him.
And seven Republicans in the Senate voted to convict him, including Richard Burr of North Carolina, Susan Collins of Maine, Bill Cassidy of Louisiana, Lisa Murkowski of Alaska, Mitt Romney of Utah, Ben Sasse of Nebraska and Pat Toomey of Pennsylvania.

Joel C. Rosenberg is the editor-in-chief of ALL ISRAEL NEWS and ALL ARAB NEWS and the President and CEO of Near East Media. A New York Times best-selling author, Middle East analyst, and Evangelical leader, he lives in Jerusalem with his wife and sons.
A message from All Israel News
Help us educate Christians on a daily basis about what is happening in Israel & the Middle East and why it matters.
For as little as $5, you can support ALL ISRAEL NEWS, a non-profit media organization that is supported by readers like you.
Donate to ALL ISRAEL NEWS
Current Top Stories
Comments