Evangelical pastor Greg Laurie explains on THE ROSENBERG REPORT why 'Jesus Revolution' topped $50 million at box office, candidly shares about evangelist Lonnie Frisbee's battle with homosexuality
Jesus Christ can use flawed people to accomplish miraculous things for His Kingdom, Greg Laurie tells me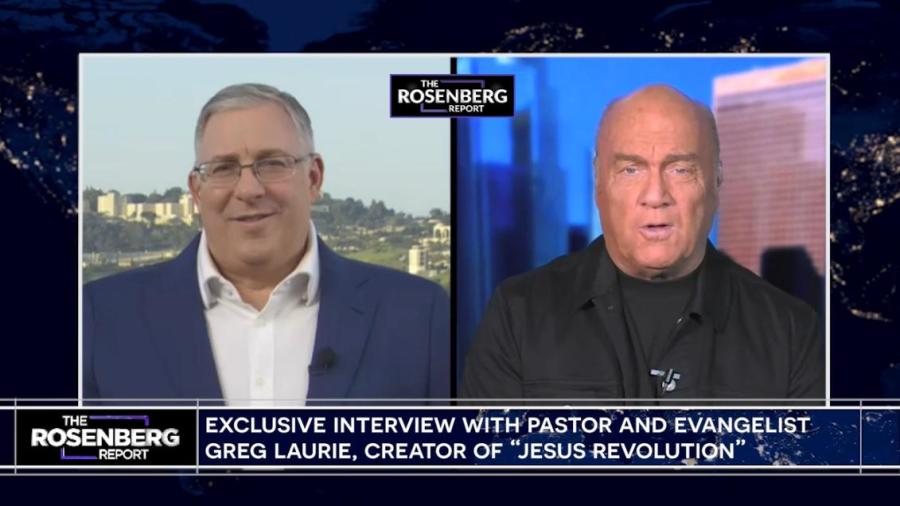 (Photo: Screenshot/The Rosenberg Report/TBN)
JERUSALEM, ISRAEL – I'm really excited about tonight's episode and I don't want you to miss it.
We have an exclusive interview for the entire program with my dear friend, Greg Laurie, the pastor and evangelist who wrote the book, Jesus Revolution, upon which the recent hit movie was based.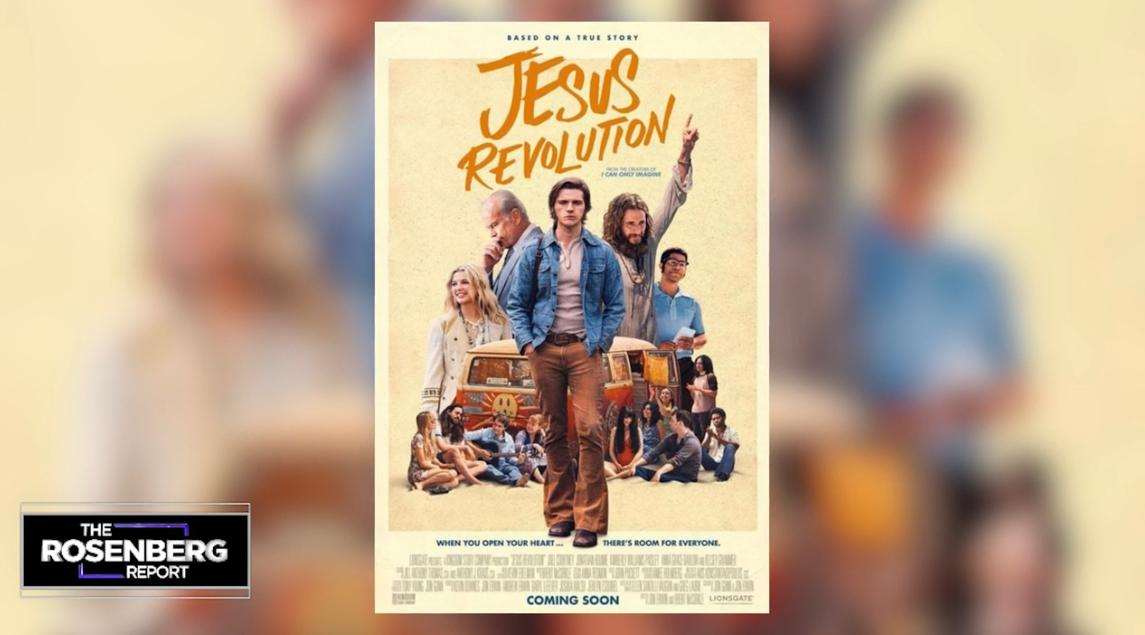 (Photo: Screenshot/The Rosenberg Report/TBN)
During our conversation, I ask him:
Why has 'Jesus Revolution' done so well, raking in more than $50 million at the box office, an almost unheard of sum for an independent, faith-based motion picture?

What kind of spiritual impact is the movie having? Is it true that some of the actors came to faith in Christ during the making of the film and wanted to be baptized for real, not just on camera?

How did the filmmakers persuade multiple Emmy Award-winning actor Kelsey Grammer – the megastar of Cheers and Frasier fame – to play the part of Chuck Smith, a struggling Evangelical pastor in Southern California who becomes deeply discouraged that his church is so small, not growing, not seeing people come to faith in Jesus Christ, and that maybe he should quit the ministry?

What's the real story with Lonnie Frisbee, the hippy evangelist who became friends with Chuck Smith and whom God used to help jumpstart the greatest spiritual awakening in the history of modern America?

Is it true that Frisbee later wandered away from the Christian faith, entered a life of homosexuality, and died of the AIDS virus in the early 1990s?

Does Greg believe God is done with the United States, or does he believe the Lord may pour out His Holy Spirit for another massive revival and Great Awakening?
To his credit, and my gratitude, Greg is very candid and direct with me in our interview.
(Photo: Screenshot/The Rosenberg Report/TBN)
He's got some exciting stories to share about lives of real people – actors as well as audience goers – who have been eternally impacted by the film.
But he also opens up about the Lonnie Frisbee story.
"Let's talk more about Lonnie Frisbee," I ask him at one point. "He really plays a key role in you coming to faith in Christ and growing in your faith and an encouragement for you to actually go into full time ministry. Yet, the choices he made later in life – you really, Greg, could have canceled him out, you could have written him out of your testimony because his life gets very messy. He's battling homosexuality. He's struggling with his faith."
Greg shares facts – some of them very painful – that most people don't know.
He also shares several stories about Lonnie that he's rarely talked about publicly.
But I can tell you that he does it all with grace and kindness, addressing directly the apparent contradiction between how much God used Lonnie to help kickstart the Jesus Revolution with Lonnie's deepest held secrets, sins, and regrets.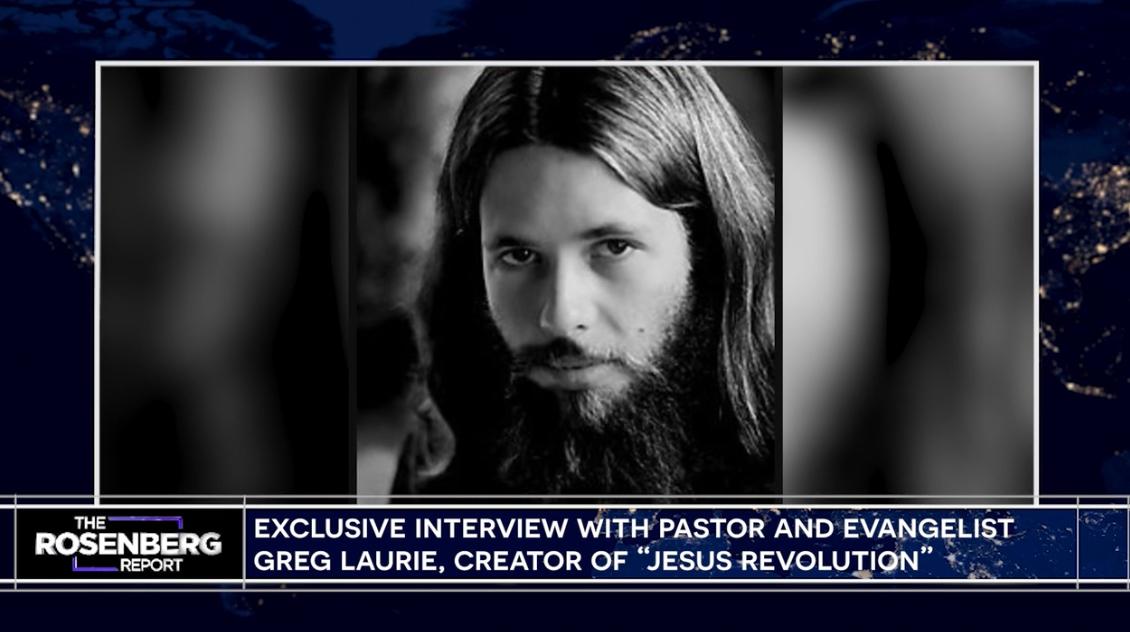 (Photo: Screenshot/The Rosenberg Report/TBN)
We also talk about Pastor Chuck's weaknesses, and how honestly the film deals with the lives and flaws of both men, something that totally caught me and my wife off guard when we saw the film for the first time, but that really makes the story powerful and emotional. He loses his way, even though he's had this incredible impact.
At one point, if I remember the line correctly, early on in the film, he talks about his life in San Francisco, before getting saved. He says something to the effect of, 'I'd done everything and everyone.' I just want to take a moment and would you share a little bit about the real Lonnie and the struggles he faced."
I won't give away Greg's answer here – you need to see the film.
But I will share a few lines that really struck me as powerful truth.
"I think we want our heroes, so to speak, to be perfect and flawless but, 'Hello – read the Bible,'" Greg says at one point. 
"Joel, you know as well as I do, God uses such flawed people. I mean, you know, after Noah successfully builds an ark and the floods, you know, stop, he goes and gets drunk. Samson, anointed by God, is living an immoral life. Abraham lied. David committed adultery and murder. Simon Peter openly denied Christ three times. So, God uses flawed people. God can draw a straight line with a crooked stick."
If you haven't seen the movie yet, I encourage you to do so.
It's still showing in some movie theaters in the United States.
It's also available on Amazon for viewing all over the world, including here in Israel.
In the meantime, please don't miss my exclusive and candid conversation with Greg Laurie.
THE ROSENBERG REPORT airs Thursday nights at 9 p.m. EST – and Saturday nights at 9:30 p.m. EST – on the Trinity Broadcasting Network (TBN).
Learn more about the show – and watch past shows – at www.RosenbergReport.TV.

Joel C. Rosenberg is the editor-in-chief of ALL ISRAEL NEWS and ALL ARAB NEWS and the President and CEO of Near East Media. A New York Times best-selling author, Middle East analyst, and Evangelical leader, he lives in Jerusalem with his wife and sons.
A message from All Israel News
Help us educate Christians on a daily basis about what is happening in Israel & the Middle East and why it matters.
For as little as $5, you can support ALL ISRAEL NEWS, a non-profit media organization that is supported by readers like you.
Donate to ALL ISRAEL NEWS
Current Top Stories
Comments