Opinion Blog / Guest Columnist
ALL ISRAEL NEWS is committed to fair and balanced coverage and analysis, and honored to publish a wide-range of opinions. That said, views expressed by guest columnists may not necessarily reflect the views of our staff.
The morning it all began
A family experiences the start of the war near Dimona
On the way home, the holidaymakers heard and saw the explosions and columns of smoke from the rockets (Photo: Stephanie Frank)
Stephanie, Benjamin, and their two daughters, Elinor and Amalia, were at a camping site in Mamshit, south of Dimona, on October 7th. It was supposed to be a carefree weekend with friends when their whole world turned upside down in an instant.
Boom. Boom. I repeatedly heard a strange noise. In a half-awake state, I glance at my phone; it's just a little after half-past six in the morning. Who on earth is making such a noise at this hour at a campsite?
I try to identify the sound. It seems strangely familiar, but I can't quite place it. I look at my children; both are peacefully asleep. The place where my husband slept is empty. I remember he mentioned the night before that he wanted to get up early for his quiet time, reading the Bible and praying.
Aside from the recurring loud noise, the campsite remains quiet at that moment. I contemplate whether I should try to go back to sleep, but something tells me I'd better get up and check outside.
The first shock
Just outside of our tent, I see more and more people emerging from their tents. In the distance, dark smoke rises. And now I hear it clearly: A siren in the nearest city, Dimona.
Within a fraction of a second, I put two and two together. The loud noises are explosions from rockets coming from the Gaza Strip. Despite being in Israel and accustomed to rockets, panic sets in instinctively. I run into the tent, grab both children, take them out, and lie down with them next to the picnic table in the sand.
This time, the explosion is significantly louder. After a few minutes that felt like an eternity, we got up again. The children are crying. No wonder, after being abruptly woken from sleep. I try to calm myself, at least for the sake of the children.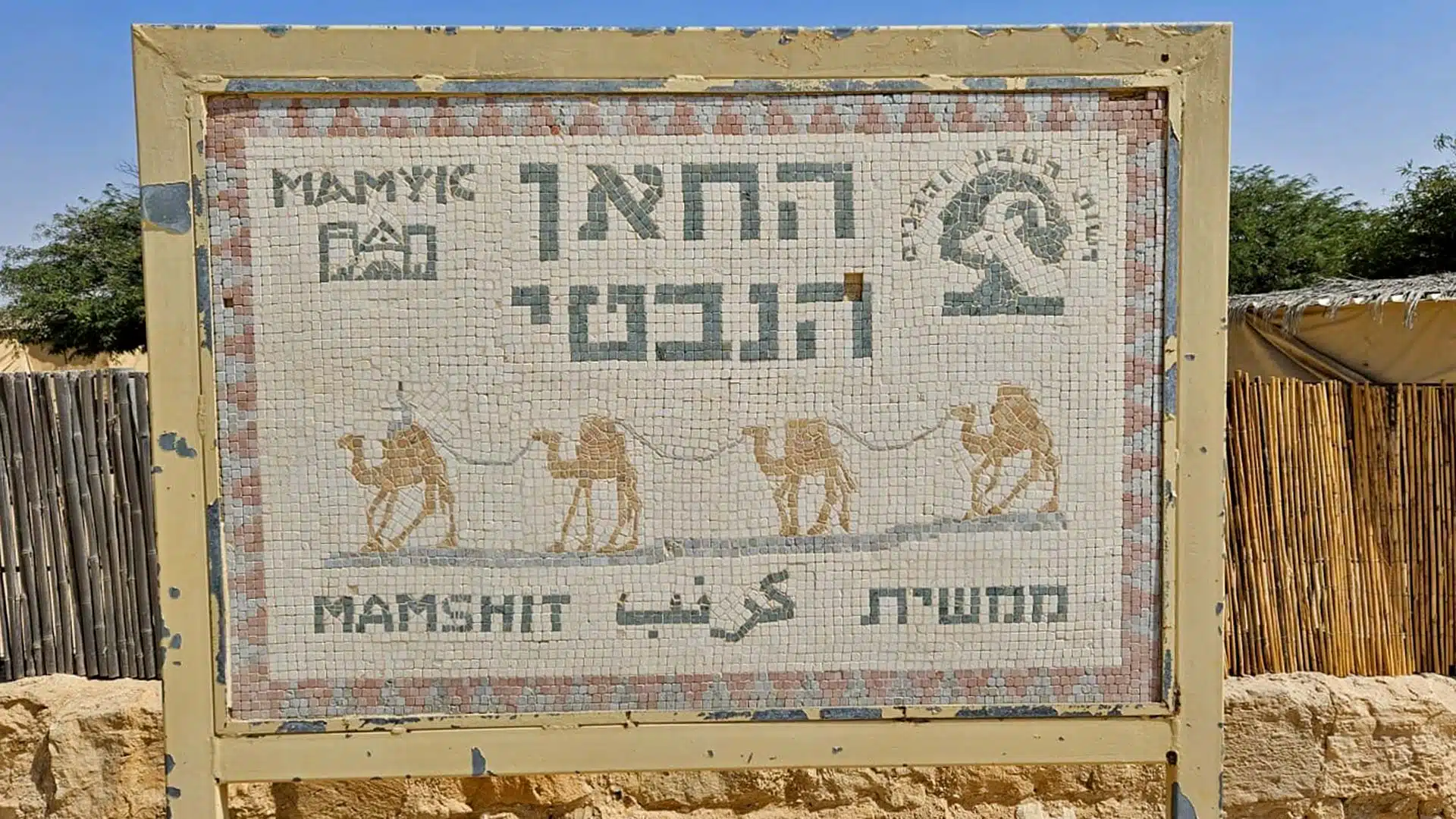 This morning the peaceful and quiet time in Mamshit got suddenly disrupted (Photo: Stephanie Frank)
Breaking down the tents
Without much discussion, we decided to dismantle the tents. Staying in the desert without real protection is not an option for any of us. We start packing our things, interrupted repeatedly by more sirens.
By now, I've composed myself again. I refuse to accept that our camping trip should end so abruptly. In Israel, we're used to rockets; it's nothing new. So why should we let a few bored terrorists disrupt our plans?
Fully in denial, I suggest going to the Dead Sea and taking a short hike there. I'm outvoted. Most of our group prefers to go home. We sing a song with the children and pray before everyone heads to their cars. 
A risky journey home
We decide to form a convoy and travel back towards Jerusalem together. The only problem is that we can't agree on which route is best. Either the longer route along the Dead Sea, which also goes through the West Bank, or the much faster route on Highway 6, which runs closer to the Gaza Strip.
The seriousness of the situation hits me for the first time as I see the solemn faces of our husbands. The discussion goes back and forth. In the end, we opt for the faster option.
To call our journey back home 'adventurous' would be an understatement. Along the route, we see a column of smoke from rocket impacts one after another. On the road itself, we maneuver around a large hole.
By now, I realize that we need to get home quickly. I distract myself by keeping my friends and family informed about the events and reading news reports. There are already several casualties. Even as a war-inexperienced German, I slowly began to understand: Something was different this time. And I would be right... 
Suddenly alone
Almost immediately after we arrived home, my husband delivered the next piece of bad news. He has already learned through his unit's WhatsApp group that he is being called up. He has to pack for his deployment and report directly to his army base. My world collapses. I break into tears and can hardly calm down.
How am I going to get through all of this without my husband? I can't imagine it. And yet, I go with him to our home and help him pack everything while our children are distracted by the landlords and their children.
And then it's time. Everything is packed way too quickly, and my husband, now in full uniform, says his goodbyes. The feeling of fear tightens my throat, and I can hardly think clearly.
The only thing I know is that I absolutely cannot stay alone in the apartment, especially since we don't have a shelter there. Our landlords kindly take us in for the first night. It's our best option as sirens continue to sound in our area. But in the long run, it's not a solution. The next day, I drove to our friends.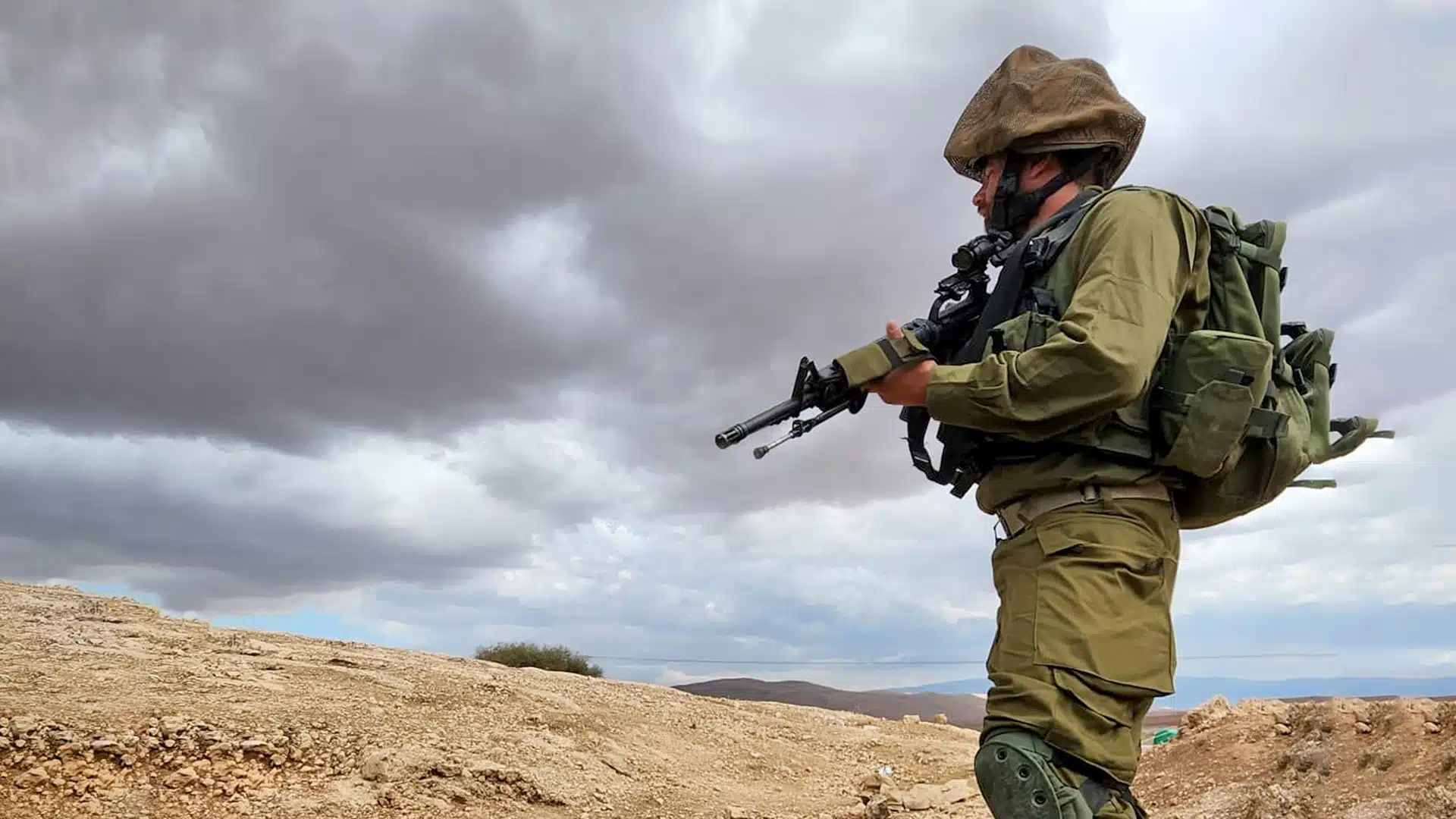 From the camping weekend, the author's husband went straight into military service (Photo: Stephanie Frank)
Sense of home
In the past, when my husband and I discussed the theoretical possibility of a war in Israel, he explained that it was natural for him to serve his country, and there was only one logical conclusion for me: Once my husband goes to war, I go back to Germany.
But suddenly, nothing is logical anymore. Instead of questioning whether he should really serve, I admire him for his determination to defend this land, for his trust in God, and for his fearlessness.
I am often asked by family and friends why we, or at least the children, don't come to Germany. I have no logical answer for my decision. It's more of a deep inner knowing that this is the place God has destined for us. I suddenly can't imagine sitting in Germany and leaving my husband and friends here. If I often felt like I lived between worlds (Germany and Israel) and was not fully at home anywhere, I now realize that God has already resolved this conflict.
A challenging conversation
But I keep hearing the voice of doubt. Is staying here really the right decision? A crucial turning point comes when I can finally shift my focus from myself to others.
When I finally have the strength to ask my 4-year-old daughter the ultimate question of how she's dealing with the situation, I find myself in the midst of the most challenging conversation of my life. In my naivety, I assumed that she hadn't noticed much of what happened in the past few days, but suddenly I was confronted with a harsh reality.
Her conviction that her "abba" will be "killed by the bad men" leads us into a bittersweet conversation about God's omnipotence, His strength, and the hope we have in Him that extends beyond this life. Not necessarily the way you want to introduce the Gospel to your child. We pray together, and I don't know which of us comes out of this conversation more strengthened.
Looking "upwards"
It's a natural reflex to want to do everything to maintain the illusion of control in a time marked by stress and chaos. My "coping mechanism" is the news. Every half hour, I check for the latest developments. Before I know it, I am already drowning in a flood of articles, reports and videos.
Until I realize that my focus is solely on the storm. I think of the story of Jesus walking on the Sea of Galilee. And of Peter. I'm no better at all. Instead of looking at Jesus, I'm sinking. I close the news and pick up my Bible. Psalms have become very popular again recently, and not without reason.
Here, like many others, I find hope and peace in this dark time. We can see God working in our everyday lives and in the lives of others. There are so many encouraging testimonies and infinitely many reasons to be grateful.
These moments of joy and gratitude are our daily triumph. After all, this war is also – or perhaps "above all" – a spiritual battle. Good against evil. Darkness against light. And with God by our side, we will emerge victorious from this battle. 
Our new "normal"
Meanwhile, I have found refuge with the children in an apartment in Jerusalem, generously provided by an American organization. Here, we have a shelter, surrounded by friends from the community. We have now settled into a new rhythm. Even if it's not perfect, I'm learning to surrender control to God. He knows better than I do, and He blesses and provides far beyond what we need.
Benny, stationed in the West Bank, was allowed to visit us after not seeing him for more than two weeks. We enjoyed 24 hours filled with joy, love and blissful harmony. All the things that would normally cause potential discord are suddenly insignificant and not worth mentioning. A war works better than any marriage seminar.
We don't know how long our situation will stay like this, or whether it will improve soon or worsen. But we are learning to live in the present and trust our tomorrow in God's hands.
God is our hope
Before the war, Israel was divided by different political views. Today, we stand side by side.
People reach out their hands and work shoulder to shoulder. Political opinions and other differences no longer matter. Relationships grow deeper, and new friendships are formed. Many get married, and couples decide not to postpone their desire for children any longer. We are certain that God will be our hope and salvation even in this time of need.
The apparent "success" of Hamas is only temporary. God has not forgotten Israel, and this nation will emerge strengthened from the war. Of course, the war will leave its mark on all of us, but He who heals the brokenhearted and binds up our wounds will lift us up again.
Our prayer is that we can be a living testimony for our God in this time, marked by darkness, and that others will find the light, the true Messiah, and therefore, true peace. And this prayer is for both sides of the conflict.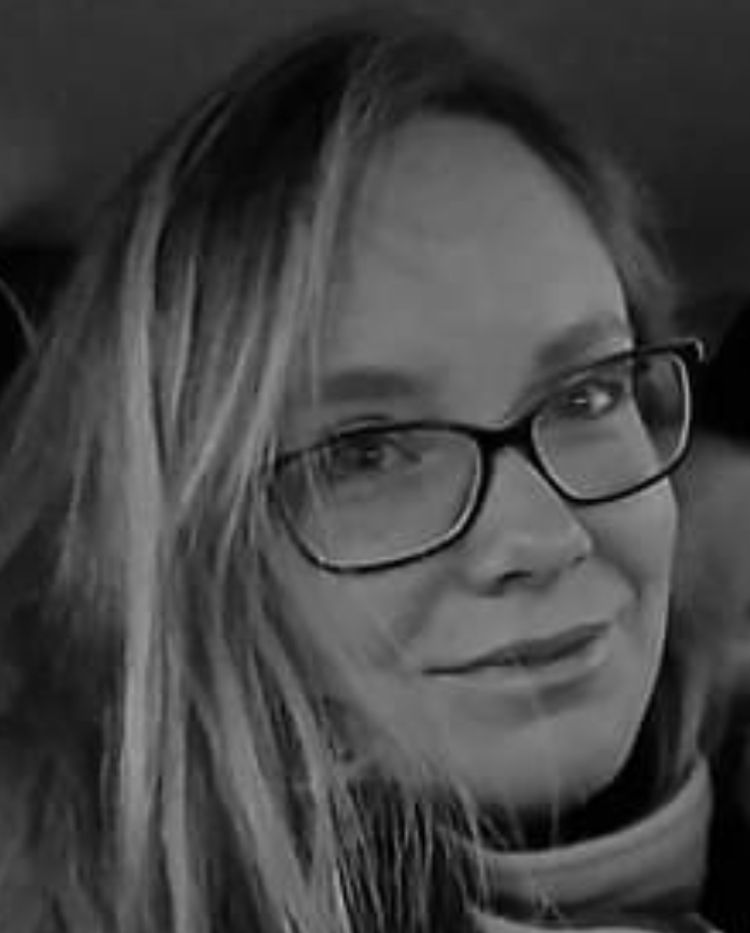 Stephanie Frank came to Israel as part of her studies in molecular medicine. In 2016 she met her husband, Benjamin, in a messianic community. Israel has been the center of her life since 2018. They live near Jerusalem with their two children.
Popular Articles
A message from All Israel News
Help us educate Christians on a daily basis about what is happening in Israel & the Middle East and why it matters.
For as little as $5, you can support ALL ISRAEL NEWS, a non-profit media organization that is supported by readers like you.
Donate to ALL ISRAEL NEWS
Latest Stories
Comments