PART TWO: HEZBOLLAH THREAT
The Israel-Lebanon border could become a battleground over Iran's nuclear program
In an interview with CBN News, I explained Hezbollah has 150,000 missiles in Lebanon aimed at the Jewish state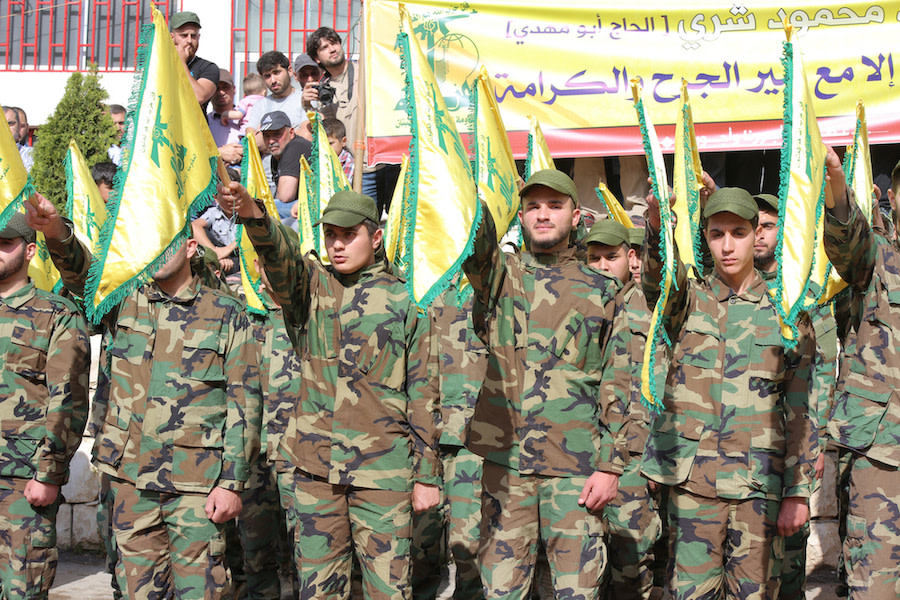 Southern Lebanon, Funeral anthracites for military commander of Hezbollah who was killed in Syria war, 2017 (Photo: Shutterstock)
HANITA KIBBUTZ (ON THE ISRAEL-LEBANON BORDER) – For the last several years, few American or international media outlets have given much attention to the growing threat posed by Hezbollah, the Iranian-backed terrorist force in Lebanon. 
That's a mistake.
As I reported yesterday, a "war of words" is underway between Hezbollah terror chief Sheikh Hassan Nasrallah and Israel's most senior defense leadership.
The threats and counter-threats are flowing fast and furious and it could all quickly degenerate into a Third Lebanon War.
Such a war could lead to extensive casualties on both sides and devastate the economies and infrastructure of both Israel and Lebanon, and cause the Middle East to once again erupt in flames.
For months now, ALL ISRAEL NEWS has been reporting about the historic peace and normalization agreements between Israel and four Arab nations – the United Arab Emirates, Bahrain, Sudan and Morocco.
These are encouraging developments and an answer to the prayers of millions around the world who have obeyed Psalm 122:6 to "pray for the peace of Jerusalem."
But it's important, simultaneously, to be clear that darker forces are preparing for war.
All evidence indicates that the Iranian regime is not only cheating on the nuclear deal it made with the West, but is also continuing to arm, fund and advise its terrorist proxy forces throughout the regime – what I call the "Three H's" – Hezbollah in Lebanon, Hamas in the Gaza Strip, and the Houthi rebels in Yemen.
Terror forces in Iraq who are loyal to Iran have also been launching attacks on U.S. installations in Iraq in recent days.
That said, the biggest immediate threat to Israel is not fully operational nuclear weapons in the hands of the mullahs in Tehran.
Senior U.S. and Israeli intelligence and defense forces say they do not believe Iran has The Bomb – yet.
Instead, the more immediate concern is the large and increasing missile arsenal possessed by Hezbollah and its mounting threat to rain fire down on the civilian population of Israel.
In addition to my ongoing meetings with Israeli military and intelligence officials and a tour of the Israel-Lebanon border to better understand the magnitude of the threat, I was interviewed by Chris Mitchell, the Middle East bureau chief for the Christian Broadcasting Network (CBN).
"Iran and the United States are locked in a face-off over the Iranian nuclear deal and Israel is caught in the middle," Mitchell reported. "Iran says economic sanctions must end before any new talks, but the U.S. says Iran must comply with the 2015 nuclear agreement before sanctions are lifted. This stand-off will have a profound impact throughout the Middle East, and Iran just raised the stakes."
"Middle East observer Joel Rosenberg fears negotiations could force Israel to strike first," Mitchell explained in a story broadcast on CBN's flagship program, "The 700 Club," watched by an estimated 1 million people across North America.
"You're already seeing Iran showing tremendous aggression," I told Mitchell. "It's increasing rapidly its enrichment uranium now to high-level enrichment, very, very close to bomb-making capacity."
"With Biden trying to get back into the nuclear deal, Israel might decide it has to take pre-emptive military [action] against Iran's nuclear facilities," I added, noting that Iran would respond by "almost certainly" ordering its proxy Hezbollah "to fire its 150,000 or so missiles and rockets here in Israel, which would be devastating."
In a Facebook Live interview with Mitchell, I explained that Lebanon is not really a sovereign country anymore. Tragically, it has effectively become a province of Iran. The Lebanese people have been taken hostage by the Hezbollah terrorist force that is loyal only to the Supreme Leader in Tehran.
Over the years, I explained, Lebanon has become a "forward-operating base for Iran." 
If a conflict between Israel and Iran erupts, the Supreme Leader will activate Hezbollah to unleash its massive missile force and its brigades of jihadist fighters, many of whom are battle-hardened from years of civil war in Syria.
It is critical, therefore, to understand the role Hezbollah and Lebanon play in Iran's overall terror strategy. 
"On Sunday, the head of the UN nuclear watchdog announced Iran will provide 'less access' to its atomic program," Mitchell also reported. "The move is a response to Biden's refusal to lift sanctions, which Iran is demanding as a condition to return to the negotiating table. Some warn if negotiations lead to sanctions relief, it will begin a financial chain reaction in the region."
Mitchell picked up on my "word of words" theme, reported that Israeli Defense Minister Benny Gantz declared Lebanon's ground would "tremble" if Hezbollah attacked Israel.  
"Meanwhile, Hezbollah Chief Hassan Nasrallah boasted his military can hit anywhere in Israel and that Israel would not see anything like it since the founding of the state," Mitchell explained. "Just days ago, Israel's Air Force launched an exercise that simulated 3,000 strikes on Hezbollah targets within 24 hours."

Joel C. Rosenberg is the editor-in-chief of ALL ISRAEL NEWS and ALL ARAB NEWS and the President and CEO of Near East Media. A New York Times best-selling author, Middle East analyst, and Evangelical leader, he lives in Jerusalem with his wife and sons.
A message from All Israel News
Help us educate Christians on a daily basis about what is happening in Israel & the Middle East and why it matters.
For as little as $5, you can support ALL ISRAEL NEWS, a non-profit media organization that is supported by readers like you.
Donate to ALL ISRAEL NEWS
Current Top Stories
Comments