The buzz at the National Religious Broadcasters convention this week: Israel is open to all tourists and Christians should book trips soon
After two years of closures and devastating losses, tourism is back in business and all are welcome – vaccinated and unvaccinated alike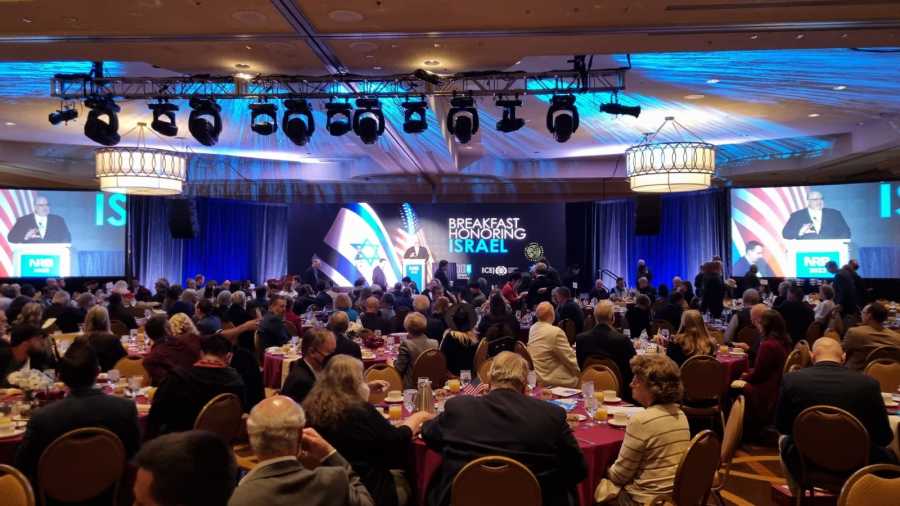 Breakfast honoring Israel at the National Religious Broadcasters convention in Nashville 2022 (Photo: ALL ISRAEL NEWS)
This week's National Religious Broadcasters (NRB) convention in Nashville is abuzz with the news of Israel's total re-opening of tourism – for vaccinated and unvaccinated alike.
Two years ago, at the same event and location, the impact of the COVID pandemic was just beginning to spread thoughout the globe with early reports of Israel's national airline laying off the first 1,000 employees. Ultimately, tourism would be shut down entirely leading to millions of cancelations, tens of thousands of Israelis in tourism and tourism-related industries losing their jobs and deep economic hardships, the ripple effects of which are still being felt.
Two years later, a sense of returned opportunities to visit Israel and restored tourism are breeding hope and optimism.
Eyal Carlin, Israel's Tourism Commissioner for North America, amplified that sentiment.
"We are already seeing tourists coming back, and bookings for peak seasons in the fall are near pre-pandemic levels. One of the important reasons to be at the NRB convention this week is because while Israel opened for all tourists as of March 1, many people do not know that yet," he said. "We want to get the word out that Israel is open for tourism again, so people can plan their trips that have been delayed because of the pandemic, or just the dream trip that people have been looking forward to."
The sense of optimism was echoed by Robert Vander Maten, president of Noseworthy Travel which specializes in Christian tourism to Israel. The past two years have been devastating for many specializing in Christian tourism to Israel. Noseworthy has deferred dozens of groups tours, rescheduling some groups repeatedly, while waiting for the gates to reopen.
Vander Maten said that for him, bringing Christians to Israel is more than a business – it's a passion. He described his first trip to Israel in 1986 as "life changing," and has been bringing Christians to Israel ever since.
"Before I got to visit Israel that first time, I prayed to be able to do so for 10 years. Then in 1986, God gave me the opportunity to go," he said.
He gave voice to what many Christians feel about Israel, that despite the frustrations of not being able to come visit, there is only one Israel and there is always the desire for Christians to travel there.
Joel James, another specialist in Christian tourism to Israel, vice president of Inspiration Cruises and Tours, shared optimism while noting how much potential was lost.
"We are thrilled to have groups going back to Israel. Right now, we have 300 travelers from the U.S. finishing a tour with pastor and author Max Lucado, and in two weeks we will have 650 Join Dr. David Jeremiah for his tour," James said. "It's very encouraging to be able to bring people back to Israel. These numbers seem like a lot after two years of virtually no tourists entering the country, but the truth is that both of these would be double their size had it not been for the previous rules and mandates."
"Unfortunately, several other tours canceled due to uncertainty," James noted. "Nevertheless, we are blessed to know that the mandates have been lifted and things will be easier for people to come to Israel in the future."
At the NRB breakfast to honor Israel, a related topic and new initiative was raised: Instead of churches giving their pastors a trip to Israel upon their retirement, they should make the investment when a pastor is young. Carlin, among others, mentioned that this trend has been the subject of discussion recently since a trip to Israel can be such a life-changing, spiritual experience that young pastors can pass along to their congregants.
"Now that tourism is back, people should plan to make that trip soon, not pushing it off as a bucket-list item, but to change their lives forever," Carlin said.
Looking ahead, Carlin believes that by 2024 – at the latest – Israel's tourism will fully return to pre-pandemic record levels.
When asked if he worried that another COVID variant would shut tourism down again, Vander Maten observed that a two-year pent-up demand is finally being realized.
"I really don't see Israel shutting down again," he said. 


Carlin agreed – Israel has turned a corner. He joked that he's not a prophet, but if something unforeseen were to happen, it wouldn't just affect Israel and that the problem would be much more widespread.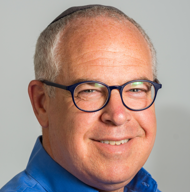 Jonathan Feldstein was born and educated in the U.S. and immigrated to Israel in 2004. He is married and the father of six. Throughout his life and career, he has become a respected bridge between Jews and Christians and serves as president of the Genesis 123 Foundation. He writes regularly on major Christian websites about Israel and shares experiences of living as an Orthodox Jew in Israel. He is host of the popular Inspiration from Zion podcast. He can be reached at firstpersonisrael@gmail.com.
A message from All Israel News
Help us educate Christians on a daily basis about what is happening in Israel & the Middle East and why it matters.
For as little as $5, you can support ALL ISRAEL NEWS, a non-profit media organization that is supported by readers like you.
Donate to ALL ISRAEL NEWS
Current Top Stories
Comments