EXCLUSIVE INTERVIEW – PART TWO
Terror, tragedy have taught us to have compassion for Jews, Arabs & all Israelis, says presidential candidate Yehudah Glick and his wife Hadas
Yehudah was almost assassinated by a Palestinian terrorist, lost his beloved first wife to a stroke, then married Hadas who herself was a widow for 17 years
JERUSALEM – Tragedy can be a good teacher.
It doesn't have to be.
Some who experience pain and sorrow become bitter and angry.
Others, however, develop a deeper sense of empathy for others than they might have had before.
That was the message Yehudah Glick and his wife Hadas shared with me in Part Two of my three-part series of interviews.
Indeed, the Glicks believe that the suffering they have had to endure has taught them to have compassion for Jews, Arabs and all who live in Israel.
They also believe it would serve them well if Yehuda should be so fortunate to be elected the next president of the State of Israel.
WHO ARE THE GLICKS AND WHAT EXPERIENCES HAVE SHAPED THEIR WORLDVIEW?
The election will be held on June 2 in the Knesset – Israel's parliament.
At the moment, Glick – who was born in Brooklyn and made aliyah with his family at the age of nine, and later served as Member of the Knesset – is the only center-right Likud Party member who has announced his candidacy.
He is also the only Orthodox Jewish leader running for president.
And he believes that his unique life experiences – and his wife's – have prepared them for the trauma and bitter divisions that Israelis are going through now.
Yehudah was almost assassinated by a Palestinian terrorist, who shot him four times in the chest.
Not long after, he lost his beloved first wife to a stroke, so traumatized she was by seeing her husband shot.
At that point he was a widower, trying to deal with his own grief, as well as care for his children.
In time, he met and married Hadas who, herself, had been a widow for 17 years.
Hadas later started a non-profit organization whose mission is to care for widows throughout Israel.
And Yehudah has become her enthusiastic partner in this work, knowing firsthand how important it is.
"I'm really happy that Hadas is here with me today because we're coming to this presidential campaign with the two of us together, and with the love that we have between each other, and we want to share a message of love with all the people of Israel and the entire world personally," Yehudah told me.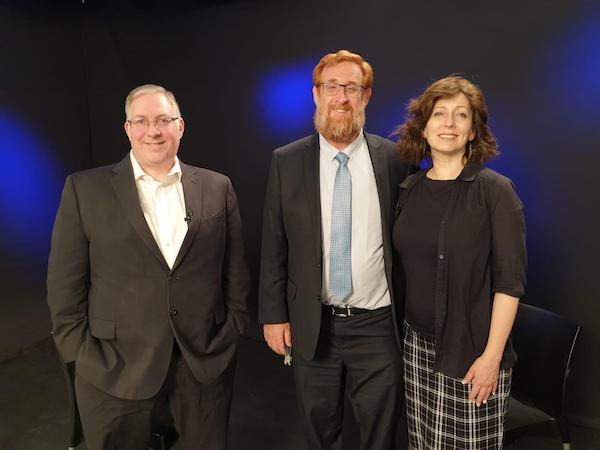 Joel Rosenberg, Yehudah Glick and Hadas Disin-Glick (Photo: All Israel News)
"The violence I experienced encouraged me to be as active as I can to bring this message of peace to Israel and the world," he said.
"When I became a member of the Knesset, this was my topic – the topic was at this place – the city of Jerusalem has to be a city of shalom, a city of harmony, a city of diverse inclusiveness."
A SPECIAL HEART FOR WIDOWS AND ORPHANS
Hadas was born and raised in Israel, in the ultra-Orthodox community of Bnei Brak.
When she married her first husband, she remained devoutly religious but with his encouragement began to see more of Israel and meet more types of people and develop a love for them.
She was only 29 when that first husband collapsed and died of a heart attack, though he otherwise had been a very healthy man.
For the next 17 years, she was forced to raise her children on her own.
"There are so many little populations that are out of sight" in Israeli society, "including widows and orphans," Hadas told me.
That bothers her.
She believes that if Yehudah is elected president they will reach out to Israelis in all sectors of society and find ways to encourage those who feel marginalized, forgotten or never noticed in the first place. 
"WE WANT TO BRING LIGHT TO THE ISRAELI SOCIETY FROM THE PRESIDENT'S RESIDENCE"
"There's usually one thing that we judge by," she said. "Do you have money, or you don't have money. If you have money, then [people think] you're fine. If you don't have money, then you're needy and we're going to help you. And that's not the way God judges."
Rather she said, God tells His people to care for all people – rich or poor, powerful or powerless – and to give special attention to "the Levite and the foreigner and the widow and the orphan."
Yehudah echoed that view and praised his wife for all that she has taught him.
"We want to truly, genuinely share that love that we have with all," he told me. "And we believe that light is stronger than any darkness, and love is stronger than any weakness. And we want to bring that light to the Israeli society from the President's Residence."
Click here to read and watch part 1.

Joel C. Rosenberg is the editor-in-chief of ALL ISRAEL NEWS and ALL ARAB NEWS and the President and CEO of Near East Media. A New York Times best-selling author, Middle East analyst, and Evangelical leader, he lives in Jerusalem with his wife and sons.
Popular Articles
A message from All Israel News
Help us educate Christians on a daily basis about what is happening in Israel & the Middle East and why it matters.
For as little as $5, you can support ALL ISRAEL NEWS, a non-profit media organization that is supported by readers like you.
Donate to ALL ISRAEL NEWS
Latest Stories
Comments