STATE FUNERAL OF THE QUEEN
Stunning to see Gospel clearly preached at Queen's state funeral, as some 4.1 billion people tuned in
As I watched from earthly Jerusalem, I was blessed to hear Anglican Archbishop declare Queen Elizabeth is now in the "Heavenly Jerusalem" because of her "faith and hope in Jesus Christ"
JERUSALEM—With leaders from all over the British Commonwealth and the globe attending – including Israeli President Isaac Herzog, Jordan's King Abdullah II, and U.S. President Joe Biden – the state funeral of Queen Elizabeth II that was held at Westminster Abbey in London on Monday was a glorious proclamation of the Gospel of Jesus Christ.
It was also the most-watched television broadcast in world history, with an audience of an estimated 4.1 billion people viewing from every nation, including here in Israel, even this local tea shop.
I was certainly one of them.
And what did we see?
Certainly British royal pageantry at its finest.
But far more importantly a gorgeous and moving tribute to a woman of deep Christian faith.
A memorial service filled with more Bible passages than I can recall on network television in my entire life, along with one beautiful Christian hymn after another, and one Christ-honoring prayer after another.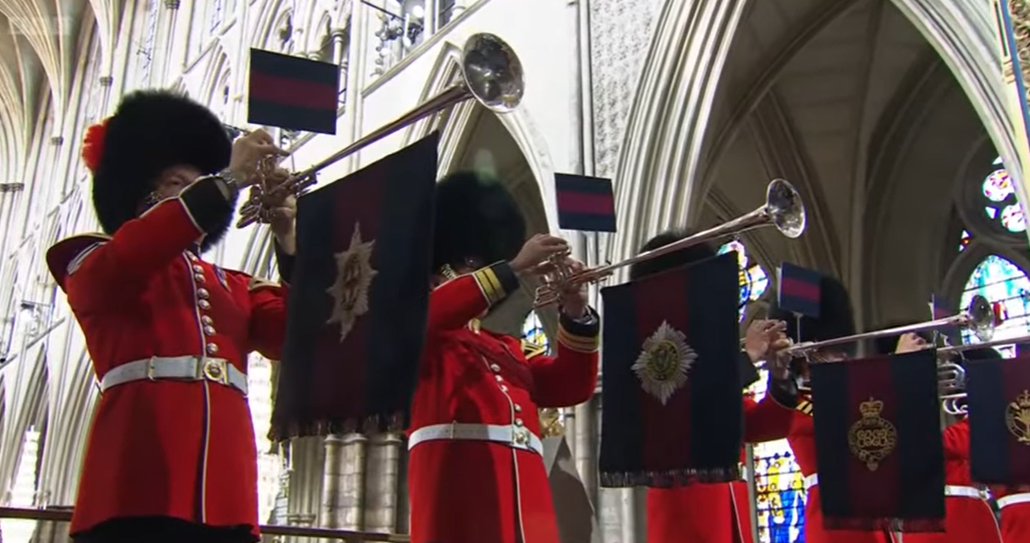 (Photo: Screenshot)
Last week, my wife, Lynn, wrote her first column for ALL ISRAEL NEWS, "Queen Elizabeth deeply loved Jesus Christ and the Bible – what I've been learning about her extraordinary faith."
I found it absolutely fascinating because I didn't really know how deep the Queen's personal faith was or how much she talked about her love for Christ and the Bible.
In the last paragraph, Lynn wrote: "I hope and pray that her funeral and memorial service next week will reflect the queen's love for the Lord Jesus Christ – the Messiah and Savior of the world – and will prove to be her last great witness to her people, and to all people, including here in Israel."
I, too, shared her concern.
But we need not have worried.
Here are some of the key elements of the hour-long service, in case you missed it.
OPENING REMARKS OF THE VERY REVEREND DR. DAVID HOYLE, THE DEAN OF WESTMINSTER ABBEY
These were the first words spoken during the service:
In grief and in profound thanksgiving we come to this house of God, to a place of prayer, to a church where remembrance and hope are sacred duties.
Here, where Queen Elizabeth was married and crowned, we gather from across the nation, from the Commonwealth, and from the nations of the world, to mourn our loss, to remember her long life of selfless service, and in sure confidence to commit her to the mercy of God, our Maker and Redeemer.
With gratitude, we remember her unswerving commitment to a high calling over so many years as Queen and head of the Commonwealth.
With admiration, we recall her lifelong sense of duty and dedication to her people.
With thanksgiving, we praise God for her constant example of Christian faith and devotion.
With affection, we recall her love for her family and her commitment to the causes that she held dear.
Now, in silence, let us in our hearts and minds recall our many reasons for thanksgiving.
Pray for all members of her family.
And commend Queen Elizabeth to the care and keeping of Almighty God.
O merciful God, the Father of our Lord Jesus Christ – who is the resurrection and the life; in whom whosoever believeth shall live though he die; and whosever liveth and believeth in Him shall not die eternally; who has taught us by His holy Apostle Saint Paul not to be sorry as men without hope for them that sleep in Him – we meekly beseech Thee, O Father, to raise us from the death of sin unto the life of righteousness, that when we shall depart this life we may rest in Him, as our hope is this our sister died, and that at the general resurrection in the last days we may be found acceptable in Thy sight and receive that blessing which Thy well beloved Son shall then pronounce to all that love and fear Thee, saying, "Come, ye blessed children of My Father, receive the Kingdom prepared for you from the beginning of the world." Grant this, we beseech Thee, Our merciful Father, through Jesus Christ our Mediator and Redeemer. Amen.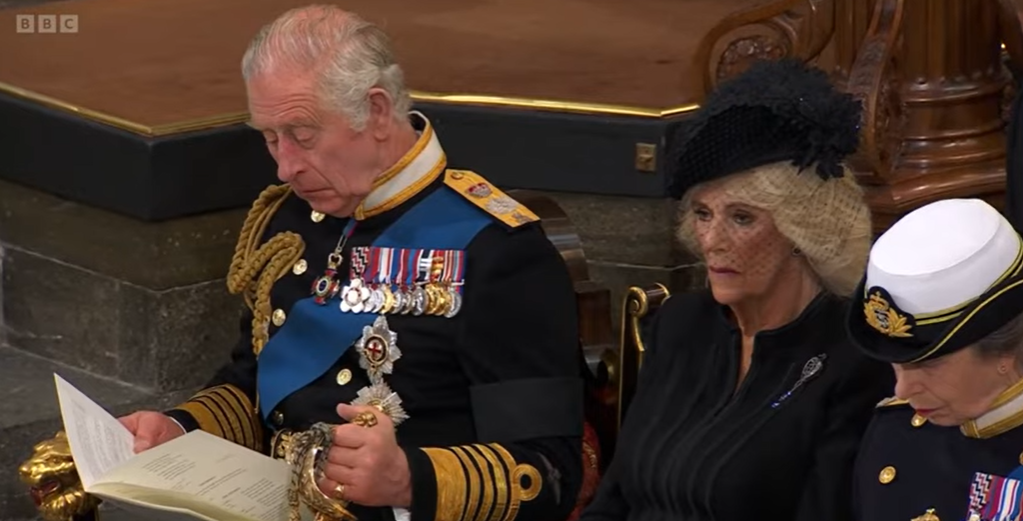 King Charles III and his wife Camilla, Queen Consort (Photo: Screenshot)
THREE PASSAGES OF SCRIPTURES THAT WERE READ IN SUCCESSION
After these opening remarks and various Christian hymns, three Bible passages were read, forming the main message of the service:
1 Corinthians 15:20-26, and verse 53 to the end of the chapter
But now Christ has been raised from the dead, the first fruits of those who are asleep. For since by a man came death, by a man also came the resurrection of the dead. For as in Adam all die, so also in Christ all will be made alive. But each in his own order: Christ the first fruits, after that those who are Christ's at His coming, then comes the end, when He hands over the kingdom to the God and Father, when He has abolished all rule and all authority and power. For He must reign until He has put all His enemies under His feet. The last enemy that will be abolished is death….
For this perishable must put on the imperishable, and this mortal must put on immortality. But when this perishable will have put on the imperishable, and this mortal will have put on immortality, then will come about the saying that is written, "Death is swallowed up in victory. O death, where is your victory? O death, where is your sting?" The sting of death is sin, and the power of sin is the law; but thanks be to God, who gives us the victory through our Lord Jesus Christ.
Therefore, my beloved brethren, be steadfast, immovable, always abounding in the work of the Lord, knowing that your toil is not in vain in the Lord.
As the deer pants for the water brooks, so my soul pants for You, O God.
My soul thirsts for God, for the living God;
When shall I come and appear before God?
My tears have been my food day and night,
While they say to me all day long, "Where is your God?"
These things I remember and I pour out my soul within me.
For I used to go along with the throng and lead them in procession to the house of God,
With the voice of joy and thanksgiving, a multitude keeping festival.
Do not let your heart be troubled; believe in God, believe also in Me. In My Father's house are many dwelling places; if it were not so, I would have told you; for I go to prepare a place for you. If I go and prepare a place for you, I will come again and receive you to Myself, that where I am, there you may be also. And you know the way where I am going." 
Thomas said to Him, "Lord, we do not know where You are going, how do we know the way?" 
Jesus said to him, "I am the way, and the truth, and the life; no one comes to the Father but through Me."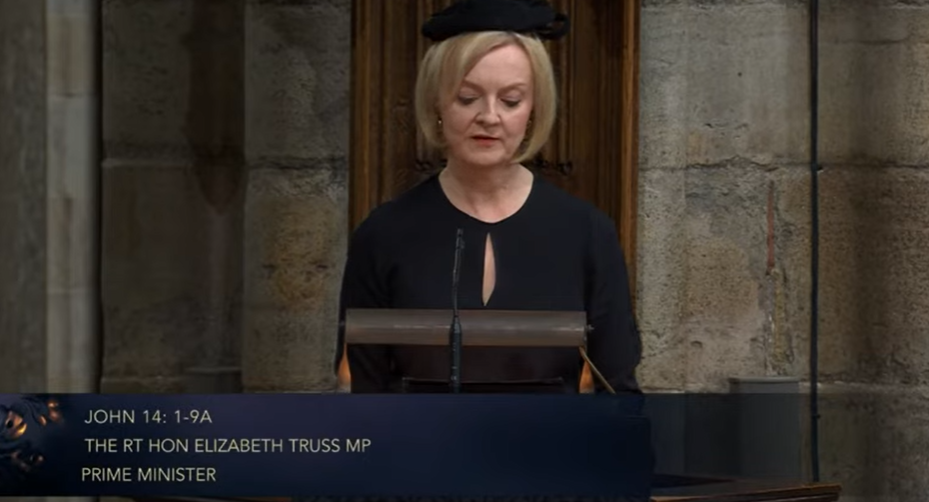 British Prime Minister Liz Truss (Photo: Screenshot)
EULOGY BY ANGLICAN ARCHBISHOP JUSTIN WELBY
Then the Archbishop of Canterbury Justin Welby delivered a brief but powerful message, emphasizing the Queen's love of Christ.
Come Holy Spirit, fill us with the balm of your healing love.
Amen.
The pattern for many leaders is to be exalted in life and forgotten after death.
The pattern for all who serve God – famous or obscure, respected or ignored – is that death is the door to glory.
Her Late Majesty famously declared on a 21st birthday broadcast that her whole life would be dedicated to serving the Nation and Commonwealth.
Rarely has such a promise been so well kept!
Few leaders receive the outpouring of love that we have seen.
Jesus – who in our reading does not tell His disciples how to follow, but Who to follow – said: "I am the way, the truth and the life."
Her Late Majesty's example was not set through her position or her ambition, but through Whom she followed.
I know His Majesty shares the same faith and hope in Jesus Christ as his mother; the same sense of service and duty.
In 1953 the Queen began her Coronation with silent prayer, just there at the High Altar.
Her allegiance to God was given before any person gave allegiance to her.
Her service to so many people in this nation, the Commonwealth and the world, had its foundation in her following Christ – God himself – who said that He "came not to be served but to serve and to give His life as a ransom for many." (Matthew 20:28)
People of loving service are rare in any walk of life.
Leaders of loving service are still rarer. 
But in all cases those who serve will be loved and remembered when those who cling to power and privileges are long forgotten.
The grief of this day – felt not only by the late Queen's family but all round the nation, Commonwealth and the world – arises from her abundant life and loving service, now gone from us.
She was joyful, present to so many, touching a multitude of lives.
We pray especially for all her family, grieving as every family at a funeral – including so many families round the world who have themselves lost someone recently – but in this family's case doing so in the brightest spotlight.
Archbishop of Canterbury Justin Welby (Photo: Screenshot)
May God heal their sorrow, may the gap left in their lives be marked with memories of joy and life.
Her Late Majesty's broadcast during COVID lockdown ended with: "We will meet again," words of hope from a song of Vera Lynn.
Christian hope means certain expectation of something not yet seen.
Christ rose from the dead and offers life to all, abundant life now and life with God in eternity.
As the Christmas carol ["O Little Town of Bethlehem"] says, "where meek souls will receive him, still the dear Christ enters in."
We will all face the merciful judgement of God: we can all share the Queen's hope which in life and death inspired her servant leadership.
Service in life, hope in death.
All who follow the Queen's example, and inspiration of trust and faith in God, can with her say: "We will meet again."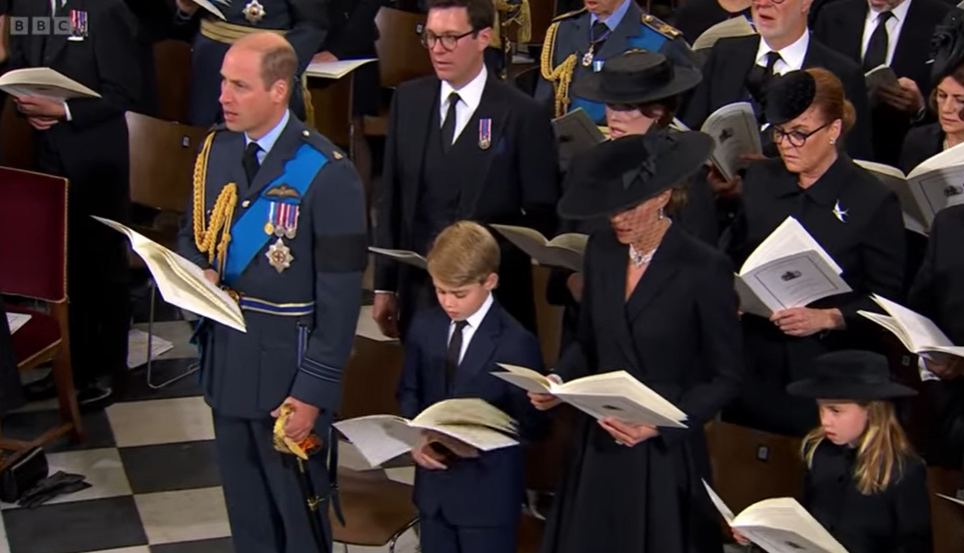 Crown Prince William and his wife, Catherine (Photo: Screenshot)
CLOSING PRAYERS
After more Christian hymns, prayers were offered for the king, family and nation by a wide range of British and Scottish clergymen.
These two most captured my attention.
One was by The Most Reverend and Right Honorable Scott Cottrell, the archbishop of York, of which one line particularly stood out.
"We give thanks to God for Queen Elizabeth's loyalty to the faith she inherited through her baptism and confirmation – and affirmed at her coronation – for her unswerving devotion to the Gospel, and for her steadfast service as the Supreme Governor of the Church of England."
The other was the final prayer by Welby.
"Heavenly Father – King of kings, Lord and Giver of life, who by Thy grace in creation didst form mankind in Thine own image, and in Thy great love didst offer us life eternal in Christ Jesus – claiming the promises of Thy most blessed Son, we entrust the soul of Elizabeth, our sister here departed, to Thy merciful keeping, in sure and certain hope of the resurrection to eternal life, when Christ shall be all, in all, who died and rose again to save us, and now liveth and reigneth with Thee and the Holy Spirit in glory forever. Amen."
Then the archbishop added, "Go forth, O Christian soul, from this world in the name of God the Father Almighty who created thee; in the name of Jesus Christ, Son of the Living God, who suffered for thee; in the name of the Holy Spirit who was poured out upon thee and anointed thee in communion; with all the blessed saints, and aided by the angels, and the archangels, and all the armies of the heavenly host. May thy portion this day be in peace, and thy dwelling in the Heavenly Jerusalem. Amen."
In this day and age of rank secularism in the world – and deep-seated hostility in much of the so-called "mainstream media" towards true followers of Jesus Christ – it was truly astonishing to watch a memorial service that communicated the Gospel message so clearly, that shared the Word of God so directly, and that honored a woman of true Christian faith so beautifully.
It is hard to imagine that we will ever see such a Christian memorial service again watched on such an immense global scale.
But such was the powerful of Queen Elizabeth's faith and character.
Never a personal scandal.
Never a hint of personal impropriety.
A kind and loving woman.
An earthly queen, yet above all a devoted servant of the King of kings and the Lord of lords.
Who commanded the world's attention in life.
And even in her death.
To watch the full BBC broadcast of the day – and specifically the memorial service in Westminster Abby, which begins at the three-hour mark – please click here.
To read the full text of Anglican Archbishop Justin Welby's sermon for the State Funeral of Her Majesty Queen Elizabeth II, please click here.
To watch the Archbishop's sermon, please click here.

Joel C. Rosenberg is the editor-in-chief of ALL ISRAEL NEWS and ALL ARAB NEWS and the President and CEO of Near East Media. A New York Times best-selling author, Middle East analyst, and Evangelical leader, he lives in Jerusalem with his wife and sons.
Popular Articles
A message from All Israel News
Help us educate Christians on a daily basis about what is happening in Israel & the Middle East and why it matters.
For as little as $5, you can support ALL ISRAEL NEWS, a non-profit media organization that is supported by readers like you.
Donate to ALL ISRAEL NEWS
Latest Stories
Comments