Tea, tears and prayers: English-style tea shop in Jerusalem hosts livestream of Queen Elizabeth's funeral
Ex-pats, tourists in the Israeli capital partake in the camaraderie of their shared respect and grief of their queen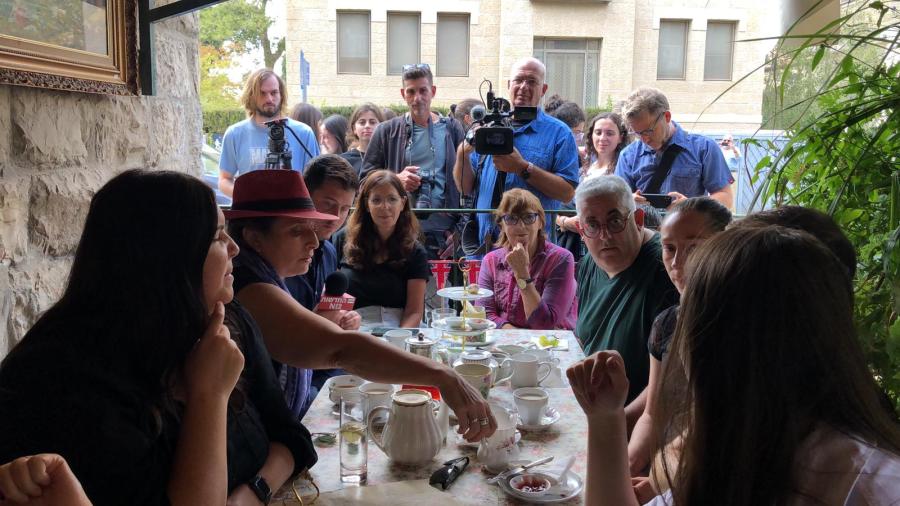 British ex-pats and tourists gather at the Kumkum Tea House in Jerusalem to watch the livestream of Queen Elizabeth's funeral together. (Photo: All Israel News)
JERUSALEM—When the two minutes of silence at the end of Queen Elizabeth II's funeral began on Monday, a hush fell over the Kumkum Tea House in Israel's capital as well.
Even the normally busy and noisy Bethlehem Road seemed to comply with the gravity of the occasion with nary a car passing by for about 30 seconds.
The charmed atmosphere of the teahouse became a solemn assembly for about 50 British expats and some tourists from England, Wales and Canada to watch the funeral together and to pay their last respects far away from the ceremony in London.
Clinking china, steaming tea and fresh scones were the appropriate backdrop to the pomp and circumstance of the ceremony. For those gathered, they felt the camaraderie of sharing their traditions and respect for a monarch whose time on the throne spanned most of their lifetimes.
And for Elisheva Levy, the British Israeli who runs Kumkum, she wanted to create the space for like-minded people to feel at home and to process the moment together. Many Israelis couldn't quite relate to the feelings of Great Britain's ex-pat community, Levy said.
"I did this to bring people together. I knew people wanted to get connected. You just feel like so lost here. No one in Israel gets it," Levy said. "And just like I said, I wanted everybody to feel at home. I felt like I was hosting people in my own home."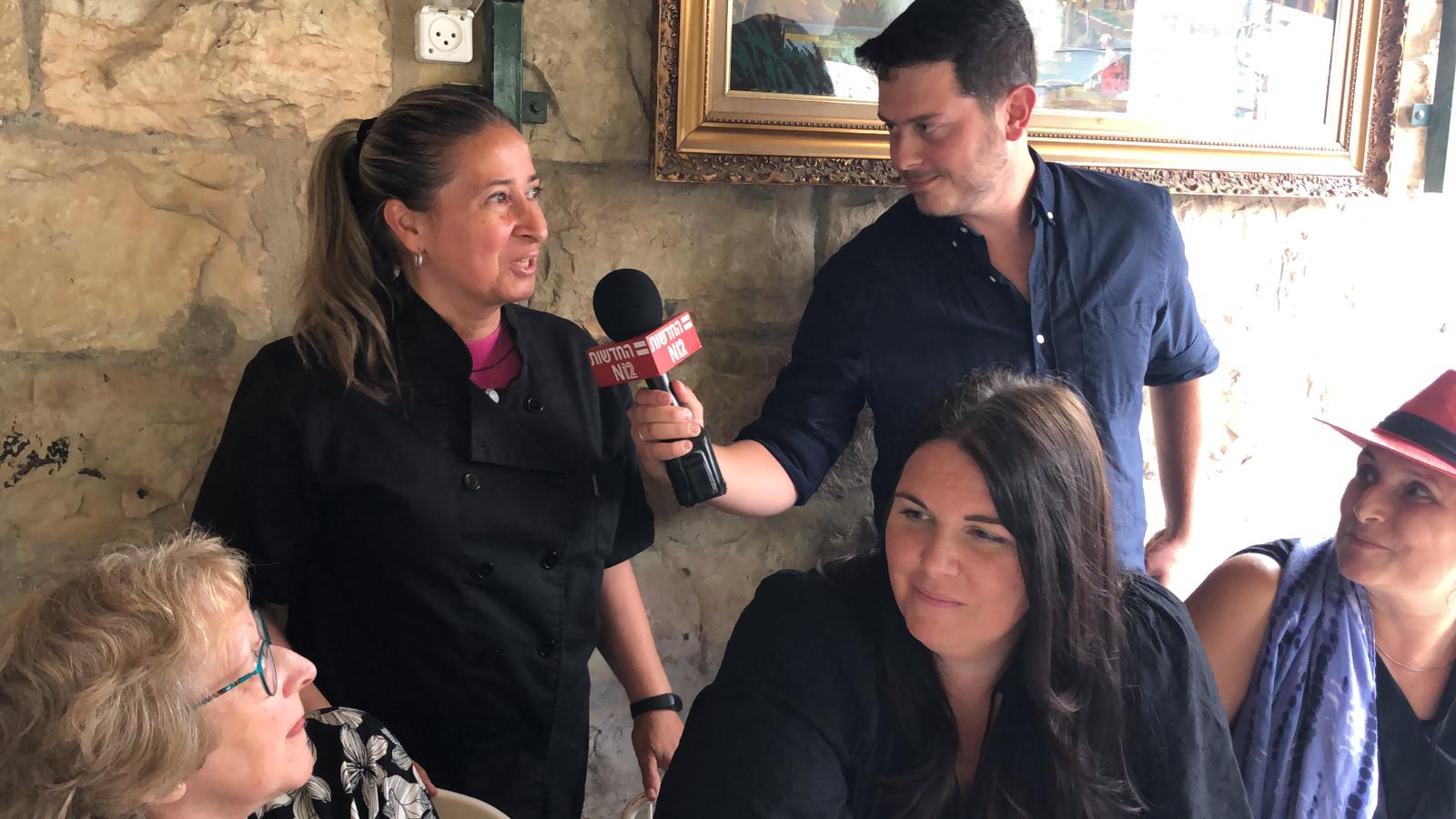 Elisheva Levy, owner of the Kumkum Tea House in Jerusalem, was interviewed by the Israeli media during her livestream of Queen Elizabeth's funeral. (Photo: All Israel News)
Indeed, as one tearful customer left, she hugged Levy and thanked her for hosting the livestream.
"That made it all worth it," Levy said wiping her own tears. "Did you see how touched they were?"
Everyone present shared the sentiment.
"It's a historic moment and I'm sure that it would be special to be there," said Nadia Levene who made aliyah (immigrated to Israel) more than 30 years ago from London. "Maybe it doesn't quite feel the same in Jerusalem, but it was really special coming together and watching it all together.
Most everyone present – even Jews who attended Anglican schools in England – recited the prayers and sang the hymns. Very few dry eyes remained by the end of the funeral and, in one voice, everyone present repeated, "God save the King."
"It's the end of an era," said Nadine, who didn't want her last name used. She said her father knew the queen and she had been to Buckingham Palace once.
But Israel has been her home from a young age.
"I've always thought of myself as being more Israeli than British, but this brought me back to the British side of me," she told ALL ISRAEL NEWS. "All the people sitting here feel the same way that I do. It brings you back to something very emotional – the end of an era, the end of something we have always known."
Two British tourists who are Christian were among the Jewish Israelis at Kumkum.
"She was our queen. She was our head of state. She upheld the Christian faith. She served the Commonwealth of Nations. She was just devoted to service," said Rosemary Bramber.
She was "devoted to her Lord and Savior, Jesus Christ – a shining paragon of virtue," Penelope Francon-Smith said. "She wasn't perfect, but, you know, she was beautiful. Our lovely queen."
Bramber said she welled up with emotion at the significance of the committal at the end of the funeral.
"It's that moment when (the minister) commits the soul to God," she said. "And of course, we know, though when the person has died, their soul has already gone to God. But there's something very powerful in a funeral, because that's the moment, in a way, that you feel that you really say goodbye."
"And immediately after that they said that they had the trumpets and, 'God Save the King,'" signifying the transition of power.
For Estelle Rachamim-Rayman coming to the Tea House was important.
"It's not just the watching; its the feeling of being with like-minded people. We all grew up in the U.K. with the queen," Rachamim-Rayman said.
If she had watched at home, she would have been distracted with chores or simply texting friends who were also tuned in. But being with others was more meaningful.
"It's the feelings. It's everything that goes with it. It wasn't just the watching," she said.
Kumkum distinguished itself right after the queen's death on Sept. 8 as the Jerusalem destination to pay homage to Queen Elizabeth II with a display of flags and photos of Great Britain's longest-serving monarch.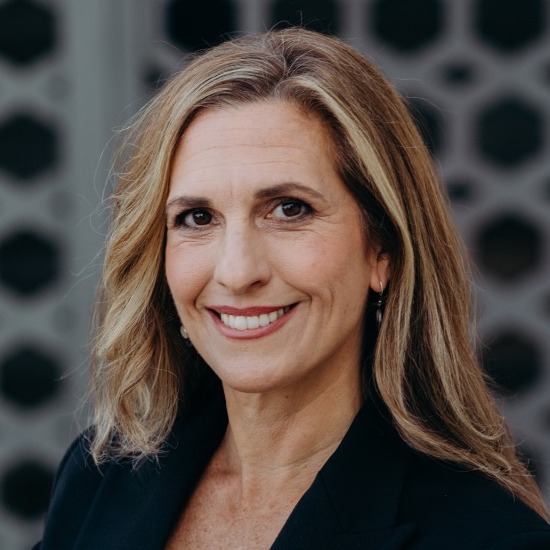 Nicole Jansezian was the news editor and senior correspondent for ALL ISRAEL NEWS.
A message from All Israel News
Help us educate Christians on a daily basis about what is happening in Israel & the Middle East and why it matters.
For as little as $5, you can support ALL ISRAEL NEWS, a non-profit media organization that is supported by readers like you.
Donate to ALL ISRAEL NEWS
Current Top Stories
Comments