Reporter extolled as a shahid – martyr – as confrontations break out between Israeli police and mourners during her funeral, fueling already high tensions
Funeral of Al Jazeera journalist marred by violence, arrests in Jerusalem; IDF says impossible to tell who shot her
Family and friends carry the coffin of Al Jazeera reporter Shireen Abu Akleh, who was killed during an Israeli raid in Jenin in the occupied West Bank, as Israeli security forces stand guard, during her funeral in Jerusalem, May 13, 2022. (Photo: REUTERS/Ammar Awad)
This article was updated on May 14 at 6:30 p.m.
If the Palestinians were hoping to make a martyr out of Shireen Abu Akleh, the scenes of clashes between Israeli police and mourners during her funeral on Friday may have only served to fuel that.
The veteran Palestinian-American reporter who was shot and killed during an Israeli military raid in Jenin on Wednesday was laid to rest in Jerusalem amid extreme crowd-control measures by Israeli police and the chants of thousands of mourners calling to avenge her death. 
The chaotic scenes broadcast from East Jerusalem appear to show Israeli police hitting pall bearers and mourners with batons and then making several arrests while holding back the crowd near where Abu Akleh's funeral was taking place at a church near Jaffa Gate in Jerusalem's Old City.
The scenes are similar to clashes during Ramadan, however, this time most of the mourners were from the indigenous Christian Arab community. 
Abu Akleh, 51, was a Greek Catholic Christian, born and raised in Jerusalem. Church bells rang out across the city after her funeral as mourners led her casket to Abu Akleh's final resting place on Mount Zion. In typical Greek Catholic tradition, the funeral process was led from the church to the cemetery by scouts. 
Arab Christians are minimally involved in Palestinian politics and rarely, if ever, in acts of terror. However, the death of one of their own, coupled with extreme police tactics during her funeral, may have inflamed Palestinian Christians as well.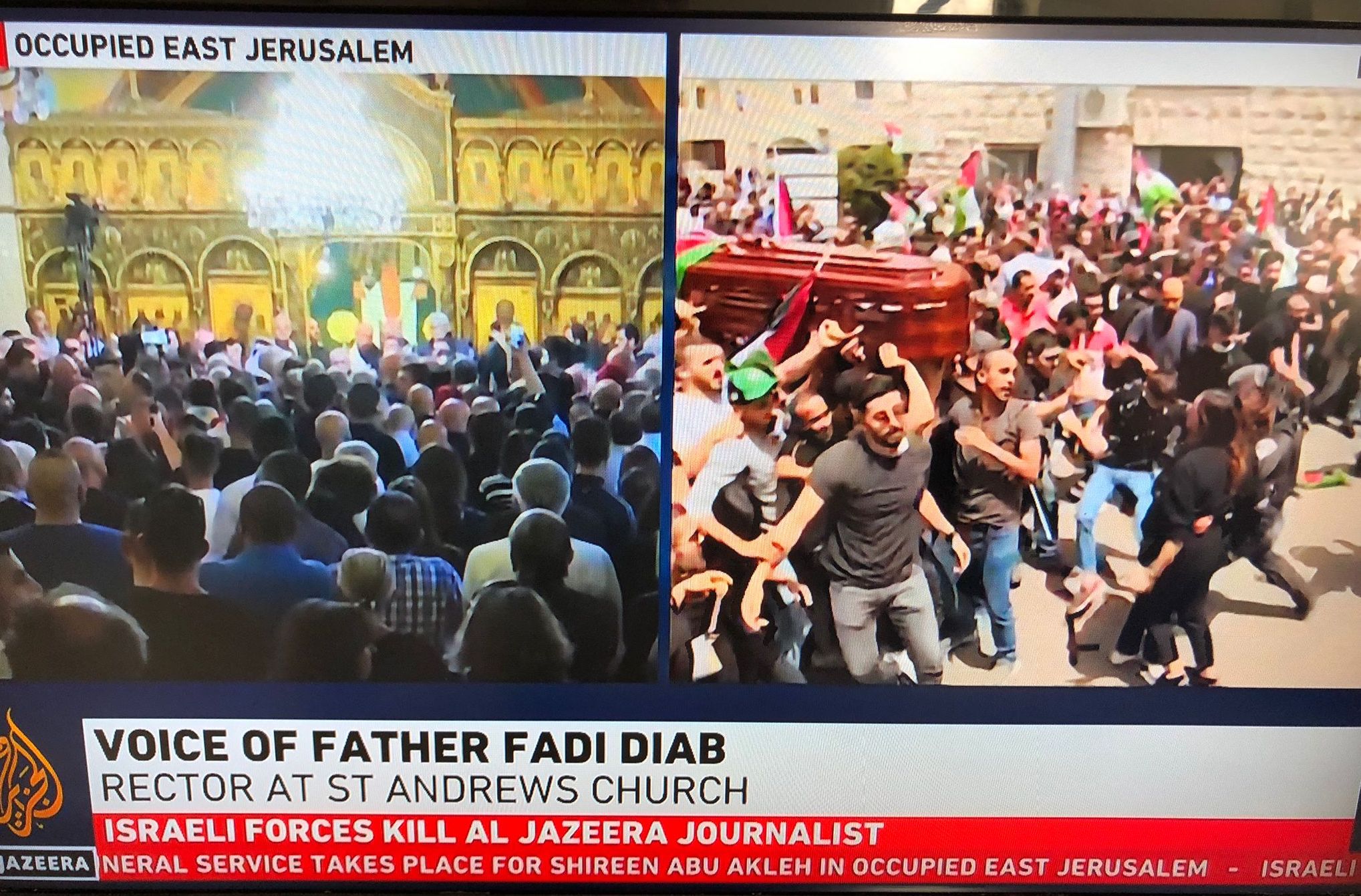 A live broadcast on Al Jazeera of the Jerusalem funeral of their colleague, Shireen Abu Akleh, juxtaposed next to a crowd of mourners outside the church near Jaffa Gate. (Photo: Screenshot)
Drawing from the Palestinian narrative, Father Fadi Diab, the rector at St. Andrew's Church in Ramallah, compared Abu Akleh's journey in death to her life – a symbol of Palestinians living under "occupation" and blocked by Israel from living freely.
He said Abu Akleh's killing should be a message to the world, he said during a live interview with Al Jazeera from outside the funeral. 
"Her voice is going from Jerusalem, this voice is coming from the crowds shouting now and for the message that Shireen has proclaimed and this is a message that everyone should hear around the world," he said. 
Indeed, the crowd outside chanted, "We are going to protect you in our blood and soul," while the church service stood in stark contrast to the raucous crowd kept outside.
The tragic death of Abu Akleh has thrown fuel on an already inflammatory situation.
Whether it was an Israeli or Palestinian bullet that killed the Al Jazeera reporter will likely matter little. It seems many people have made up their minds and the scenes – broadcast internationally – will do Israel no favors.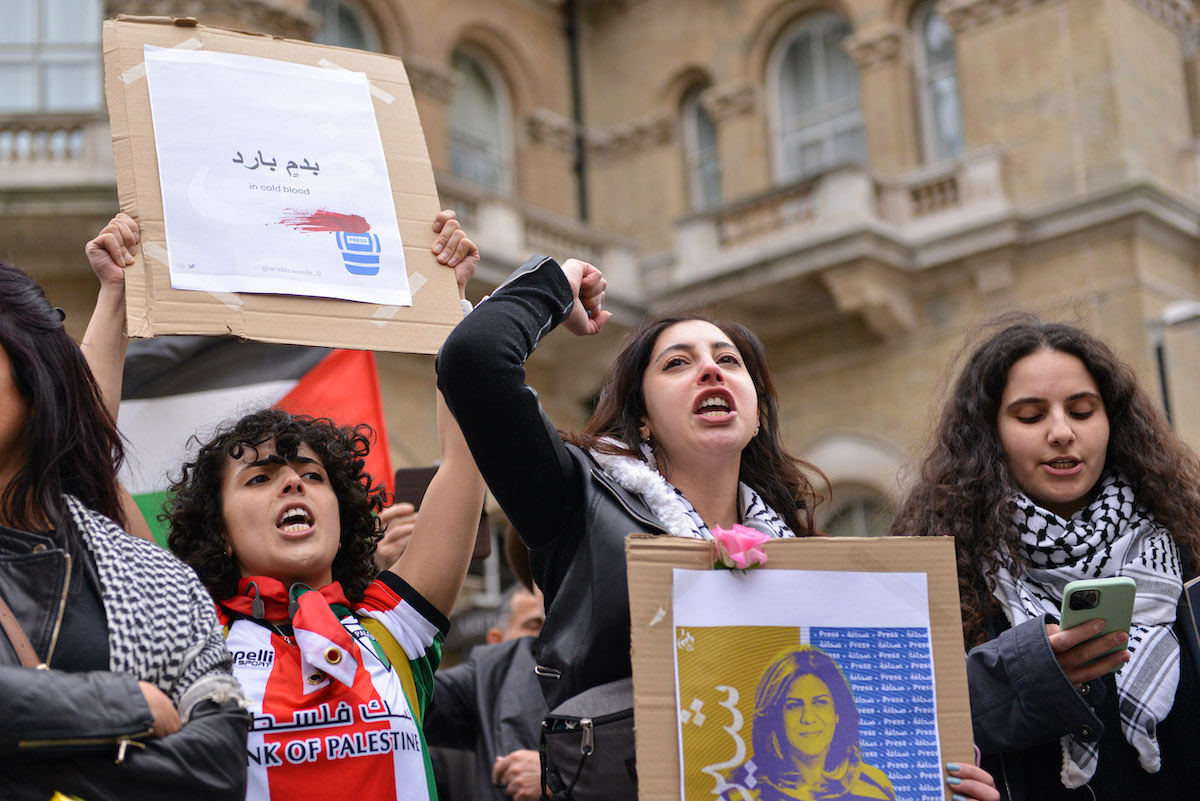 Protesters holding placards chant slogans during the vigil. Demonstrators gathered in a solidarity protest in front of BBC Headquarters in London to condemn the killing of Al Jazeera journalist, Shireen Abu Akleh. (Photo by Thomas Krych / SOPA Images/Sipa USA)
"There are calls for revenge on social media now, and from here starts the need to thwart the next terror attack," Orit Perlov, a research fellow at the Institute for National Security Studies (INSS) who specializes in Palestinian social media, told the Times of Israel.
From Al Jazeera to Qatar to the Palestinian Authority, the blame for her death was laid unilaterally on Israel with accusations that the killing was deliberate, before an investigation even began. 
The Jerusalem Post said in an editorial that Abu Akleh's tragic death was "being cynically used to blame Israel, something that will incite others to carry out even more terror attacks against the Jewish state."
"The PA has made up its mind about how Abu Akleh was killed, and need not be confused by an investigation that could muddle up its narrative. Reasonable people around the world, however, should ask themselves, before jumping to conclusions: why are the Palestinians refusing a joint examination?" the Jerusalem Post asked in an editorial.
"If Abu Akleh was indeed shot by IDF soldiers operating in Jenin, then Israel needs to take responsibility, review standing orders, and see what can be done to ensure that journalists and other civilians are not harmed, even as the IDF continues trying to tamp down the current wave of terror by going on the offensive throughout the West Bank, including in Jenin."
Israeli forces were in Jenin to root out terror cells after a string of terror attacks in Israel that have resulted in 19 deaths in the past three months. 
Today, the Israel Defense Forces released its findings of an initial investigation into the shooting and concluded it is not possible to determine the source of the deadly shot.
"The investigation presented two possibilities for the source of the gunfire: First, hundreds of bullets were fired by Palestinian gunmen from a number of locations. Dozens of bullets were also fired toward IDF vehicles, which is also the direction where Ms. Abu Akleh was, making this a possible source of the gunfire that hit and killed her," the army said in a statement.
"The second possibility is that during the exchange of fire between the Palestinian gunmen and IDF soldiers, a soldier fired a few bullets from a designated firing hole in an IDF vehicle using a telescopic scope at a Palestinian gunman who was shooting at the aforementioned vehicle. The Palestinian gunman fired multiple barrages of gunfire at the IDF soldier, and there is the possibility that Ms. Abu Akleh, who was near the Palestinian gunman from behind, was hit by the soldier's fire toward the Palestinian gunmen. The distance between the IDF vehicle and Ms. Abu Akleh was approximately 200 meters."
The PA refused Israel's offer to conduct a joint investigation. 
"We rejected the joint investigation with the Israeli occupation authorities because they committed the crime and because we don't trust them," Palestinian President Mahmoud Abbas said during an official memorial ceremony for Abu Akleh on Thursday.
Shireen Abu Akleh was incorrectly identified as a Greek Orthodox Christian in an earlier version of this article.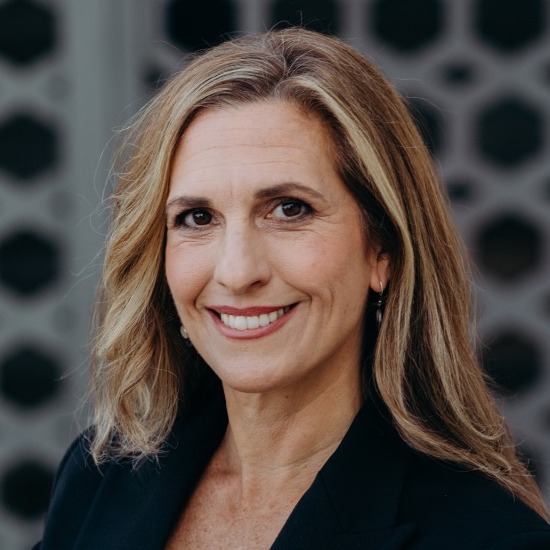 Nicole Jansezian is the news editor for both ALL ISRAEL NEWS and ALL ARAB NEWS and senior correspondent for ALL ISRAEL NEWS
A message from All Israel News
Help us educate Christians on a daily basis about what is happening in Israel & the Middle East and why it matters.
For as little as $5, you can support ALL ISRAEL NEWS, a non-profit media organization that is supported by readers like you.
Donate to ALL ISRAEL NEWS
Current Top Stories
Comments