REGIONAL INSTABILITY IN THE MIDDLE EAST: Shifting alliances, US disengagement and Iranian nuclear capability concern Israel, Gulf states
"The United States is doing its best right now to reassure allies that it's not going away and that its security guarantees do still mean a great deal" – Middle East expert Jonathan Spyer tells ALL ISRAEL NEWS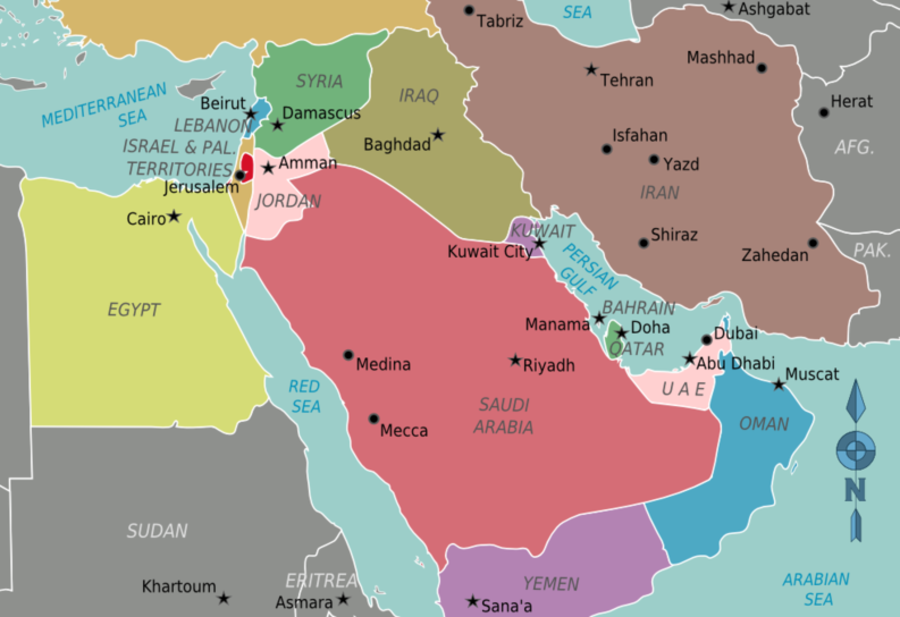 Map of the Middle East (Photo: Wikimedia Commons)
Saudi Arabia is reeling from a drone attack on Abha International Airport and Iran's recent show of force with long-range missiles capable of hitting Israel has added to the jittery nerves of Israeli officials and Gulf Arab states. 
With the prospect of the Joint Comprehensive Plan of Action (JCPOA) nearing a final deal with Iran, a conflagration could be on the horizon, pitting a Gulf Arab-Israeli axis against Iran's proxies in the region. 
In an interview, Jonathan Spyer, director of the Middle East Center for Reporting and Analysis, spoke about these issues that are causing regional instability in the Middle East.
MILITARY BUILD UP – CAUSE FOR CONCERN
Military activity has recently increased in the Gulf region with rebel attacks from Yemen and Iraq aimed at the UAE, Israel's Defense Minister Benny Gantz meeting with his counterpart in Bahrain, a subsequent defense pact and the biggest military exercise in the Middle East recently led by the U.S. 
I asked Spyer if Iran is using its proxies to stir things up, while America and Israel shore up their defenses in the region.
"The regional strategy of Iran is not a secret," he said. "Iran, for 30 years now since the early 1980s, has been seeking to establish military and political proxy organizations in Arab countries, also in the Gulf, and also further West, towards the Mediterranean – to use them as tools of policy and to advance the interests of the Islamic Republic of Iran."
Spyer added that in recent months, in the context of the nuclear negotiations in Vienna, Iranians are pursuing "a kind of twin-pronged strategy."
"They're negotiating in Vienna, but they're also applying pressure via their proxies on the regional level," he stated.
As part of an effort to show America is interested in protecting the Gulf states, Spyer noted that, "The United States is clearly attempting to rally and to convince its jittery allies in the Gulf that it's not necessarily going anywhere and it's still around." 
A GAP IF AMERICA LEAVES THE GULF
Spyer's assessment is that America is drawing down, but not pulling out of the Middle East. However, he admitted that the Gulf states are worried that the Americans may be leaving the region. 
"The United States is doing its best right now to reassure allies that it's not going away and that its security guarantees do still mean a great deal," he noted.
Still, a public figure in the UAE recently expressed the need for more American assurances. Spyer clarified what will happen if the UAE and others don't get the help they need. 
"The Gulf states are far too fragile and weak to stand up by themselves against Iran. The other alternative they have, if they feel they can't be part of a strong bloc against Iran, is to seek to reconcile and get the best deal that they can from the Iranians," he stated. 
Spyer thinks there may be a gap to fill, and that Israel is the most conventionally powerful country in the region that could do it. 
"Israel, certainly, in the context of the post-Abraham Accords period, is moving sharply ahead in the role of, once again, providing effective security solutions for the Gulf countries in their desire to resist both Iran, and Iranian proxies like the Houthis," he said.
In the context of recent shakings in the Gulf region, and Israel's military support, Spyer is looking to the future. 
"Israel definitely stands to benefit if it plays its cards right in the months and years ahead," he said.
SAUDI-ISRAEL RELATIONS
As Spyer sees it, if negotiations are based on Crown Prince Mohammed bin Salman's (MBS) talks with Israel, the two countries are moving closer to overt relations. MBS is the most powerful figure in Saudi society today and, should he become king, relations with Israel will continue to improve.
"It is clear that there are significant elements in the Saudi elite who take a very different view, especially among the older generation around King Salman himself, who are more committed to the old-style kind of Arabist positions, which largely characterizes Saudi policy for most of the last half century. Mohammed bin Salman is kind of a revolutionary in that respect," Spyer explained. 
Spyer believes Saudi Arabia is moving forward toward eventually establishing full diplomatic relations with Israel. When that happens, he said, it will be on the level of Israel's peace agreement with Egypt in 1979.
"It would be a profound, historic moment. I think it will come. I think it's approaching. There's a long way to go, but events are going absolutely in the right direction," he said.
ISRAELI ASSISTANCE TO GULF STATES
Israel's military prowess is a major consideration for Gulf nations. On their own, these countries are not able to mount an independent defense against the Iranians, but together they can do a great deal. Spyer believes that Israel, the Emiratis and the Saudis could form an effective alliance of military might combined with intelligence. Currently, Iran has been successful with its asymmetrical warfare through harassment and guerrilla tactics. But a Gulf Arab-Israeli alliance would challenge the Iranians in Yemen, Iraq, Syria and elsewhere.
"Israel is the country that brings hard power to the table – air power, missile defense, technical intelligence," he said. "But it's the Emiratis or the Saudis who would bring to the table deep and intimate knowledge of Arab societies, of how to work with and develop clients and client forces."
Israeli Prime Minister Naftali Bennett spoke in recent days about a comprehensive challenge to Iranian influence in the region, not only regarding the nuclear file, but also in terms of Iran's broader use of proxies, subversion and interference in Arab states. 
"There's lots of ways in which one could imagine that block forming quite a formidable alliance against the Iranian interference in the region," Spyer said.
THE COMPLEXITY OF THE SITUATION
Spyer said it's possible to defend the Arab Gulf from Iranian aggression, even with countries that are not part of the Abraham Accords. He said we should avoid drawing a simplistic differentiation, assuming Qatar is out of the game but the UAE is in because of its powerful pro-Western stance.
"Qatar seeks to sort of hedge its bets, and other Gulf countries do that too…," Spyer explained. "The UAE is certainly more vociferously and actively anti-Iran – and indeed anti-Sunni Islamist – than is Qatar. But there are still ambiguities. The UAE also acts as a trade hub for the Iranians. The UAE has been, since 2019, seeking to reconcile with the Iranians, as indeed have the Saudi Arabians over the last two years."
WHAT WILL KUWAIT DO?
Kuwait has a strategic geographical position in the Gulf, but Spyer predicted the tiny emirate will be slow to normalize relations with Israel. 
"I would not expect, and I don't think many serious researchers in Israel and elsewhere do expect, that Kuwait is about to jump on board with regard to the Abraham Accords," he observed. 
But would Kuwait support Iran, instead, in a regional war?
"Kuwait has a very sizable Shia minority, and this will be a disincentive for the Kuwaitis to move too far in this respect," he said, adding that Kuwait is also "very significantly behind or is supportive of Sunni Islamist causes in a number of parts of the region."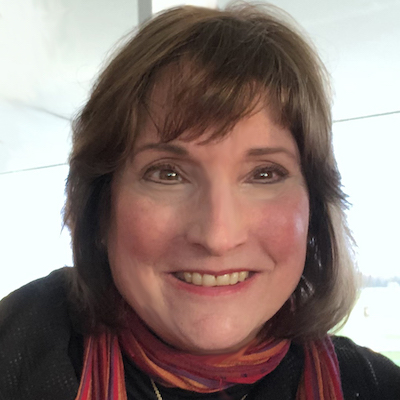 Carrie Hart is a news analyst reporting on political, diplomatic, military and social issues as they relate to Israel, the Middle East, and the international community.
A message from All Israel News
Help us educate Christians on a daily basis about what is happening in Israel & the Middle East and why it matters.
For as little as $5, you can support ALL ISRAEL NEWS, a non-profit media organization that is supported by readers like you.
Donate to ALL ISRAEL NEWS
Current Top Stories
Comments