One year later – the murder of a Christian Arab Israeli hero
Had it not been for Amir, a Christian Arab Israeli police officer on patrol in a mostly ultra-Orthodox Jewish community, the potential carnage would have been unimaginable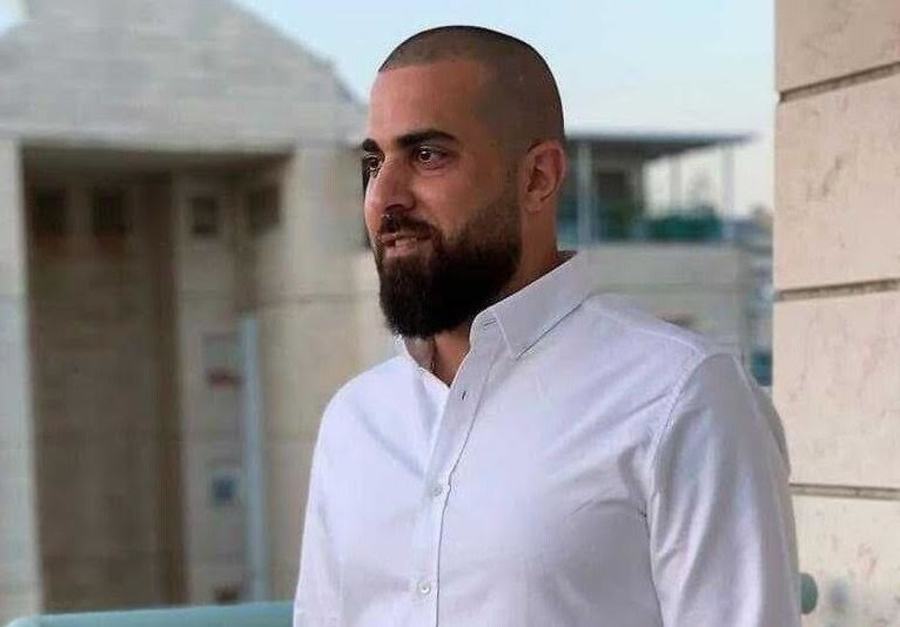 Amir Khoury (Photo courtesy)
It's been a year. I was in Houston, about to go into a TV interview on CTN and got a text message from my wife.
"Did you hear what happened?" It was an unnerving way to go into a TV interview, turning off my phone and not knowing what she meant. Was it something with one of my kids? Grandchildren? Friends or neighbors? It was hard to focus and, as soon as the interview was done, I turned on my phone to find out. 
What happened? Another terror attack, this time in the predominantly ultra-Orthodox central Israeli city Bnei Brak. Four had been murdered. One of them was a policeman, Amir Khoury, who, along with his partner, raced to the scene of the attack and engaged the terrorist in a gunfight. 
Amir was a Christian Israeli Arab, and a hero. He engaged and killed the Palestinian Arab terrorist but was mortally wounded by the terrorist, as well. Had it not been for Amir, being on patrol in a mostly ultra-Orthodox Jewish community, the potential carnage would have been unimaginable. 
I flew home the next day, realizing that 11 people had been murdered in four terror attacks by Palestinians terrorists while I was away – 11 more families grieving and many, many others suffering from PTSD. 
While terror is too common in Israel, and the past year has been particularly difficult with dozens murdered by Palestinian terrorists, it's not every day that one of the victims is a Christian Israeli Arab policeman who lived, and died, as a hero.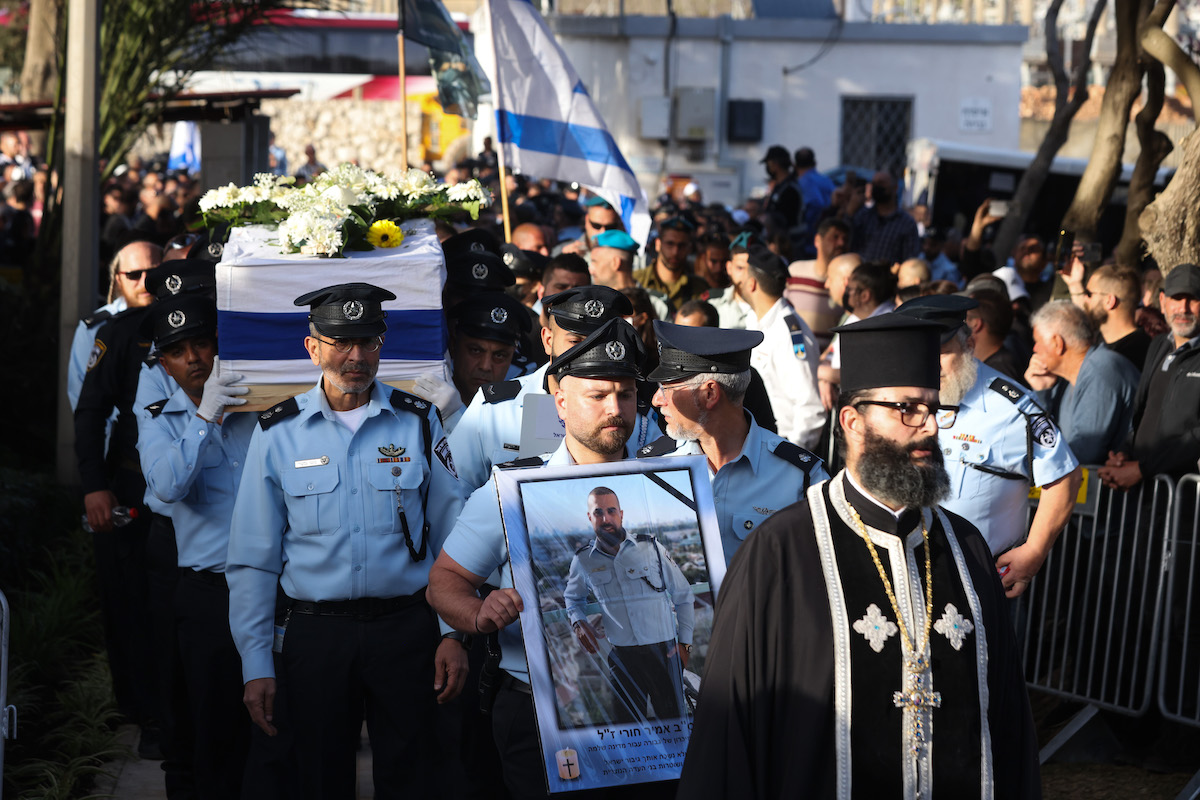 The funeral of Amir Khoury, police officer who was killed in a terrorist shooting attack in Bnei Brak, at the cemetery in Nof HaGalil, Mar. 31, 2022. (Photo: David Cohen/Flash90)
On Sunday, I drove to Nazareth where Amir lived, and his family still does. Typically, when one goes to express condolences to a family mourning a deceased relative, one would know one of the family members, if not the deceased. It's rare to show up at the home of a complete stranger, grieving over the loss of a loved one who you also didn't know. But that's what I did. I wasn't alone. 
Because Amir was being hailed as a national hero, thousands of visitors came from all over the country and around the world to a large tent outside their family home adorned with Israeli flags. Thousands of Israelis, from all walks of life. 
As diverse as the visitors were, I stood out a bit. I am a "settler," a Jew living over the "Green Line," in what people pejoratively call the West Bank. Biblical Judea.
The assumption is that because I live there, I have hatred for – or at least a disrespect – of Arabs. Nothing could be further from the truth.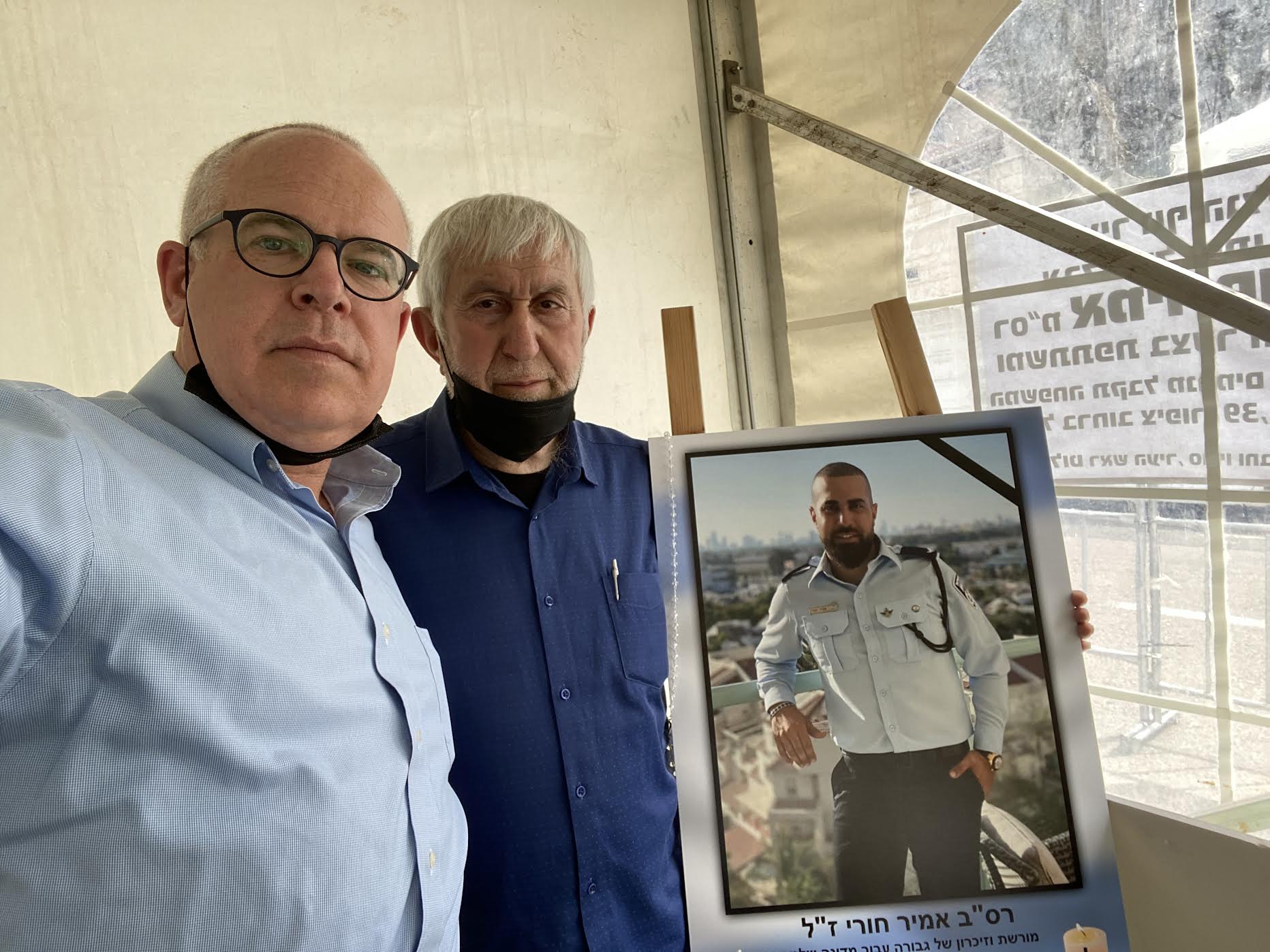 The author with Amir Khoury's father
But stereotypes are stereotypes. They are debunked by actions such as mine, though that was not on my agenda. I just went to comfort Amir's family. Stereotypes about Arabs are debunked by proud Israeli Arabs and others just doing what they do. 
Unlike most other visitors, I stayed for hours. I spoke with Amir's father, brother, and cousin the tent, and others from their community. Then, I went into the house where I thought I might meet more relatives. Immediately, I saw a group of women sitting on a couch, dark circles under their eyes. Not knowing who was who, I approached the couch. One woman stood to greet me: Amir's mother. We embraced, and talked as if we were old friends. But she didn't know me, not even my name and didn't care. My presence was a comfort.  
I met Amir's sister, brother-in-law, and niece and nephew. I don't know how to describe it, but we simply became fast friends. On one level it felt terribly inappropriate to be in a house of mourning and to be able to enjoy the company of total strangers. On the other hand, I went there to comfort them, and I know my visit did that. We talked for a long time, just us, in a corner room of the house. 
When I went back outside to the mourning tent sometime later, people were surprised to see that I was still there. 
Because of the wider conflict, heightened this year during the Islamic holy month Ramadan, often marked by increased violence in Israel, thinking of Arabs as loyal Israelis is not the norm, nor is it understood by most because it contradicts the simple narrative of Arabs hating Jews and Israel.
Thankfully in recent years, it's become less of a contradiction. In fact, Israel has seen a growing number of Christian Arabs volunteering for the Israel Defense Forces, making a commitment to serve their country with honor, despite the risk of threats from the wider Muslim Arab population who would consider them traitors. 
When I shared about Amir on social media and that I was going to be visiting the family, the outpouring of love, sympathies, and support from a wide range of people around the world was a comfort to me. I made it clear to the Khoury family that, while I was there in person, scores were with them in spirit, praying for them, all over the world. Some even sent donations for the family, which felt inappropriate at that moment, albeit well intended.  
As my visit was not just idle conversation but real intimate friendship, Amir's family wanted to get to know me too. I shared about my background, what I do building bridges between Jews and Christians, and that we wanted to do something in his memory. They appreciated this and told me to be in touch. I stayed in touch and went back to visit two months later. In the interim, I saw my new adopted family featured in national media multiple times, honored with front row seats at Israel's Presidential Independence Day celebration, and more. 
I went back to the Khourys with my wife, knowing that she'd be blessed by getting to know such lovely people, too. Condolences and comfort can never come too late. Ideally, we would never have met, Amir should still be alive and we'd never have anything to do with one another. After the Khourys asked what they could serve us since we keep kosher, and we ate and talked together for at least two hours, Amir's father asked what we had come to talk about. 
I had a few ideas which I shared about ways to memorialize their son, Amir, and share his life and legacy with others. The family liked best the one that would make Amir known worldwide. I like that one too. 
It's the most broad, biggest vision and impactful. It's going to take time to produce but when it's done, it will make a splash on a very broad scale. The "challenge" is that to do so – to do it right – will take a hefty budget.  But one that's well worth the investment. So, we are currently seeking funding to make that possible and share the vision. 
How I wish I never met the Khourys, Certainly not under these circumstances. Whether one believes in destiny, that everything is somehow ordained from God, or not, the reality is that as a result of Amir's death, this is one positive outcome. 
"Dear Khourys, I wish I never knew you. But now we have met, and we need to make something purposeful from that."
Just as thousands came to comfort the Khoury family and honor Amir from across Israel and around the world, today, we need a coalition of Jews and Christians – people of good conscience – to join together in a sweeping project that will not only memorialize Amir but do so much more, just as he would have done if he were alive, if only by his existence and doing what he did. 
Undertaking this on behalf of the Genesis 123 Foundation whose mission is to build bridges between Jews and Christians and Christians with Israel, there's no better way to be able to bring Jews and Christians together for such a purpose. Prospective partners who share this broad vision can be in touch by writing to Gen123Fdn@gmail.com. 
May Amir Khoury's memory continue to be a blessing, and his family continue to derive comfort from the support of friends, new and old, and even total strangers.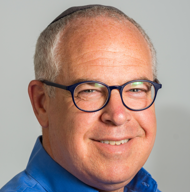 Jonathan Feldstein was born and educated in the U.S. and immigrated to Israel in 2004. He is married and the father of six. Throughout his life and career, he has become a respected bridge between Jews and Christians and serves as president of the Genesis 123 Foundation. He writes regularly on major Christian websites about Israel and shares experiences of living as an Orthodox Jew in Israel. He is host of the popular Inspiration from Zion podcast. He can be reached at firstpersonisrael@gmail.com.
A message from All Israel News
Help us educate Christians on a daily basis about what is happening in Israel & the Middle East and why it matters.
For as little as $5, you can support ALL ISRAEL NEWS, a non-profit media organization that is supported by readers like you.
Donate to ALL ISRAEL NEWS
Current Top Stories
Comments