On #GivingTuesday, help ALL ISRAEL NEWS take on the new Goliath – the woke, leftist Big Media and Big Tech companies mocking Israel and our biblical values
Such hostile companies may seem to tower over us, but their fate is no less certain than the famous Philistine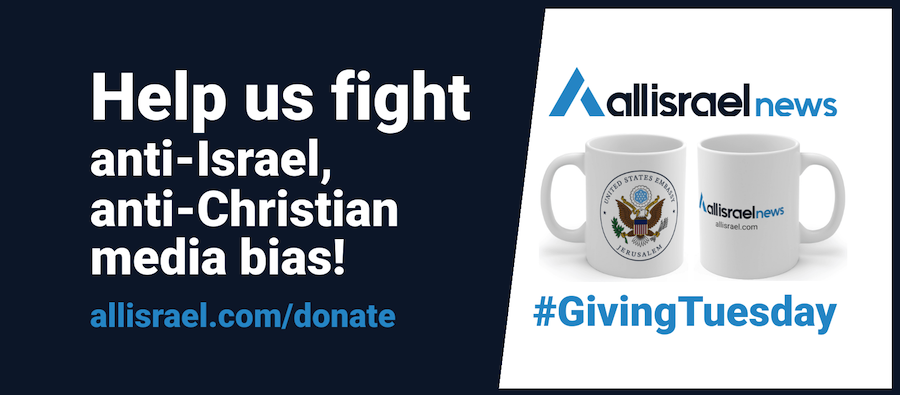 JERUSALEM—Darkness is falling.
We live in an age in which the biblical values we hold so dear are under relentless attack.
The very concept of truth itself is under attack.
Hatred of Jews is spiking in the U.S., Europe and around the world.
Hatred of Israel is metastasizing like a cancer. The BDS movement, for example – calling for worldwide boycotts of, divestments from, and sanctions on Israel – is feverishly trying to delegitimize Israelis' very right to exist, defend ourselves and prosper.
Hatred of Christians – including vicious persecution against our beliefs, our right to express ourselves, our right to assemble peacefully, and the very church buildings where we worship – is as serious as at any time in the past 2,000 years.
And aiding and abetting all of it are woke, leftist companies in the Big Media and Big Tech sectors who routinely mock us, even as they seek to cancel us.
For too long, too many Evangelicals have lived in fear of the size, power and reach of these corporate behemoths, just as the ancient Israelites feared the Philistines and their nine-foot tall "champion" named Goliath.
The Bible tells us that "on hearing the Philistine's words, [King] Saul and all the Israelites were dismayed and terrified." (1 Samuel 17:11)
"Whenever the Israelites saw the man [Goliath], they all fled from him in great fear." (I Samuel 17:24)
The entire Israelite army was paralyzed in the giant's presence, unwilling to engage him in combat for fear of being destroyed.
But we all remember the hero of the story – it's not Goliath.
It's the young shepherd boy named David.
At the time, no one believed that the youngest son of Jesse could successfully challenge – much less defeat – the fearsome Philistine.
David's own brothers cynically ridicule and dismiss him.
Goliath himself mocks the young man as he steps out onto the battlefield, so small and ridiculous David appears to him.
"Am I a dog, that you come at me with sticks?" Goliath sneers.
Then "the Philistine cursed David by his gods," the text says, shouting, "Come here, and I'll give your flesh to the birds and the wild animals!" (I Samuel 17:43-44)
But as the story unfolds, we see that David is not trusting his own skills or courage, though he has both.
Rather, David puts his total trust in the God of Israel.
"David said to the Philistine, 'You come against me with sword and spear and javelin, but I come against you in the name of the Lord Almighty, the God of the armies of Israel, whom you have defied. This day the Lord will deliver you into my hands….This very day…the whole world will know that there is a God in Israel. All those gathered here will know that it is not by sword or spear that the Lord saves; for the battle is the Lord's, and He will give all of you into our hands.'" (I Samuel 17:45-47)
And so it came to pass.
In the face of Big Media and Big Tech's attack on all we hold dear, this is precisely the faith and courage we need to defend Israel, the Jewish people, and the followers of Jesus Christ here in the Epicenter and around the region and the world.
We need to truly believe that the battle is the Lord's and that He will be with us as we fight for truth in the public square.
Just over two years ago, we launched ALL ISRAEL NEWS and ALL ARAB NEWS.
And what a crazy few years it's been – good, bad, and ugly.
Wars, rumors of war, terrorism, COVID, high-stakes elections, four Arab-Israeli peace deals, this terrible surge in anti-Semitism, anti-Israel movements in the U.S. and around the world, and all this pernicious and unceasing bias in so much of the mainstream media against Israel, Jews, and Evangelical Christians.
Yet this exactly why we exist – to provide original, and honest reporting you can trust in chaotic and fast-moving times, along with fresh and insightful analysis from a biblical worldview.
On behalf of our entire team, I want to say thank you for becoming our loyal readers.
We are deeply grateful for the opportunity to serve you.
And now, as the State of Israel prepares to celebrate 75 years since her prophetic and miraculous rebirth on May 14, 1948, would you stand with us prayerfully and financially?
For your gift of $75 or more, we'll send you this beautiful mug with the ALL ISRAEL NEWS logo on one side and the beautiful seal of the American Embassy in Jerusalem on the other side in thanks for your generous support.
You can make your tax-deductible donation by clicking here.
ALL ISRAEL NEWS and ALL ARAB NEWS are extraordinary because they are the only websites in the world that do all of the following: 
Publish original news reporting about Israel, Iran and the Arab/Muslim world

Publish original coverage of events and trends affecting followers of Jesus in Israel and the Arab/Muslim world

Publish exclusive interviews with top Israeli, Arab and U.S. newsmakers

Publish exclusive polling on how Christians and others view Israel and the region

Publish insightful commentary and analysis from a biblical worldview

Provide links to important, must-read stories about Israel and the region that are published on other media platforms to create a "one-stop-shopping" environment

Publish in English every day

Monitor the news in both Hebrew and Arabic

Are headquartered in Jerusalem

Are nonprofit and nonpartisan

Are led by a team of Israeli journalists and technology professionals who are devout followers of Jesus Christ
Why were no such news sites like these created in the past?
Great question – but they weren't.
So, by God's grace and for His glory we launched ALL ISRAEL NEWS and ALL ARAB NEWS to fill a much-needed gap in the market.
Our mission is to serve God by serving you.
And with your faithful prayers and generous financial support, we will not cower in the face of Big Media or Big Tech.
We will trust the God of Israel, just like David did, and trust the battle to Him.
"The Lord gave the Word: great was the company of those that published it." (Psalm 68:11, KJV)
To learn more about us, please use the following links:

Joel C. Rosenberg is the editor-in-chief of ALL ISRAEL NEWS and ALL ARAB NEWS and the President and CEO of Near East Media. A New York Times best-selling author, Middle East analyst, and Evangelical leader, he lives in Jerusalem with his wife and sons.
A message from All Israel News
Help us educate Christians on a daily basis about what is happening in Israel & the Middle East and why it matters.
For as little as $5, you can support ALL ISRAEL NEWS, a non-profit media organization that is supported by readers like you.
Donate to ALL ISRAEL NEWS
Current Top Stories
Comments